Woodworker Sessions USA -Edition #10 - Stephen Turvaville
Welcome to the Rare Woods USA Woodworker Sessions interview series. Here, we hope to discover more about what makes our woodworkers tick, how you became involved in the craft, how and why you build your pieces and maybe learn a few secret techniques and tips along the way!
Our interviewer, a woodworker since the age of 8, Tobias Lochner is no stranger to the workshop. Find out more about him here.
In our 10th issue of  The Woodworker Sessions  USA, we have the privilege to talk to Stephen Turvaville of Blackwater Custom Woodworks in Clovis, New Mexico.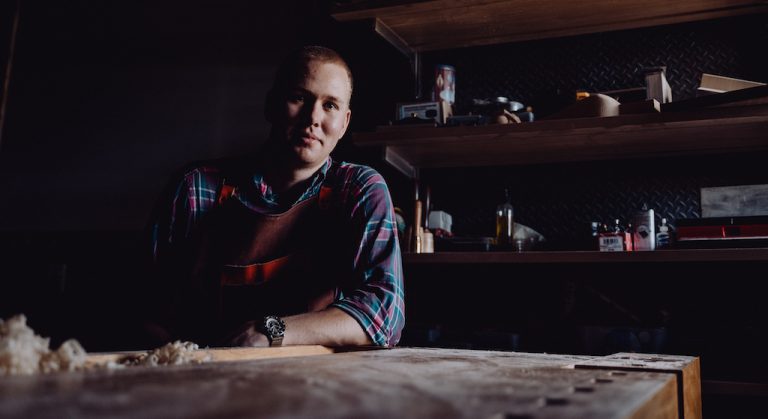 Tobias:  Hello Stephen.  Thanks so much for joining us on The Woodworker Sessions. Please could you tell us a bit about yourself, what is/was your career and a little about your family and how you became a woodworker.
Stephen: I was born, raised and still live in Eastern New Mexico.  I have always had an intense interest in discovering how things are built and how they work. My parents patiently encouraged and supported my passion for designing and building. I am not your typical student. I learn best from hands-on experimenting and I struggled with learning in the traditional educational system. Growing up, it often took me two or even three times as long to complete school assignments as it took the other students.
I never enjoyed school until I found a refuge in the metal fabrication shop in high school.  It was there that I discovered that I could actually enjoy learning. I spent every spare moment I had in the metal shop. I owe a vast debt of gratitude to my shop teacher Terry Whitener for changing my life! He opened my eyes to a world of wonder, where one can create anything as long as you have the right skills and enough imagination!
Mr. Whitener took the time to teach me in a way that my brain could understand and process the information. He showed me the true value of learning. He helped me create my first large  scale project that was constructed from metal, not wood. When I was 16, I built a 16′ half-top stock trailer and the following year I was able to successfully build a utility flat-bed for the back of my truck!
My metal fabrication classes introduced me to the Future Farmers of America organization. Each year, my school held a fundraiser to benefit the FFA and I built a few items for these auctions from wood. It was during this time that I found my love for creating pieces in wood!
I was officially diagnosed with dyslexia towards the end of my senior year in high school. I went to college and even though I was successful, I did not enjoy the experience at all. My parents and I decided that I would be happier and more fulfilled if I were to follow my interests and natural abilities, so I left college and continued my education at woodworking institutes. 
First, I attended Rosewood Studio in Perth, Ontario. Here, Ron Barter, Jim Gavin and Adrian Ferrazzutti taught me the building blocks on which all of my woodworking knowledge sits. After Rosewood, I attended the Connecticut Valley School of Woodworking. It was here that I studied hands-on from many incredible woodworkers such as Bob van Dyke, Tim Spratlin, Mike Pekovitch, Steve Latta, Rick Angus, Mary May, Mike Mascelli and more! I learned an immense amount from each instructor and derived incredible enjoyment from seeing every one of these great artists at work. As they demonstrated their thought processes to me, I was able to understand how they differed from one another and produced their individual remarkable results.
The last school that I attended was The Furniture Institute of Massachusetts, under Philip Lowe.  My time there was short, but absolutely invaluable. I learned so much from the master and I only wish that I had more time to learn from him. Unfortunately, the school is now closed and Philip has passed, but his incredible knowledge lives on in the countless students that he taught.
I would like to encourage other students who struggle with learning in traditional classrooms to explore alternative educational opportunities. Albert Einstein has often been credited with saying "Everybody is a genius, but if you judge a fish by its ability to climb a tree, it will spend it's whole life believing it is stupid". This quote, whomever said it, changed my life and helped me to realize that value of being different. If everyone always thought the same way, there would be no innovation or progress. 
Woodworking has made me stop feeling like a fish trying to climb a tree!
Tobias: How did you get started doing woodwork and how long have you been a woodworker?
Stephen: I can't remember a time when I have not worked with wood. Even as a young child, my "play" involved building or disassembling things to see how they worked and at any given time, one could usually find me nailing pieces of scrap lumber together to create something. I have always had a calling to make things.
My first real exposure to fine woodworking came about at the age of 16 when I met a woodworker through my church. Stan Austin is an absolutely incredible craftsman. He taught me how to cut my first joints, how to make bent laminations and many other techniques that I use on a daily basis. Mr. Austin inspired me and because of him, I was able to see that I could make a living doing what I love. Even after attending different woodworking institutes and learning from some of our modern masters, I am still in awe of everything that Stan Austin creates. The tricks and techniques that he showed me have inspired me to learn everything that I can about working with wood.
I have been a professional woodworker for a little over four years. I still have so much to learn and am eternally humbled to have had the opportunity to have been taught by so many of the greats!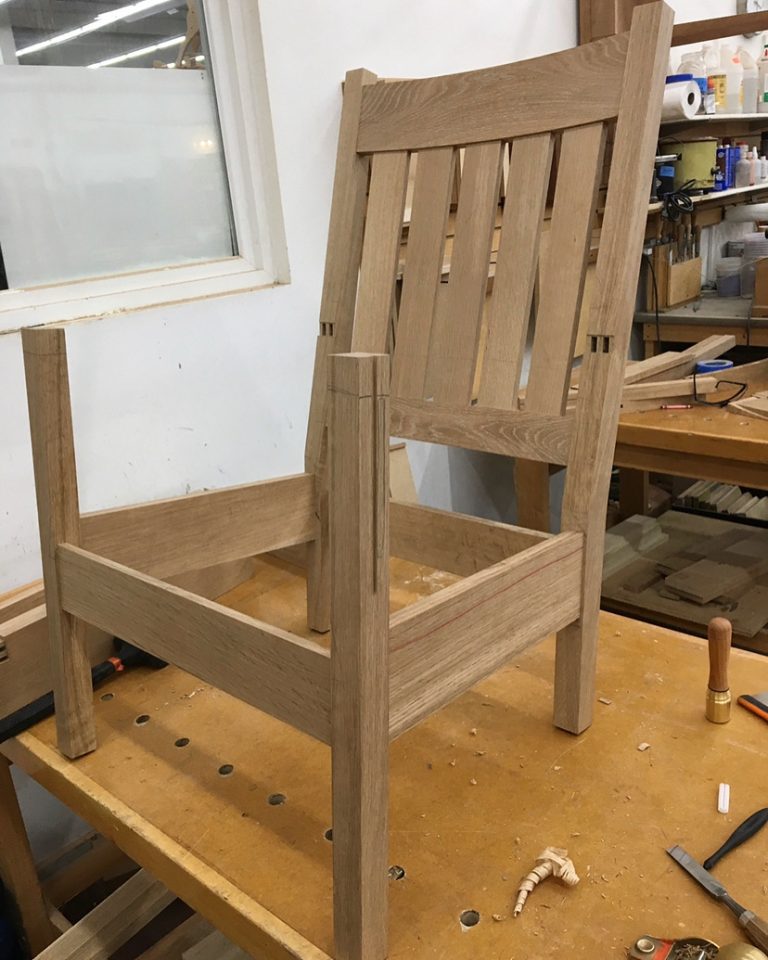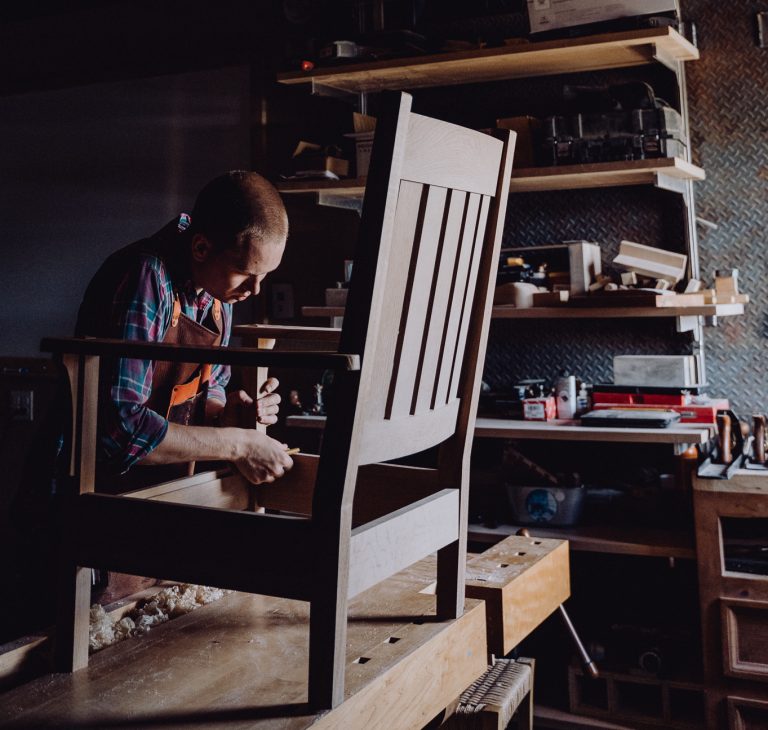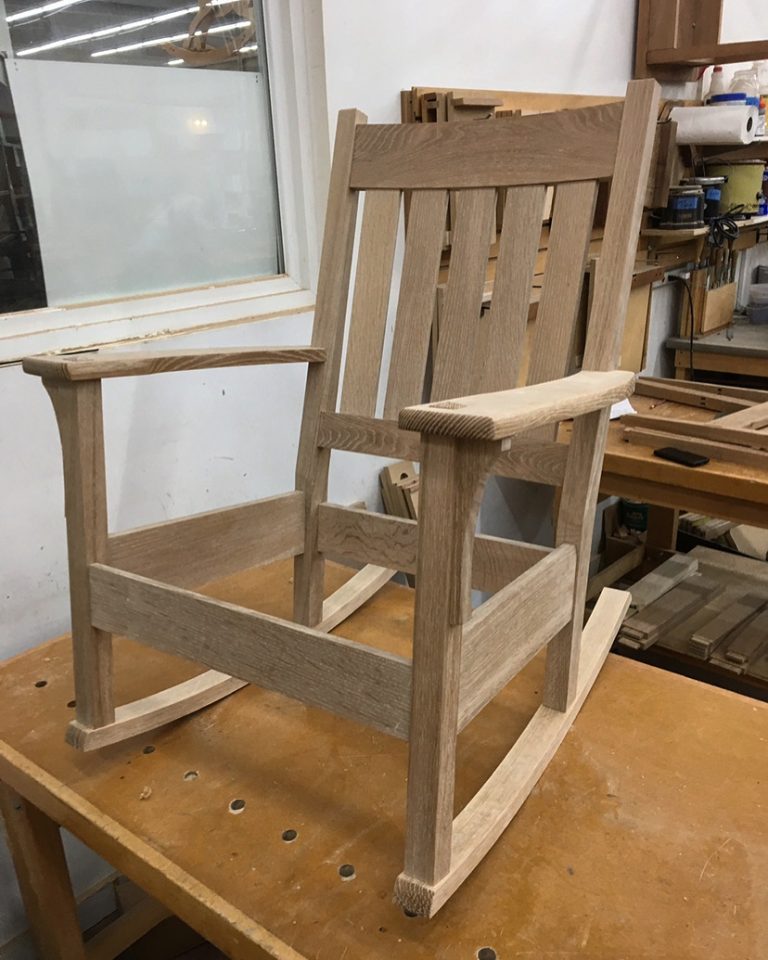 Tobias: What was the first item you ever made and which is your favorite piece?
Stephen:  As far as I can remember, I have been building things. If you asked my parents, they would probably say that my first woodwork project was a flat-bottomed boat that my father and I built when I was a young boy. The only truly remarkable thing about that boat was that it actually floated… albeit for only a short time! I consider my first woodworking project to have been a circular table that I made at the age of 16. It was built to hold my youth pastor's books and coffee while he taught class. In this table, I was able to incorporate many of the techniques that I learned from Mr. Austin. As first projects go, it served its purpose, but was not much to look at. Surprisingly, it has held up well. I learned many lessons with that project and I view it as the start of my woodworking career.
My favorite project is still under construction. It is a custom handtool toolbox. The project started as a version of Mike Pekovitch's tool chest and I have added my own ideas and embellishments. This toolbox was intended to be a week-long project, however I have been working on it intermittently over the past two years. I look forward to the day it is finished, but as always customer projects take precedence over personal ones. At this stage, I am fortunate in being able to use the completed parts of the chest to store some of my hand tools.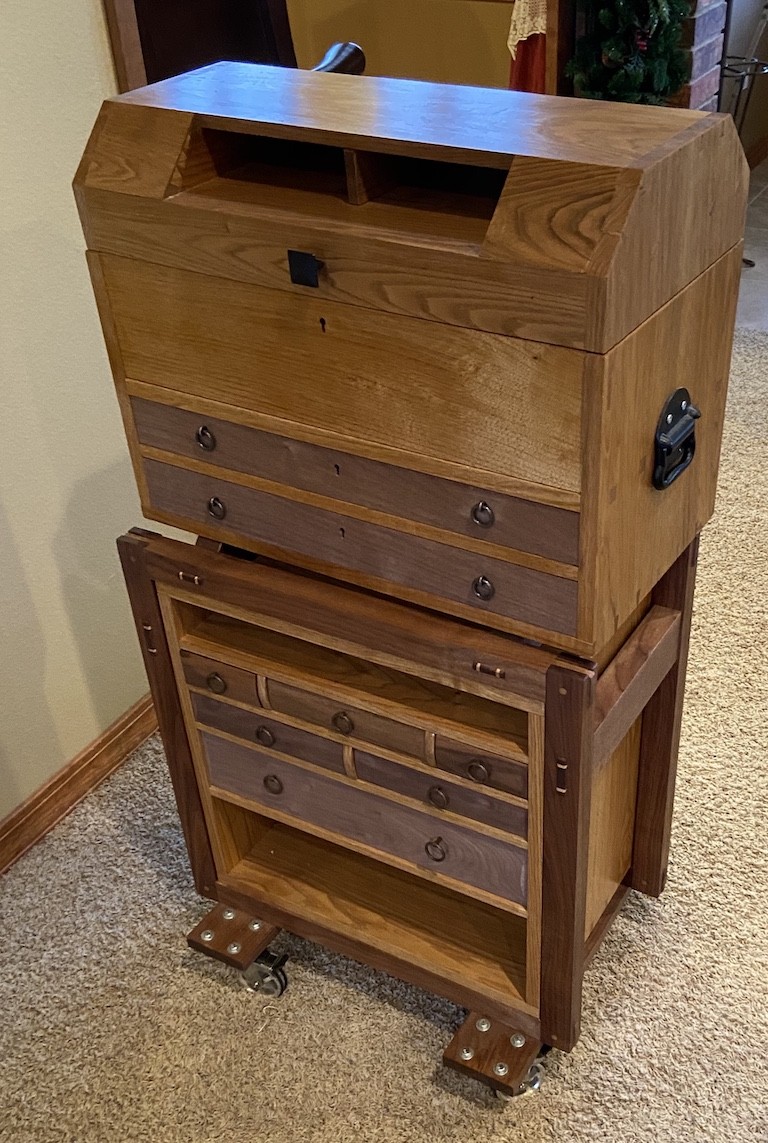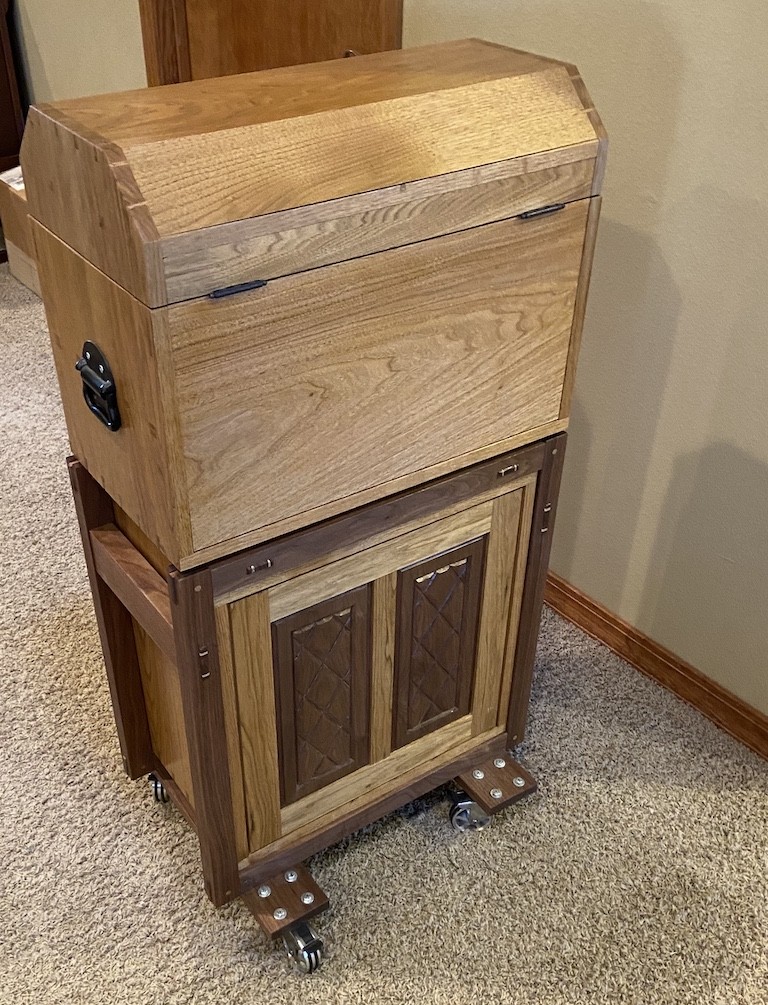 Tobias: Which style of furniture to you most enjoy building?
Stephen: I find beauty in all well made furniture pieces. There are very few styles that I don't enjoy making or admiring. If I had to choose, my favorite styles to work in would be Chippendale and Federal.  Even though I enjoy these the most, I find myself working in the Shaker and Arts & Crafts styles most often, as they are the most popular with clients in my region of the United States.
I really enjoy every style that I have worked in, as each presents its own unique set of parameters and challenges, which is what I enjoy the most about woodworking.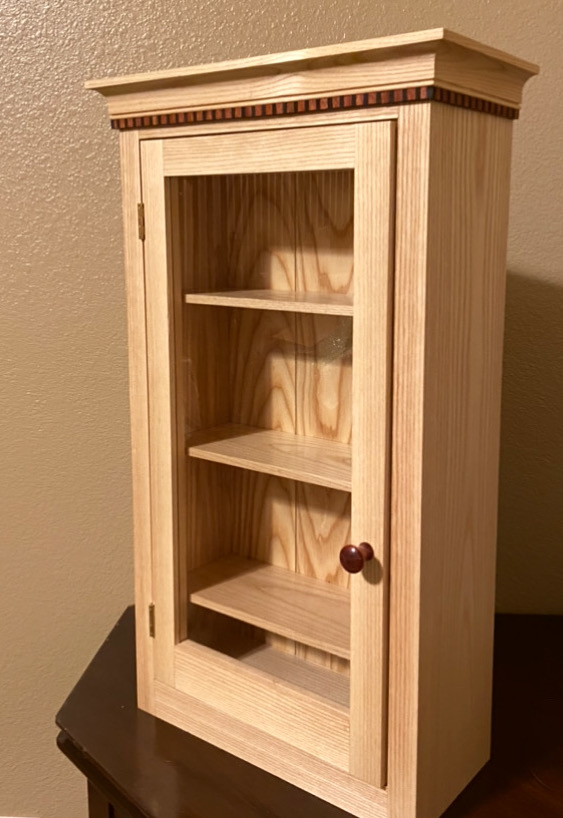 Tobias: Which are your favorite local lumber species and which are your favorite exotics to work with?
Stephen: Living in the great plains of New Mexico means that I have virtually no local hardwoods to choose from. All of the wood that I use has to be ordered and delivered. The species varies from project to project based on what my clients are looking for. My favorite domestic hardwoods are Walnut and Cherry. Each have unique working properties and I love them for the way the age in color over time. Cherry scores over Walnut as my absolute favorite.
I built my first piece of "fine furniture" while attending Rosewood Studios. It was a Shaker nightstand in Cherry and I have been hooked on Cherry ever since.
I love all species of wood, but I really admire the diversity that exotic species offer the woodworker. Some of my favorite exotics are Purpleheart, Bubinga and Zebra Wood. Bubinga tops my exotic list by far. (I have an admission… I enjoy Bubinga so much, I named my dog Bubinga!)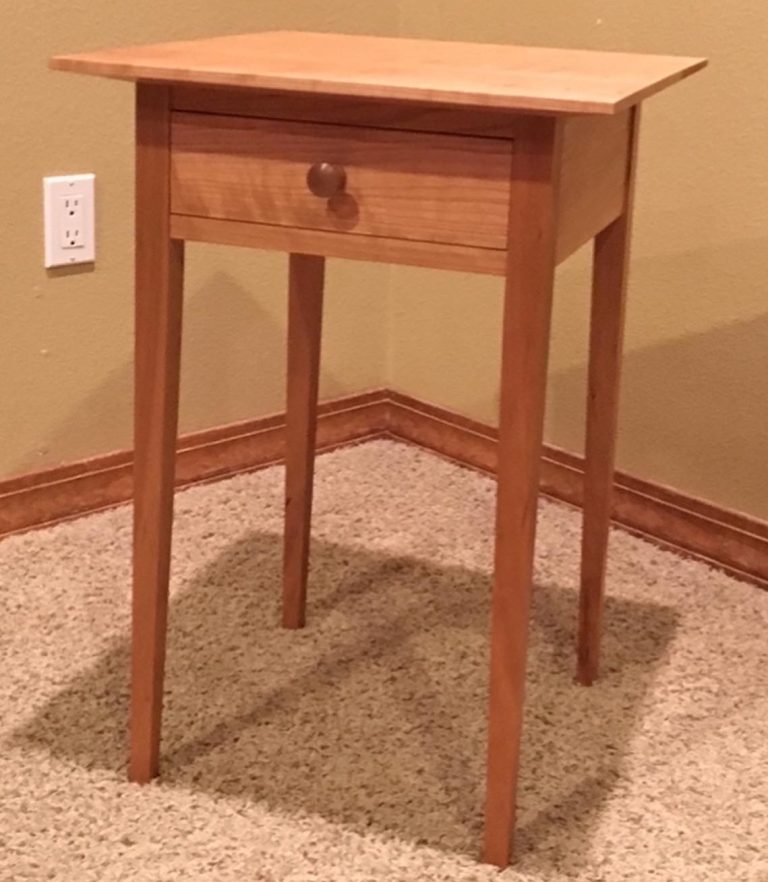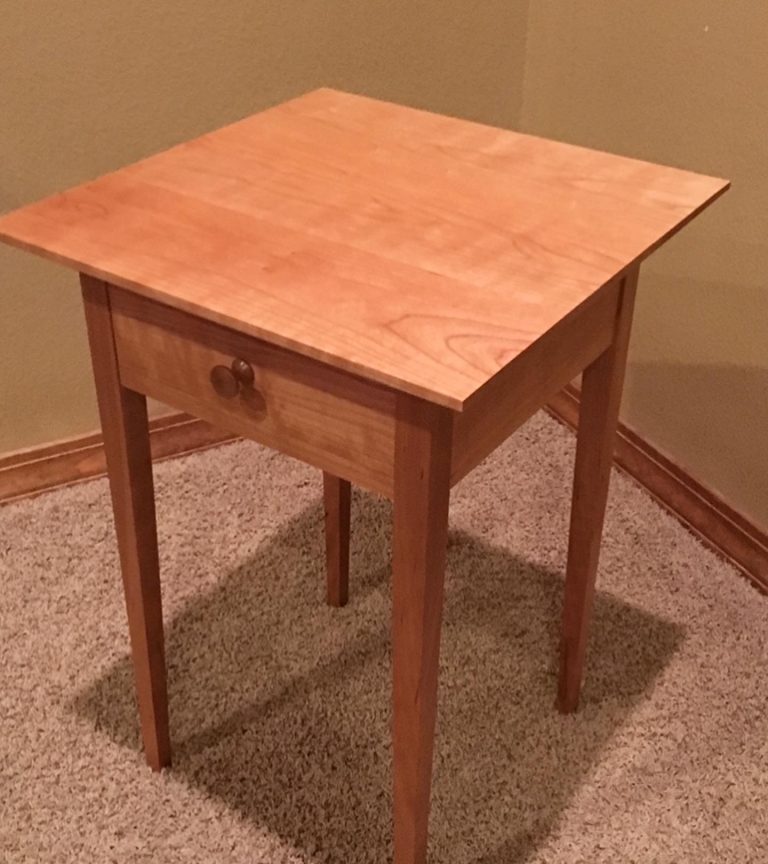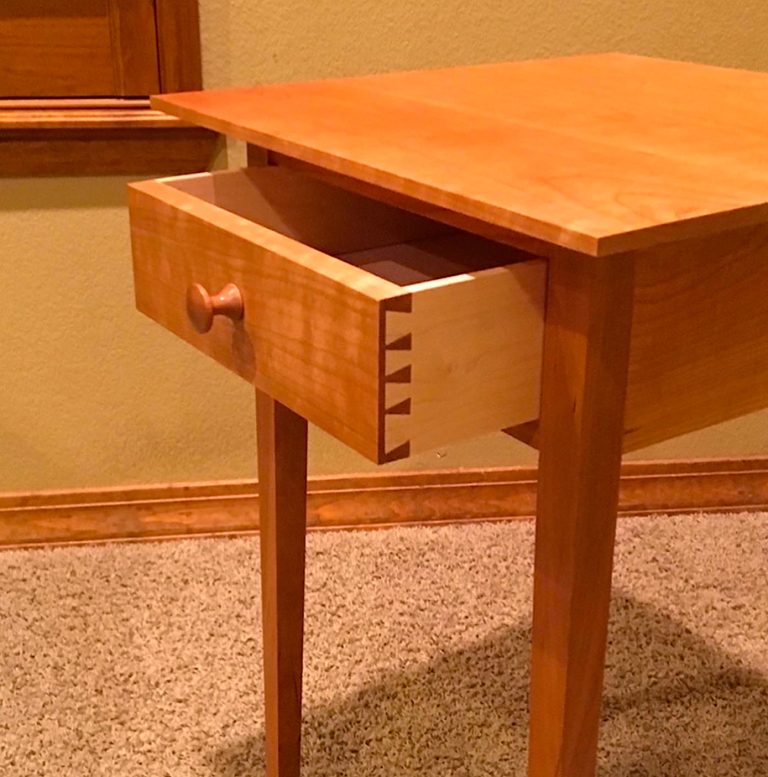 Tobias: Please list your most used hand tools and tell us why they are your "go-to" tools.
Stephen: I could make a never-ending list for this question! I believe that woodworkers will tend to do better and more precise work with a well made tool that feels good in the hand. I take immense pride in keeping my hand tools in pristine condition.
My most used hand tools are as follows:
No.4 Lie-Nielsen Smoothing Plane
No.5 Lie-Nielsen Jack Plane
No.62 Lie-Nielsen Low Angle Jack Plane
No.102 Lie-Nielsen Low Angle Block Plane
Blue Spruce Dovetail Chisels (I use the 1-1/2″ Chisel most often).
Blue Spruce Bevel Gauge
Blue Spruce Fret Saw
13 oz & 16 oz Round Mallets
Lie-Nielsen Tapered Dovetail Saw
Lie-Nielsen Tapered Carcass Saw
Starrett 4″ & 12″ Combination Squares
Blue Spruce Marking Knife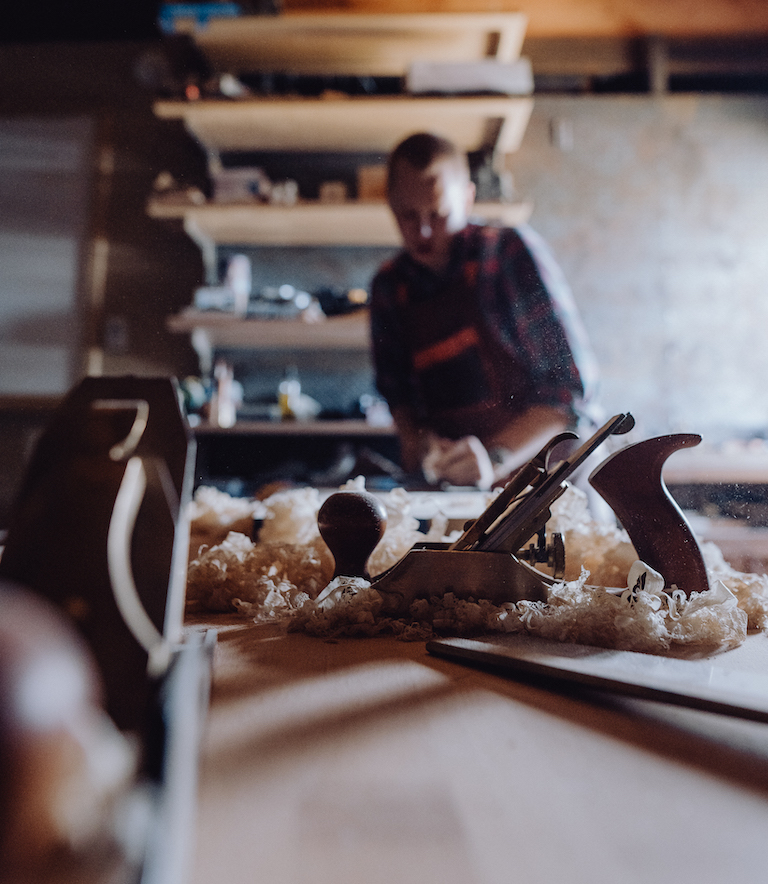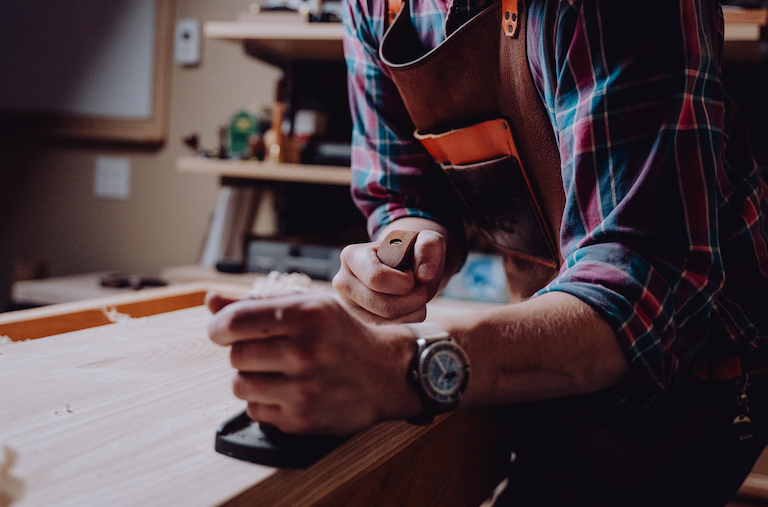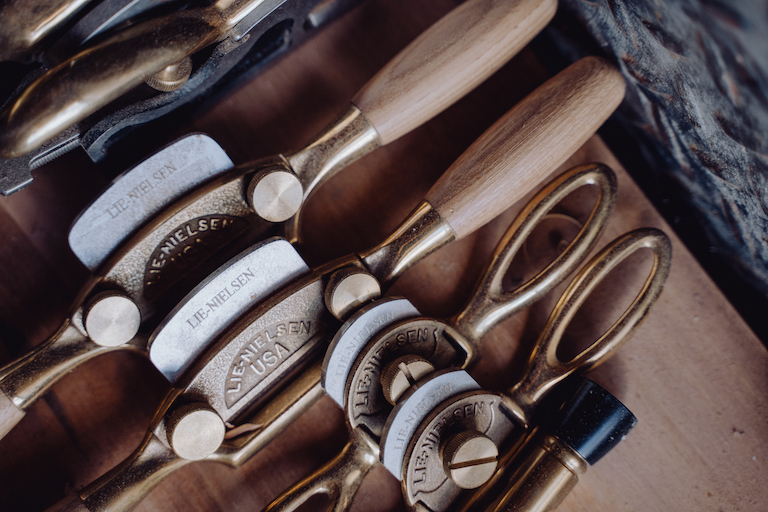 Tobias: Can you list your favorite power tools and machines and tell us why?
Stephen: All of my machines are crucial to what I do on a daily basis. I absolutely love my Sawstop Professional 3HP table saw and my Laguna 12″ jointer. However, my favorite machine is my Laguna 18″ bandsaw by far!
My favorite power tools are my Festool ETS Sander, Festool Track Saw, Festool Domino and most importantly my Festool CT48 Dust Extractor.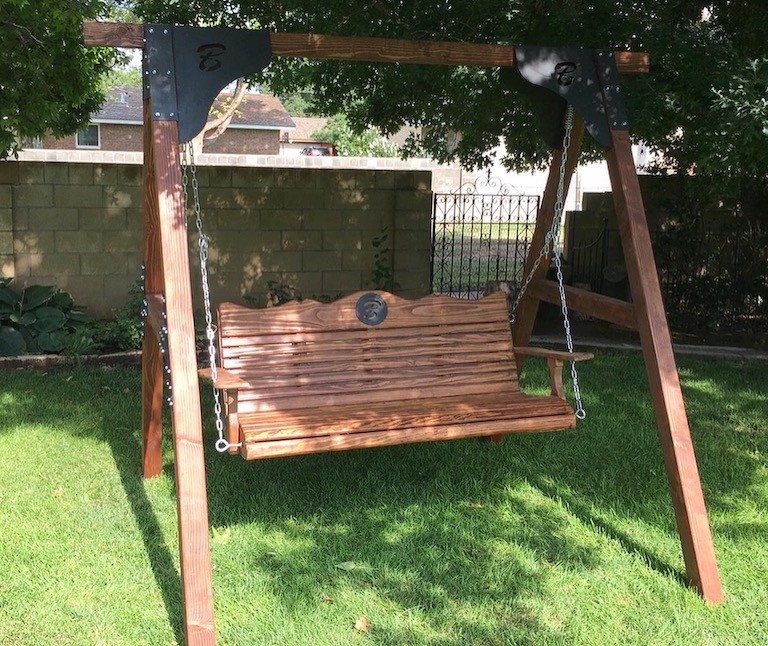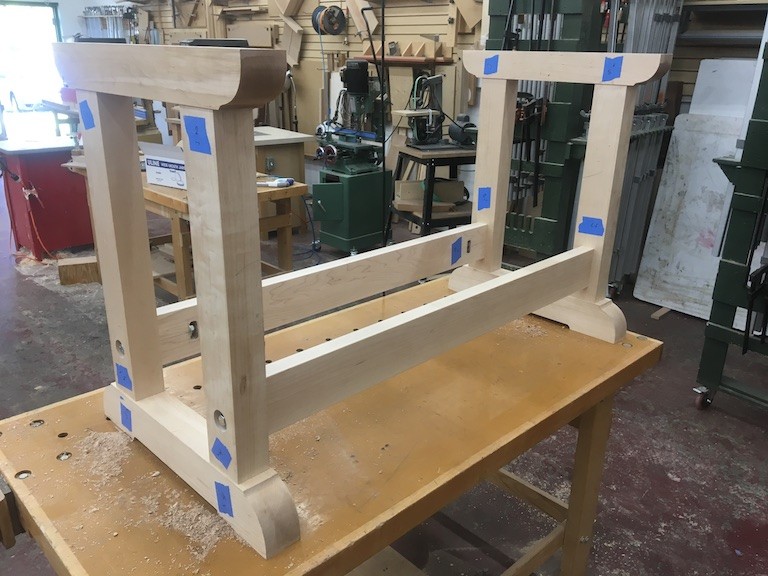 Tobias: What is it about working with wood that you find most enjoyable?
Stephen: Working with wood gives me the opportunity and ability to celebrate my unique God given talents. Being a woodworker allows me the opportunity to express myself in ways that give me confidence and purpose. 
I have always loved building things and this is what first brought me to woodworking. What now drives me to keep creating is the ability to make things that are beautiful, one-of-a-kind and will hopefully last for generations. This pushes me to constantly learn more and try new techniques.
Another thing that I truly enjoy about woodworking is the people, I have yet to find a woodworker who doesn't enjoy talking about their craft and I love that woodworkers typically enjoy sharing their knowledge and skills with others.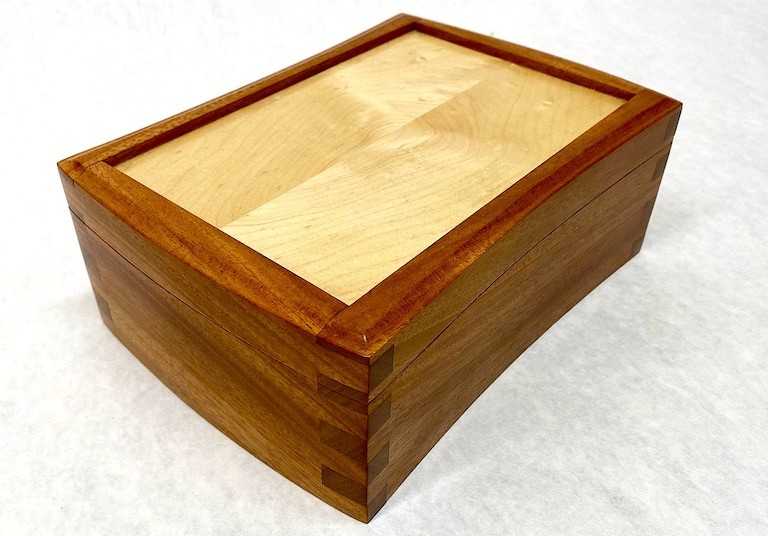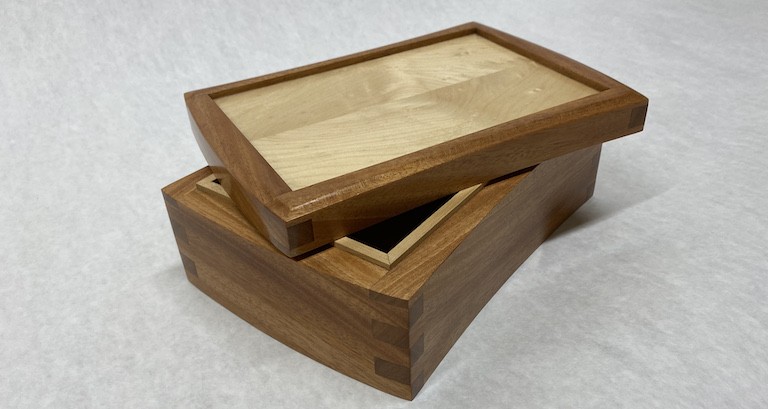 Tobias: What type of workshop do you have, how has it evolved over time and why?
Stephen: My workshop is a constantly evolving space. It changes as I add equipment and tool storage and also changes as I discover new ways to maximize my limited space.
Currently, I have a metal barn for the shop. About a third of the building consists of my personal living quarters and office. The rest of the area is divided into the main shop floor, machine room and the finishing room. The main shop is about 20′ x 20′ and is where I do most of my metalwork and also store materials.  The machine room measures around 20′ x 30′. This area houses all of the woodworking equipment, my workbench and hand tools. The separate finishing room comes in handy when I need to keep working on one project after applying finish to another.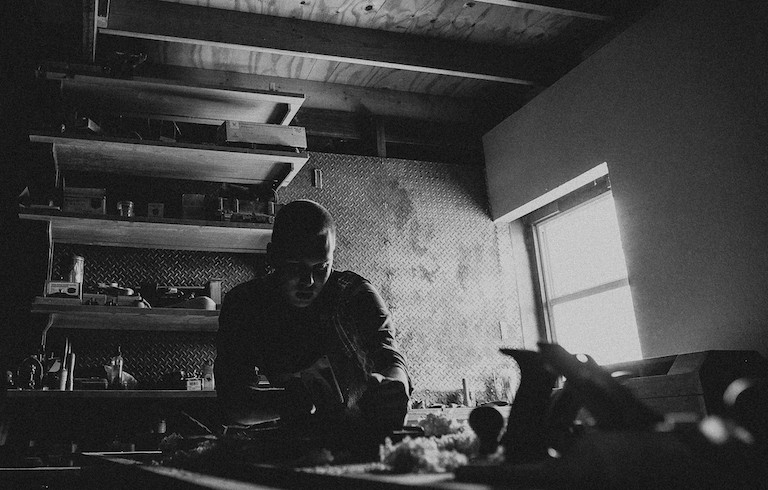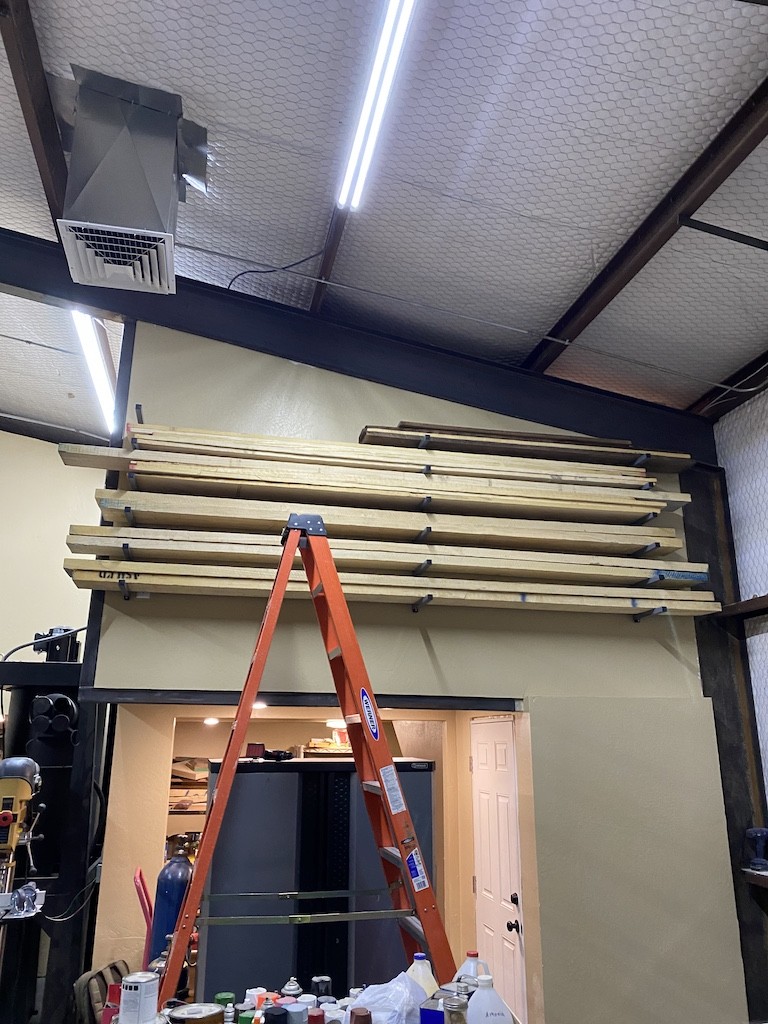 Tobias: What is your clamp line-up and why?
Stephen: I use numerous clamp types in my shop all the way from 3M blue tape to parallel jaw clamps. The majority of my clamps are Pony Jorgensen, they are high quality, last forever and I love them! I use gear clamps most often and they are indispensable in my shop, being typically used to hold work on the bench and hold stop blocks, but are really useful in a very wide range of applications. I also use my  parallel jaw and pipe clamps for larger glue-ups.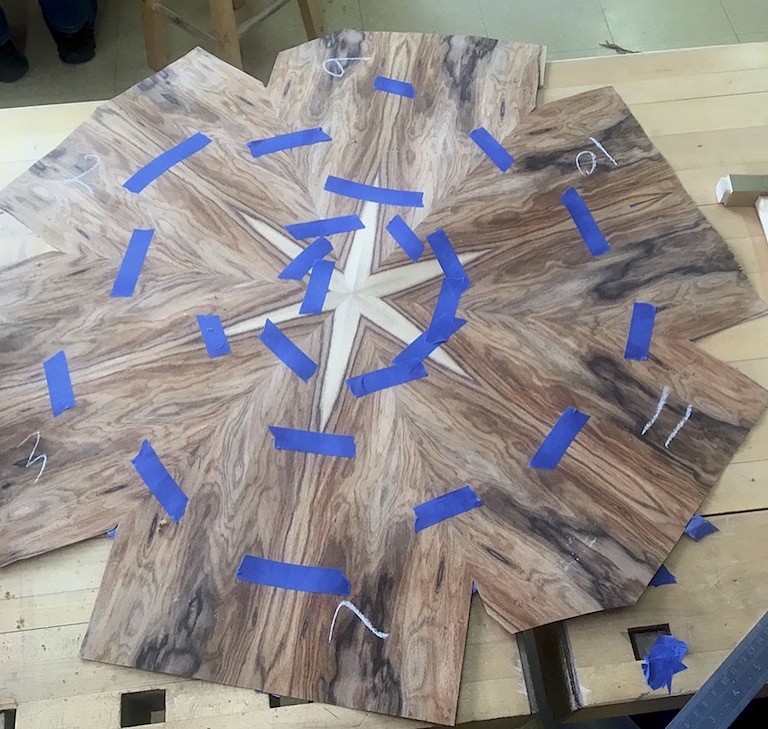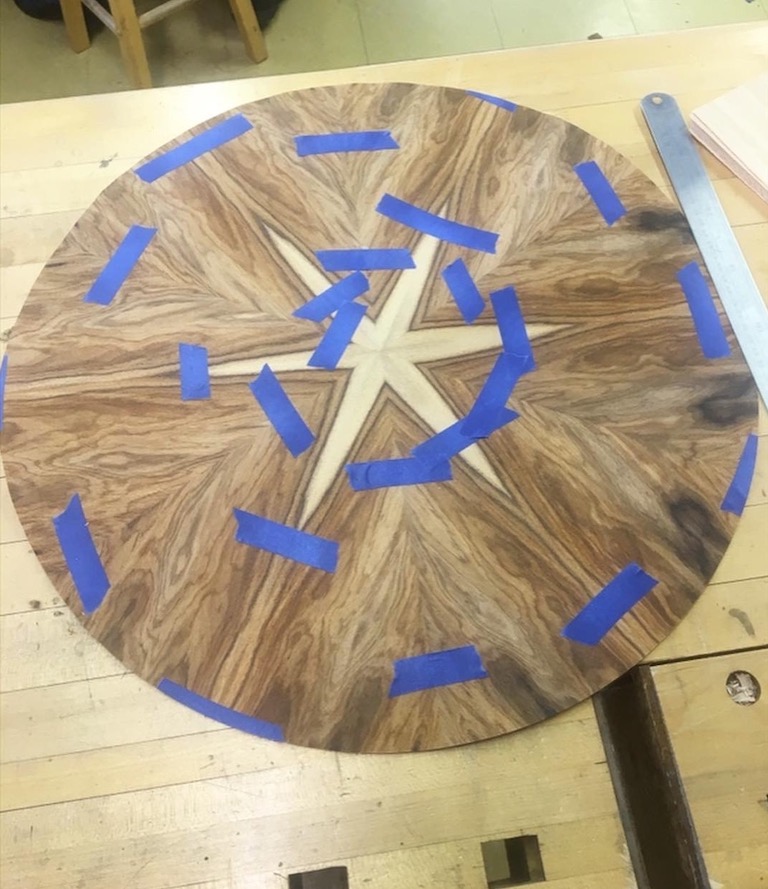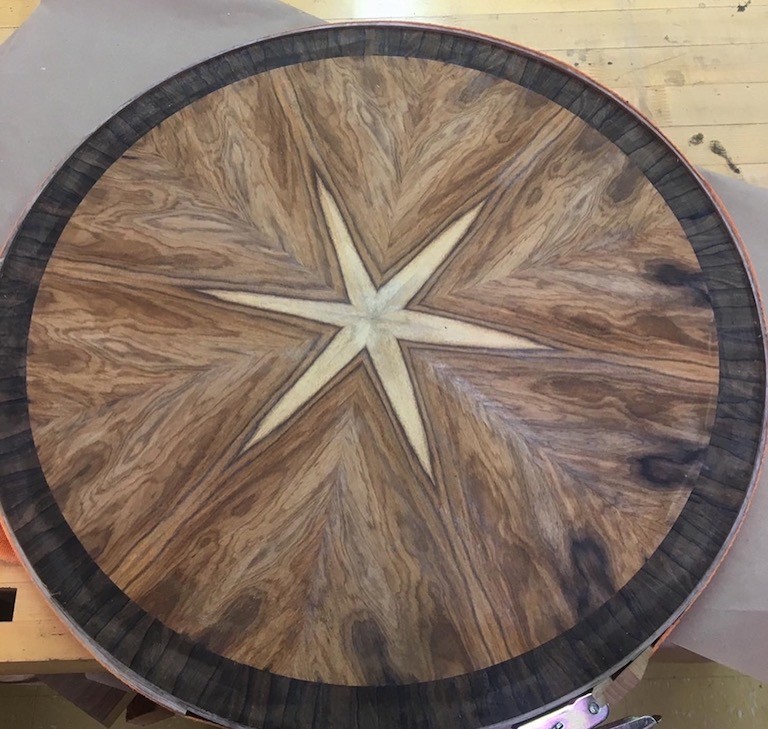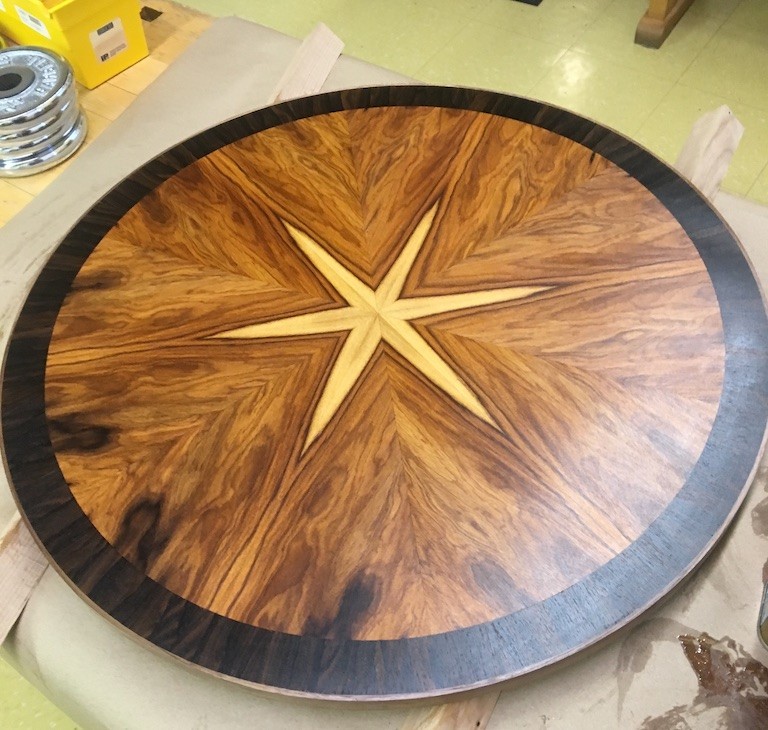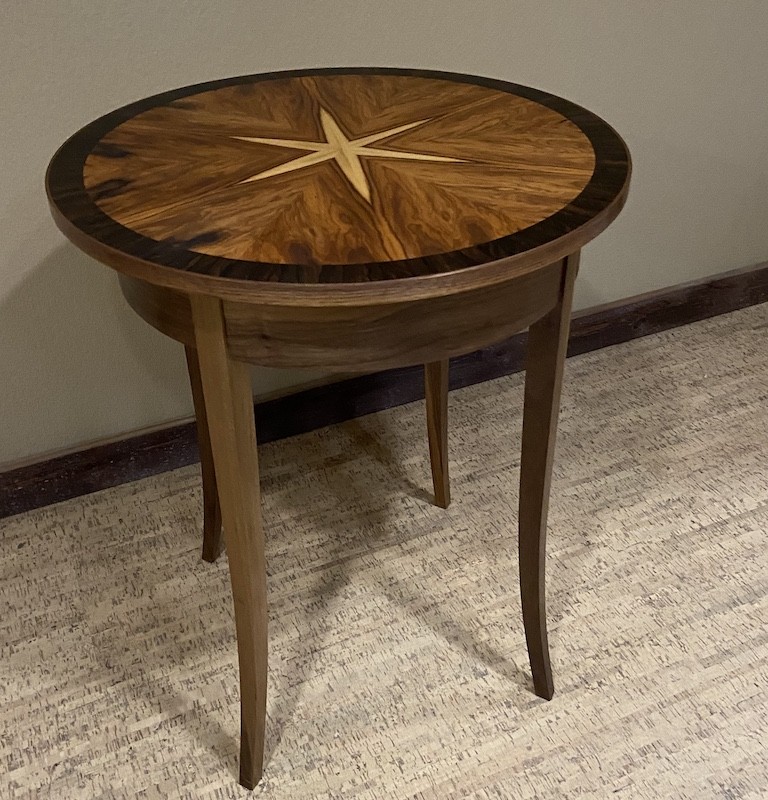 Tobias: Which adhesives and glues do use use and why?
Stephen: I use many different types of glue for various purposes. I love working with hide glue because of the open time as well as its repairability. I strive to make furniture that will stand the test of time, and as such I use hide glue for its ability to be reversed with water and heat, allowing ease of restoring and refinishing in the future. One of the wonderful things about hide glue is that it is available in different gram strengths, making it incredibly versatile, from rubbed joints to hammer veneering. 
The second most used adhesives in my shop are the PVA's such as Titebond 1, 2 and 3.  These work very well for quick and easy glue-ups. I typically choose which one I will use based on the final use and location of the finished piece. For example, I use Titebond 3 on cutting boards and butcher's blocks because it is waterproof and non-toxic.  I use Titebond 1 when doing small vacuum bag veneer work becaue it is easier to clean up than other adhesives. I addition, to the above, I use Titebond Quick & Thick and also CA adhesives for quick repairs like splits and tear-out. I also use CA glue with the "blue tape trick" and others in quick jigs around the shop.
For filling small voids I make use of 5 Minute epoxy and shellac sticks and use epoxy when I need to fill a gap in unseen joinery, as PVA and other adhesives don't fill voids as well.
Polyurethane adhesives such as Gorilla or Titebond Polyurethane work well when a joint is required to be waterproof.  They are very strong and have a longer open-time than Titebond 3. Polyurethane adhesives can also be used on more that just wood, making them quite versatile. 
Lastly, I employ Unibond 800, which is a urea formaldehyde adhesive for bent laminations and large veneer work. It works wonderfully for laminations because it avoids "cold creep" which is often a problem with normal PVA adhesives.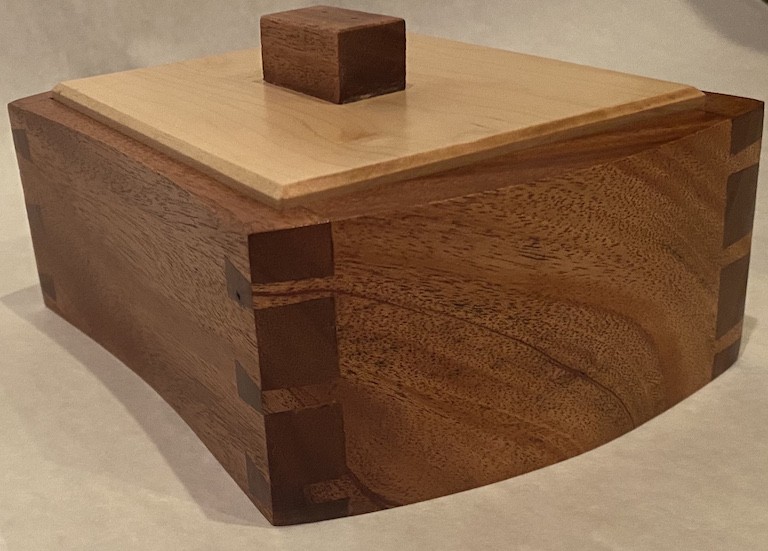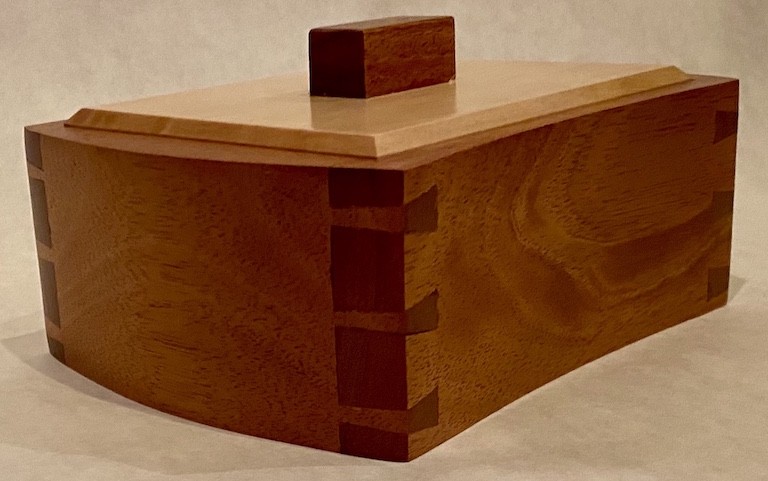 Tobias: Which woods (exotic and local) have you not yet used and why are you interested in working with these species?
Stephen: There are many species that I would love to experiment and work with, for example, Wenge and Bloodwood. I really like the way the coloration and grain look in each of these species and I think that they would make truly unique and beautiful furniture pieces. So many wonderful species and so little time…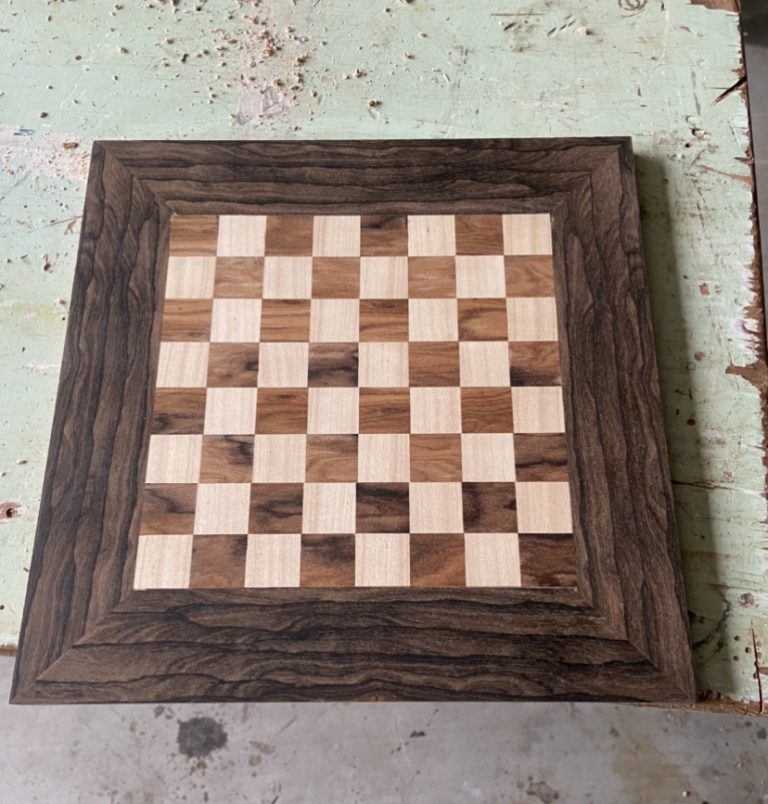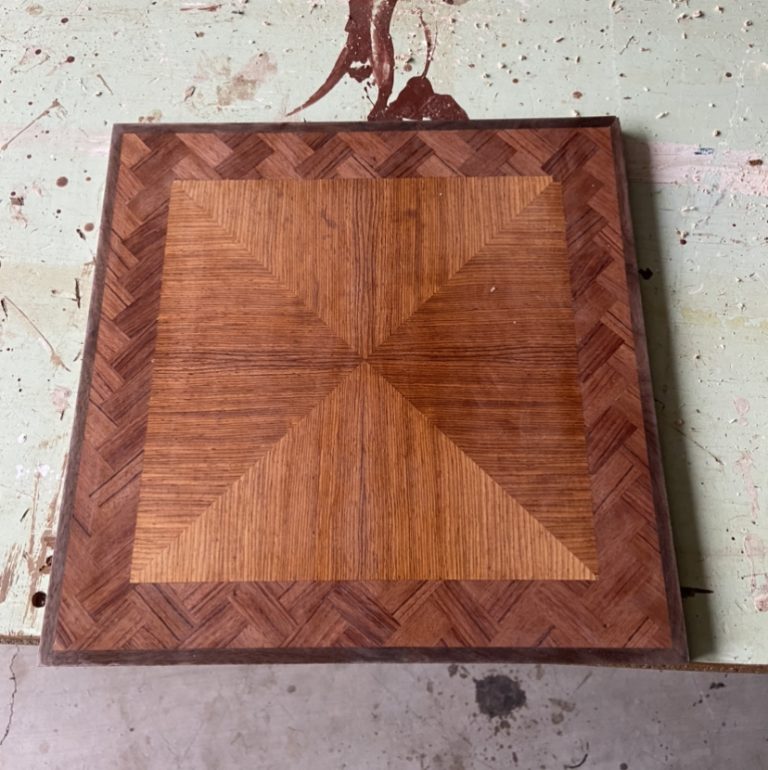 Tobias: What and whom are your souces of inspiration for your craft?
Stephen: I draw inspiration form the world all around me, from the work done by the master craftsmen of yesteryear as well as the work of modern woodworkers. 
One of my favorite ways to get inspired is to wander through museums like the Peabody Essex Museum and the Museum of Fine Arts in Boston, which are wonderful places to find inspiration. I truly enjoy seeing the beautiful and enduring work of past woodworkers and I try to emulate them in my work. Seeing an old piece that has remained both beautiful and functional for generations, motivates me to build exceptional pieces.
I also draw my inspiration and wisdom from men like Philip Lowe, Bob van Dyke, Mike Pekovitch, Steve Latta, Ron Barter and Stan Austinall, all of which I am extremely fortunate enough to call my teachers.
There are also great sources of inspiration available at our fingertips in the modern world. The internet is a treasure chest of inspiration. I really enjoy watching others create unique pieces on Instagram and YouTube. I also admire Keith Johnson Woodworking, Frank Strazza, Marc Spagnuolo and many others on these platforms.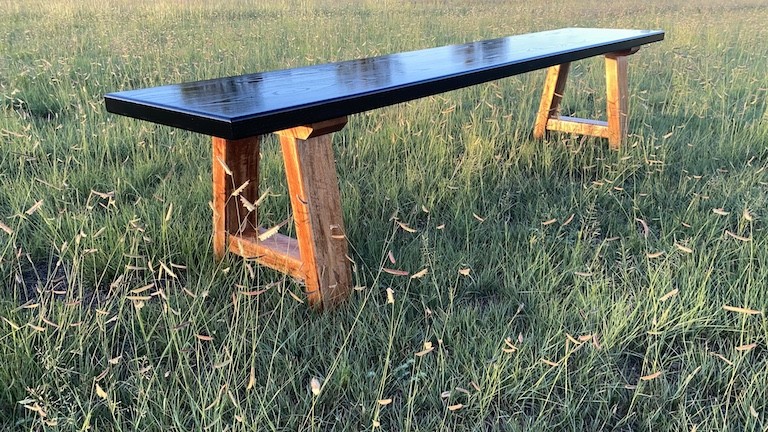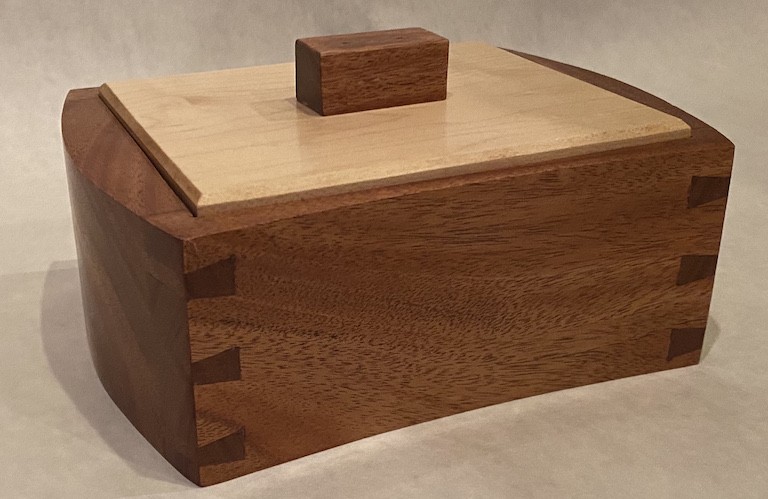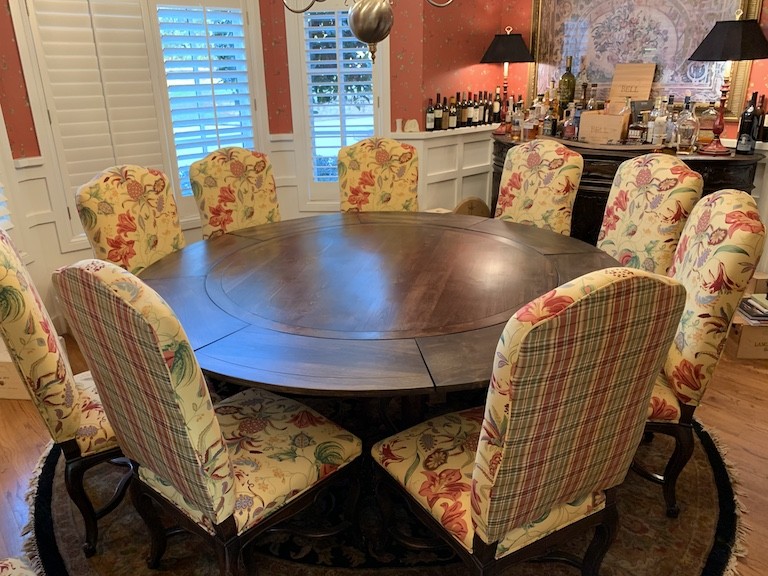 Tobias: How do you design your pieces? Do you use CAD or SketchUp? Do you draw out by hand?
Stephen: I do most of my designs work on paper. My preferred way of drawing up a new piece is to draw it at full scale on craft paper using a drafting table. This is a technique that I learned from Philip Lowe while attending his school. I have tried other methods of designing like SketchUp and CAD, however drafting full size really makes building a piece much easier, as you can take measurements directly off the plans to create the individual components.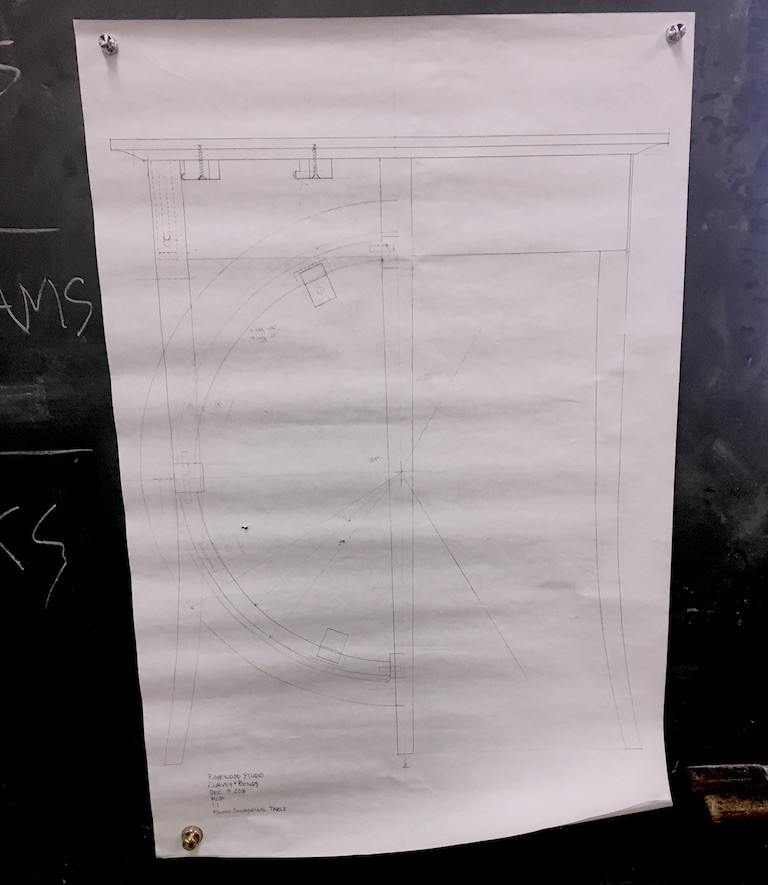 Tobias: What are your favorite finishing regimes, what products do you use and which are your favorite processes?
Stephen: Every finishing project is unique. I make use of shellac, varnish, lacquer and oil finishes depending on what the project is and where the finish is applied. For example, I never use oil finishes on the interiors of drawers and cabinets, because the smell of the oil tends to linger long after the piece has been delivered. For this kind of work, I usually use shellac or lacquer for ease of use and quick curing time.  I also love that both shellac and nitrocellulose lacquer are very easy to repair. 
On nearly every project I will pre-finish with a 1lb cut of shellac right after hand-planing. This helps to protect the piece while I continue to work with it, fitting joints and pre-assembling. Shellac also helps a lot to preventing blotching if I stain the wood. I typically don't use stain unless it is unavoidable. I much prefer to use woods that are already the color that the client is looking for.
After the base shellac coat, I apply a top-coat of the desired finish such as lacquer varnish or simply build up the shellac finish. If I am finishing with varnish or lacquer, I use clear gloss to build the finish and then the last two coats are either satin or semi-gloss, if that is the look that is required.  
Building with clear finish allows for a much better overall finish by giving it better clarity and making it easier to progress through the coats. After the top-coat, I rub out the finish with 0000 steel wool and a sanding block. I use Mohawk Steel Wool Lube to help in the rubbing out of the finish. After this, I apply paste wax and bring the finish up to the sheen that I am looking for.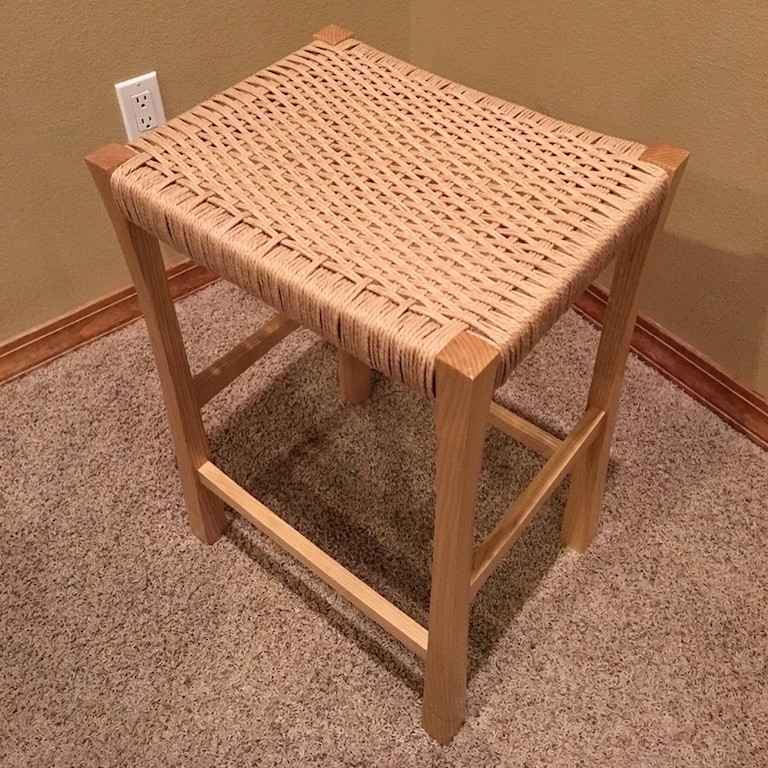 Tobias: Which part of working with wood do you dislike the most?
Stephen: Everyone's least favorite part of woodworking is the dreaded sanding! While I don't really mind sanding, wherever possible, I avoid it. On the majority of my projects, I don't pick up sand paper until the finish is applied.  I get the surface of the wood flat, smooth and ready for the finish by using hand planes, spokeshaves and card scrapers. In my opinion, this process offers up a better and clearer surface than sanding ever could.
I also dislike having to do multiples of the same item like cutting boards and decorative boxes. While these item sell very easily, I don't enjoy the repetition that leaves no room for creativity and change.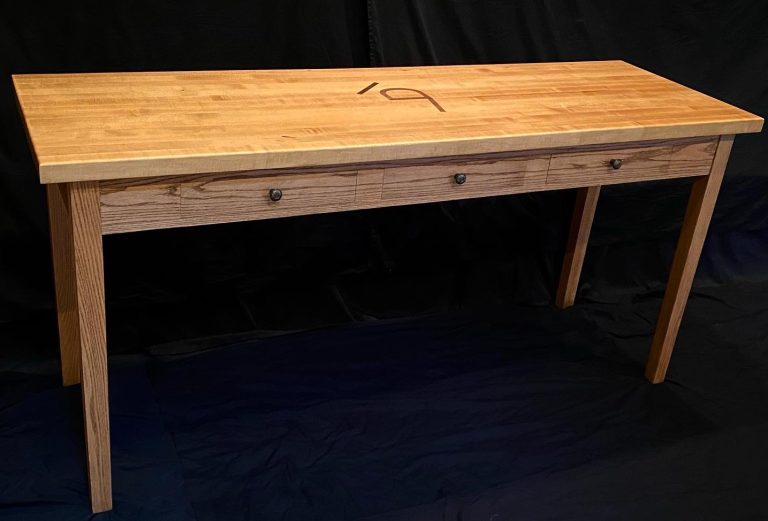 Tobias: What is your favorite music to listen to in your workshop?
Stephen: I really don't listen to a lot of music while I work. I much prefer to learn things as I work, so I listen to podcasts, audio books and watch youtube videos and documentaries. I find that this helps me to be more productive and stay motivated while learning new things.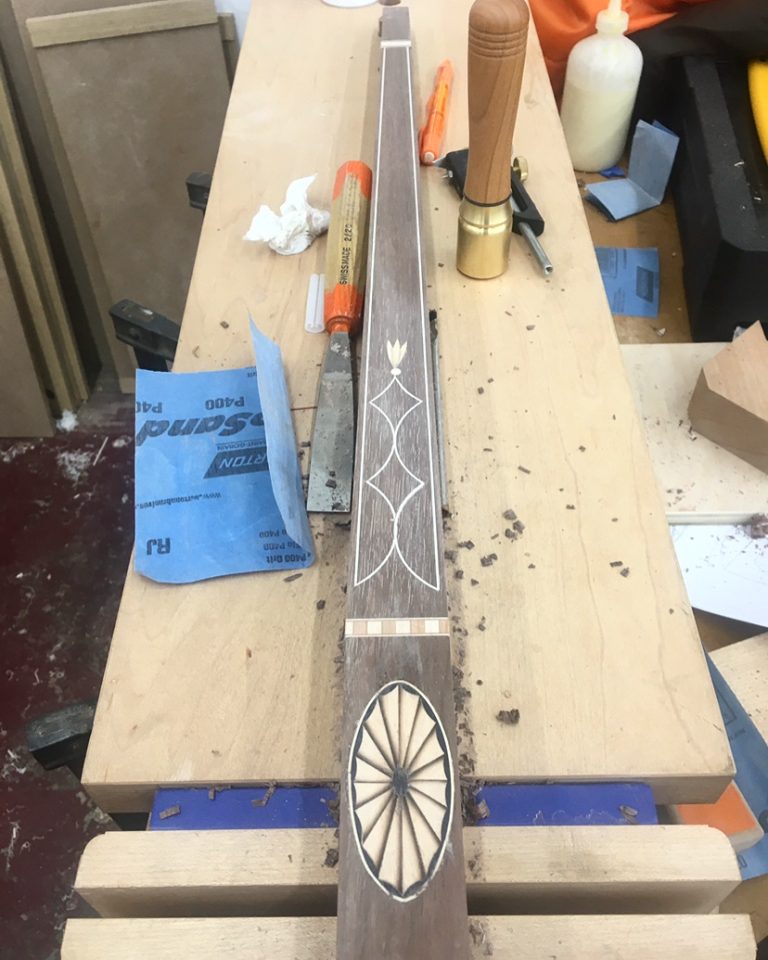 Tobias: What is your tool sharpening regime?
Stephen: I have tried numerous sharpening techniques and each has their place. I use both diamond stones and Japanese whetstones. I really enjoy how fast the Japanese whetstones cut, and even though they go out of flat easily, they are extremely quick and easy to re-flatten with a dressing stone or a 320 DMT diamond plate. The DMT works fantastically and one never has to worry about it going out of flat. I use Japanese whetstones for my chisels and hand planes. My sharpening progressing is 1000-6000-10,000, and sometimes finishing up on a 16,000 and 30,000 Shapton glass stone if the application of the tool requires it.
For sharpening carving tools, gouges and card scrapers, I use diamond stones because they don't wear a groove in them like waterstones tend to do. With my carving tools and gouges, I don't let them get dull, so I mostly start at fine or even extra-fine, just touching up the edge. I then take them to my strop loaded with a little green compound to finish polishing up the edges.
As far as card scrapers go, I start with a single cut bastard file to joint the edges. I then follow up with with a 320 grit diamond stone on both faces and the edges. Next up is a 1000 grit whetstone to finish, followed by burnishing the cutting edges.
I also use both the Lie-Nielsen Toolworks and the Veritas Tools honing guides for sharpening. I really believe that both of these tools have a place in every woodshop.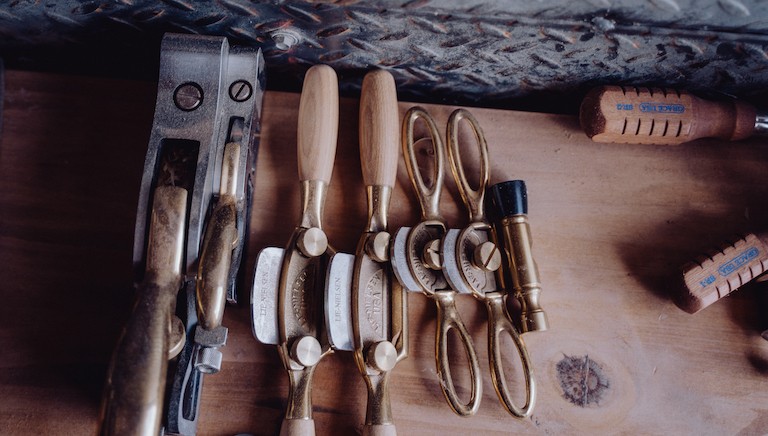 Tobias: What custom jigs or tools have you developed for your woodworking?
Stephen: I build numerous jigs for every project. Some are just rudimentary wedges and stops that allow for more precise repeatability. On projects that I know I will have to build again, I build more permanant and substantial jigs. I use table saw sleds, 'L" fences, shooting boards and many other shop-made jigs on a regular basis. Recently, I developed a set of jigs to cut concave and convex curves on the outside faces of boxes, using a pattern bit on my shaper. This worked fantastically and I will be building more jigs like this going forward.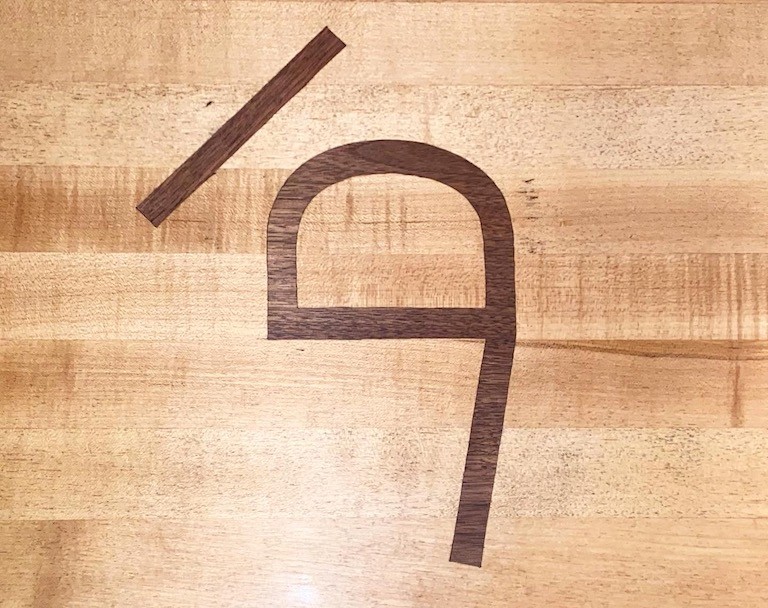 Tobias: What is the next piece you are going to build and why?
Stephen: The pieces I am most looking forward to making in the near future are sentimental. I am currently designing a rocking chair for my sister, who is getting ready to adopt her first child. The other piece that I am really looking forward to building is a long-awaited 16′ dining table and set of chairs for my extremely patient mom!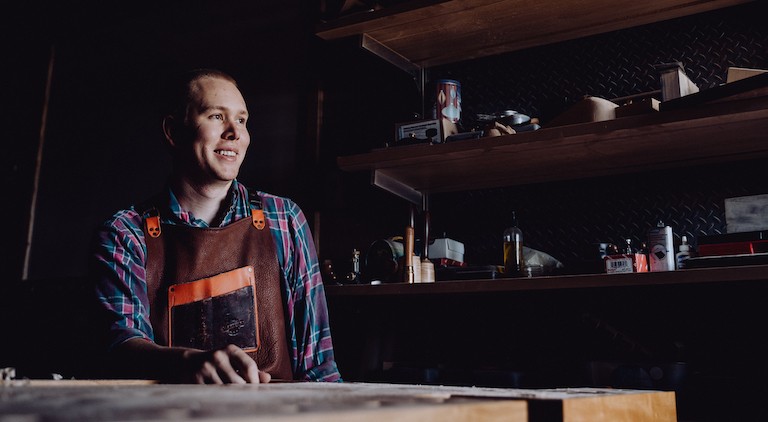 I want to invest in a good CNC router and a CNC laser. I believe that these machines would greatly improve my workflow and offer me capabilities that I don't currently have in my workshop. I would really like to expand my hand plane collection to include more Lie-Nielsen planes and also increase my range of wooden molding planes. 
I would love to have a large stash of the following species:
Many, many more species, but I don't wish to sound greedy!
Makers with whom I would love to spend quality time
www.instagram.com/blackwaterwoodworks/
www.instagram.com/rosewoodstudioschool/
Once again, our sincere thanks go to Stephen Turvaville for being a part of The Woodworker Sessions USA! 
Please remember, if you can suggest any woodworkers who are doing great work, yet hiding away in their woodshops and maybe would be willing to be part of The Woodworker Sessions USA, please drop us a mail at info@rarewoodsusa.com