Dalbergia decipularis: Dalbergia frutescens
Brazilian Tulipwood|Jacaranda Rosa|Pau de Fuso|Pinkwood|Tulipwood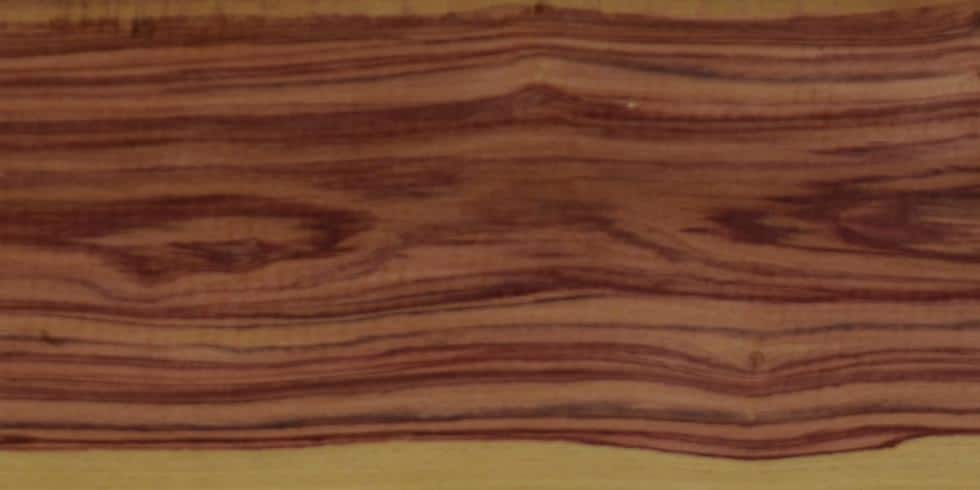 Tulipwood is one of the most coveted and seldom-seen of all (Dalbergia genus) rosewood species. The trees are very small in stature, thus, obtaining long, wide boards is quite rare — and, when found undefective, sell at a premium. It is much more commonly found in smaller, craft-sized pieces. Finding any available boards in widths of 5″ or more is uncommon.
Its heartwood is cream to salmon colored, highlighted by striping which can be any combination of red, violet, purple, pink and rose hues. The sapwood is pale yellow to a very pale yellowish white. Heartwood color gradually fades with continued UV ray exposure.
Tulipwood is typically straight-grained, although grains can also be wavy or (infrequently) irregular. The wood has a high natural oil content and is quite dense, which makes working it an often-difficult prospect. Despite being rather grainy and pourous, it sands very smooth, revealing a pleasing natural luster.
This species is listed in CITES Appendix II, but not yet on the IUCN Red List of Threatened Species.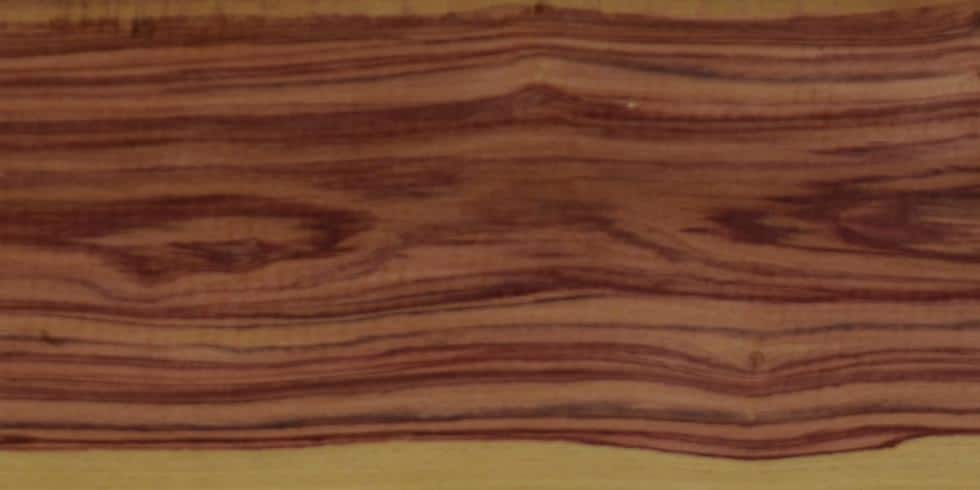 http://dev.rarewoodsusa.com/wp-content/uploads/2021/02/TomGuelcher-chest.jpg,Tom Guelcher
http://dev.rarewoodsusa.com/wp-content/uploads/2021/02/cane1.jpeg,http://dev.rarewoodsusa.com/wp-content/uploads/2021/02/cane2.jpeg,http://dev.rarewoodsusa.com/wp-content/uploads/2021/02/cane3.jpeg,Scott Prevost
| | |
| --- | --- |
| Main Color Group | Pink |
| Grain Pattern | Pronounced |
| Avg Dry Weight - LB/BF | 5 |
| Avg Dry Weight - KG/M3 | 970 |
| Janka Hardness - LBF | 2500 |
| Janka Hardness - N | 11120 |
This vibrant Central American wood can features primary colors ranging from orange to golden brown (with gold, red and sometimes even green accent coloration). It is thought to be the closest relative to Brazilwood (famous for its use in stringed-instrument bows), and Chakte Viga shares many of the same acoustic properties. Grains are straight, but sometimes interlocked — otherwise, this wood works easily, and finishes well. It has a fine texture and excellent natural luster. Sap is a pale off-white to pale yellow.
Chakte Viga is a wood that has been starting to emerge from relative obscurity over the last decade or so, being one of the lesser-known and -demanded woods from the tropical Central America region. We feel it has a huge untapped potential as a guitar tonewood, as well as in fine furniture production in the US. The wood has some very subtle aesthetics, sometimes exhibiting a 3D-like shimmering chatoyance after being finished with clear lacquer.
Common Uses:

fine furniture
,
furniture
,
inlay
,
turnings