Welcome to the very first edition of the Rare Woods USA Woodworker Sessions interview series. Here we hope to discover more about what makes woodworkers tick, how you became involved in the craft, how and why you build your pieces and maybe a few secrets and tricks as well!
A woodworker since he was 8 years old, our interviewer, Tobias Lochner is no stranger to the workshop. Find out more about him here.
We are extremely grateful to Kevin Winsor, who has very kindly offered to be our first interviewee for The Woodworker Sessions USA!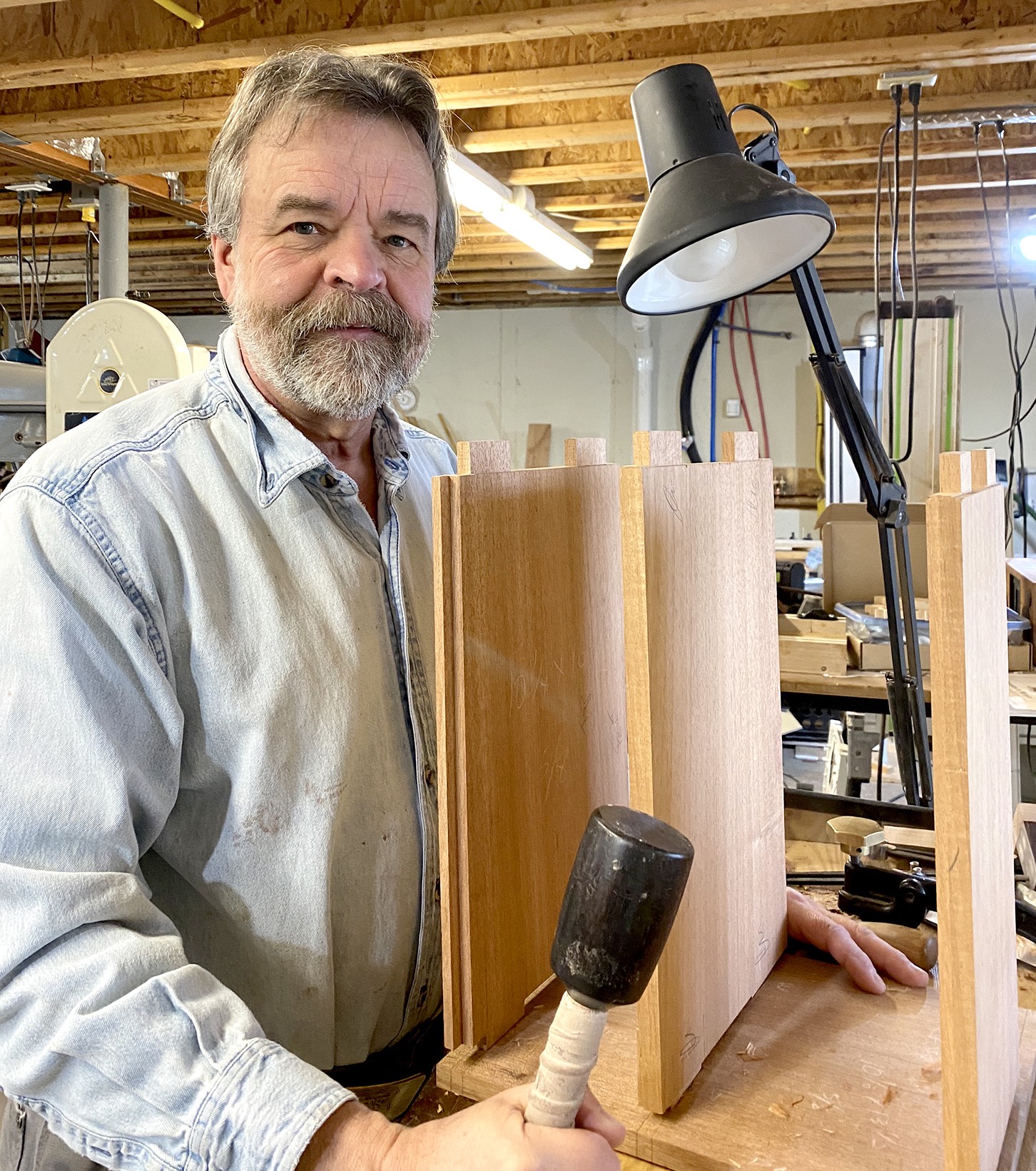 Question #1
Tobias: Welcome to The Woodworker Sessions and thank you for joining us! Please would you tell us a little about yourself?
Kevin: I am 67 years young, retired, with a wide range of interests and have been very happily married for 37 years. Besides being a woodworker, I am a registered Maine Guide specializing in fly fishing. In my early years, I worked with metal and built custom fire trucks. That knowledge and experience transferred perfectly to the welding supply industry where I spent 35 years before retiring.
Prior to getting into woodworking, my hobbies were gun-smithing and large format photography.
Question #2
Tobias:  How did you get started doing woodwork and how long have you been a woodworker?
Kevin:  My wife is entirely responsible for instigating my woodworking adventure. She wanted a cherry dining room set. The beautiful table and chairs that she wanted cost $8000 at the time! I figured that much money would buy the equipment that I needed to build the set myself.
25 years later I am still at it, loving spending 4 to 6 hours a day working in "the salt mine"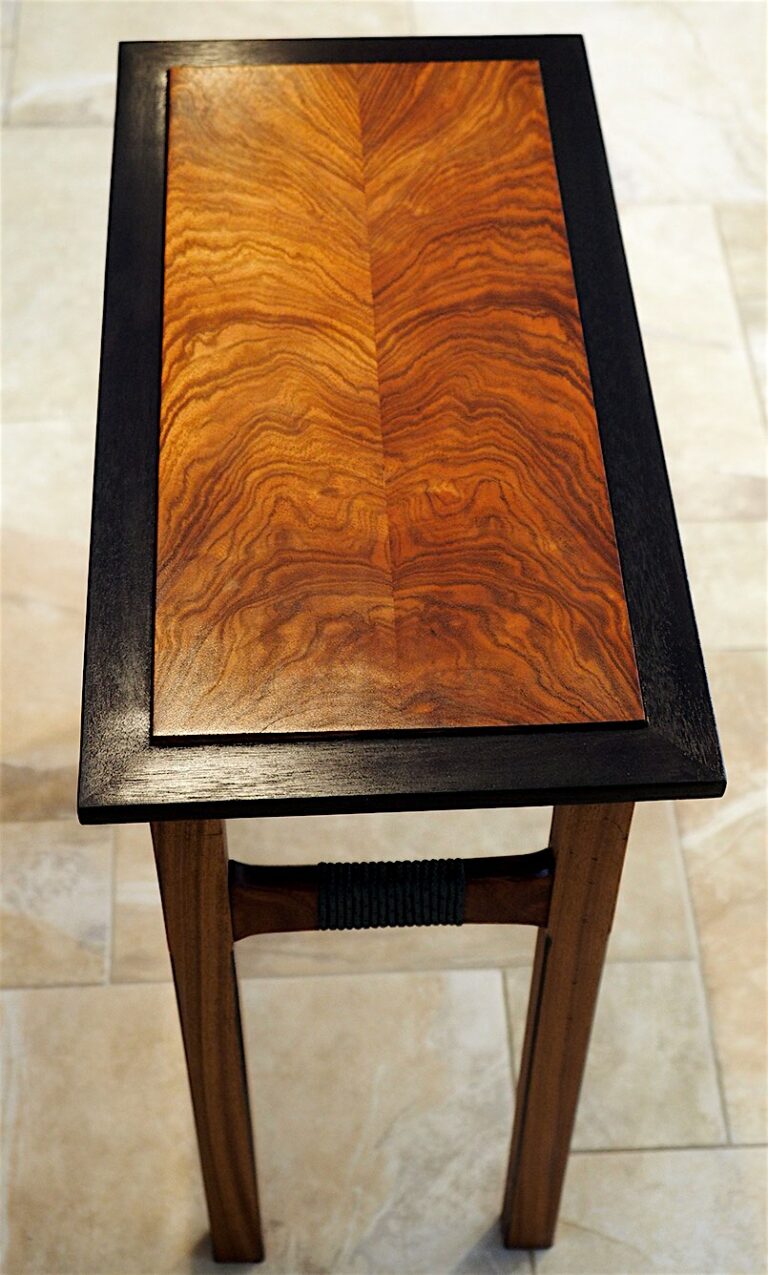 Question #3
Tobias: What was the first item you ever made and which is your favourite piece?
Kevin: My dining room table and 6 chairs was the first project. I figured that I would start with something simple and work my way up. It didn't turn out to be so simple!   I am most proud of my sculpted rocker. Also, I am extremely proud of 2 original design benches that I made with curved stretchers.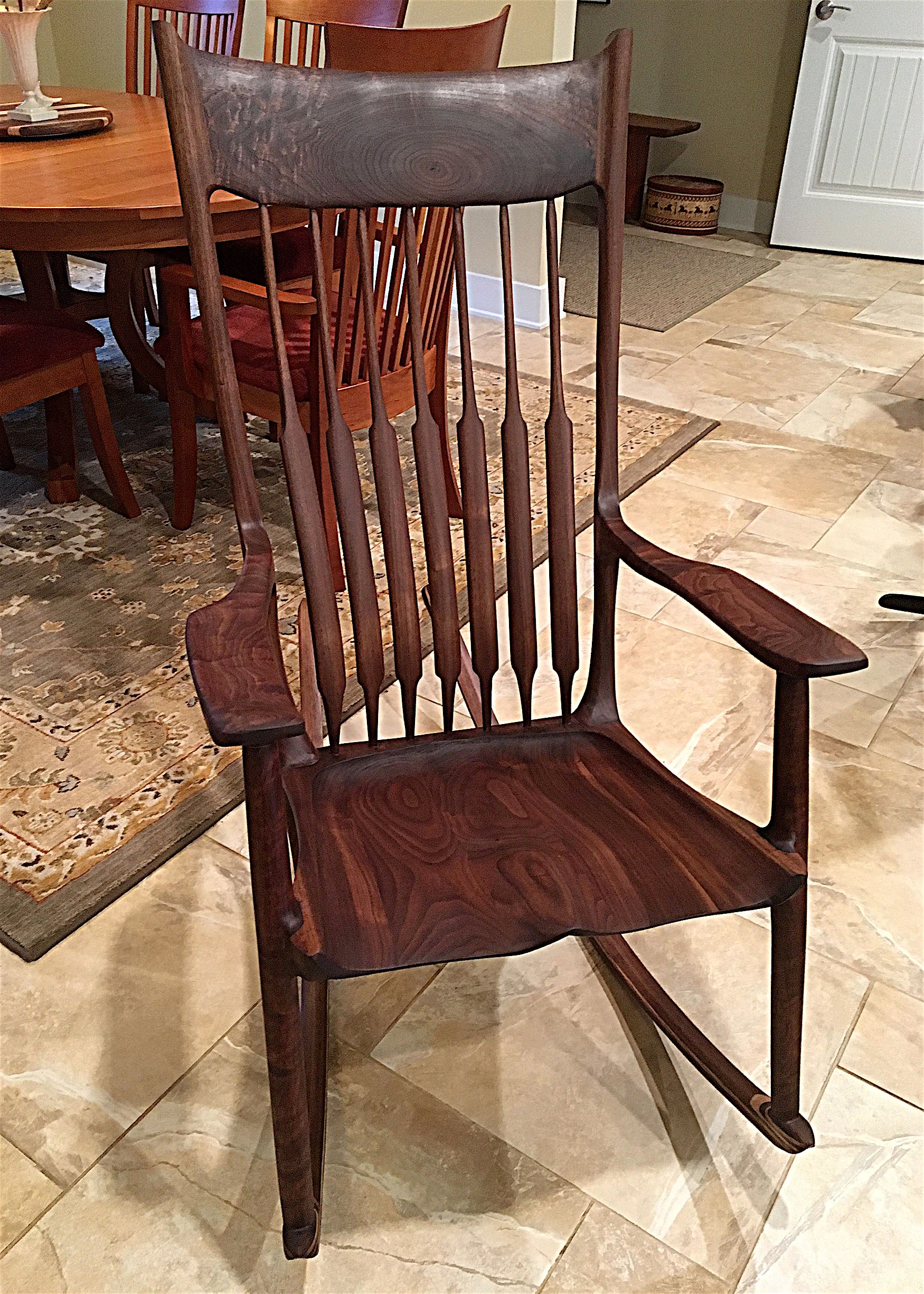 Question #4
Tobias: Which styles of furniture do you enjoy building the most?
Kevin: Shaker style was my first influence and I also love Greene & Greene. I have really enjoyed the Sam Maloof inspired projects I've completed. The sculpted rocker was an immensely enjoyable and rewarding project. Some of the skills learned in that project have been incorporated into some of my original designs, such as the Cherry kitchen stools and the benches I've made with curved stretchers.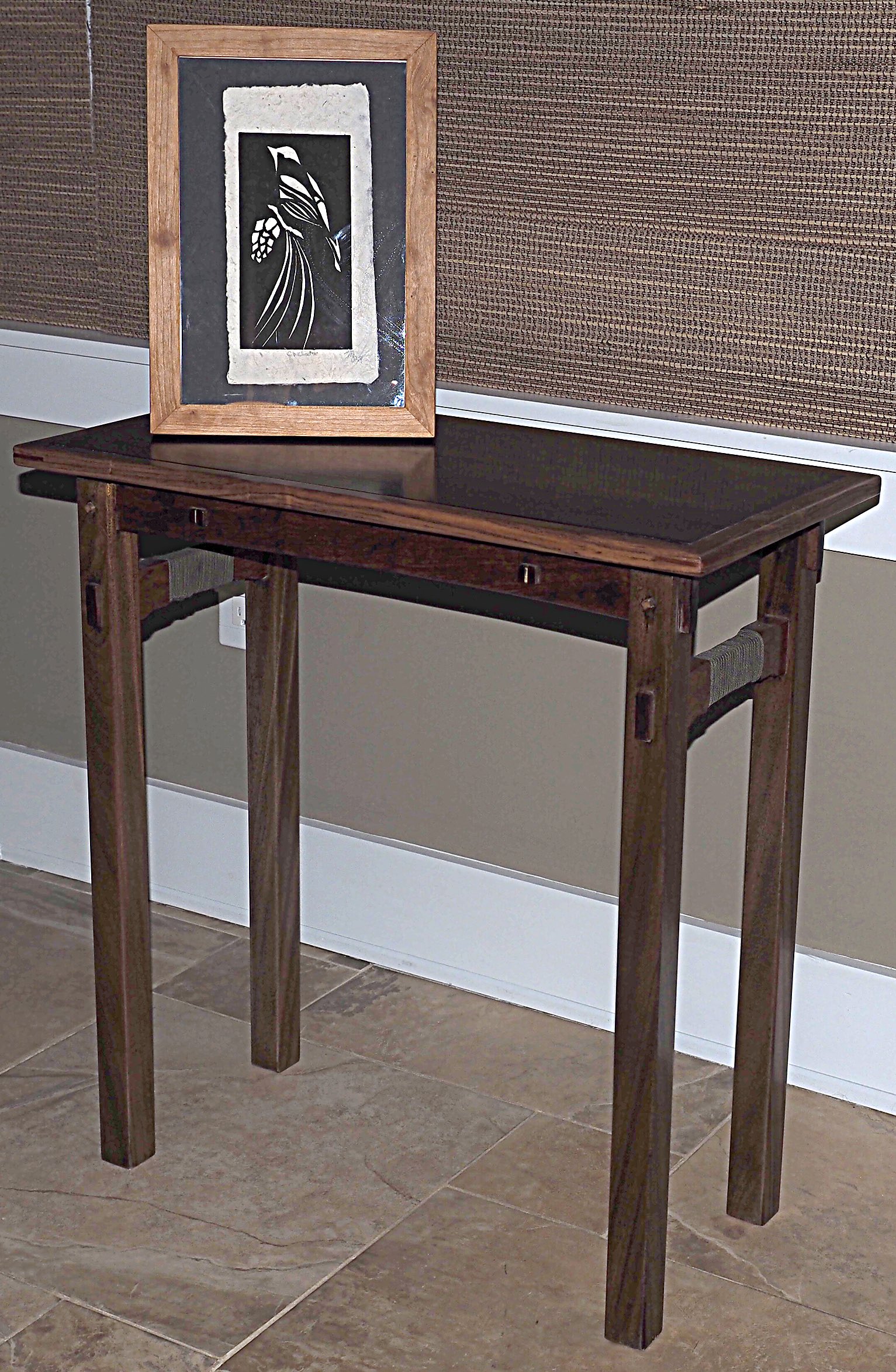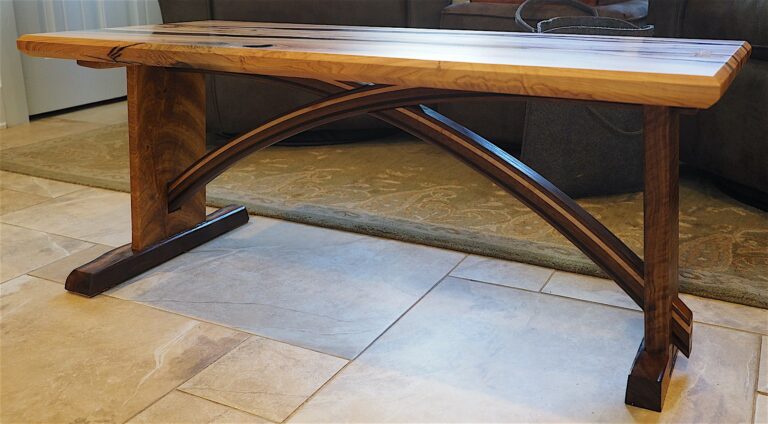 Question #6
Tobias: Please list your most used hand tools and tell us why they are your "go to" tools?
Kevin:  Chisels, hand saws, card scrapers, and my hand planes are always on my bench. A 4" double square and a Stanley folding knife live in my apron pocket. I love the sizzle a sharp hand tool makes!
A Lie-Nielsen #62 low angle jack plane and their low angle block plane find a lot of use because of their versatility. I hand cut my dovetails, so quality chisels and hand saws see a lot of use. I enjoy the challenge of a precision fit. A recent purchase of the Veritas shooting board and shooting plane have greatly improved the precision and pleasure in making well fitted joinery.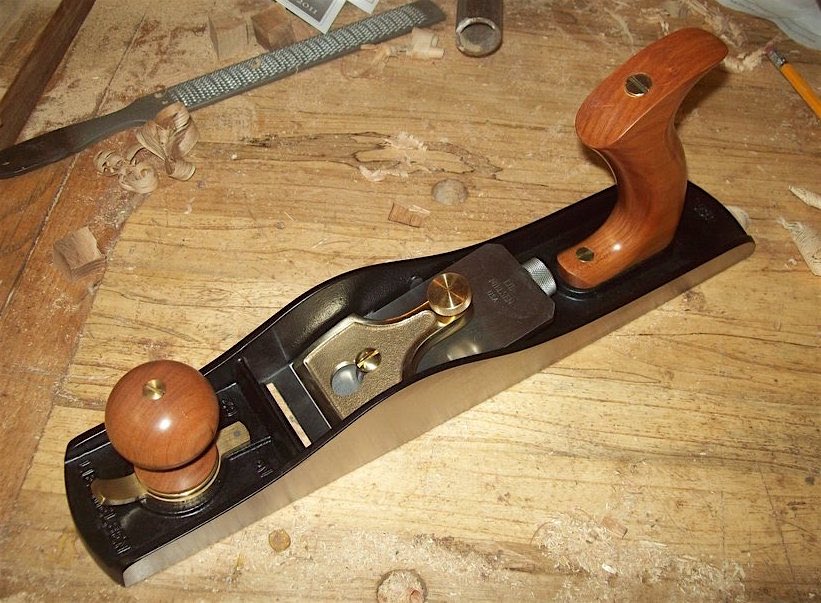 Question #7
Tobias: Can you list your favorite power tools and machines and tell us why?
Kevin: A high quality band saw has made its way into my arsenal in the past year. I am now able to buy 8/4 and 12/4 timber and re-saw it to the thickness I want. The bandsaw has turned out to be much more useful than I anticipated. When I shop at Rare Woods USA,  I look for wood with interesting grain, often without a project even in mind. The ability to re-saw with precision helps me to maximise the use of these inspiring woods.
Being able to cut book matched pieces is a major benefit of the band saw. An 8" wide
jointer and a 15" wide planer are an integral part of the process. An accurate table saw rounds out my list of most often used power tools.
Power tools were a side line of the welding supply business. Being a Festool distributor, I was invited to their factory in Germany. I was extremely impressed with their sanders and dust collection and use several of their products every day.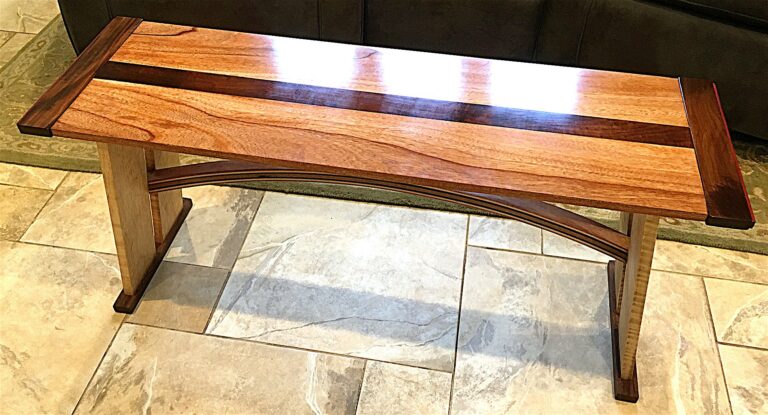 Question #8
Tobias:  What is it about working with wood that you find most enjoyable?
Kevin: For many years, I had a dark room for traditional black and white photography. While it was personally gratifying, only a few people appreciated my work. People either love black and white or are not really interested. Another hobby was building custom hand guns for competition. Again some people really appreciated my work, but I had a small audience.
That changed completely with woodworking. My creations seem to have a much broader appeal. I get the gratification of producing items that I am proud of as well as the acceptance from others.
Question #9
Tobias: What type of workshop do you have: stand alone / garage / basement etc. What size is your shop?
Kevin: I am incredibly lucky to have a 1500 square foot workshop in my basement.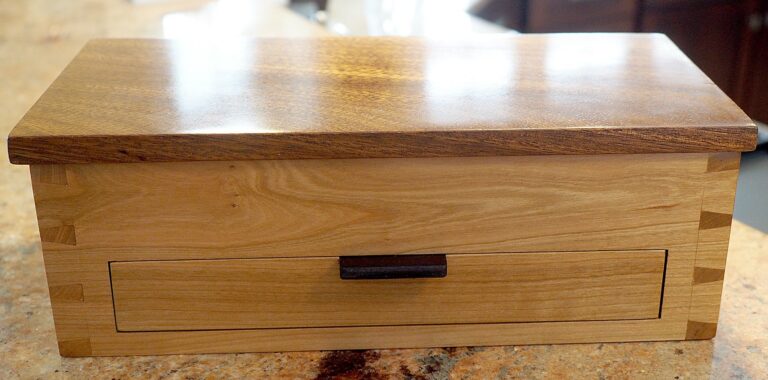 Question #10
Tobias: Can you tell us about how your workshop has evolved over time and why, and what is the layout/workflow that you have developed? (workbenches/assembly benches/lighting/dust extraction/timber storage/tool storage)
Kevin:  I started out in a two car garage with all my power tools on wheels and putting all the tools against the wall after a session. My current basement shop has morphed several times over the past ten years.
Needing to rip long boards on the table saw, had me move it near double doors that opened to the outside. Wood is stored in horizontal racks in a corner of the shop and near to a compound sliding miter saw and the bandsaw in the adjacent corner. Between those, the jointer and planer run down the center of the shop. 90 degrees to those is the table saw and a long outfeed table that doubles as a layout and assembly table.
Running alongside the outfeed/assembly table is my wonderful Hoffman & Hammer work bench. Against an outside wall with a window is a chest high joinery bench with a Moxon vise, perfect for hand cut dovetails. All my power tools and sanders are fitted with dust collection.
Question #11
Tobias:  What is your clamp line-up and why?
Kevin: My clamp line-up is constantly evolving. I'm happy with Dubuque clamps for panel glue up. They are light and strong. Jorgensen Cabinet Master parallel jaw clamps are my favorite for larger assembly, I don't see them available any longer. Bessey clamps are a close second. There is also a boatload of "F" clamps and a bunch of trigger quick-clamps.
Question #12
Tobias: What adhesives and glues do you use and why?
Kevin:  I use Titebond III most frequently, it seems plenty strong and water resistant. I'll often use epoxy mixed with wood flour and a tint when I want a color match. CA glue finds a way into some things that are not structural.
Question #13
Tobias: What woods (exotic and local) have you not yet used and why are you interested in building with them?
Kevin: I'm really spoiled by having Rare Woods USA in my neighborhood. I've had the pleasure of buying some exquisite exotics for accent pieces. There doesn't seem to be a lot of appreciation/knowledge of exotic wood in my local customer base. It's harder to sell a jewelry box made of ebony than the same box made of grain filled Wenge.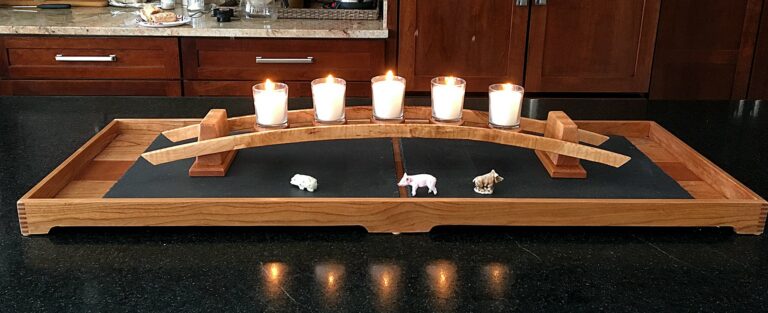 Question #14:
Tobias:  What and whom are your sources of inspiration for your woodwork?
Kevin:  The Wood Whisperer Guild is a source I follow closely, although I tend to be more hand tool oriented. Their projects are often a collaboration with other accomplished wood workers. I've also enjoyed watching Paul Sellers over the years.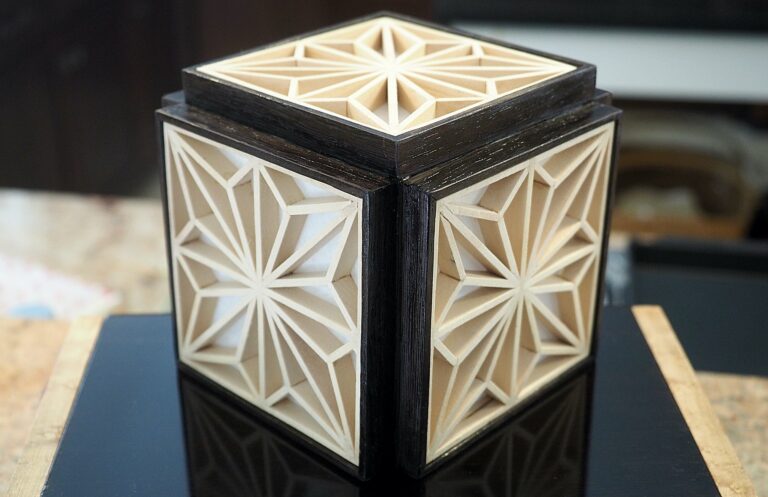 Question #15
Tobias: How do you design your pieces? Do you use CAD or Sketchup? Do you sketch out by hand etc?
Kevin: I don't design on a computer or on paper. Maybe I'll draw out a detail if I'm trying to solve a layout problem. I start out with a mental picture of what I want to build and go to the wood pile for inspiration. Most often I want to highlight the beauty in the wood. I've enjoyed the break away from plans. It's an inefficient way to work, but not as stock wasteful. I enjoy the freedom of relative dimensioning. It's a process I follow even if I'm working from a plan. If a plan calls for ¾" stock and I can only mill 11/16" I adjust to fit. I cut components to match rather than to a number. 
Question #16
Tobias: What are your finishing regimes, what products do you use and what are your favourite processes?
Kevin: I rarely use a film-forming finish. The closest I come is French polish shellac. I love the nice sheen or gloss it produces with minimal thickness, almost like there is no coating. I'll tint up a batch of grain filler to match if needed, such as making wenge look like ebony.  Larger items are often finished with Tried & True varnish/oil or their traditional BLO and beeswax products. I like my work to look good and feel good to the touch.
Question #17
Tobias: Which parts of working wood do you dislike the most?
Kevin: Cleaning is my least favorite! If I come right down to it, I'm a slob wood worker. I struggle to put my tools away. When I can't put a work piece on the bench I might put things away. I am evolving in that area, getting better. I'm far too happy being ankle deep in shavings!
Question #19
Tobias: What is your tool sharpening regime?
Kevin: Sharpening has been another evolving area for me, although I think I have a final version. I've tried most of the gadgets and settled on two major items. I create a hollow grind using a Tormek Wet Grinder.
Next, I use a sharpening box by Gary Blum to create a polished micro bevel. At several work stations, I keep a leather strop block charged with sub micron diamond oil. I touch up the edges frequently as I work. Maybe I am a little OCD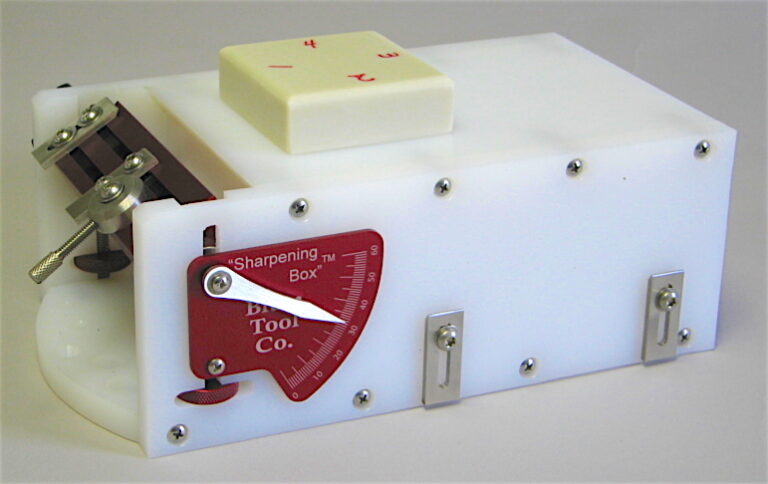 Question #20
Tobias: What is the next piece you are going to build and why?
Kevin: A jewelry box with drawers is next on my list. I have some beautiful quilted maple that will make nice drawer fronts.
Tool Wishlist:
I probably have a greater need to reduce the number of tools on hand. The Jet oscillating drum sander is intriguing. I hate the linear scratches my current drum sander makes.
Lumber Wishlist:
I am getting rather low on Black Cherry, Basswood and Poplar for secondary components. Highly figured Maple and Black Walnut are always on my list. Wild Olive is always nice to have, as is high figure Bubinga, Ebony and Crotch Mahogany.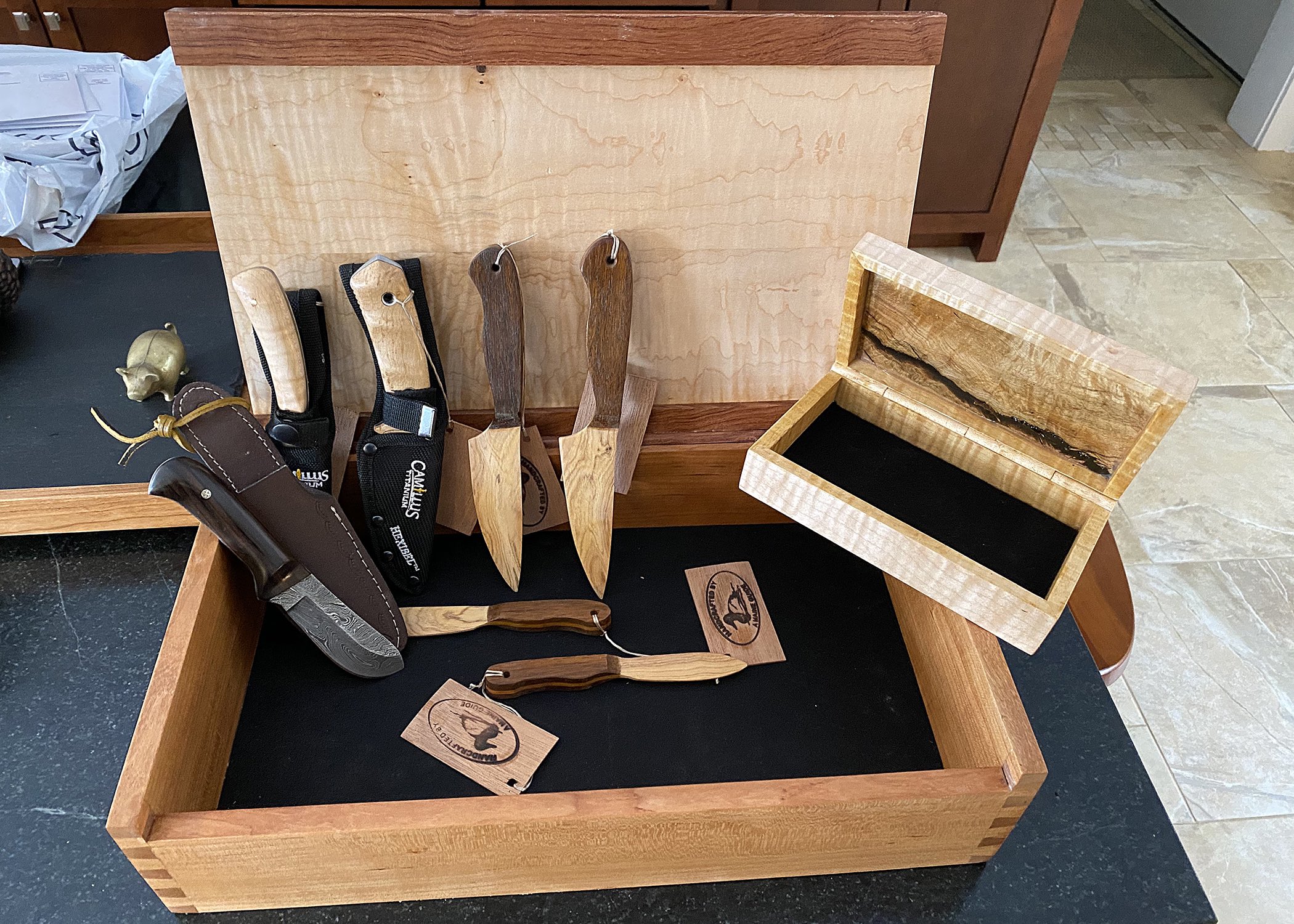 Many thanks to Kevin Winsor for sharing his talent, creativity and enthusiasm with us at Rare Woods USA. If you are or know of interesting woodworkers in your area that would enjoy being featured in the Rare Woods USA Woodworker Sessions series, please drop us an email at info@rarewoodsusa.com.
Brendan: Many thanks to Tobias for conducting this interview.  To find out more about Tobias, a passionate woodworker from Swellendam, South Africa who has been a part of the South African woodworking scene for over 40 years, click here.