A couple of weeks ago my wife and I set off on a mini road trip down to Saratoga Springs, New York, to visit the annual Northeastern Woodworkers' Association show (see
www.nwawoodworkingshow.org
). You may not have heard of it before, so to quote the event organizers:
"This annual event, sponsored by the Northeastern Woodworkers Association, is an opportunity for artisans to display their work in hand made furniture, wood turning, carving, scroll sawing, & many other areas. Participants can learn from their peers, and participate in free seminars presented by nationally known guest woodworkers as well as local artisans."
We thought it was a perfect opportunity to meet a few people and look at some fantastic furniture, and that's exactly what it turned out to be – making the 8 hour drive each way(!) very worthwhile. Saratoga Springs turned out to be a very pretty, quite upmarket little town and we thoroughly enjoyed our two days there. I was really taken by this magnificent and imposing elm, dominating a downtown sidewalk.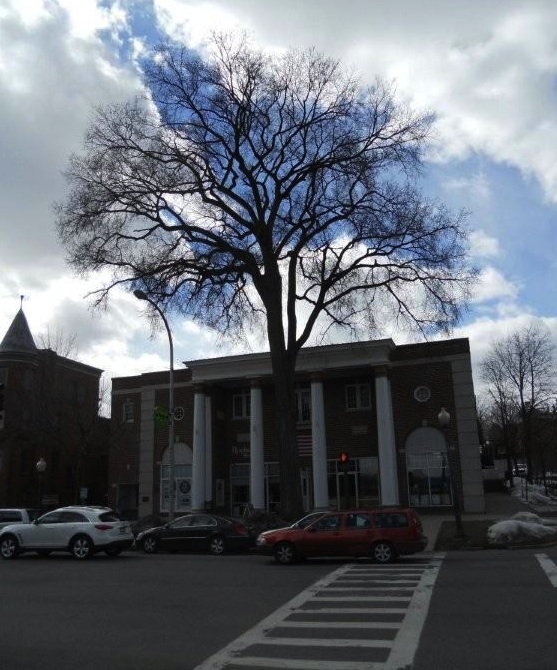 The thing I enjoy most about these events are the live demos, and as always there was some real talent on display. For instance the Totally Turning symposium included top names such as
Richard Raffan
and
Dale Nish
. What an incredible selection of woodturning talent in one place at one time!The exhibits of superb woodturning included use of
Pink Ivory
,
African Blackwood
,
Padauk
and lots of other exotics from intricate almost ornamental turning to really chunky rustic stuff.In addition to that, the 20th anniversary feature exhibit was of 12 great workbenches (nine by NWA members and others by
Lie-Nielsen
,
Christopher Schwarz
and
Geoffrey Noden
). The respective owners gave short talks, and it was a great opportunity to discuss and consider design and construction options.And it didn't stop there. Some of the other stuff we got to enjoy was:
Seminars from luminaries like Ernie Conover and Peter Follansbee
Live demos from the Adirondack Woodturners Association, the Scrollers Guild and the Carvers Guild
The Toy Factory – which was set up give kids the chance to make their own toys using simple tools and techniques
And about 500 pieces of furniture to admire, some of which I thought was very good indeed
See below for a selection of some of the pieces on display that I really like. You can see from the selection that I really like classic traditional designs. There was some truly wacky stuff out there too though – some people have incredible imaginations!All in all a thoroughly enjoyable little trip!