Sweden(?)…Germany… Australia… Zimbabwe… South Africa… USA. Where to next??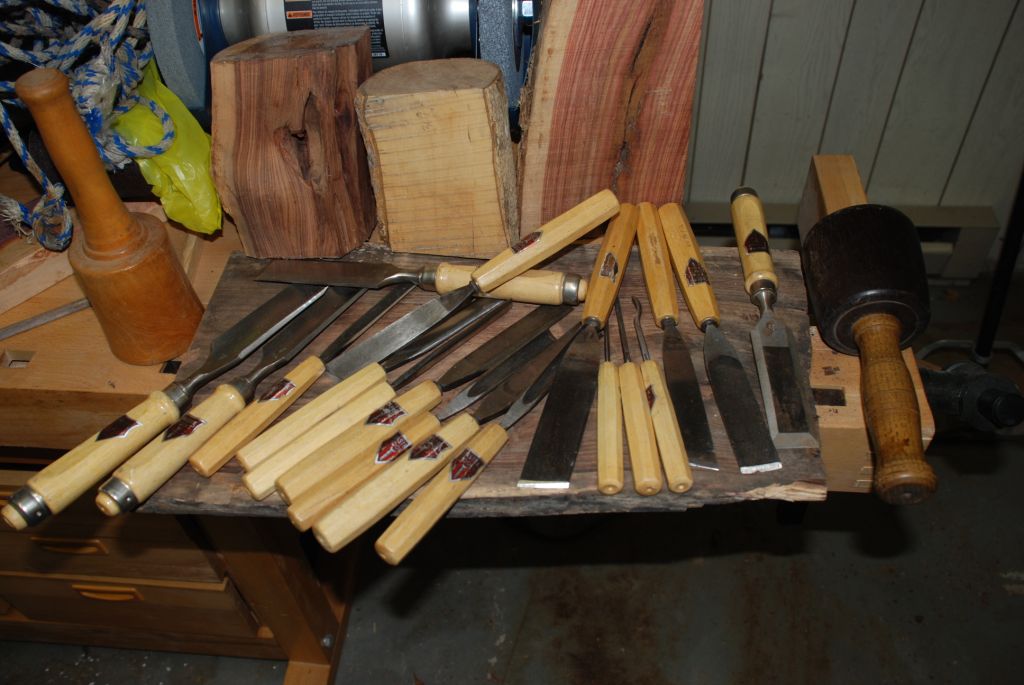 Your grandchildren's inheritance?
I obtained these 1,000 or so woodcarving and ice carving tools through an unusual trade with a Zimbabwean refugee. The story of Zimbabwe is a sad one, starting its period of independence from Britain with hope and great intentions, being the breadbasket of central and east Africa, with great legal and education systems, good telecoms, banking, transport and manufacturing sectors.
Endemic corruption and nepotism, under the freedom-fighter-turned-despot Robert Mugabe has slowly destroyed this fantastic country though, leading to massive devaluation of their currency – the Zimbabwean dollar (this is why some tools have prices of $8000+ on them).
I used to source wood from Zimbabwe (Kiaat and Rhodesian teak amongst others) and made many friends and enjoyed visiting the beautiful country on biannual trips and enjoyed the magnificent scenery and wildlife, not to mention the spectacular Victoria Falls.
I had sold some secondhand woodworking machines to a contact, John Cochrane, whose family had extensive steel, brick and manufacturing interests in pre-independence Rhodesia. Sadly, as Zimbabwe deteriorated into ruin, John had to leave as a near-refugee – with his wife doing caring work in England to bring in some income. One of the last deals John and I did was to trade some venerable 50 year old Wadkin and Robertson woodworking machines for these superb hand forged Dastra chisels.
John told me he inherited the machines from a business deal that had gone wrong on Australia in the early 1980s. As part of the new woodworking boom a group of investors had set up a company to distribute woodworking tools to the Aussies. Unfortunately they found out to their cost that the Aussies preferred beer and TV to woodwork, so the venture never really took off. For his shareholding John got the Dastra chisels.
In his time John was a great entrepreneur supplying the likes of Garrett Wade (New York) and Axminster Power Tools (in the UK) with superb solid Rhodesian teak workbenches. He now runs an import export business in Cape Town, South Africa.
The David Strasmann Company is tightlipped about their specially formulated steel they use for their hand forged carving chisels but I am guessing that they use the finest Swedish iron ore as a base before adding their special alloys??
Where will these tools go to next? As these are truly heirloom quality tools, I guess the answer will depend on where you, your children, and your children's children head to in this great adventure we call "life".
TO SPEED THEM ON THEIR WAY WE HAVE A SPECIAL OFFER – UNTIL FURTHER NOTICE THESE TOOLS ARE AVAILABLE AT BEST LISTED PRICES LESS 22% – GRAB THEM WHILST THEY ARE STILL AVAILABLE.
In the meantime you might like to go to Youtube and enjoy a visit to the factory.
More on Dastra tools (from Diefenbacher Tools):
In 1835 David Strasmann & Co. (Dastra) was founded in an old timber-framed house in Wuppertal-Ronsdorf, the heart of Germany's tool-making industry. Today, the sixth generation of the Strasmann family still creates the finest handmade tools crafted to satisfy the needs of woodcarvers, sculptors and woodworkers.From forging to grinding, hardening, and polishing each tool goes through 32 stages to reach its completion.Most of the work is done by hand to ensure a level of quality equal to the finest edge tools ever made. Dastra tools are guaranteed to hold a razor sharp cutting edge even after extended use in the hardest woods.
The tools listed below are full size, professional carvers.The overall length averages 10″ and each tool is fitted with an octagon hornbeam handle sized in proportion to the blade. The blades are hardened to Rc60-61 and are buffed to a satin finish. The profiles are beautifully ground and polished by expert craftsmen so that each tool reflects a perfect balance of strength and grace.