Many woodworkers are surprised to find a "full house" exotic wood dealer in Mexico, Maine.
500,000 bd ft of exotic hardwoods
180 species displayed in racks and bundles
Extensive showroom
Milling facilities
Wood vendors passionate about their calling
It all started 30 years ago – when with $100 capital borrowed from my mother, I bought a large number of blackwood and cypress logs from thinnings in Tokai Forest, in Cape Town, South Africa.When I arrived in my small truck to collect the huge logs I suddenly understood the enormity of the task I had undertaken. Transport contractors were appointed, a sawmill found and the first tentative foundations of the Rare Woods SA business were laid.A 30 year rollercoaster ride of expansion followed – factories, sawmills, dry kilns, furniture manufacturing, dowel manufacturing, retail furniture and the opening of a number of branches across South Africa. Needless to say there were many hurdles big and small to overcome along the way, but I was following my dream so I took them on with vigor.My dream was evolving though…I now wanted to supply the new generation of US woodworkers – thousands of whom have been inspired like me by James Krenov and his fantastic books, as well as Fine Woodworking's monthly brilliance, and whose many forms include studio furniture, turning, boatbuilding, cabinet making and luthiery.With the crime and violence in South Africa becoming intolerable, I finally made the move in 2008.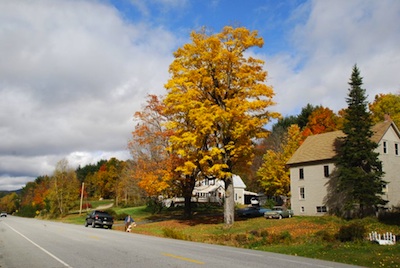 Where else will you find colors like that?
I had crisscrossed the USA and Canada on many business and leisure trips over the years, admiring the excellent facilities of American timber yards and meeting lots of friendly folks along the way.As I began planning my move to the USA I was somewhat confused though..It would be ideal to go to a big city like New York or Boston, with plentiful potential customers and great woodworking traditions, but big city rents and logistics were problematic and my South African currency was steadily depreciating. Having decided not to move to a big city, the sheer scale of choice and variation available was hugely daunting: hot or temperate climate? Coastal or mountainous? etc. etc.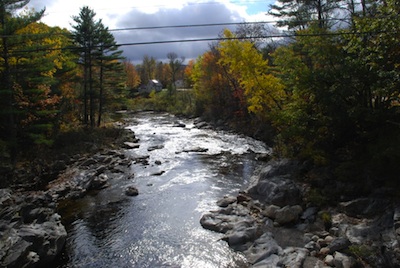 The rivers and lakes are stunning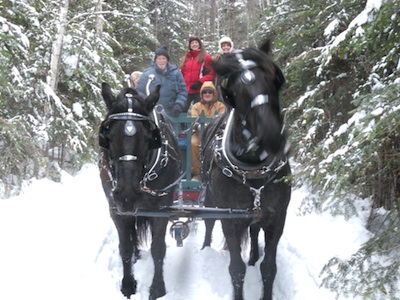 And in winter you can enjoy proper sleigh rides – you don't get that in South Africa!
Well my mind was made up for me when a hugely charismatic and eccentric boat builder came into my timber yard in Cape Town to buy some curly maple for the 60 ft yacht he was outfitting in Table Bay Harbor.Joey Martin Jnr is an adventurer, an incredible raconteur and bon vivant who has seen most of the world and then some. He listened to my story and without hesitation (and with his own compulsive style) told me that I needed to settle in Rumford, Maine.  He painted an idyllic picture of forests, rivers, lakes – and endless wood supplies with country living and immensely hardworking, down-to-earth "can do" people who enjoyed nothing more than doing an honest day's work.Well I've been here 3 years now and all I can say is Joey was right!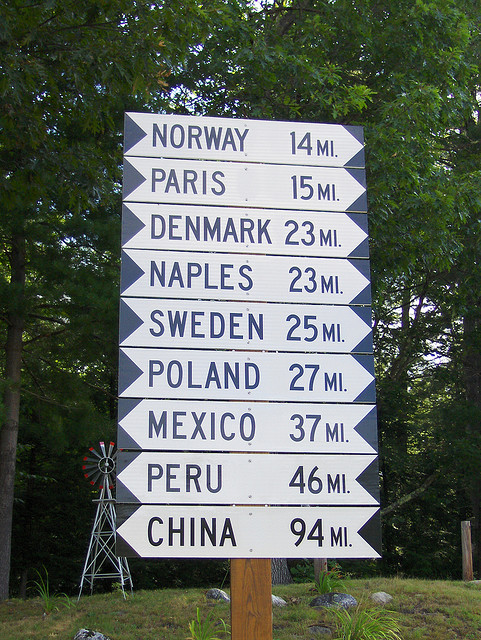 Come to Maine and see the world! This sign sits just outside the town of Bethel
Maine is a state of breathtaking natural beauty, life-enriching forests and wildlife, not to mention great people. American telecoms and transport systems mean that I can run this business from anywhere. All I have to do is put it all together, move my (increasingly) fat ass and build another great business by offering a superb range of wood, quality service and passion for wood for discerning American woodworkers.There's so much great stuff to be thankful for, that not even the rotten economy can dampen my enthusiasm. Here's to forging ahead with enthusiasm, superior ideas and above all, constantly evolving dreams.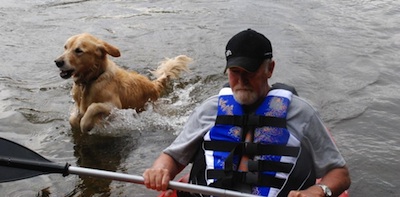 And most importantly of all – my dog loves it too…