Woodworker Sessions USA - Edition #12 - Aaron Astle
Welcome to the Rare Woods USA Woodworker Sessions interview series. Here, we discover more about what makes our woodworkers tick, how you became involved in the craft, how and why you build your pieces and maybe learn a few secret techniques and tips along the way! 
Our interviewer, a woodworker since the age of 8, Tobias Lochner is no stranger to the workshop. Find out more about him here.
In our 12th issue of  The Woodworker Sessions  USA, we chat to Aaron Astle about his exquisite & unique woodworking niche.
Tobias: Hi Aaron. Please could you tell us a bit about yourself, what is/was your career, a little about your family and how you became a woodworker?
Aaron: Oh boy… where to start! I grew up on "The Island" as the locals call it. For anyone else it is Mount Desert Island, Maine, or more specifically, Bar Harbor. 
I was the youngest of three growing up and was never the best behaved. Not sure how, but thankfully I survived my childhood and beyond! Now I have a son of my own about to turn 18. "Mo", my better half, keeps me sane at times when I need it most and we are all nestled up on our little patch of land in Ellsworth, ME for now.
I have been a jack of all trades and a master of none, my whole life. Whatever my focus was at the time, I excelled to the point where I simply got bored too soon and it fizzled out. I have bounced all over wearing different hats, such as construction, heavy equipment operator, baker, mechanic, site foreman, safety tech…the list goes on! I had a 5 year curse when working for someone else and I was never the best at taking orders that I felt were wrong.
I have always enjoyed any type of billiards, growing up on an island. It was great that my folks had a pool table in their basement! I have been playing since I was 12 or 13 and started collecting pool cues in the early 2000's. I enjoyed spending hours upon hours searching the internet, looking up different combinations of woods and how they were mixed into different pool cue designs. One day I thought "I can build one cheaper than buying one from someone else". So in 2016, I sold off almost all of the cues that I had collected to help me fund my startup. As the story goes, I couldn't have been more wrong!
My lovely OCD is a bit weird… almost like a light switch, it can be "triggered". I can go a week without cleaning the shop, then something will click and I have to come to a halt and clean the shop fastidiously from top to bottom. It has also gifted me the worrisome gene, I have never been happy, no matter how good my work was. I fear that I will never build a pool cue that I am truly happy with. With some of my builds taking over twelve months, there is a lot of hands-on time for something…anything to go wrong! Most will never notice, but I will know forever.
Tobias: How did you get started doing woodwork and how long have you been a woodworker?
Aaron: I started pondering woodworking in 2015. I had a want for a poker table at the time and like all my projects, it ended up way more elaborate than it needed to be. Once I had decided on my design, I sourced burl veneers, inlays, leather, foam and fabric. I also didn't have any of the necessary tools or equipment, so I had to get creative with some of the techniques and adapt them to the tools at my disposal. I guess that I would count this as my official start. The woodworking bug had hit me hard!
Soon after I finished the poker table, I dove head first into making pool cues! I searched online, researching every bit of information I could find. There was nothing local to me that was even remotely relevant, where I could learn. After about 6 months of nonstop research, I pulled the trigger on a small "do it all" cue lathe. Much like me, it was decent at all aspects of cue making, but not great at any single one in particular. I finished my first cue in 2016. 
With the help of Facebook, by 2017 I had already amassed a two year waiting list, while working on cues only at night. It was then that I decided to go into fulltime cue making. I am now thankfully in my 5th year of cue making, with a waiting list stretching out over 6 years.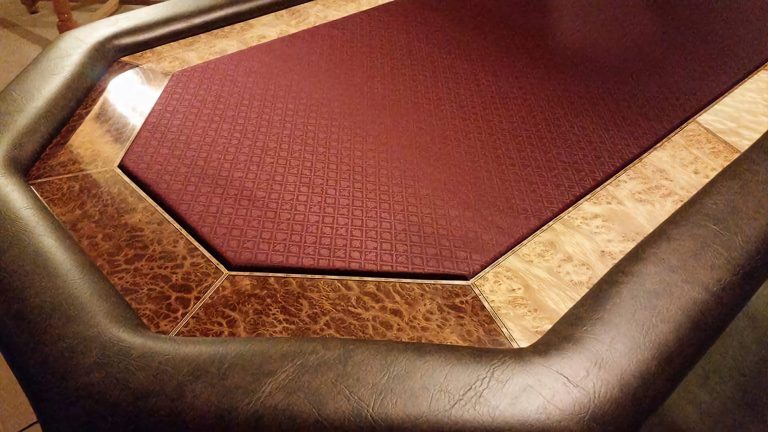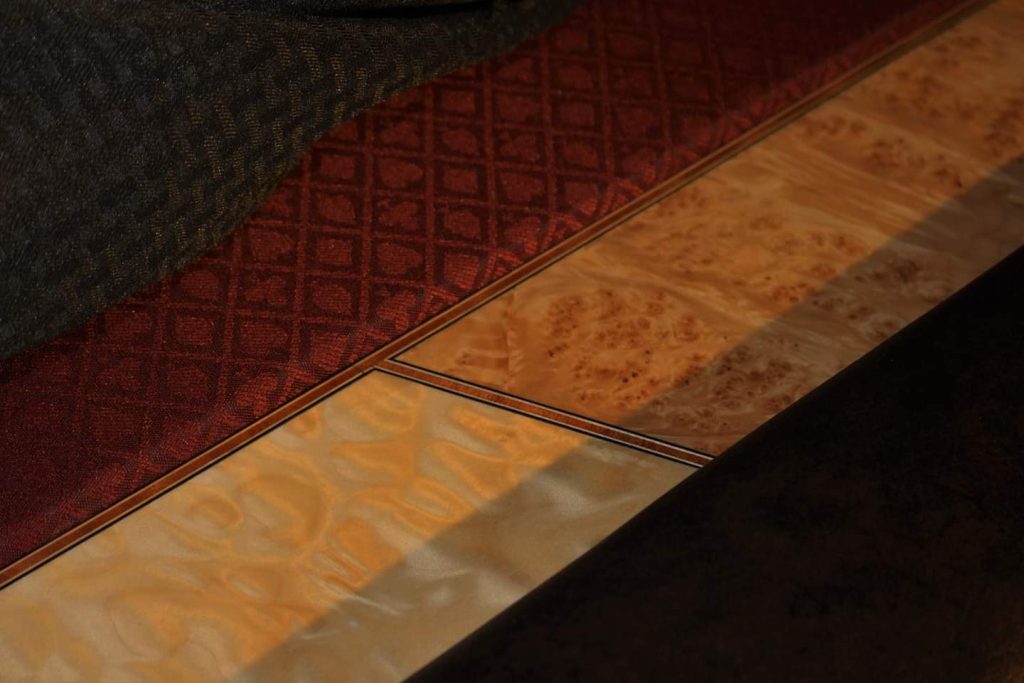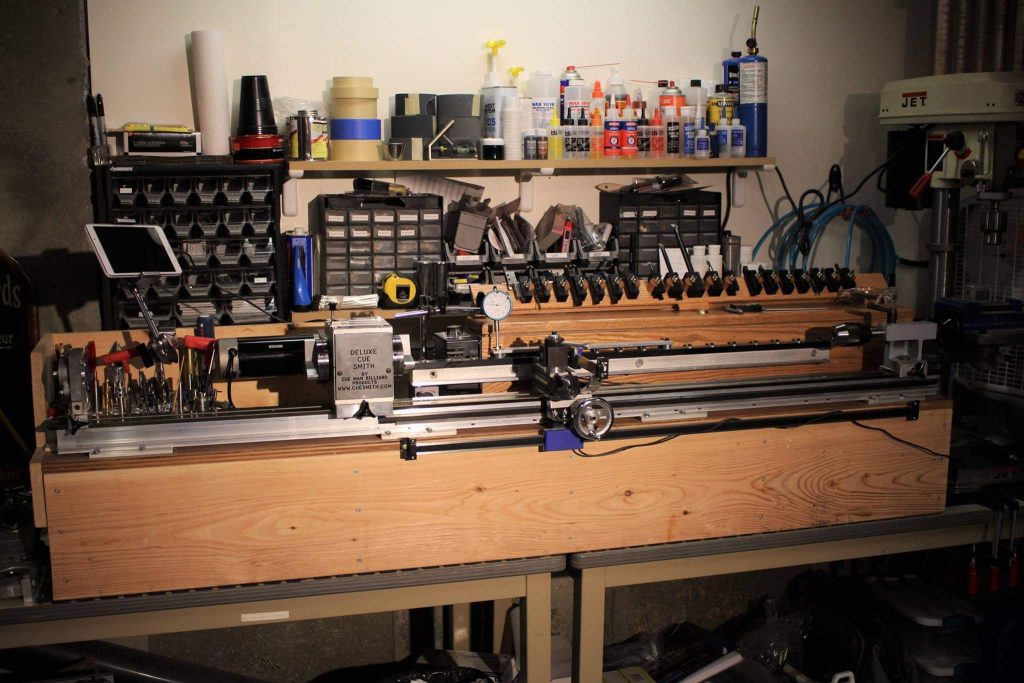 Tobias: Which was the first cue you ever made and which one is your favorite?
Aaron: The first cue I ever made was, well… let's just say that it was no Lamborghini, although at the time I thought it was great!. The cue was pretty simple, it was basically a test of my equipment, setup, skills, finishing and playability. For the most part, it was a failure, but I do keep it around the shop as a reminder that I wouldn't be where I am without it!
As for my favorite, that's a tough choice. I am in the process of finishing up my 5th Anniversary Cue, which has been a love/hate relationship, not to mention 2 years in the making.  I am always trying to do things on my builds that have not been done before and this tends to lead to lots of headaches. However, now that the cue is finished, it has moved on to the "love" side of the relationship. 
Just the back section (or butt) of the cue is composed of 1,100 "rings". Each ring is composed of 12 sections of Gabon Ebony and 12 sections of Rock Maple! All in all, there are 13,200 segments of Gabon Ebony and the same quantity of Rock Maple segments in the butt of the cue alone! The entire design concept required all-custom jigs & setups and held up half of my equipment for months at times. I even had to grow out my fingernails to accurately complete the alignment of the components.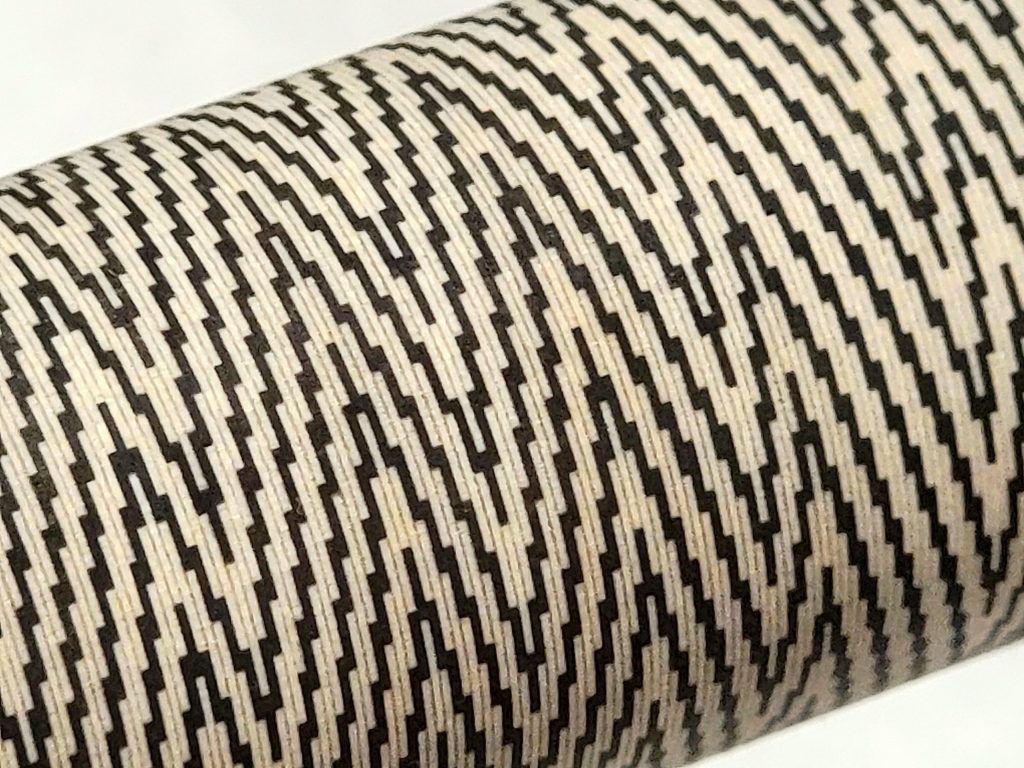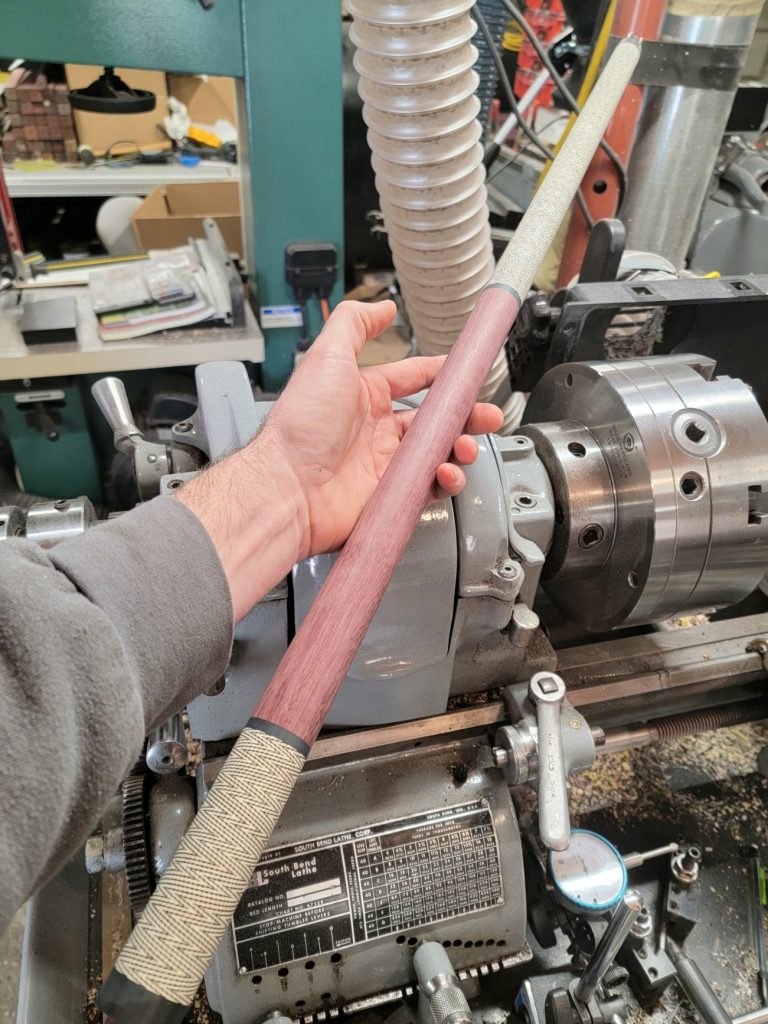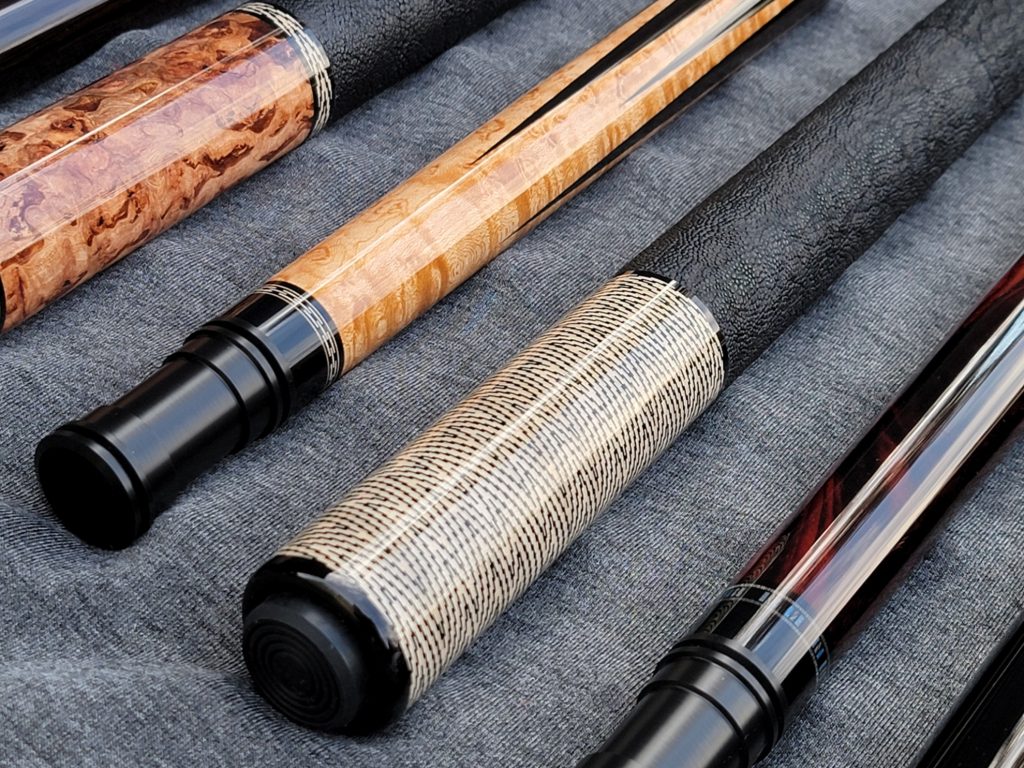 Tobias: Which style of pool cue do you enjoy building most?
Aaron: As with standard woodworking, there are many ways to build a "box". The same goes for pool cues, although I prefer to be somewhat unorthodox. Unfortunately, I was not able to learn any of what I do through an apprenticeship, but this is also what makes me unique in my craft. I was not influenced by anyone's previous techniques, instead I spent endless nights of research to piece together what I thought would work best for me. Some cue makers focus on inlays to highlight a cue, other use various splicing techniques, I simply love making the wood talk!
I have amassed a large collection of "unicorn" woods, burls, figured woods, etc and it is these that I want to come to the fore. Everything else is put there to bring attention to the wood itself.
What I enjoy the most is trying something "new". When I look at other cue makers' work, the cues that grab my attention are the ones that make me think "How did they achieve that look or how did they splice that?" This is where my head goes when I get the opportunity to build a unique cue. I want other cue makers to also go "Wow, wait… how did he do that?"
I love making clients happy, however in all honesty, the only people who will truly undertstand what was required to achieve the end result will be other cue makers and woodworkers.
No matter what the style, I enjoy building every part of the cues myself! Making the wooden parts is only half the battle, I machine the metal pins, bumpers, core structures, joint caps, phenolic parts and even many of the exotic leather wraps are skived and shaped by me.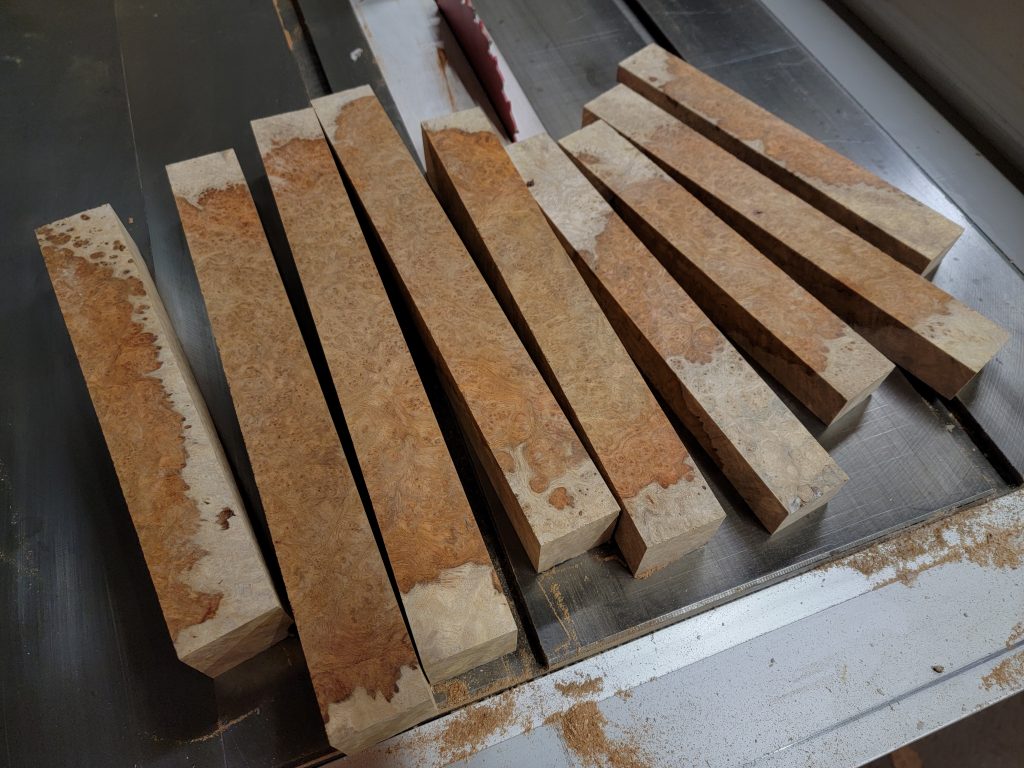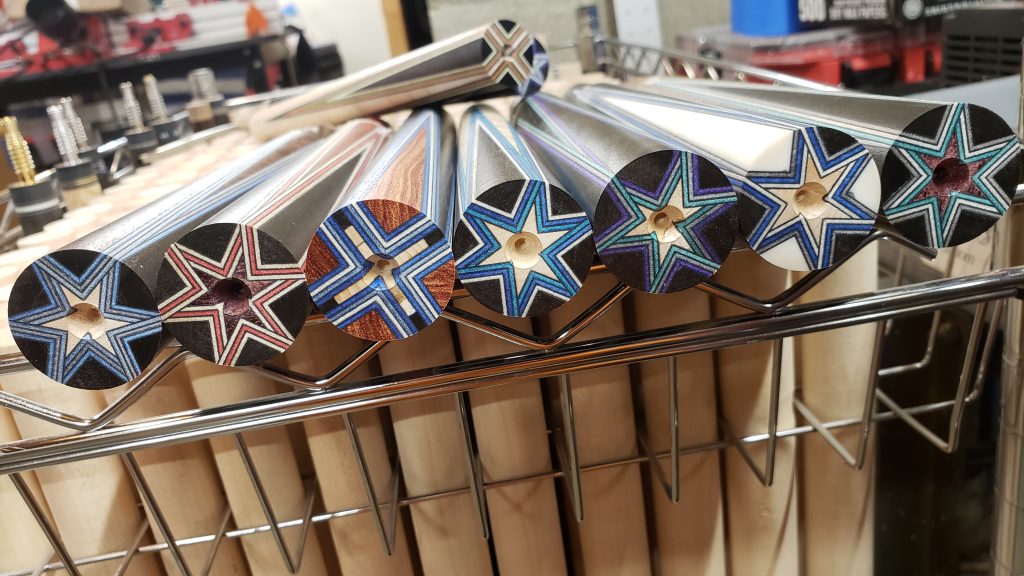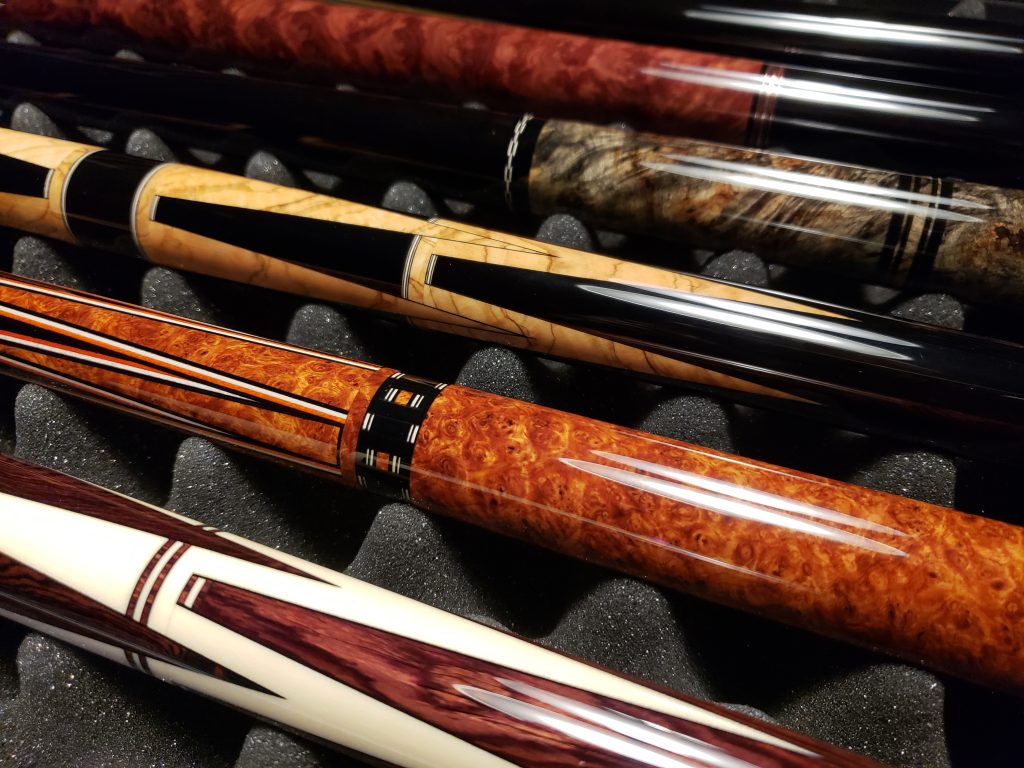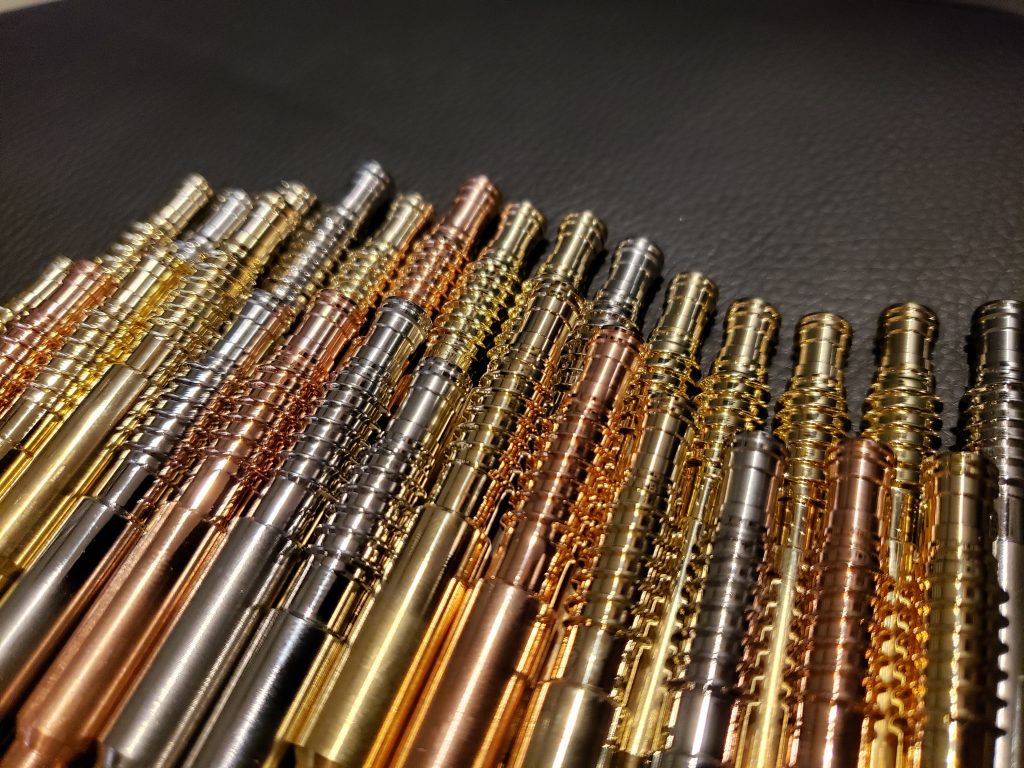 Tobias: Which are your favorite local lumber species and which are your favorite exotics to work with?
Aaron: I always laugh at these questions… the reason being that I have a bit of a "wood" issue! I currently have over 90 species of many different grades from all over the world. Even though I have enough wood to last me four lifetimes or more, I have a very hard time saying "No More"!
As for local species, I cannot get by without Rock Maple! It is the basic building block for all of my cues, as each shaft is made from straight grained Maple and this species is also utilized in some of the core structures for weight and balance. I also employ a lot of figured Maples in my builds, including Flame Rock Maple, Quilted Maple, Birdseye Maple and Maple Burl.
Regarding exotic species, I love working with them all. The colors and figures blow me away! From a "work with" standpoint, I have found that African Blackwood has not only the best "tone", but also cuts and machines extremely well, as it seems to have just the right ratio of density to oils to make it a true pleasure to work.
Next are any of the Rosewoods due to their brilliant colors, grain patterns and machinability. However much I enjoy Maple, there isn't a cue from me that doesn't incorporate at least one section of Purpleheart in it's core structure.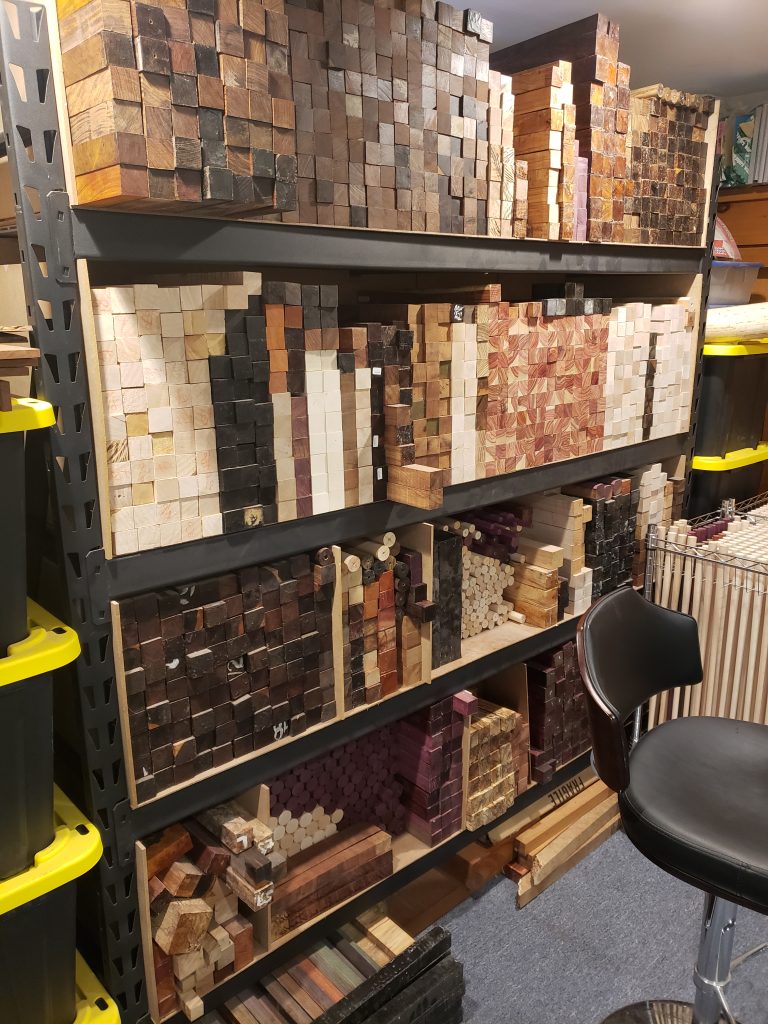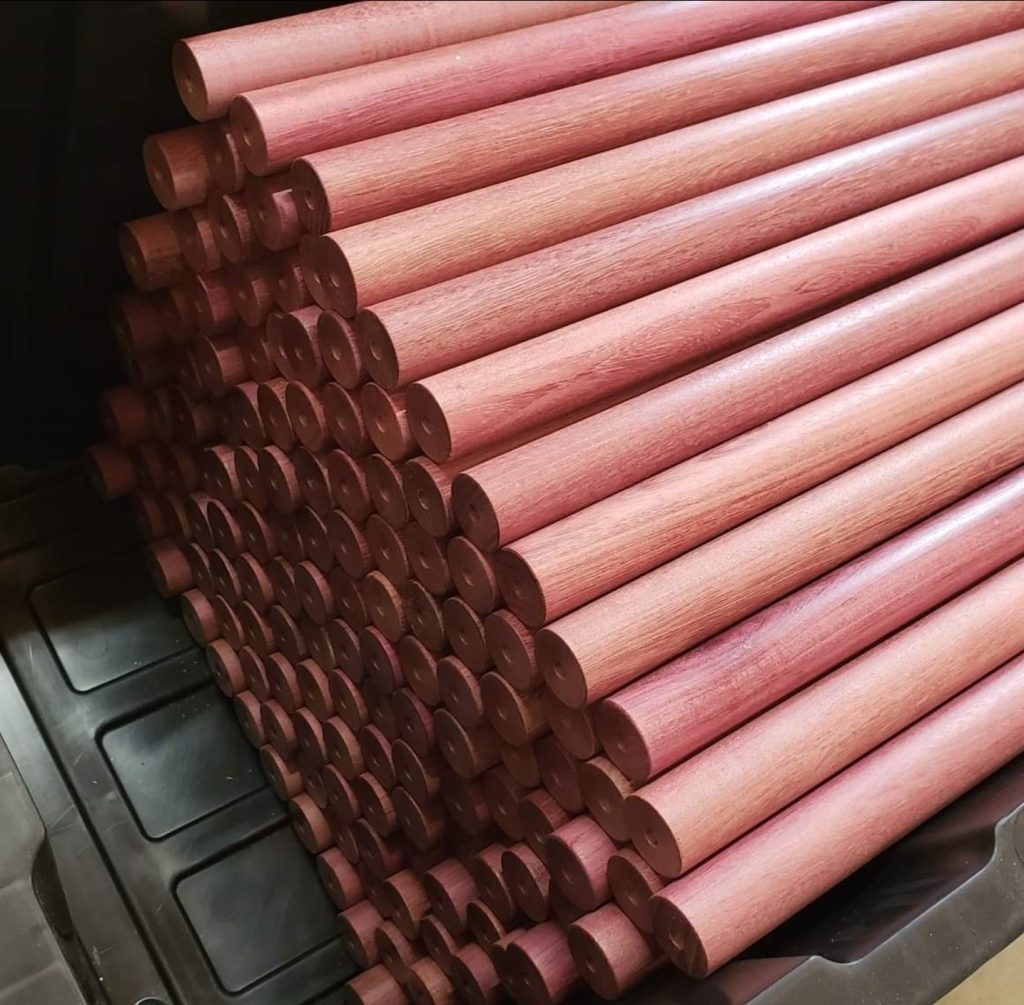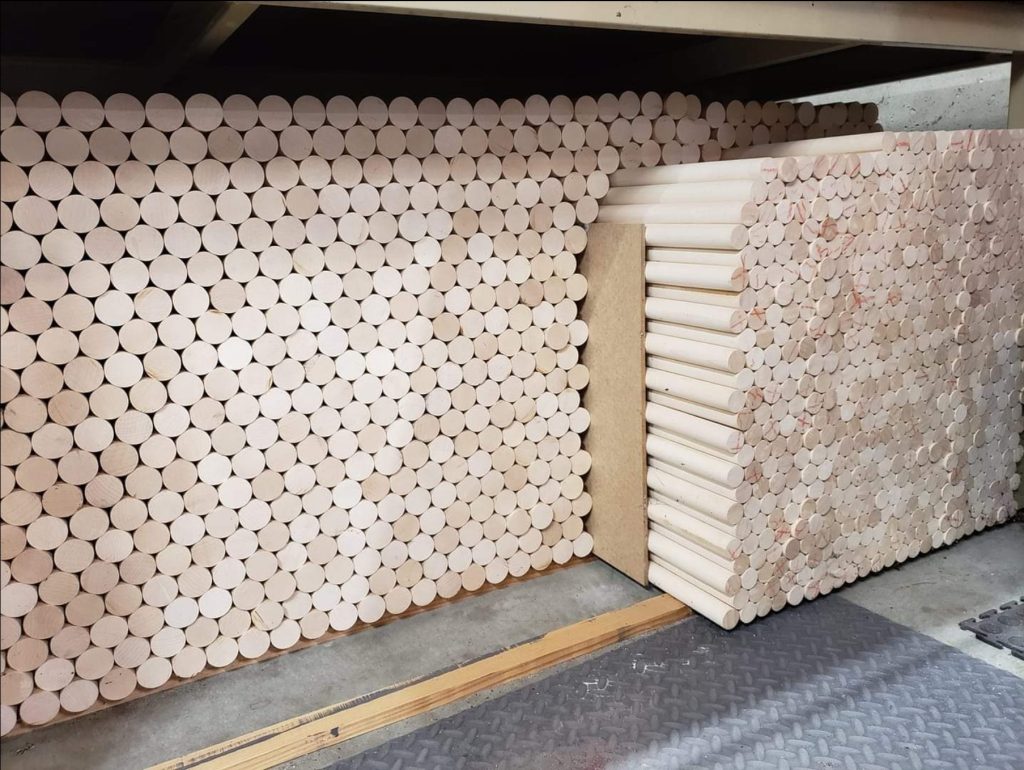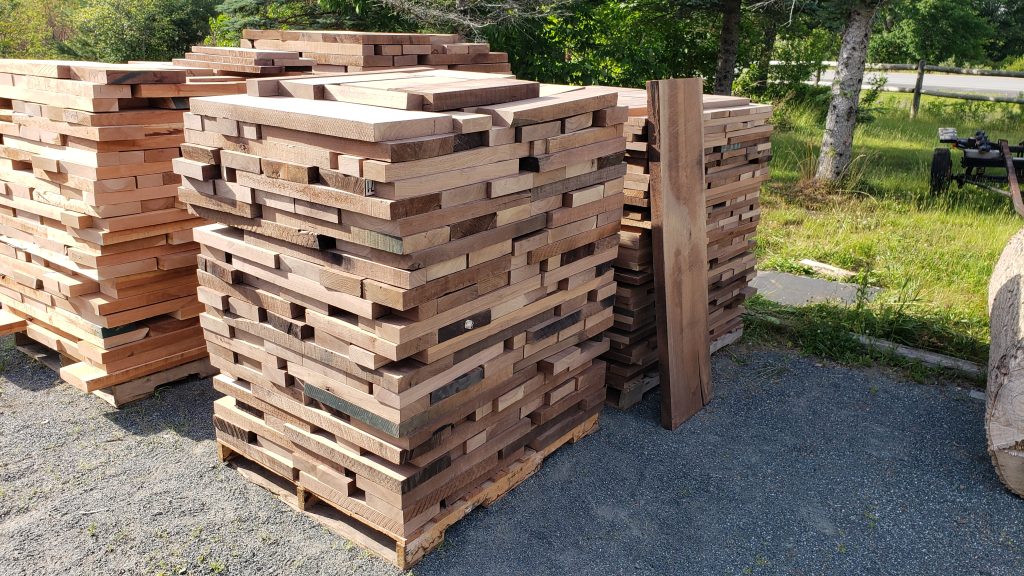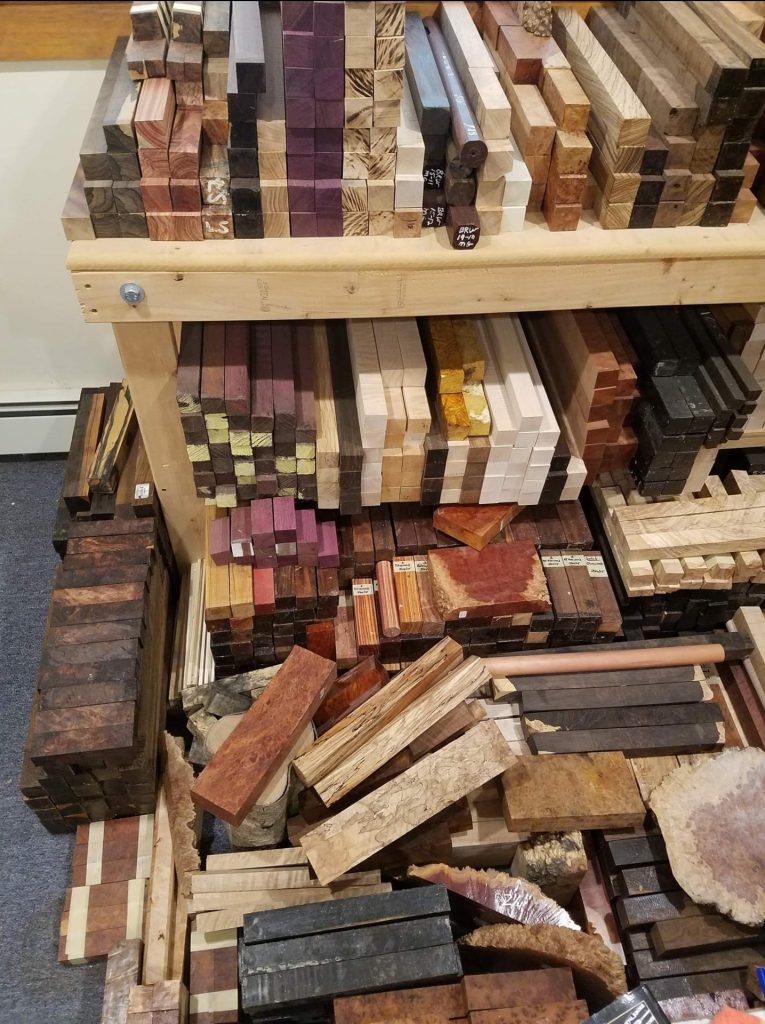 Tobias: Can you list your favorite power tools and machines and tell us why?
Aaron: Oh boy! As much as I love wood, equipment is my second favorite. I don't use a lot of portable power tools like a normal woodworker. Most of my power tools have been adapted to fit onto my machinery to perform specific tasks, these are mainly palm routers and spindles. I use four different Kress spindles for various tasks such as live threading, tapering, roughing, polishing and numerous routing tasks. My cordless Makita tools (track saw, sanders, drill, impact driver and skill saw) come in handy now and then, when I do flat work.
I have a very soft spot for 80's era South Bend metal lathes. Being born in 1981, I reckon everything good had to come from the early 80's! All joking aside, I spend roughly 8-12 hours every day running any of the three South Bend lathes in my shop. I have one set up as a tapering and roughing station, another is my turret lathe setup for running through duplication processes and for part making. The 3rd is my "go-to" lathe. I use it as a general duty machine and this is where 90% of the magic happens.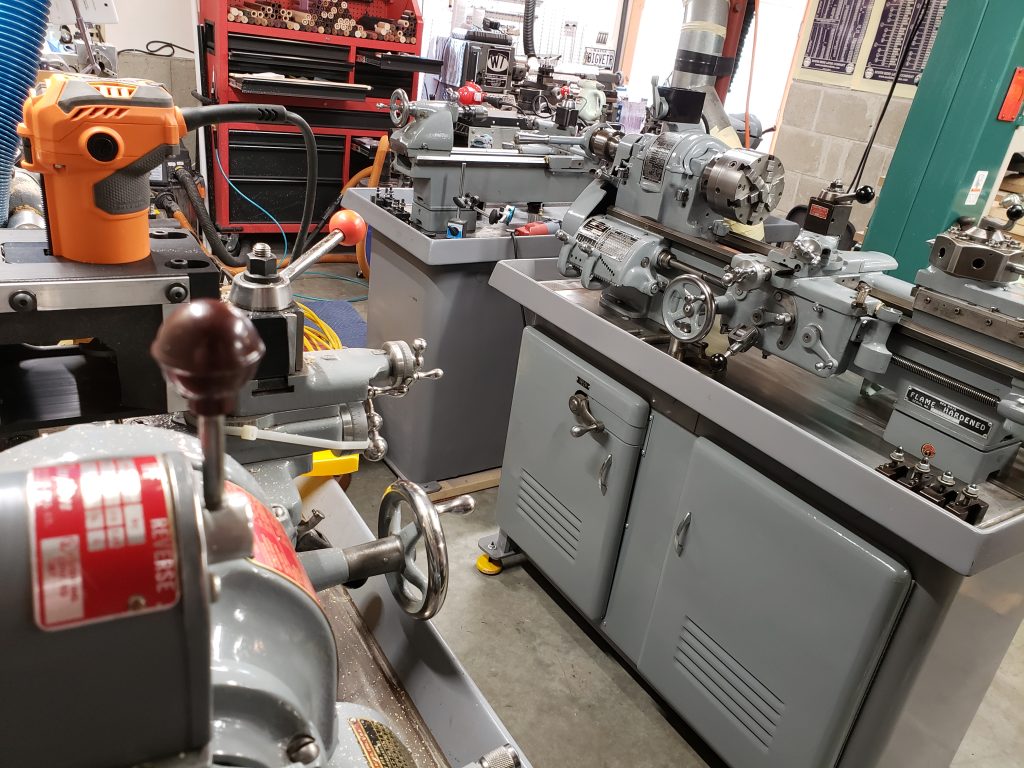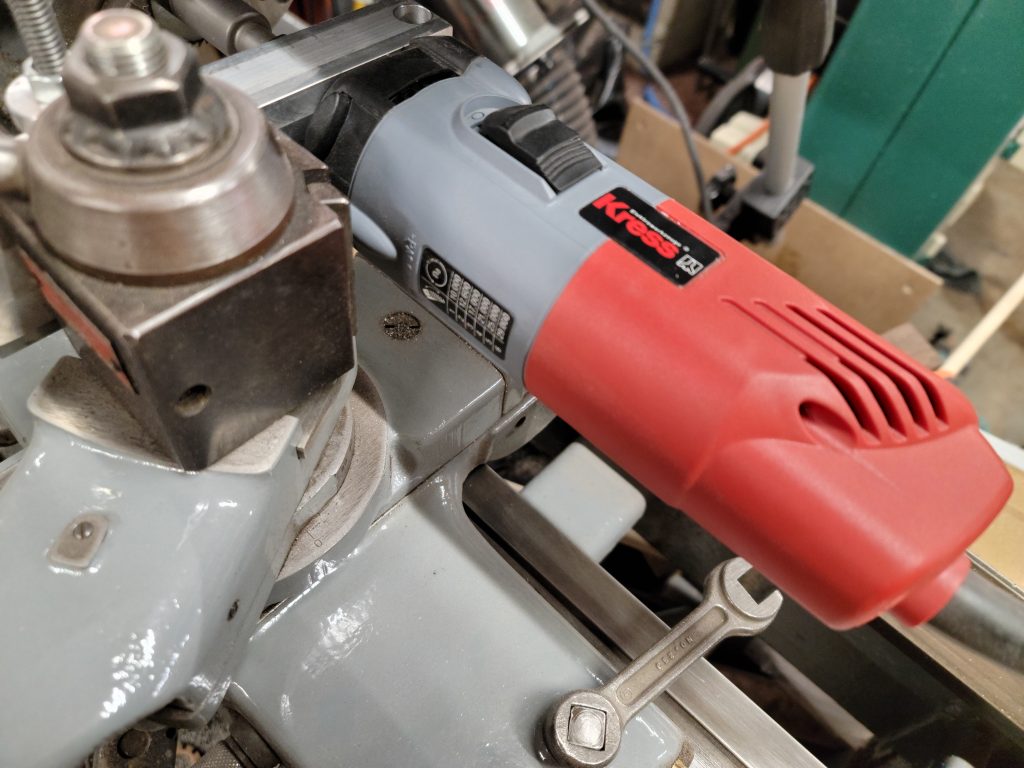 Tobias: Please list your most used hand tools and tell us why they are your "go-to" tools.
Aaron: You mean besides my hammer?
For what I do, I would say my calipers are most used. So much so, that I have 15 digital calipers littered around the shop! I could paint them all bright orange and I would still somehow manage to lose them!
With pool cues requiring a combination of woodworking and machining, there isn't really a task that can get away without calipers, as my required tolerances are down to one thousandth of an inch! There are numerous types of measuring devices around the shop, but calipers always remain the number one "go-to" tools.
A close second would be all of the clamping jigs that I have made. I can't do some of the ringwork on the cues without them. Lastly, my small chisel collection. Most of my "hand tools" are somehow hooked up to my machinery in one form or another.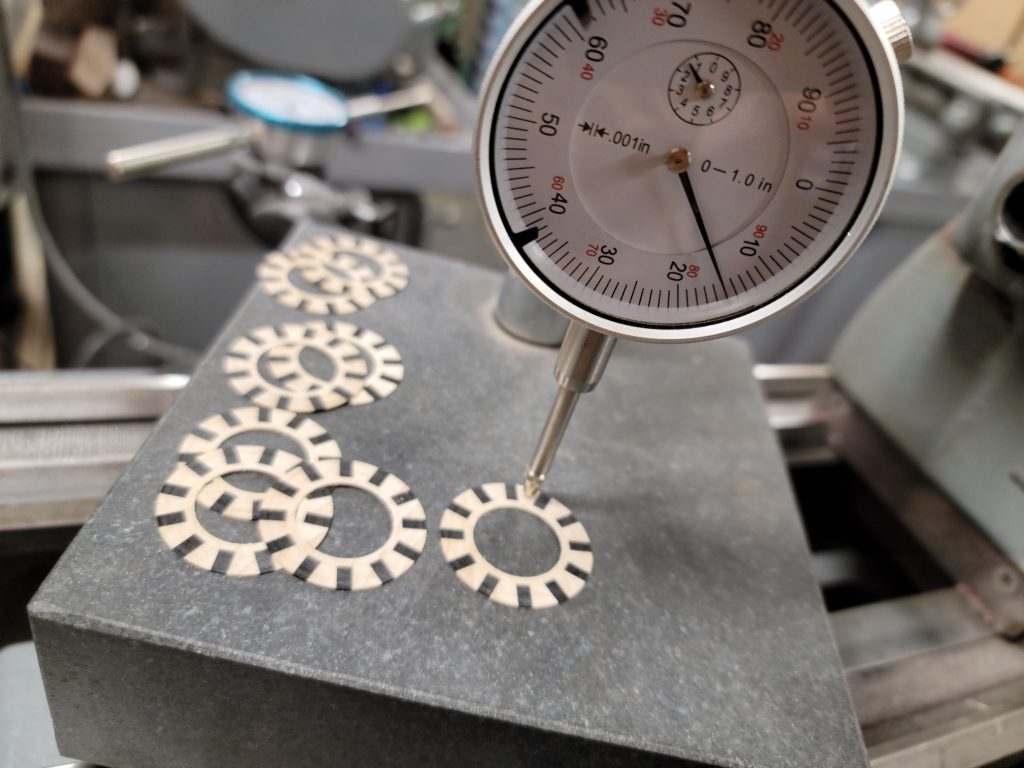 Tobias: What is it about working with wood that you find most enjoyable?
Aaron: This is going to sound weird, but you have no idea just how many times I have been caught "sniffing" wood after a fresh cut! There is something about some of the exotics that just have a lovely fragrance to them, such as Tulipwood, Camphor Burl, Olivewood, Brazilian Rosewood, etc. There are also others that will force you out of the shop for at least a week due to their smell!
There are no two pieces of wood that are identical. Finding woods that work well together bringing form, function and aesthetics of the cue to cohesion is just part of the fun. Seeing and hearing the client's reactions when the finish goes on and the figure and color comes to life… priceless.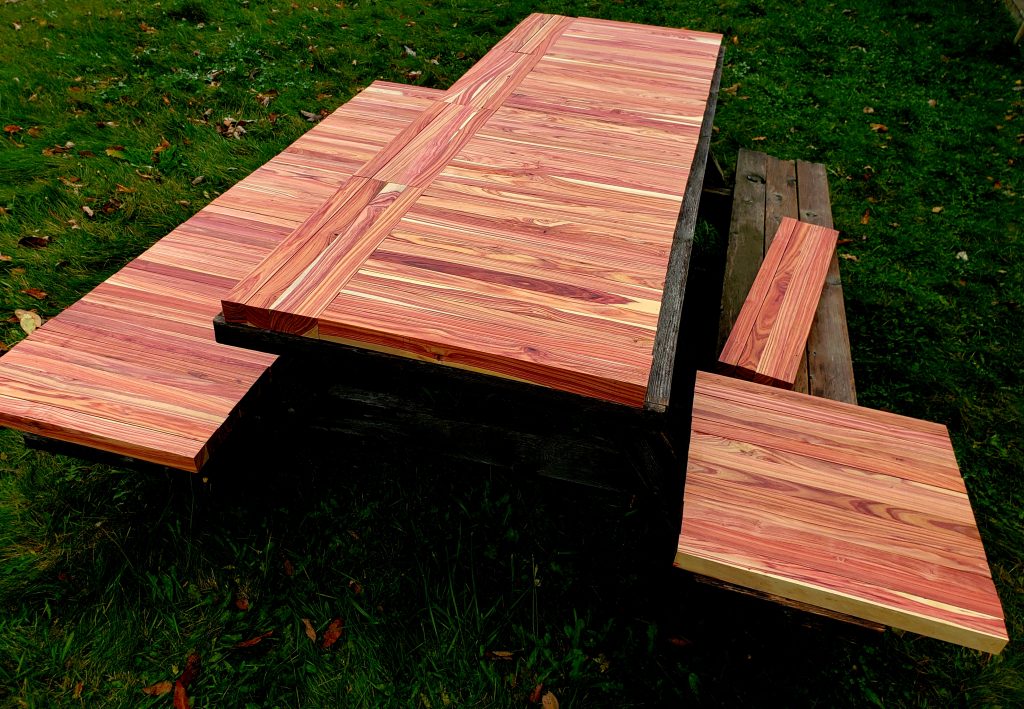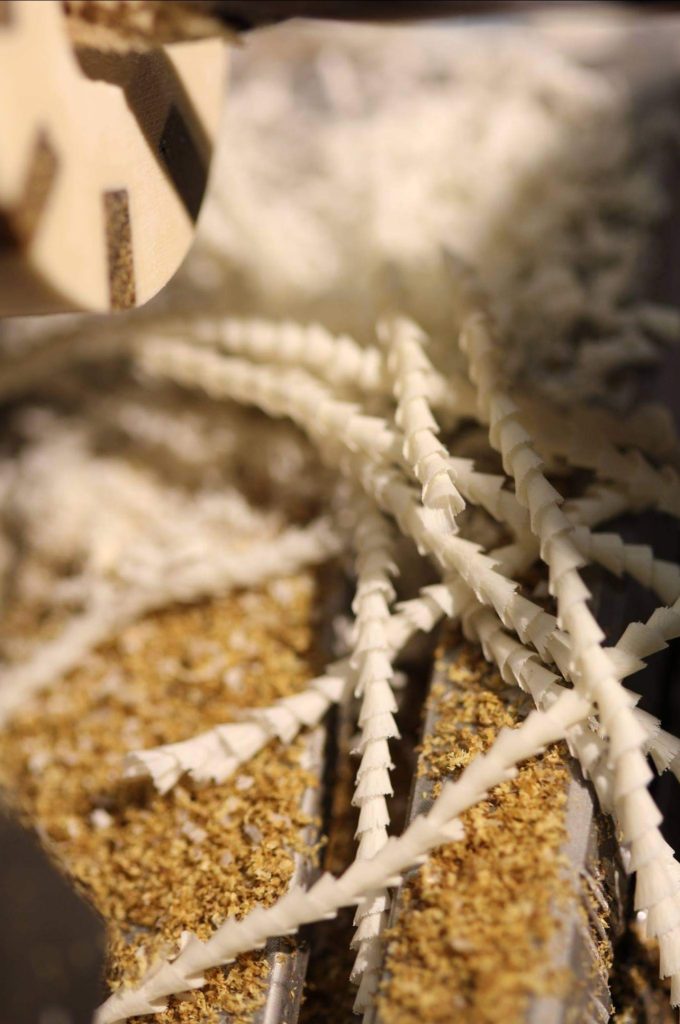 Tobias: What type of workshop do you have and how has it evolved over time and why?
Aaron: As I have only been plugging along for 5 years so far, I am still cramped up in a relatively small work area. There were plans to build a much larger shop at the beginning of 2020, but thanks to Covid-19 and the skyrocketing cost of lumber, this has ended up on the backburner for now.
I started with a daylight basement, a rather toylike lathe, contractor table saw, a few small Jet machines (drill press, band saw, drum sander, planer/jointer), all of these being "toy" size though. They got me through the first two years, but I spent so much time adjusting and dialing in over and over that I rarely got much actual work done!
For now, I have somewhat of a hybrid woodshop / machine shop all crammed into roughly 1200 square feet of floor space.
 On the woodshop side, I have almost everything set up on mobile bases, so that it can all be tucked away when not in use.  
I have a Delta Unisaw with a 52″ fence setup, Grizzly 21″ and 14″ band saws, Woodpeckers router table, Shop Fox 8″ x 76″ parallelogram jointer with a spiral cutter head, Performax  Supermax 25 x 2 drum sander and everything is fully piped into the Oneida dust collector.
On the other side, I have three South Bend Heavy 10 lathes, a WT 10×24 lathe, Clausing 8521 mill, Grizzly mini lathe, Cuesmith Deluxe lathe, sealing cabinet, wood storage and my CNC.
Outside, I have converted two small shipping containers, one into a makeshift kiln and the other into a controlled storage environment for wood.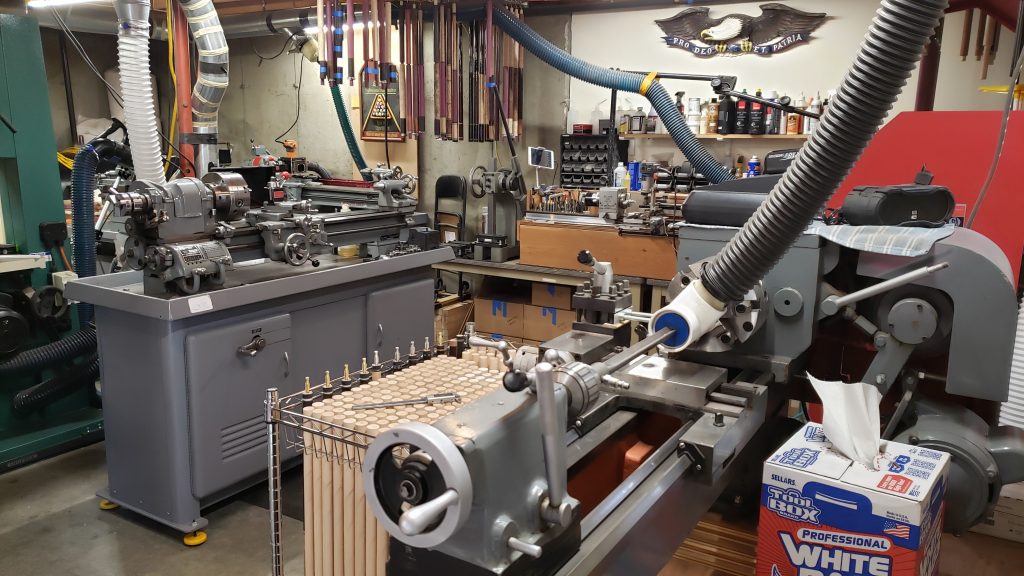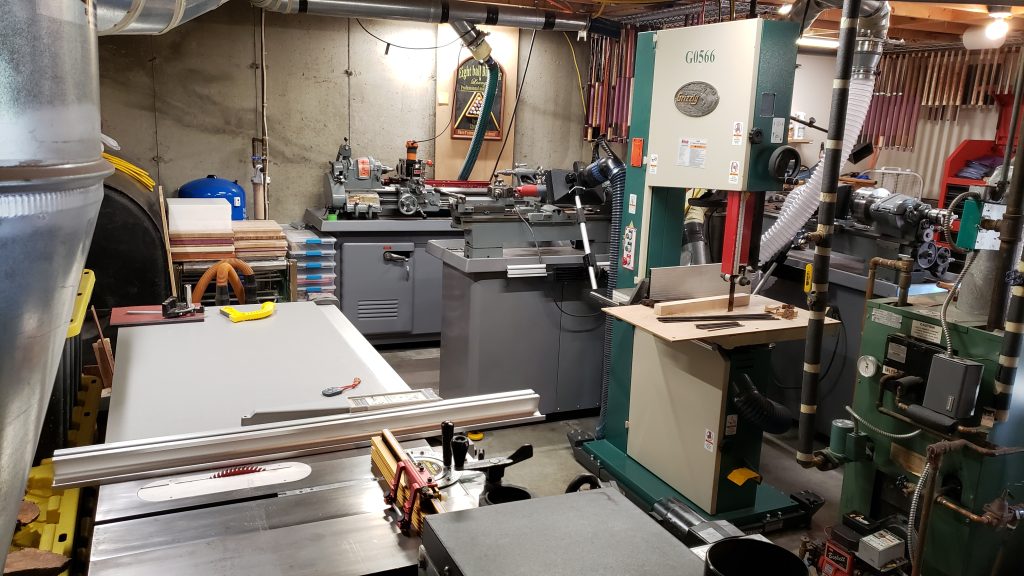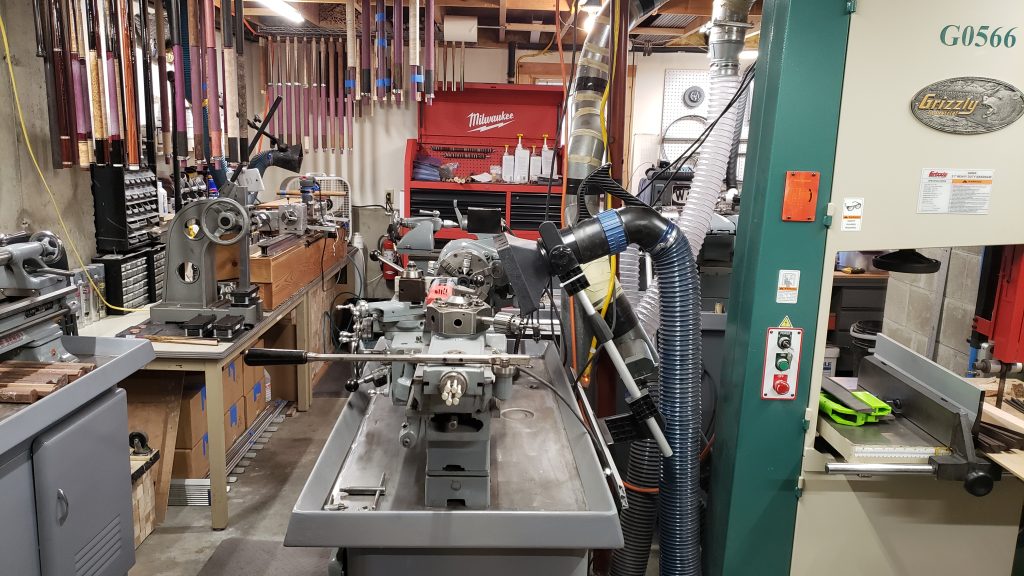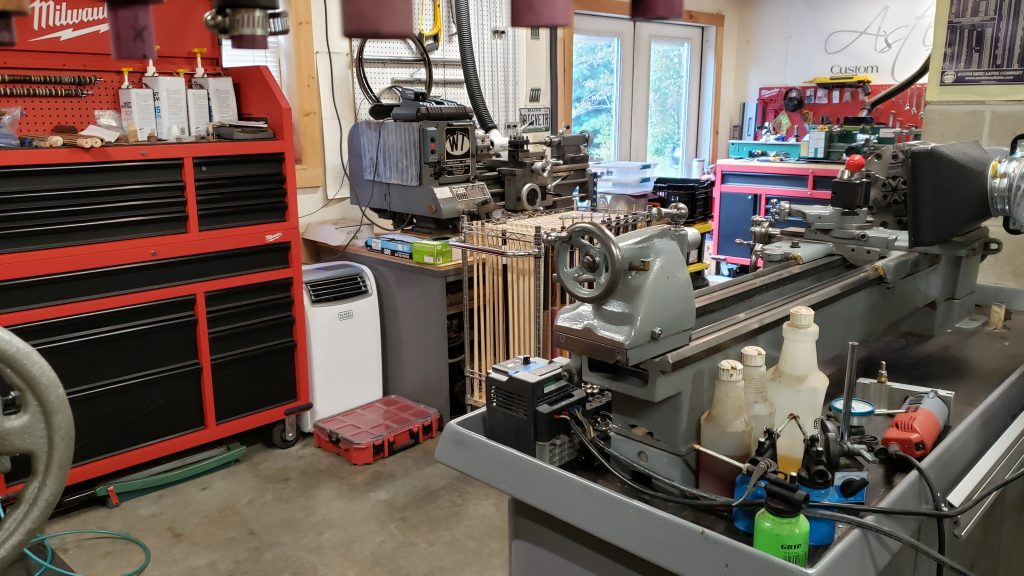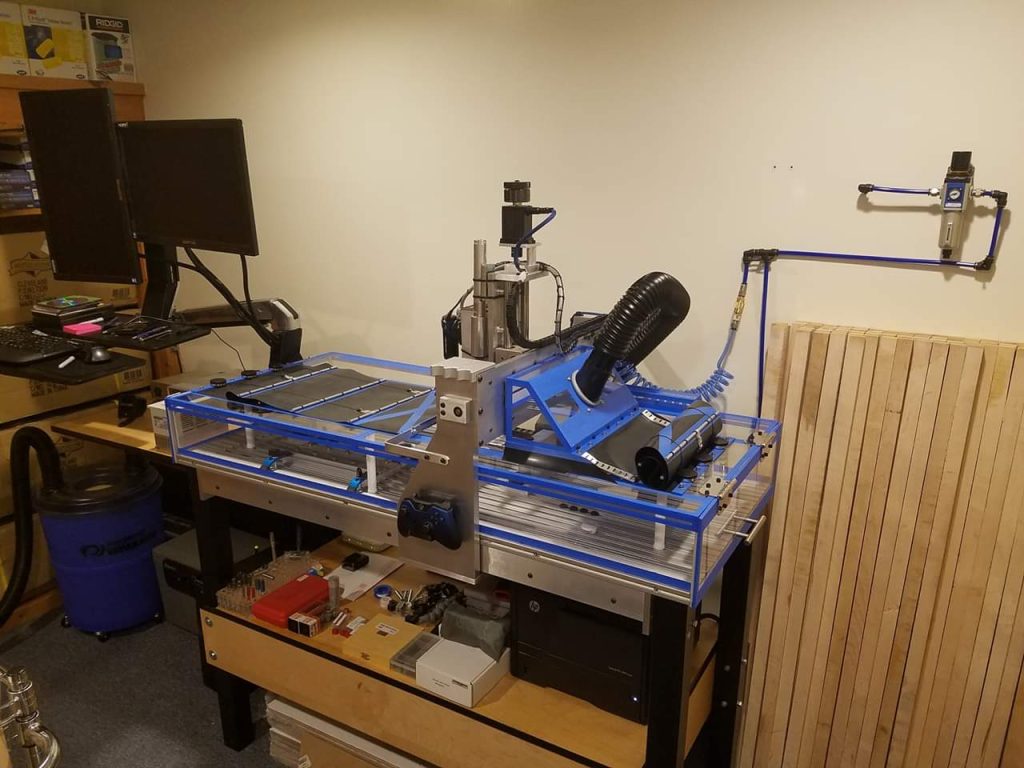 Tobias: What is your clamp line-up and why?
Aaron: The only time that I use standard woodworking clamps is when I break from round work and do some flat work. I take a few weeks every year to build end grain butcher's blocks, which means lots of clamps! I have around 25-30 pipe clamps and more Jorgensen Quick Clamps than I care to admit. I store them all overhead to save what little room I have to work with.
My everyday clamps are a little more on the unique end.  Working with round stock and extremely tight tolerances, most of my clamps are custom made for each specific application such as clamping rings together for mock-up, glue-up or rough turning. Some of my simplest, most used clamps are made from surgical banding!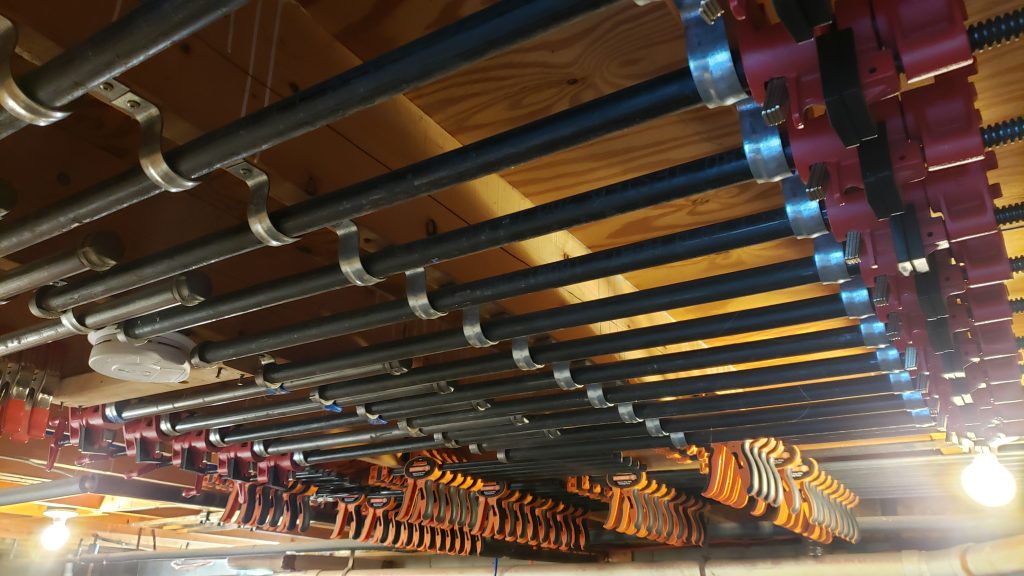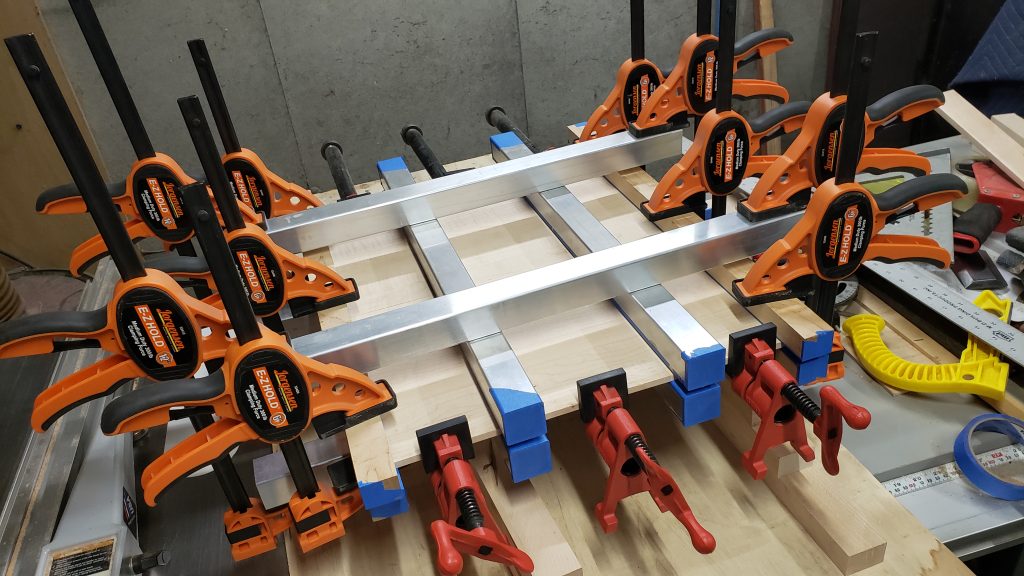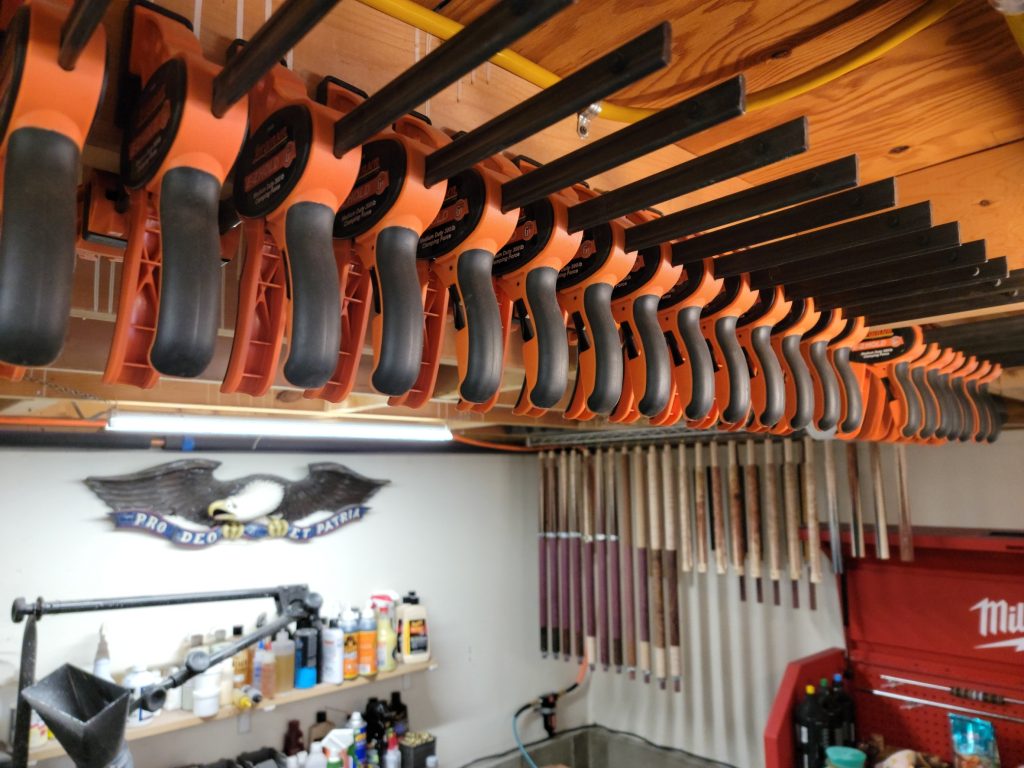 Tobias: Which adhesives and glues do you use and why?
Aaron: There are so many in my arsenal! I not only work with woods, but also various phenolics, metals, plastics, linen, leather and many other composite materials. Each variation of mating surfaces is treated differently.
Most of the time, I work with West epoxies. I have found that in my climate, I have had exceptional success with marine epoxies for holding everything together. Different situations may require different glues or epoxies.
If I want it to soak into the woods, I wll pre-soak with West 207c and then move on the the glue-up. When I need to avoid soak-in because of potential discoloration, then I prepare the surface differently and utilize alternative adhesives such as Gorilla Glue, Elmer's Glue, basic wood glue, various CA's (Superglues), Topbond cement and a wide variety of others.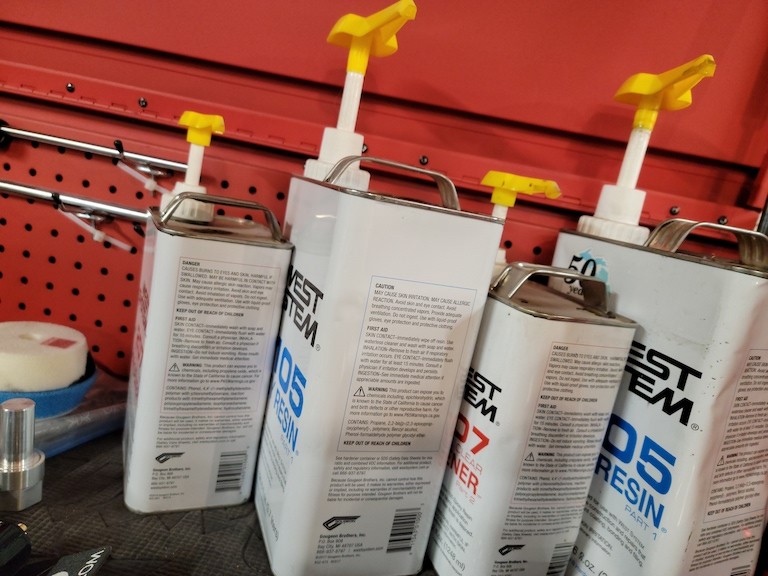 Tobias: Which woods (local & exotic) have you not yet used and why are you interested in building with these species?
Aaron: I think you have just asked me a question that I don't think that I can answer!As I said earlier, I have a bit of a "wood" issue… I have spent years of sleepless nights combing the internet for stock to add to my collection. Having continuously scoured the stockpiles of of every local supplier, I really don't think that there is anything that I don't have and I think that this is a huge draw for my clients, just being able to say "Yes, I have that". The only downside most times is that I am probably the only one who even knows half of my species exist, so they never get requested for a build, generally because the client has never heard of them.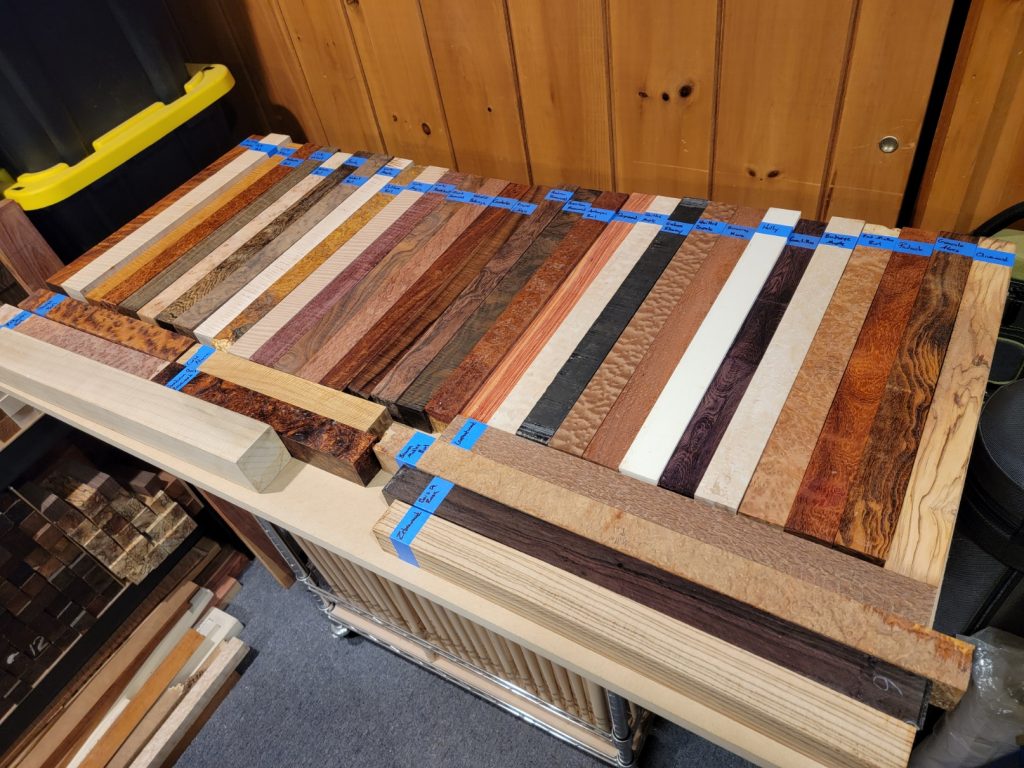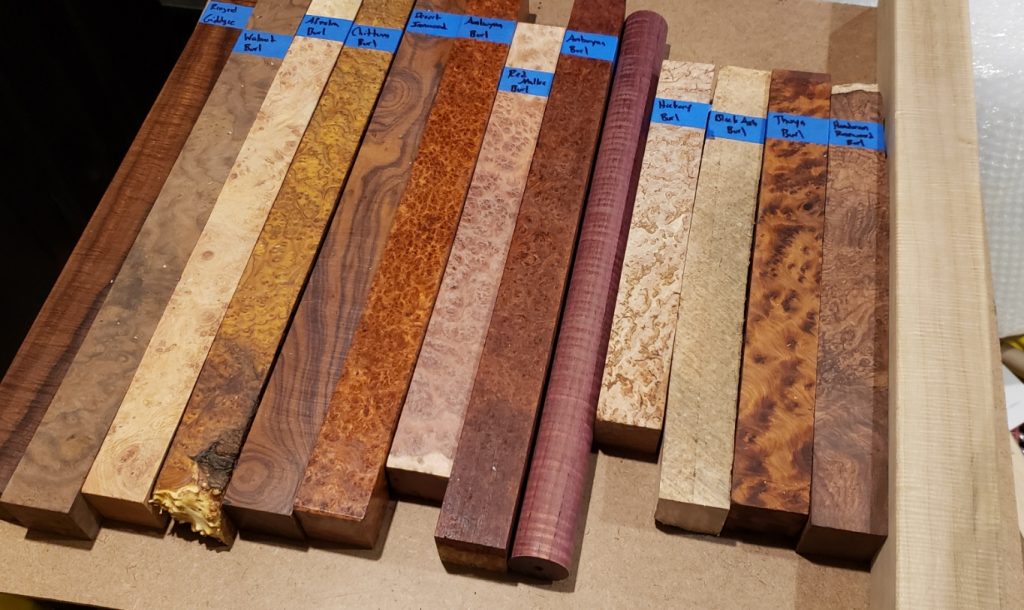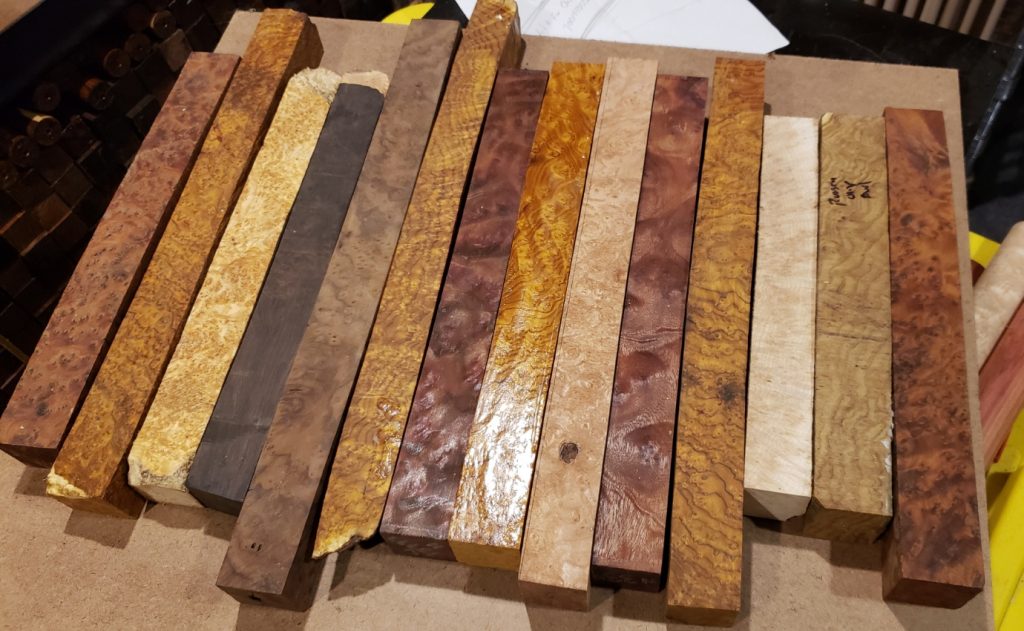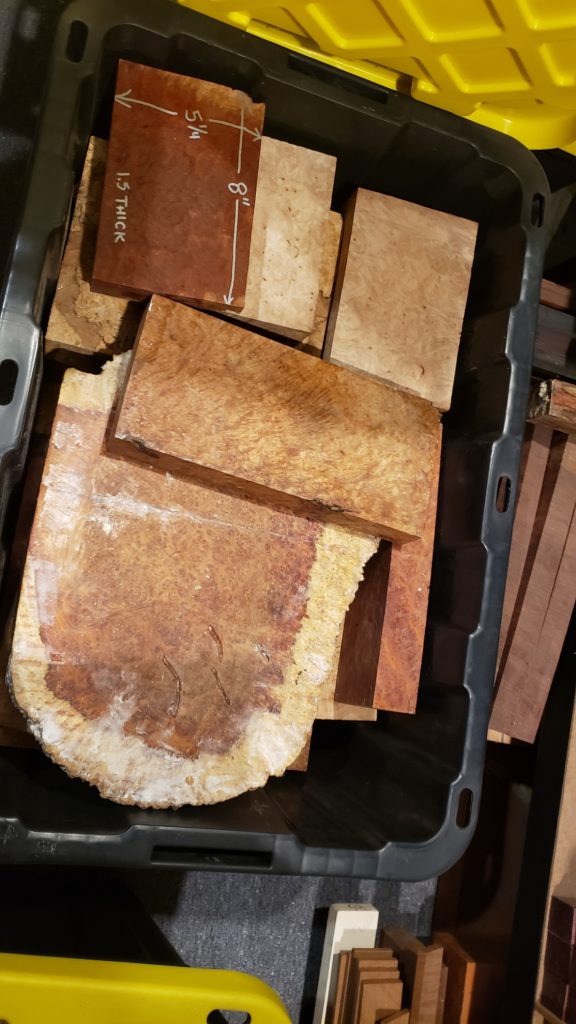 Tobias: What and whom are the sources of inspiration for your craft?
Aaron: Honestly, every cue maker before me! The good, the bad and the ugly, every one of them had some form of  influence on my work and how I do business today. Without them, and their silent online whispers, tips and tricks, I would not have been able to start what I started. They all unknowingly gave me the stepping stones to where I am today. From there, I have developed my own techniques, however without them, I would never have been able to make the leap.
Initially, I spent years doing my homework on the dos and don'ts of the trade. Not starting as an apprentice left me searching for breadcrumb clues on the internet as to how the craft works. I can't pinpoint anyone in particular, as I have learned something from everyone. They all get credit in my book, even the individuals that went through hardship and downfall, they all provided a learning experience for anyone paying enough attention and being willing to learn.
Tobias: How do you design your pieces? Do you use CAD or SketchUp? Do you sketch out by hand?
Aaron: Most of my designs happen in my head for the more standard builds, but when the opportunity arises for a unique build or a "Show Cue" build, I bust out my old drafting supplies and and first draw the cue out to scale. This also assists me measure everything as I build it. I was never exposed to CAD growing up or had much to do with computers in general, so these things are pretty foreign to me!
I have had a few builds where they were outside the "normal" for build specs, and having the paper draft right there to work from really saves me from repeatedly messing up. After 12 months of building something, the last thing you need is finding out that you measured something incorrectly months ago!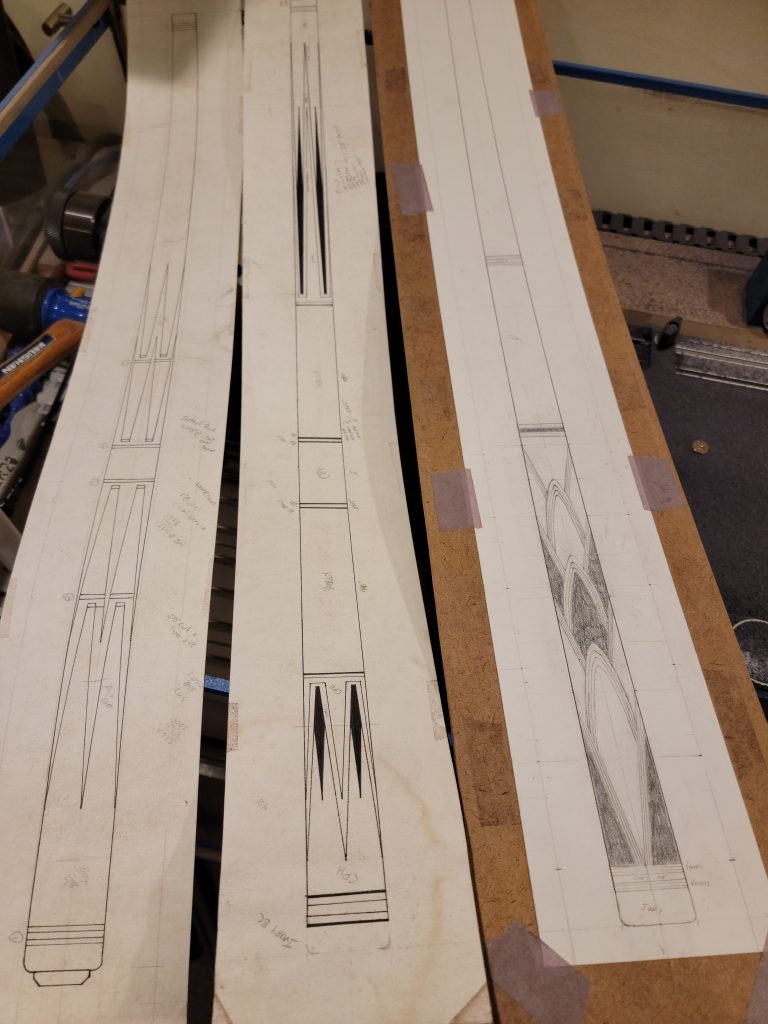 Tobias: What are you finishing regimes, which products do you use and which are your favorite processes?
Aaron: My topcoats are secret! For sealers, pretty much everything gets West 207c two part epoxy. I usually do a build up with this of 3-6 coats, all worked in by hand and sanded between coats before moving on to my top coats. After top-coating, the piece is sanded from 1,000 grit to 10,000 grit, followed by multiple coats of Rupes polish. After all that, it then gets a ceramic sealant over the top-coat to further help with abuse and protection against UV rays.
The downside to a show car or show cue finish is that most people don't know or don't care to learn how to maintain the finish. Ceramic coatings are amazing, however their weakness is solvents! With the world in hand santizer heaven of late, it has become an issue that is very difficult to overcome.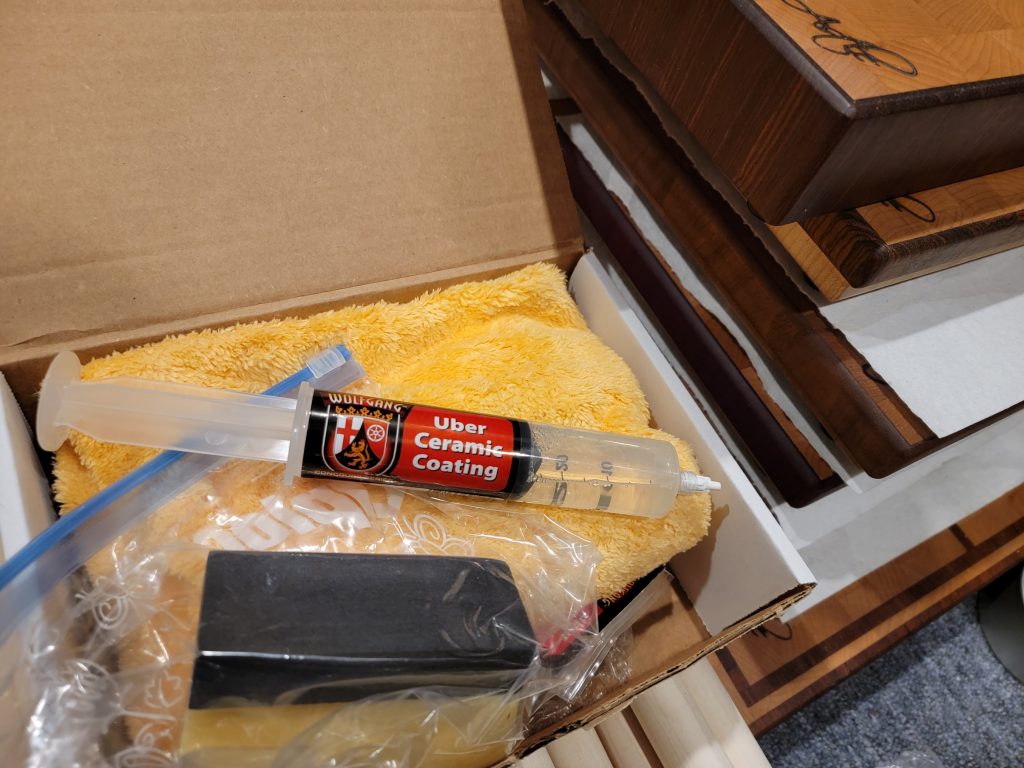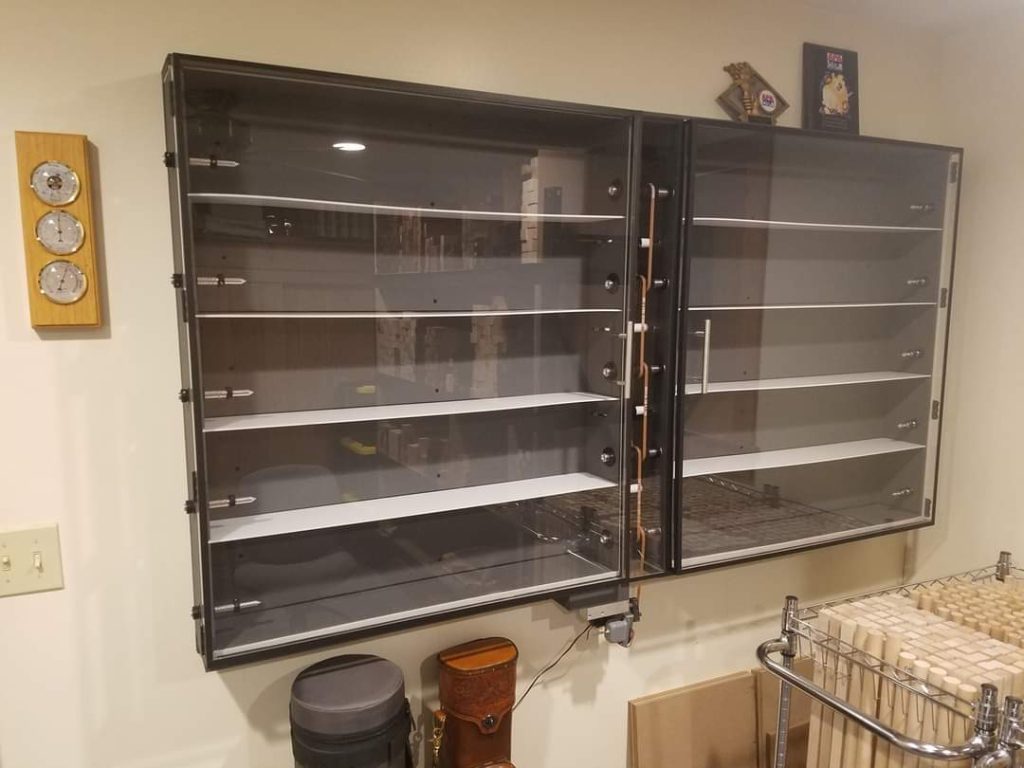 Tobias: Which parts of working with wood do you dislike the most!
Aaron: Most definitely the uncontrollable nature of the medium! Wood is still living, even when it's dead! I can be a year into a build and a piece of wood will just up and quit on me. It can either move, warp, discolor, or decide to show me that there was a bug or worm tha took up residence in the middle of the blank! Heck, some of the burls I use move and warp if you just look at them! I spend everyday babysitting all the equipment around the shop to ensure a stable climate, but in the end, it's Maine and I can experience all four seasons in one day! There are days when I pull four gallons of water (humidity) out of the air in a shop no bigger than most garages.  Then two days later, I have to push three gallons of water back into the air! Most of the builds I do take over twelve months from start to finish, so keeping all the woods from moving for that length of time can become extremely tedious.
The hardest part of all is just keeping the wood absolutely straight through all the cuts, processes and assemblies throughout a 12 month build. If it moves at all in the final stages, it can set me back months, or even worse by having to start all over again from scratch!  The outer layer of the cue when at final size, is simply a tube veneer over the core structure, so any movement through any of the tapering passes is a huge pitfall. The core structure pieces are the most crucial part of the cue and are never really seen. If the core is straight and stable, then the cue will stay straight, no matter how much the outer layer wants to pull.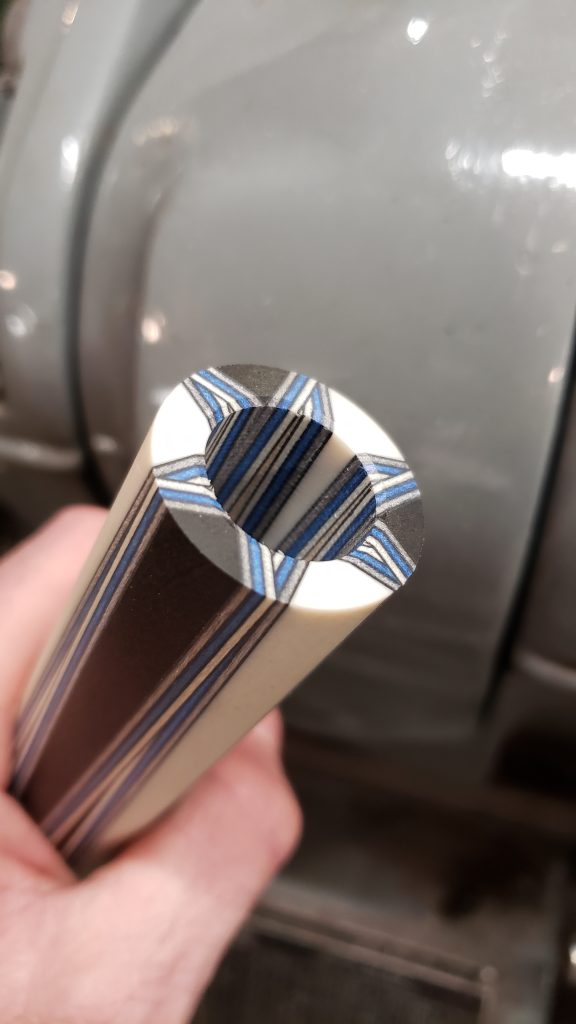 Tobias: What is your favorite music to listen to while working in your shop?
Aaron: Not sure if I technically have a favorite… I usually set my Pandora channel to a different station each week for some variety. I will say lately it's been anything from the 80's and 90's. I have times when people stop in and ask what I am listening to,  I just grin and tell them that it's my rap music week according to Pandora! If I really had to choose, I would be safe stating that when the Fleetwood Mac channel pops up, I am quite happy in the shop for a week!
With the wonderful speaker technology available nowadays, I only have a single Altec Lansing Bluetooth speaker linked to one of my shop tablets. That alone is loud enough to push through the shop noise. This is also linked to my hearing protection, so that I can still enjoy the music while noise-cancelling everything else!
Tobias: What is your tool sharpening regime?
Aaron: For my chisels, I use a variety of stones and actually use them on my machining equipment when needed as well. However, those are probably the only things I sharpen. Most of my single point lathe cutters are indexable inserts now, which don't require sharpening. There are times when I do require custom HSS tools ground, then I dig out my rotary grinding system.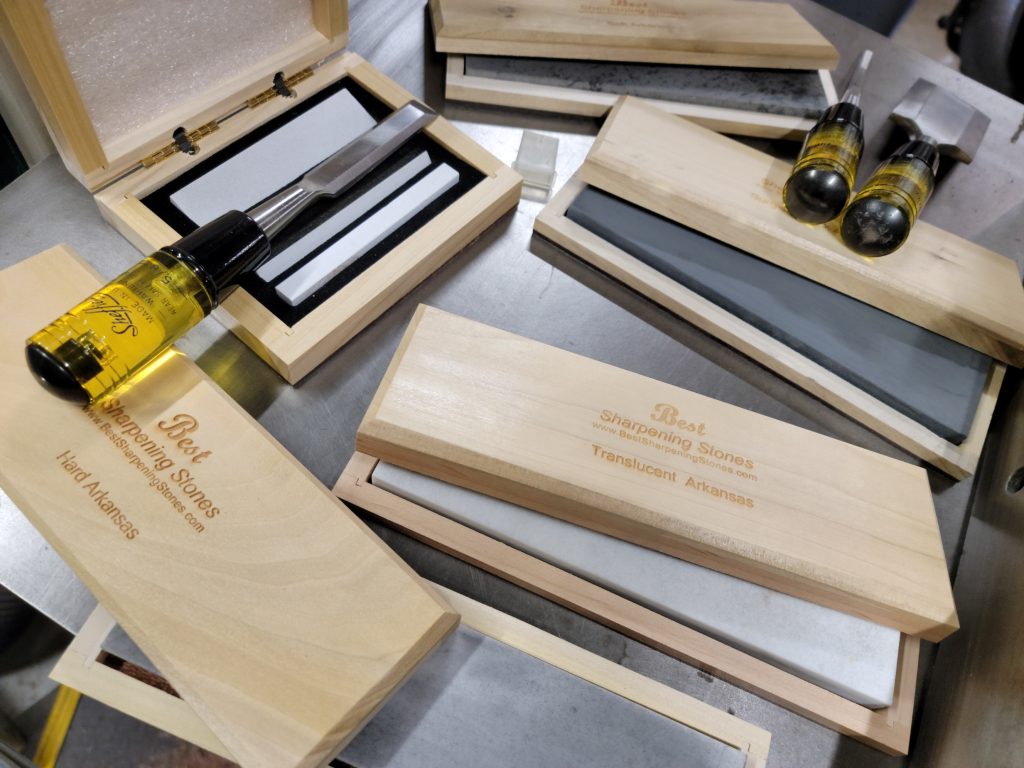 Tobias: What custom jigs or tools have you developed for your woodworking?
Aaron: The downside to a somewhat exclusive skillset such as cue making, is that there is no go-to place for equipment or jigs. We are left with either retrofitting something designed for another application, or making our own from scratch. One of the biggest hardships when first setting up shop is dust collection. With almost everything being cut with routers that travel along lathe beds, there is no off-the-shelf way to stop the dust from filling the shop, without a full enclosure around the machine. 
One of the first contraptions I made was a dust collection cube that enclose a palm router and allow it to move along the lathe bed. Some of my other dust collectors are pretty simple in design compared to the router cube, but they get the job done. Almost all of the clamps I use for cues are made in-house, whether it be a full pressing station for veneers or simple ring jigs. I built a sealing cabinet that allows me to spin the cues while the 24 hour epoxy levels and cures. This cabinet was slightly over-engineered for it's task, but it was just too much fun building all the parts and pieces! I also built another complete enclosure for my CNC. This machine is a custom build that started with a Unique Rage CNC base.
I could go on forever, as almost everything needed for making cues is customized in some way or another! This is what scares away most newcomers to the field, and of course the fact that you have to invest 10 times what you make for the first 3 or 4 years!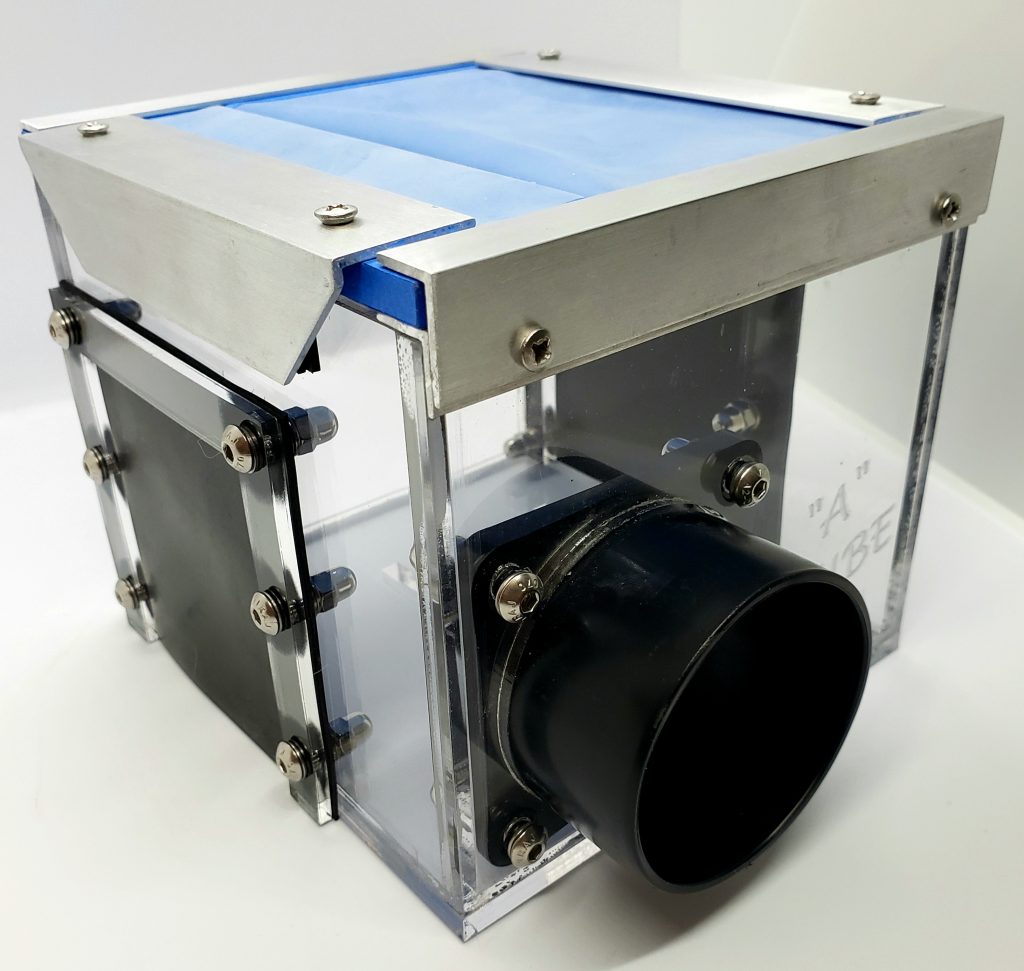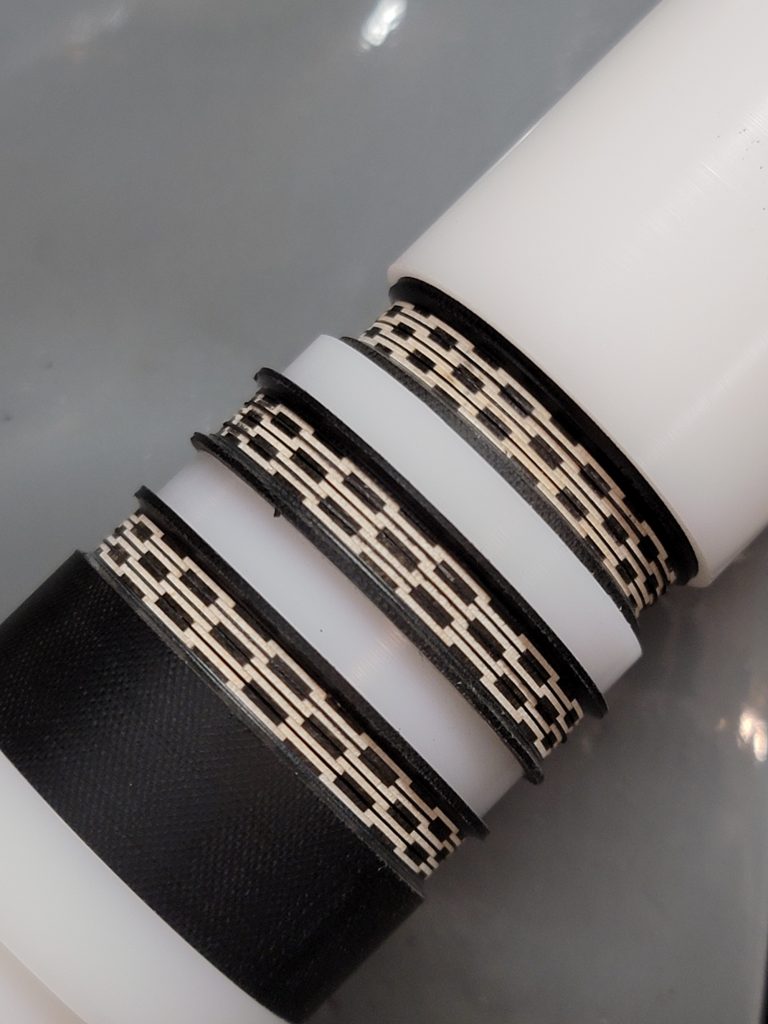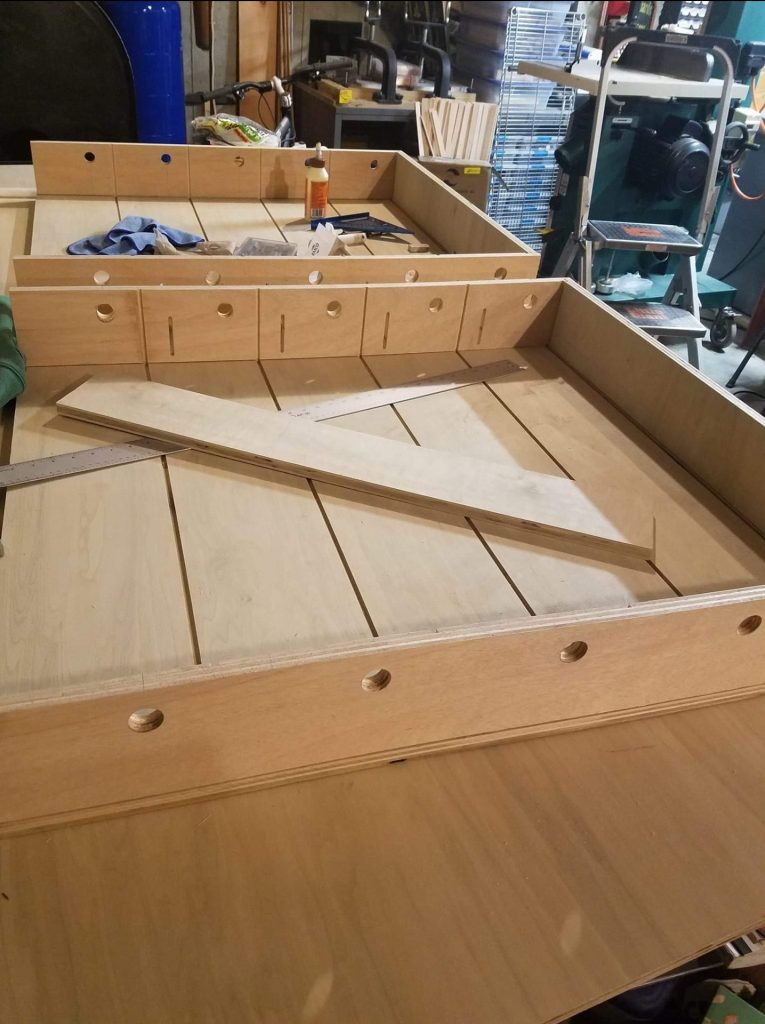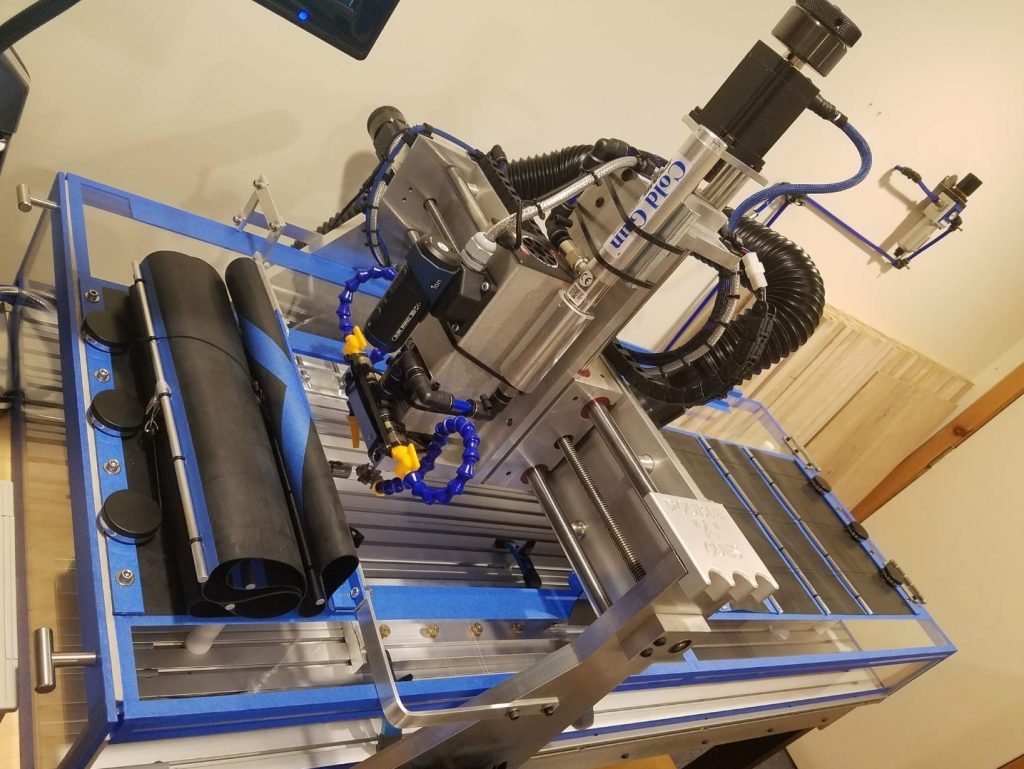 Tobias: What is the next unique cue you are going to build and why?
Aaron: I have actually been working on one for a while that has been quite an undertaking! As is always the case with unique builds, I tend to shoot high. So far, the first three test cues have failed, but with each one I get closer to what I need to achieve the look I am going for. The final version of the cue will incorporate Gabon ebony, silver and ivory, all in multiple levels of overlapping butterfly splices. I am also going to attempt to do some silver pointillism inlay work to assist in achieving shadowing to create more of a 3D appearance. 
I do the unique builds to keep my head in the game, hone new skills and generally to maintain my interest in cue making! Like anything, if all I did was the same thing over and over and never pushed my talent, I would just burn out and not want to do it anymore. This is also why I take a few weeks in the fall to do the end grain butcher blocks. It helps by giving me a mental distraction, while still remaining productive. Apparently my clients love the end grain butcher blocks around Christmas time!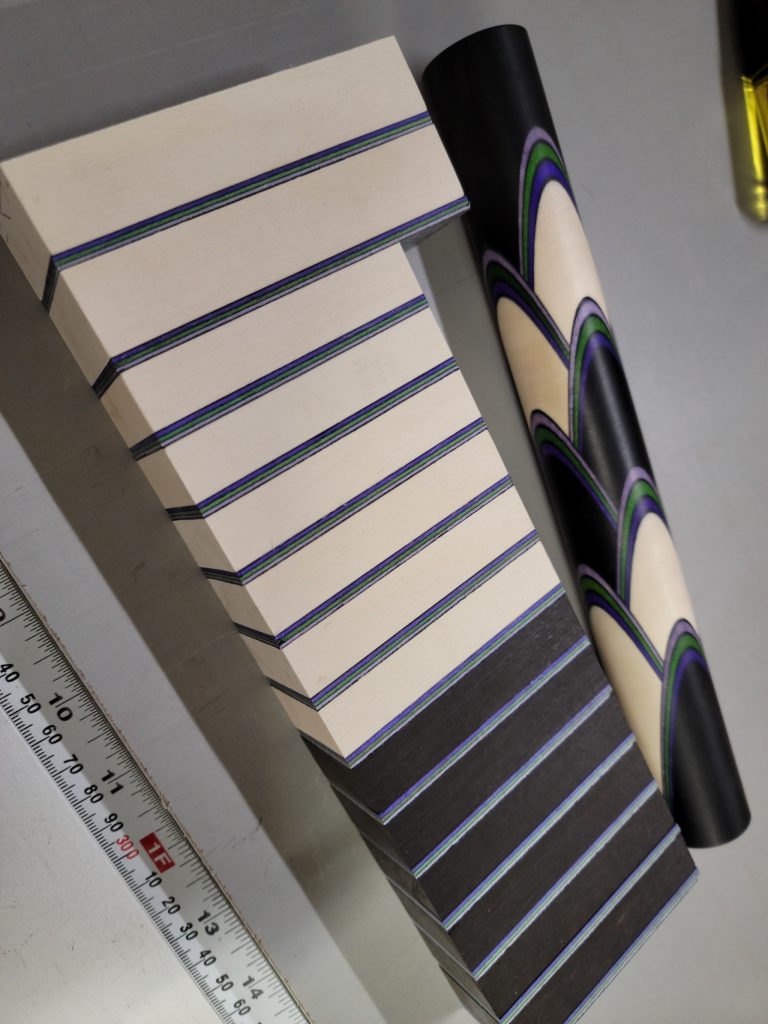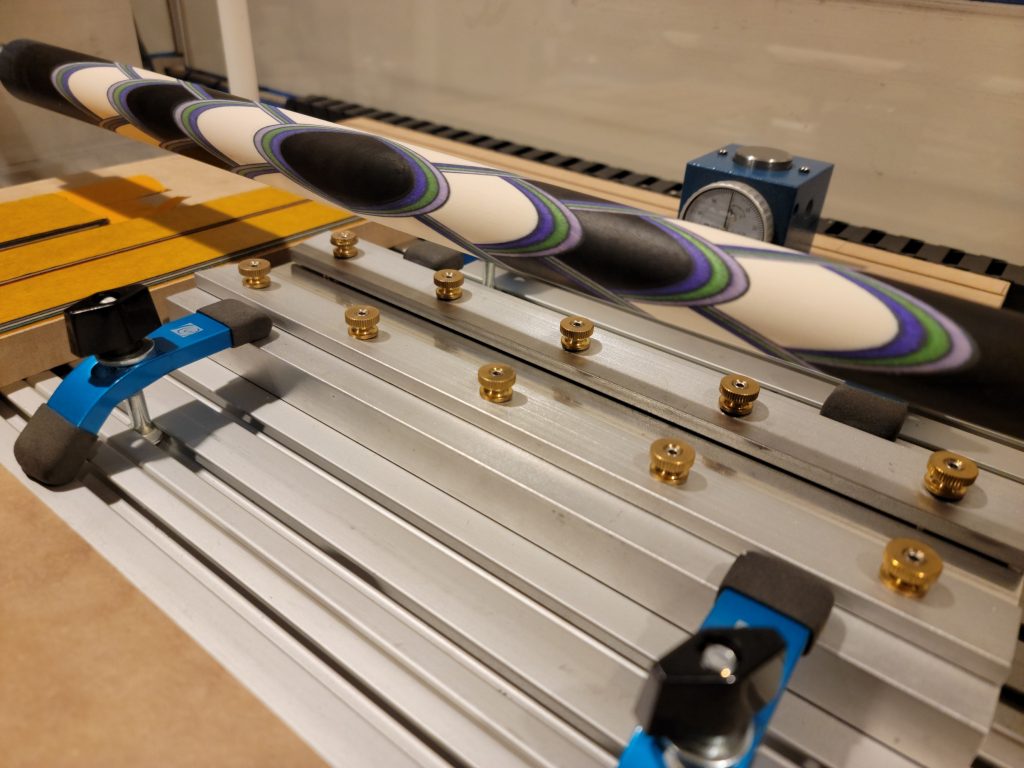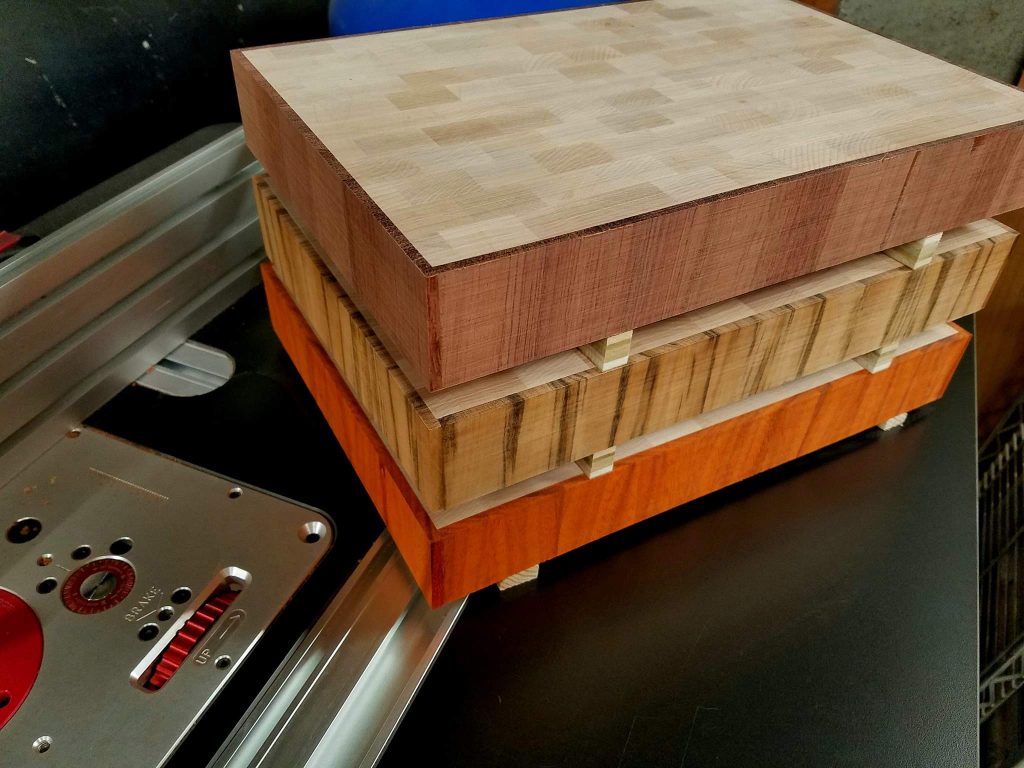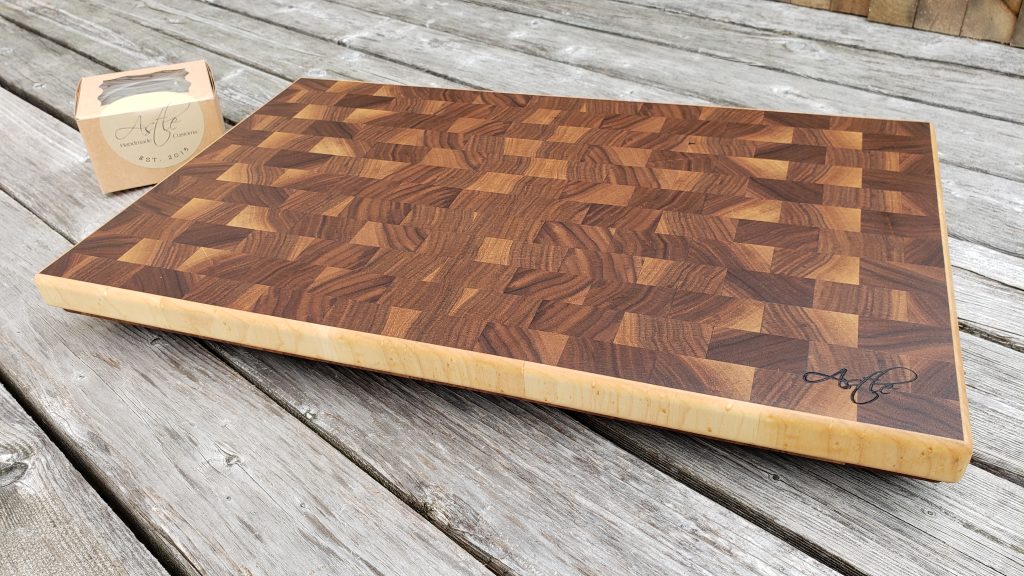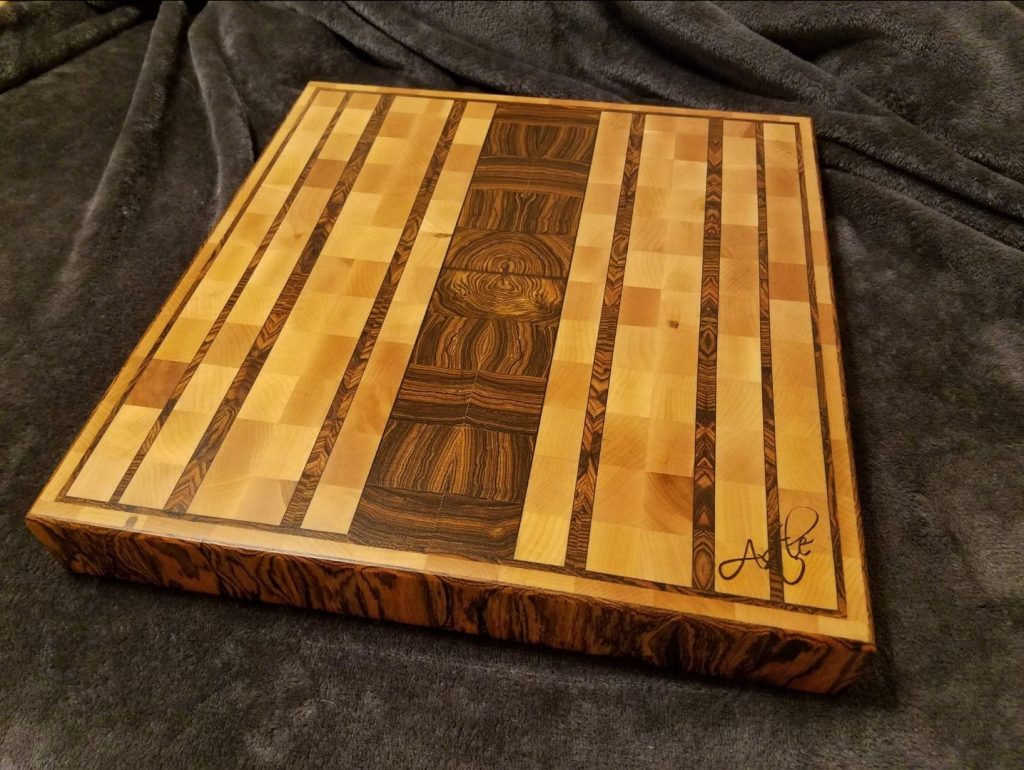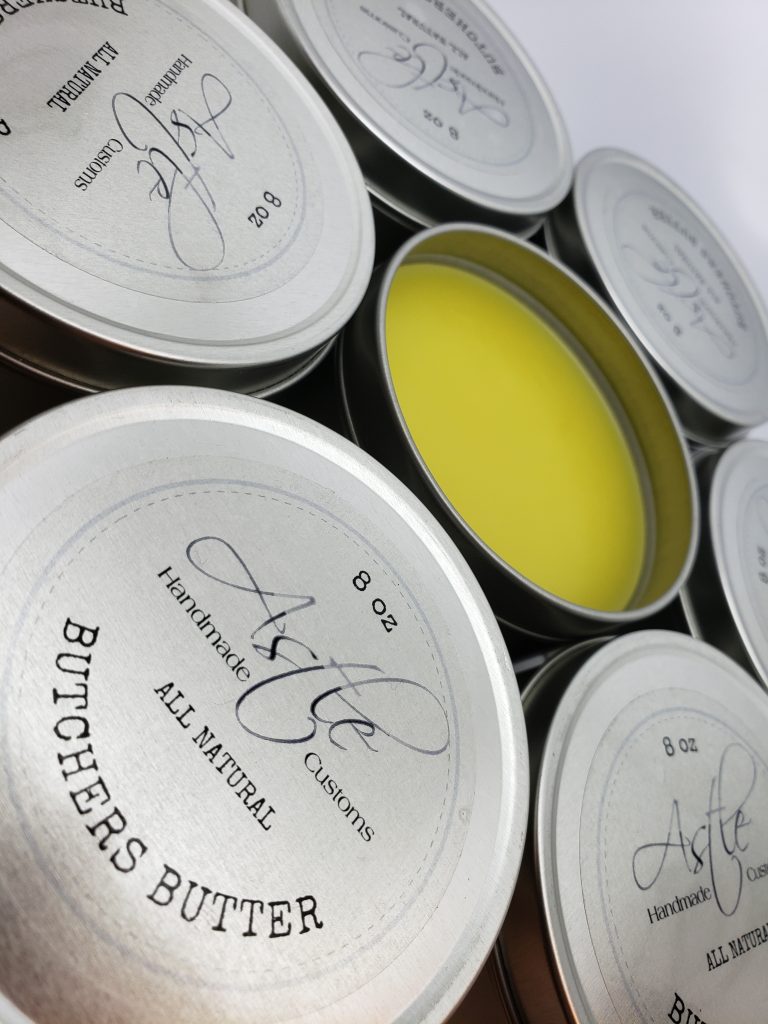 Aaron: I honestly don't hanker after much. I have multiples of everything that I use on a daily basis. Probably the only tool that I would really like to upgrade to, is a Sawstop table saw, only because table saws just plain scare me! I had one close call with my saw a few years ago and that one time was enough for me. Luckily, all it did was nip the tip of my thumb, much like the mark the Sawstop leaves on a hotdog!
Cocobolo Burl
Olivewood Burl
African Blackwood Burl
Chittum Burl
Brazilian Rosewood
Tulipwood
Anything really scarce!
Makers with whom I would love to spend quality time
Barry Szamboti
Steve Dunkel
Dennis Searing
Ron Haley
Anyone who has a sense of humor and can handle my demeanor!
Thank you so much to Aaron for a wonderful interview and for inviting us inside the head of a world renowned cue maker. Your talent and perseverence is truly admired, as are your incredible cues!
Please feel free to comment on the Woodworker Sessions below. If you know of any exceptional woodworkers who might be interested in participating in The Woodworker Sessions USA, please email brendan@rarewoodsusa.com