Welcome to the Rare Woods USA Woodworker Sessions interview series. Here, we hope to discover more about what makes our woodworkers tick, how you became involved in the craft, how and why you build your pieces and maybe learn a few secret techniques and tips along the way!
Our interviewer, a woodworker since the age of 8, Tobias Lochner is no stranger to the workshop. Find out more about him here.
Our sincere thanks go to Brian Noel of Bearkat Wood in Oak Harbor, Washington for his willingness to share his time and talent with us in our 4th issue of the Woodworker Sessions USA.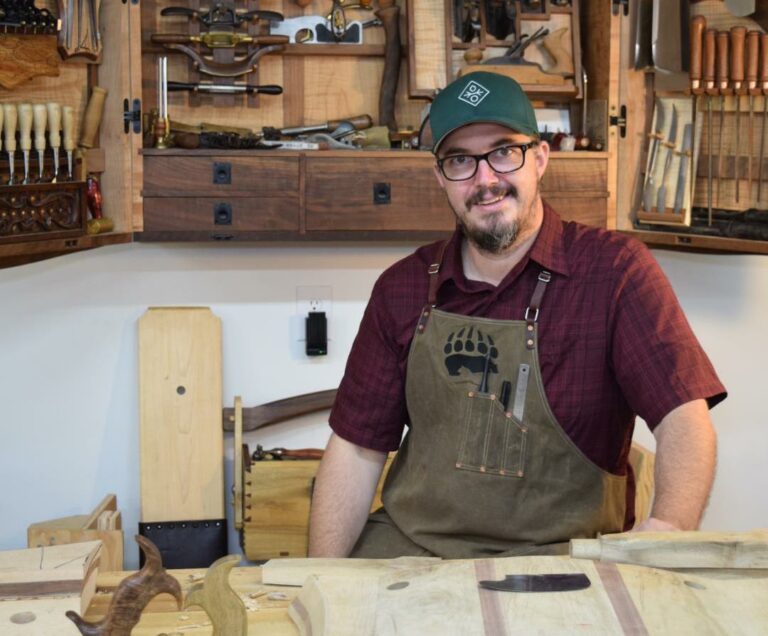 Tobias: Please tell us about yourself, your family and about your career.
Brian: I grew up in Missoula in Montana. I had aspirations of attending art school, but instead joined the Navy. After the military, I worked in construction for a while and then started making small items in wood to sell in Myrtlewood gift shops that were near to me on the Oregon coast. It was here that I began my woodworking journey with my wife and our three children.
Little by little, I improved until I was selling my chairs in over a dozen high end art galleries along the west coast. 
Self taught in woodworking, I built furniture for a living for about 12 years, before making a YouTube video on how I made my own backsaw. This brought in a number of orders for me to make saws and coupled with a review in Fine Woodworking magazine, I turned my attention to making hand saws on a full time basis.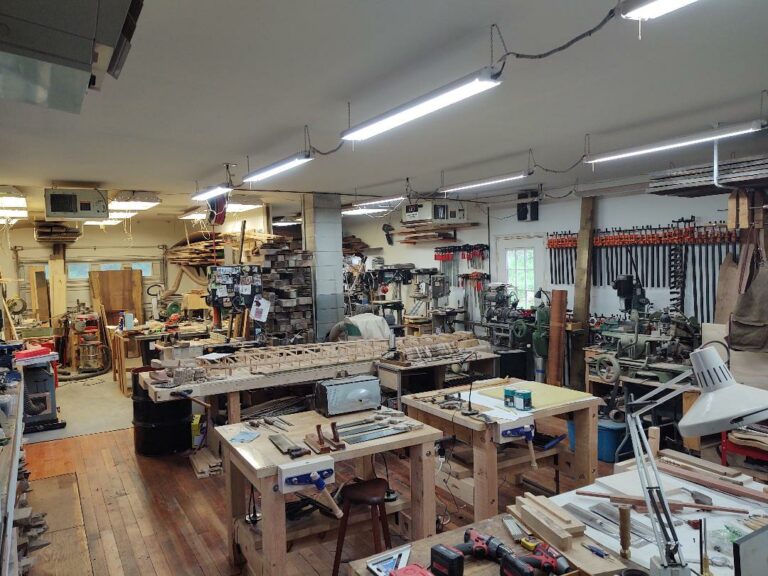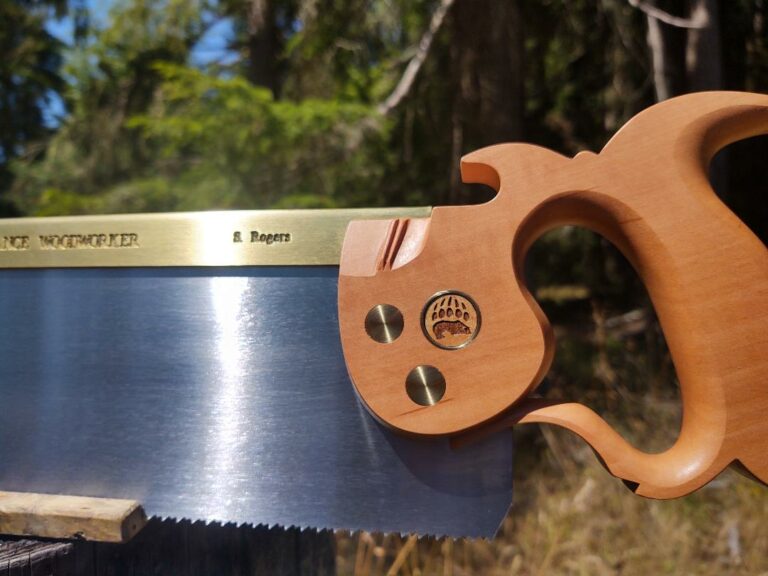 Tobias: How did you get started in woodworking and how long have you been a woodworker?
Brian: I started working with wood when my first son was about to be born. I made a cradle for him as my first piece, then moved on to a dining room table and my first attempt at building a chair. The chair fell apart upon use and this sparked an interest in figuring out how to make a chair that would not collapse! I have been working with wood ever since, so it is over 20 years now.
Tobias: What was the first item you ever made and which is your favorite piece?
Brian: My first piece was a rocking chair that I bought from  a neighbour. I took it to a house that I was employed on to remodel that was owned by an elderly gentleman.
I would visit the fellow on my breaks to see what he was busy with in his workshop. He helped me to refinish the chair, which I gave to my wife who was pregnant with our first child at the time.
After giving her the chair, I embarked on my cradle build.
My favorite build has to definitely be my Lord of the Rings replica of Bilbo Baggins' writing desk. I worked with a film student in Hollywood, who had behind-the-scenes shots of the desk and commissioned me to build a replica. I took great care to reproduce the desk as closely as possible and is was an incredibly rewarding project!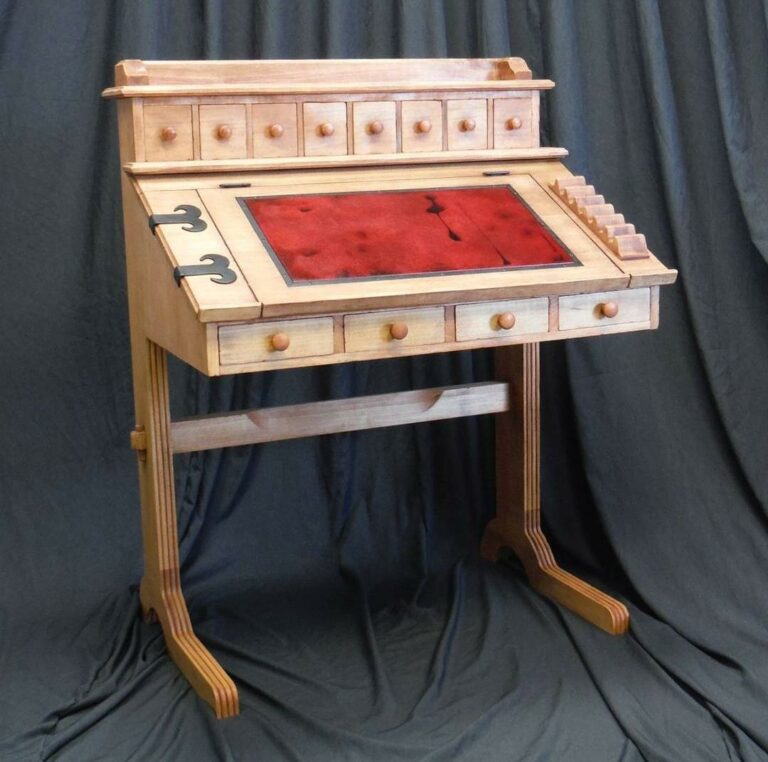 Tobias: Which are your favorite local lumbers and which are your favorite exotic lumbers to work with?
Brian: For local lumber, it would definitely have to be Black Walnut. It is a very forgiving wood and it works beautifully. My absolute favorite exotic is Wild Olive wood.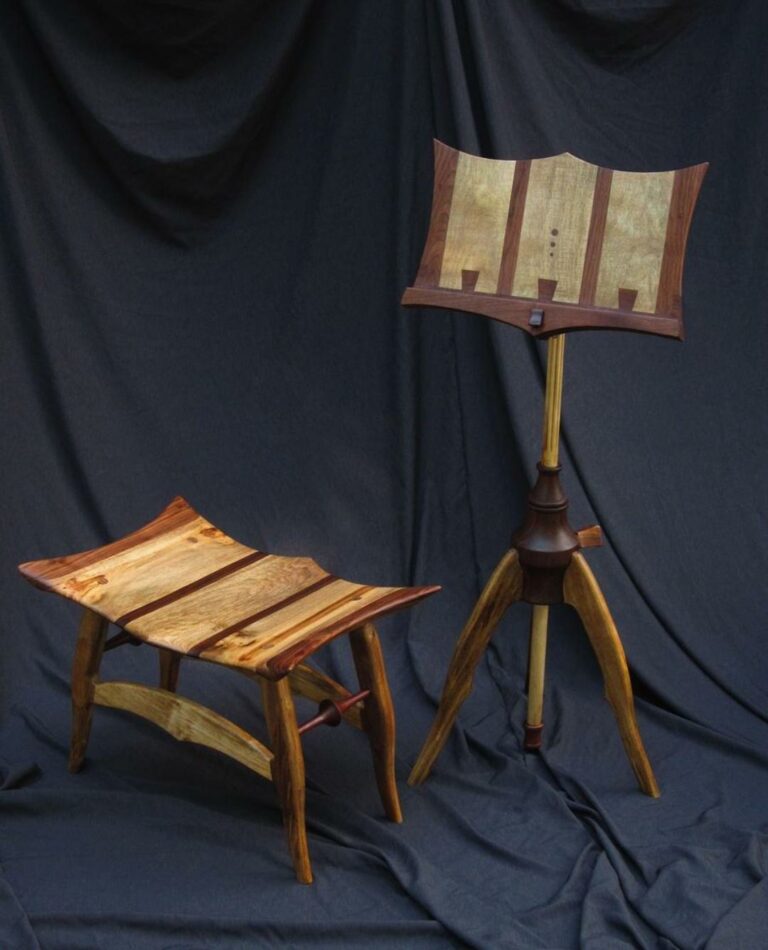 Tobias: Please list your most used hand tools and tell us why they are your "go-to" tools?
Brian:  Spokeshave and drawknife. A close connection to the wood. Of course, I include a backsaw in my selection! Often it is much easier to reach for a well made backsaw for a cut, than to jig up the table saw or another power tool for the purpose.
Rasps and files as well, as they are wonderful when sculpting in difficult woods. (I am not an accomplished carver and might well destroy the piece with chisels!).
That said, I love both my bench and carving chisels which enable me to remove large pieces from the work.
Card scrapers are also very important tools in my arsenal. I am not a big fan of finish work and I have found that scrapers make short work of the process. Always reaching for the wrong shaped scraper, I developed a shape that contained all of the shapes that I use most often and I sold these for years. I am currently out of stock on them and am trying to find a new manufacturer to help in producing them.
Whilst I am not known for my casework, I do reach for hand planes quite often to produce flats, when I require them for my joinery.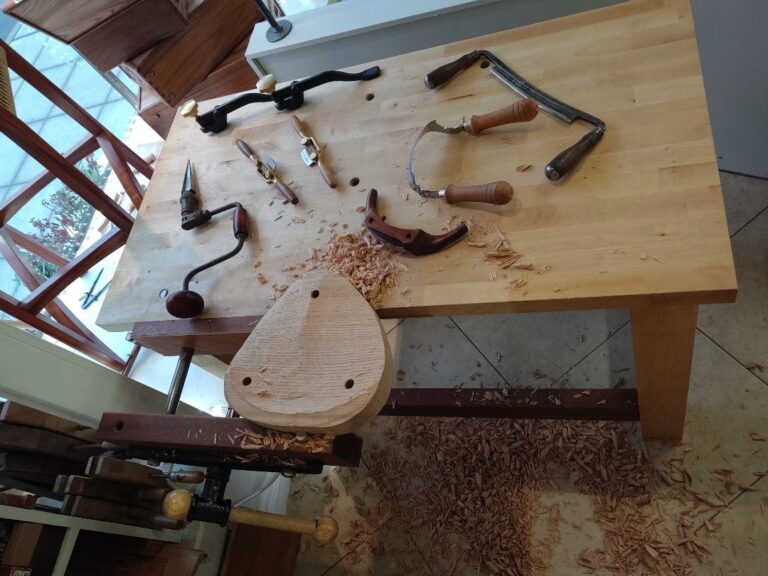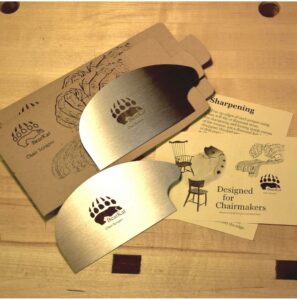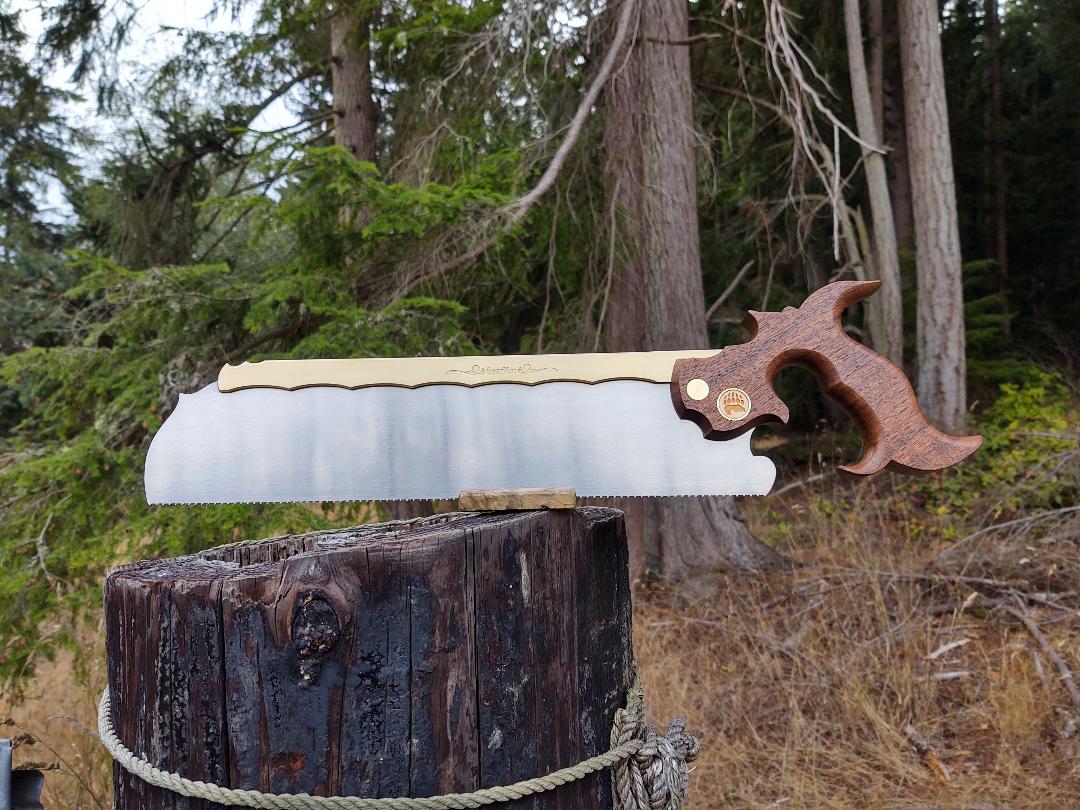 Tobias: Can you list your favorite power tools and stationary machines and tell us why?
Brian: The table saw. A well tuned up table saw can do some amazing things and I use it with numerous jigs that aid in production work, thereby dramatically speeding up projects.
My favorite power tool would have to be the router. If you can't make it with a router, it doesn't need to be made! I have close to 30 routers in my shop, all being employed continuously!
A cordless jig saw that I use in place of a miter saw or radial arm crosscut saw. As a chairmaker, I find that a cordless jig saw is an invaluable tool for breaking down boards where the parts are all nested close to each other, preventing straight cuts to yield them. 
As a saw maker, I rely on Foley Belsaw toothers. filers and files. Coupled with an old ACME saw filer, these long lost tools that are no longer produced are my "go-to" tools for my saw production.
Being rather new to the metalworking field, I have recently acquired a metalworking lathe and am learning to use it to produce my own saw bolts. I use it in conjunction with my CNC machine, as I have not yet invested in a milling machine. 
Last but not least, (not sure if it counts) is my radio in the workshop! It is invaluable. After turning on the lights, it is the first thing that i switch on. I find music to be very calming, when you have a million thoughts in your head about the day's work to be done, it helps me to focus.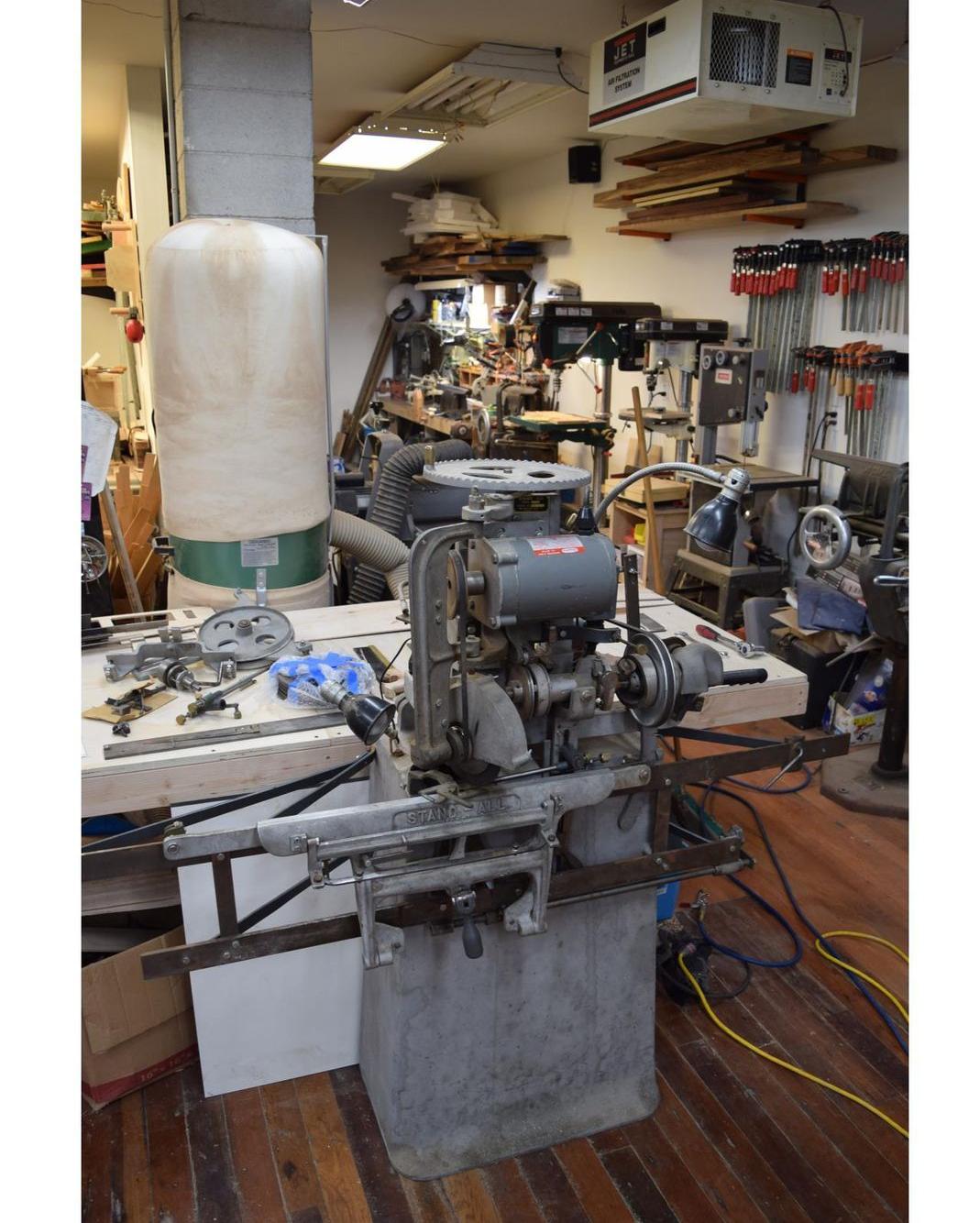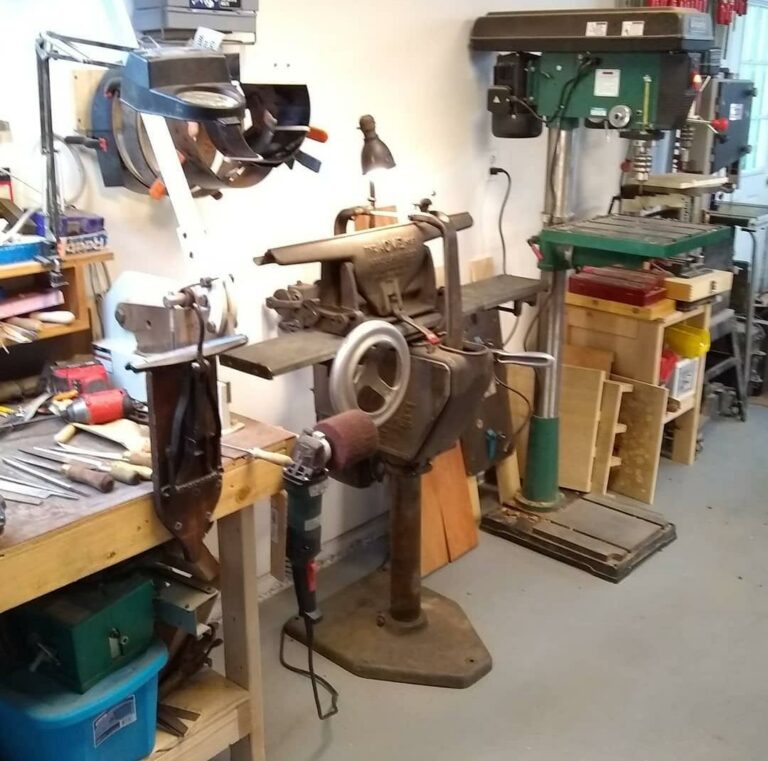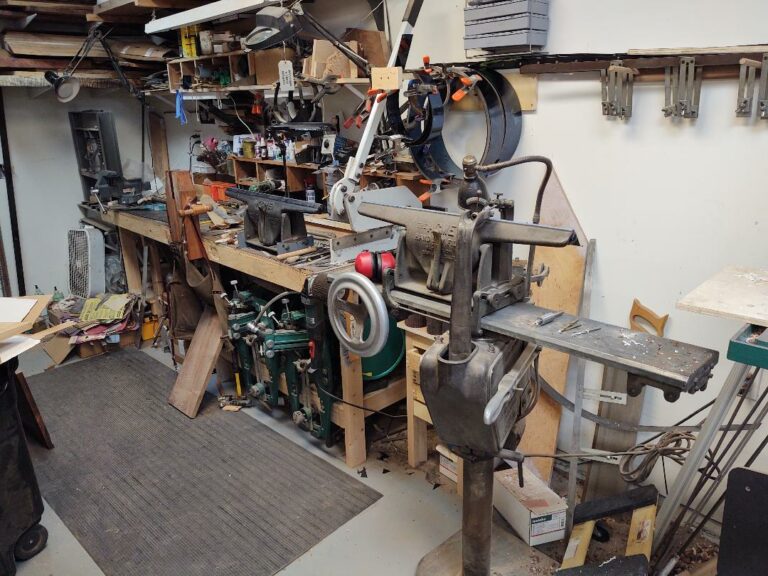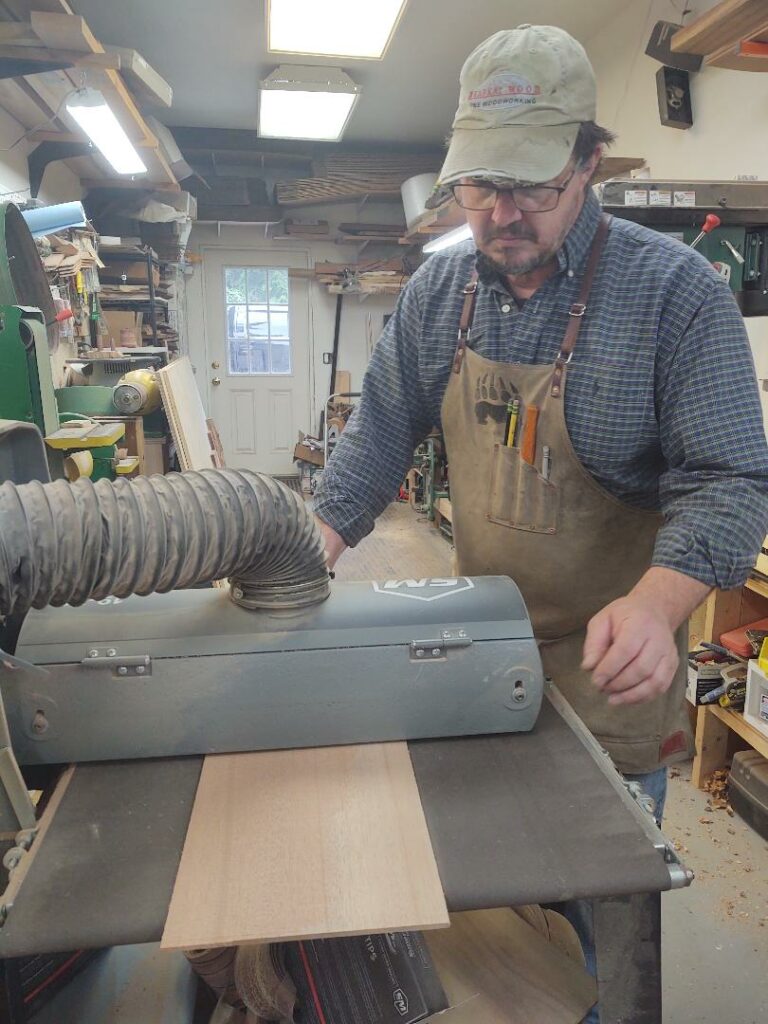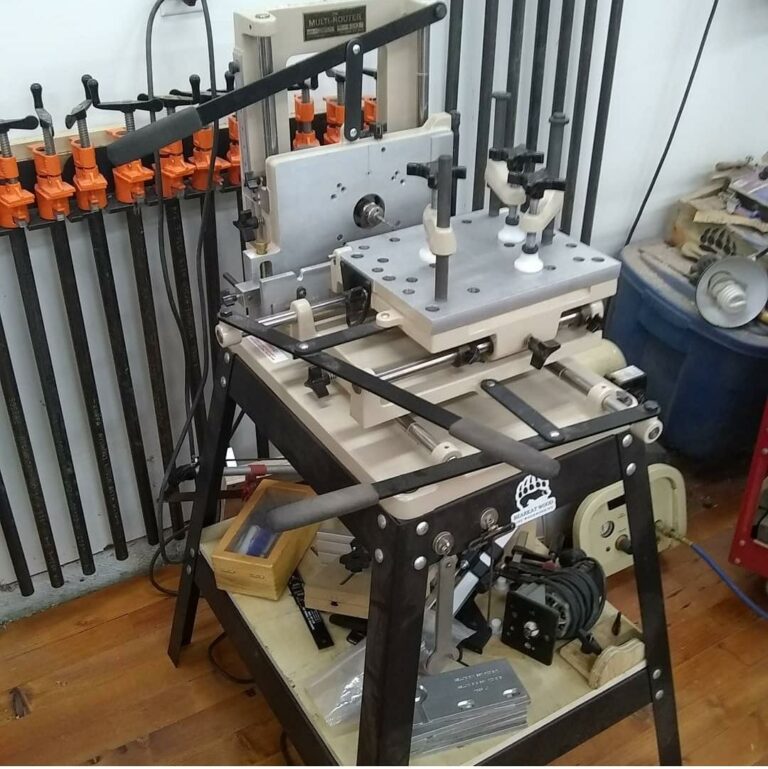 Tobias: What is it about working with wood that you find the most enjoyable?
Brian: All through my school years, I was very active in art, taking classes in painting and sculpture amongst others. I had plans to attend an art school and find a career in the graphic art field.
I chose instead to to join the military and never revisited that idea until I found woodworking. It allowed me to be creative with a minimal amount of knowledge and tooling. Like any good rabbit hole, it seems endless in what you can pursue and the knowledge that you can gain within the craft.
I find that time alone in the workshop with my thoughts is when I learn life lessons such as patience and forgiveness of my failures. The sheer enjoyment of  taking something from conception to reality is a wonderfully rewarding process.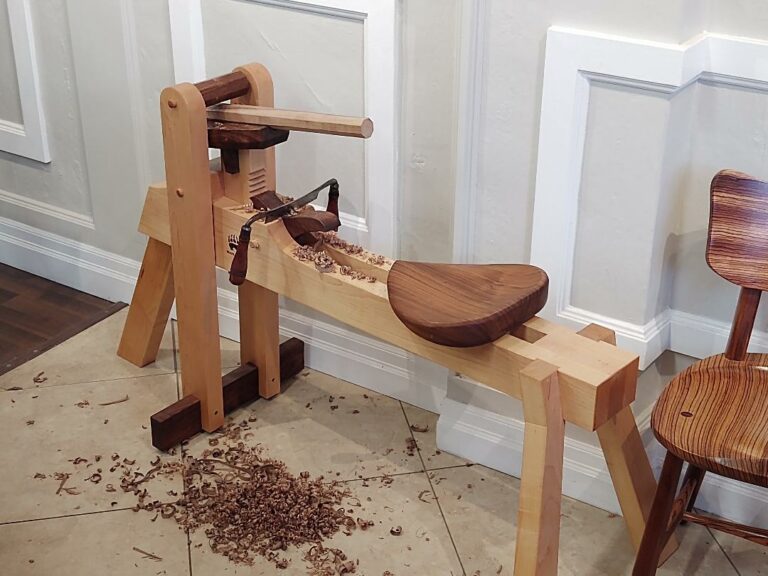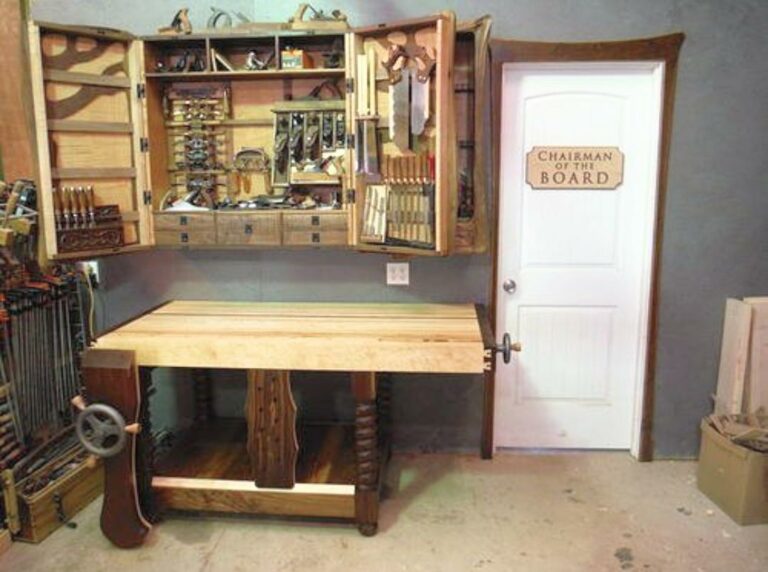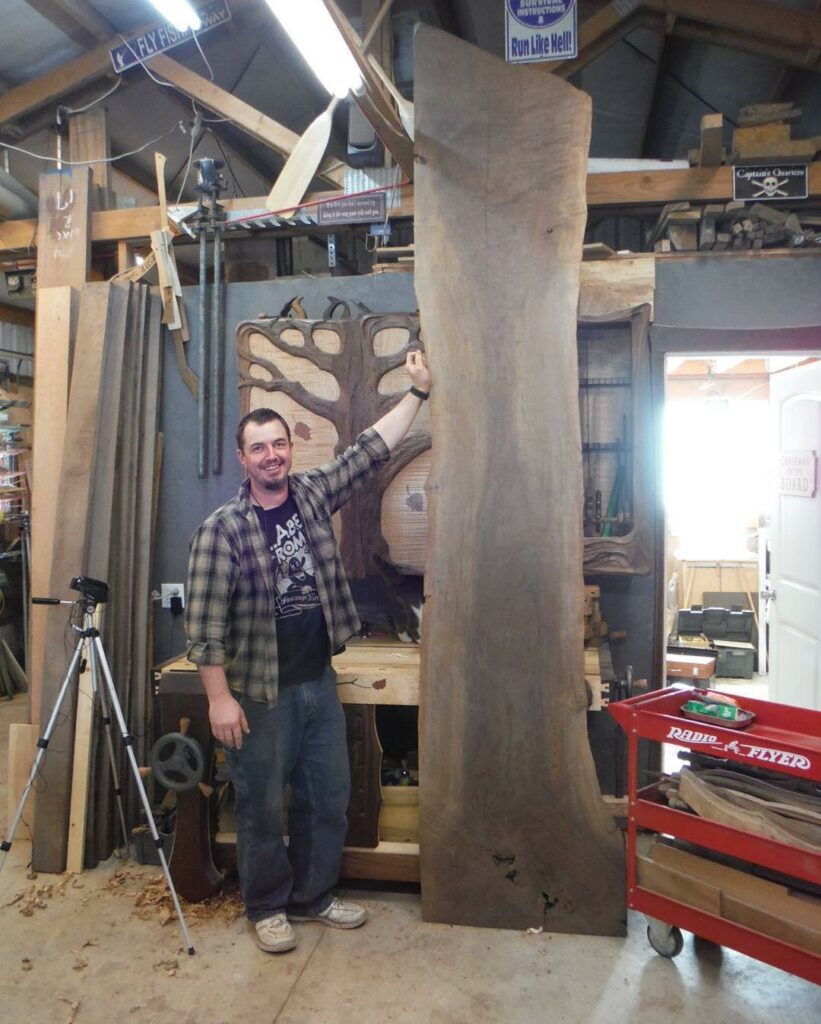 Tobias: What type of workshop do you have?
Brian: My shop is standalone and is a 24′ x 48′ building. I am very fortunate that one half has a wooden floor and the other half is concrete. This allows me to place all of my machining tools on the concrete side and the hand tool benches on the wooden floor. I have found that a small shop works best for my workflow, but it can be constricting, especially if your interests are varied in what you build.
I started with a dirt floor in an old barn for a workshop and have great reverence for for old timer craftsmen that worked in those environments. I used to have a separate building for my wood storage and that is something that is lacking in my current shop, as the space occupied by wood would ideally be put to better use.
My dust collection is abysmal and really does need to be updated, however the things that have evolved more than anything in my workshop have been adding more workbenches and most crucially, plenty of  better lighting. One can simply not have too much lighting. I prefer a workshop like mine over one with great storage, workbenches, workflow, etc, but bad lighting!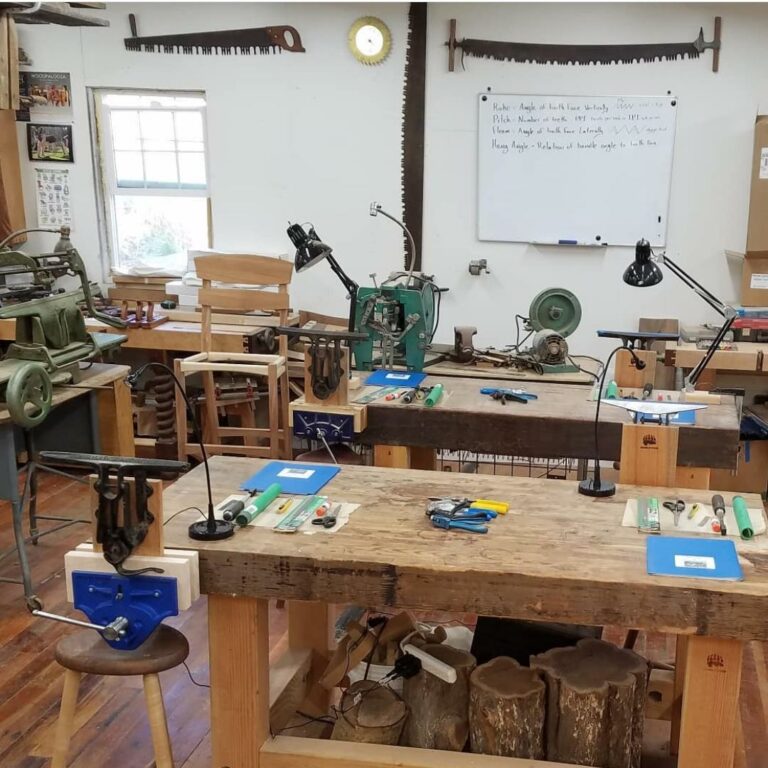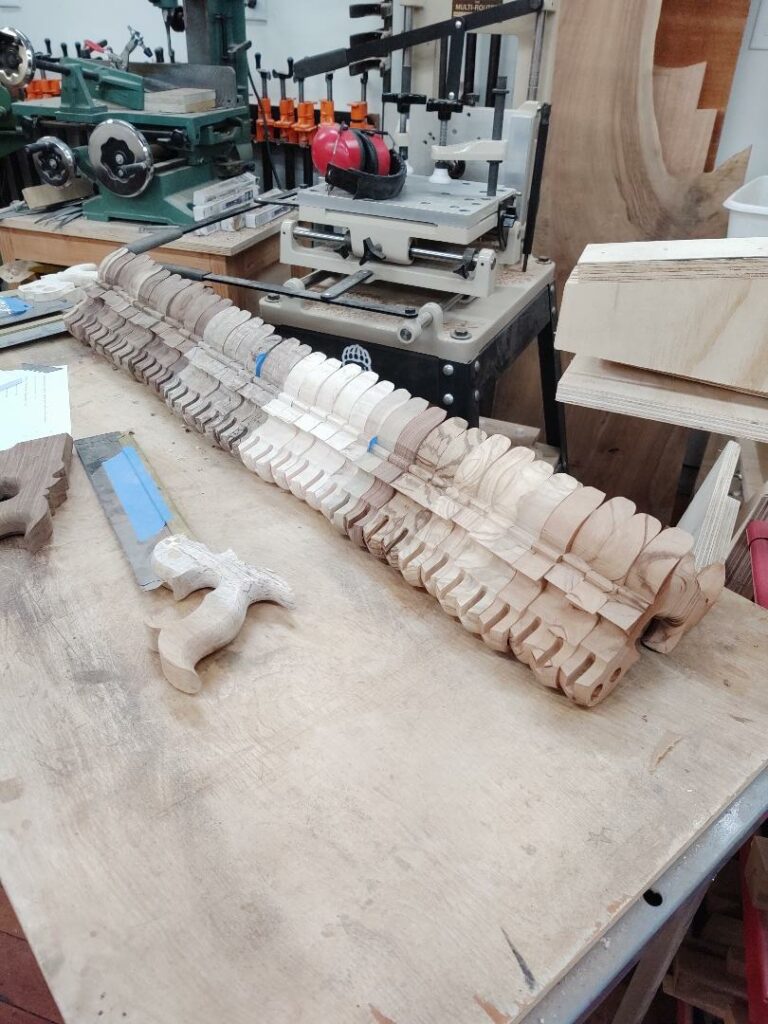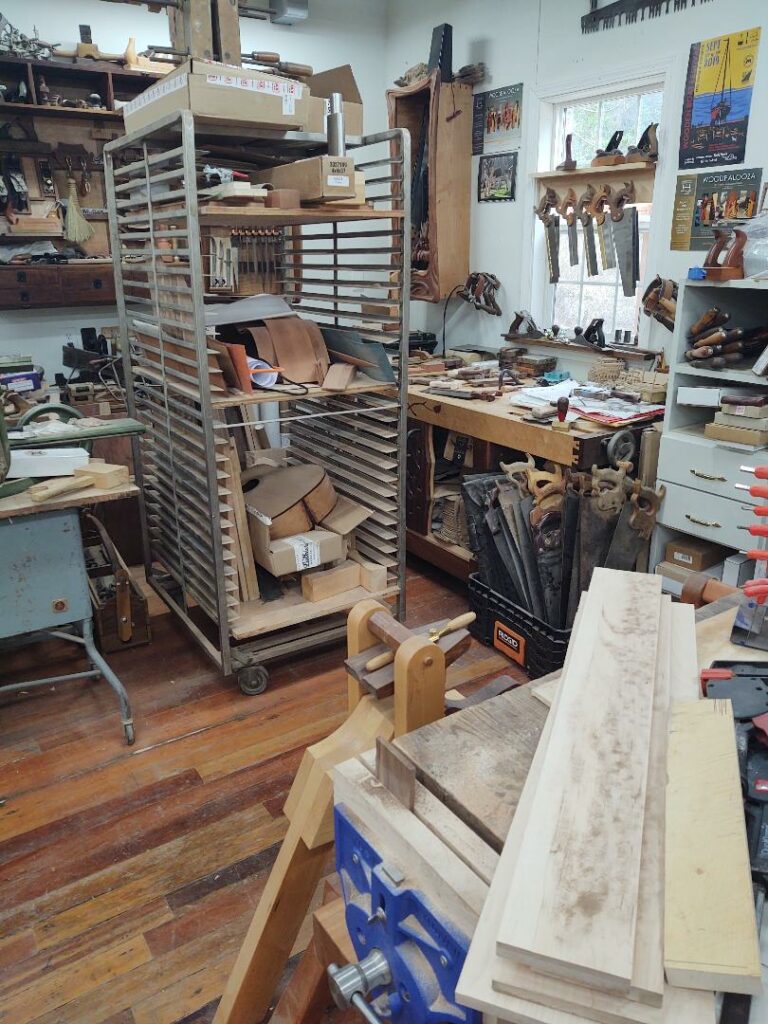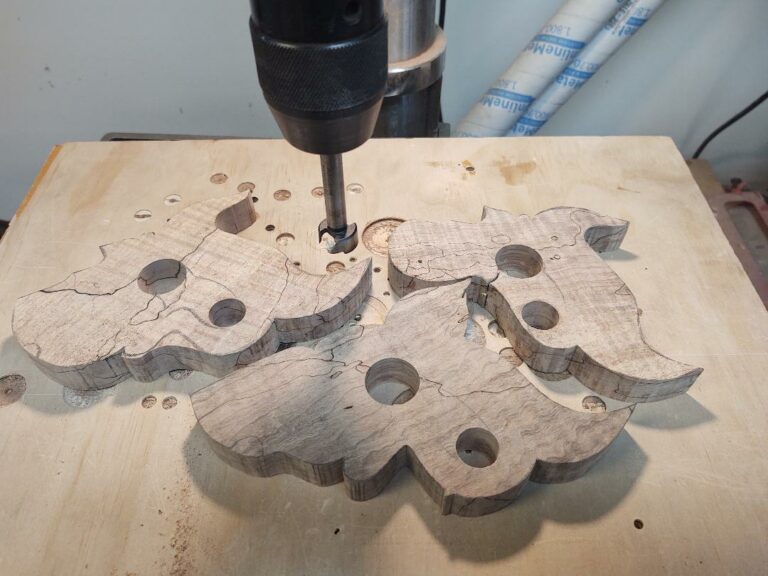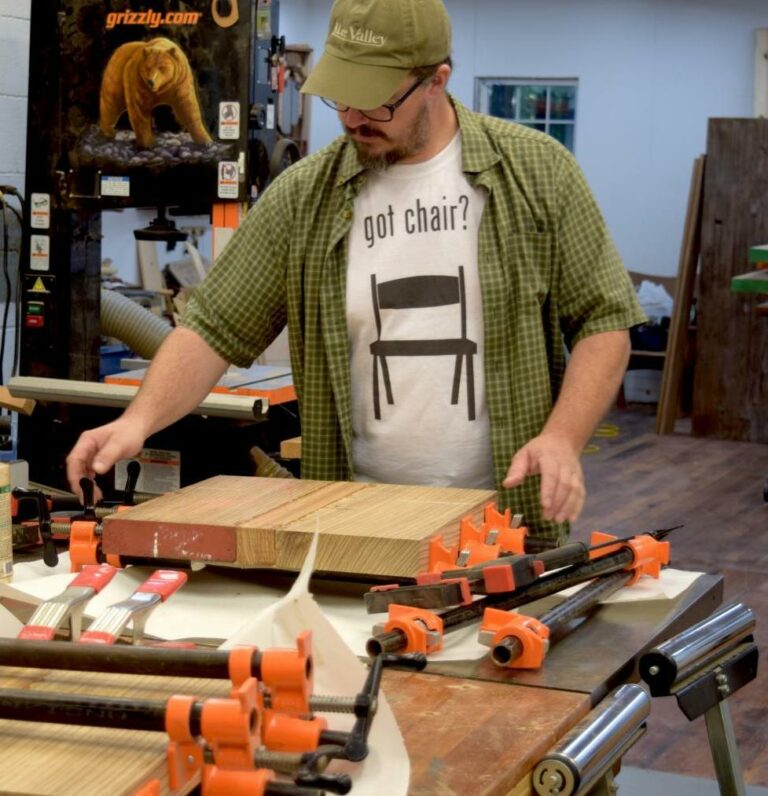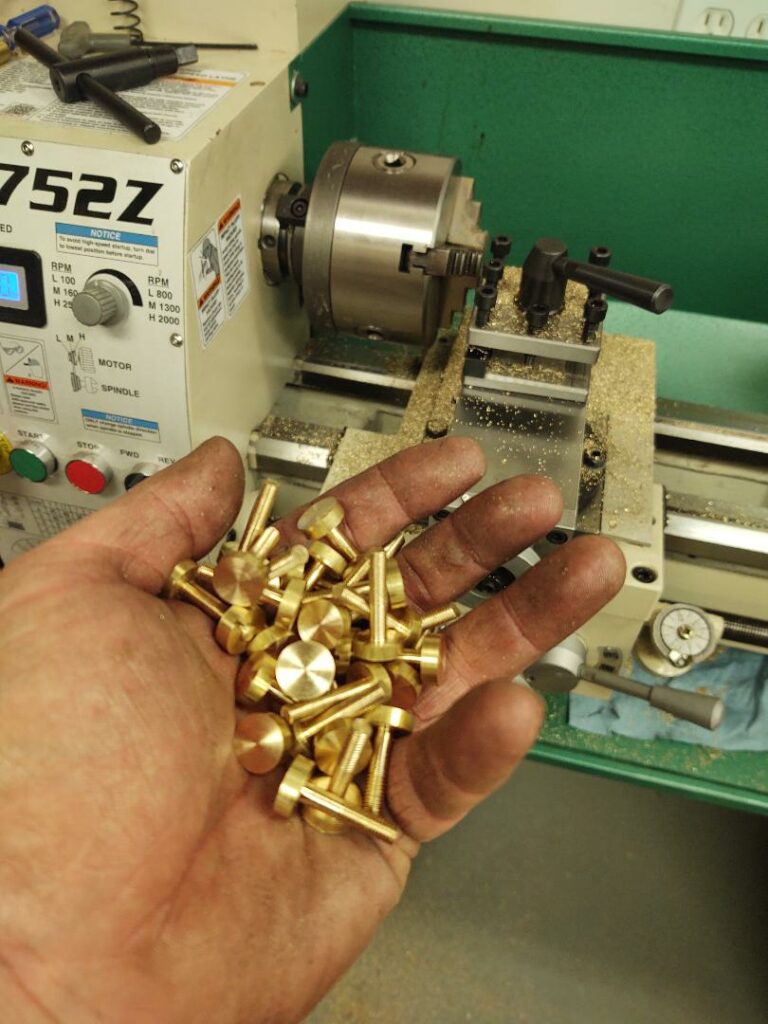 Tobias: What is your clamp line-up and why?
Brian: I prefer pipe clamps and F style clamps. I am not too keen on cabinet clamps. I keep all of my clamps housed along one wall of the workshop, close to the assembly table.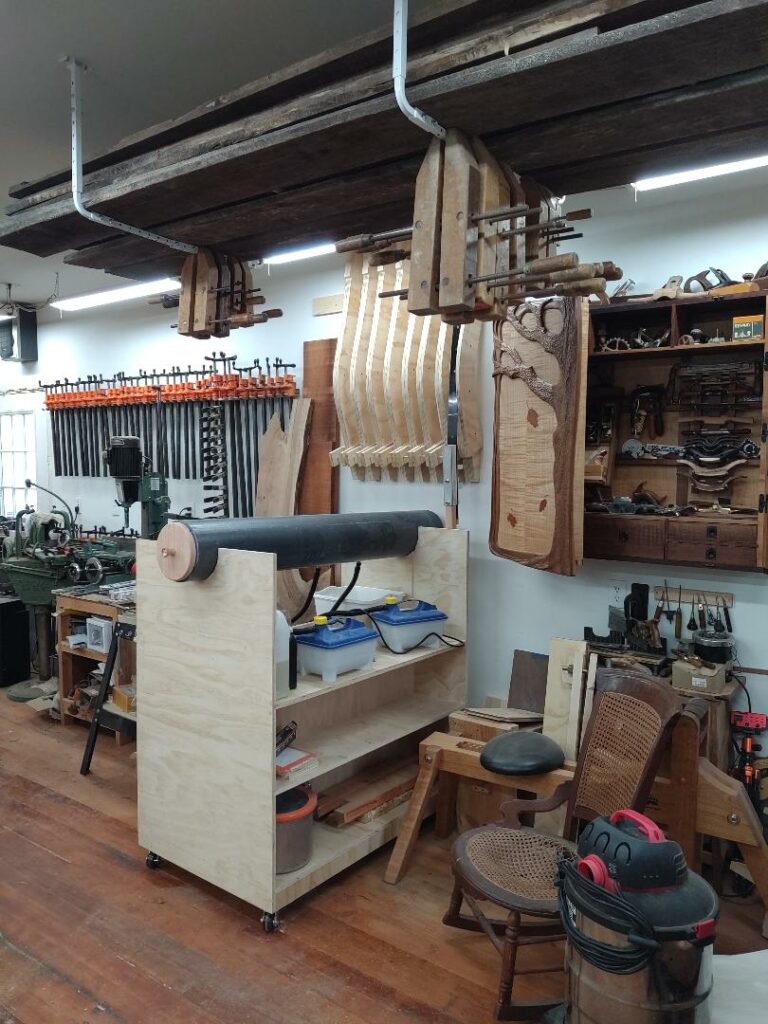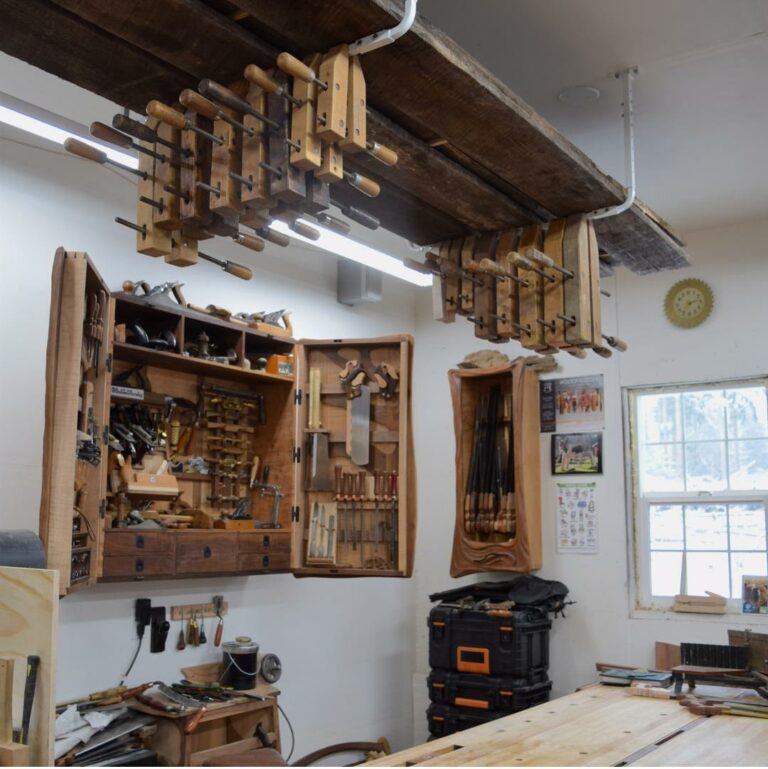 Tobias: What adhesives and glues do you use and why?
Brian: I most use PVA type adhesives, Titebond being my predominant brand. I do use hide glue for some of my chair assemblies and epoxy or resin adhesives as well, depending entirely on the application. Understanding the medium (wood) species and the joinery methodology involved is crucial to understanding which adhesive or glue to use.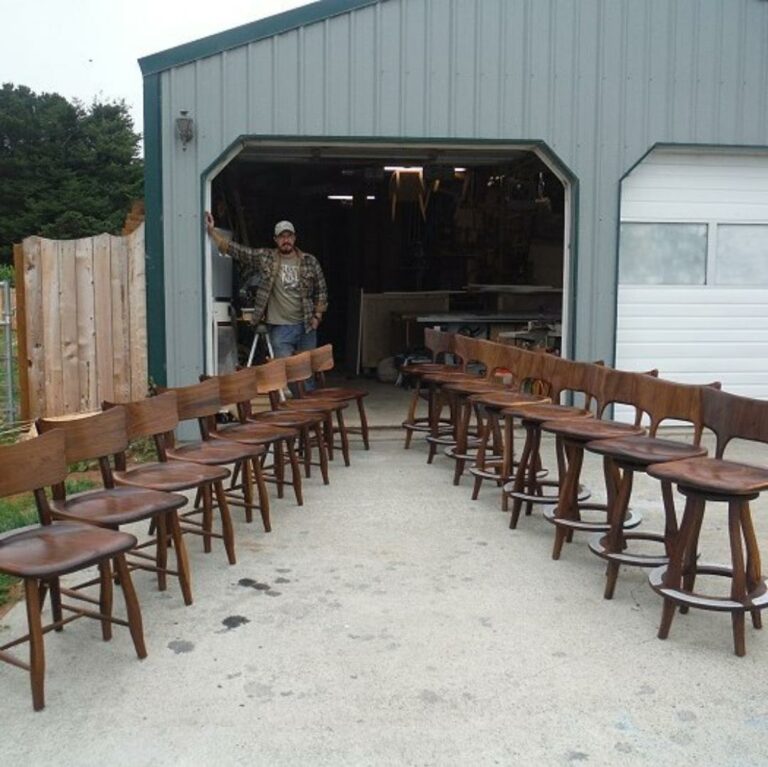 Tobias: Which woods (exotic & local) have you not yet used and why are you interested in utilizing them?
Brian: I can't say that there are many species that I have not yet worked with. Teak is one that has eluded me and that is probably because of expense. It is a beautiful wood and has a wide variety of applications in projects. It would probably be the wood that I would place at the top of my list to try out.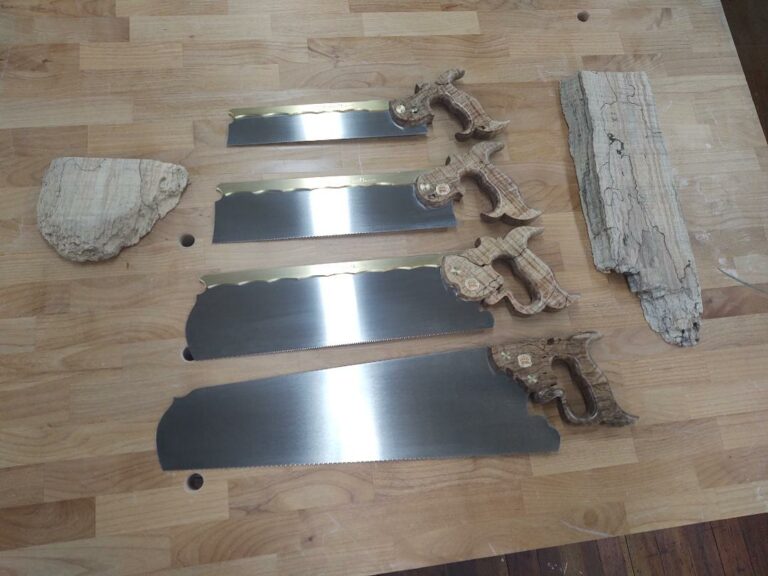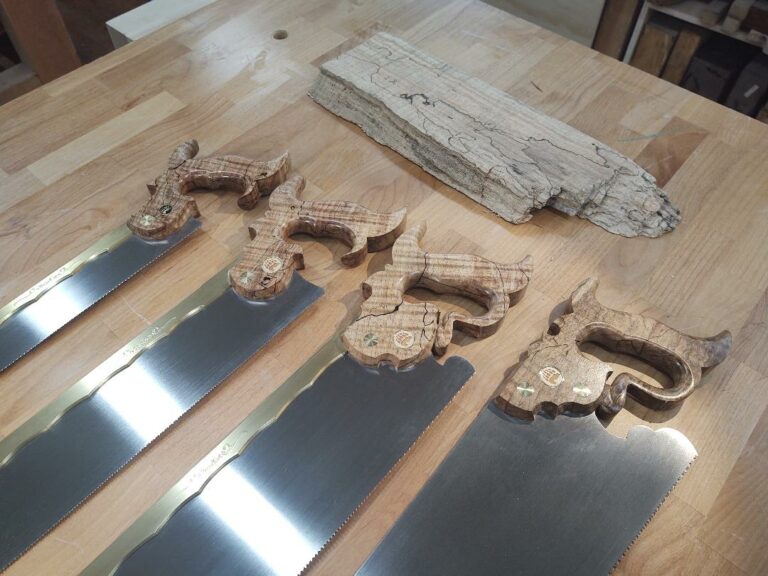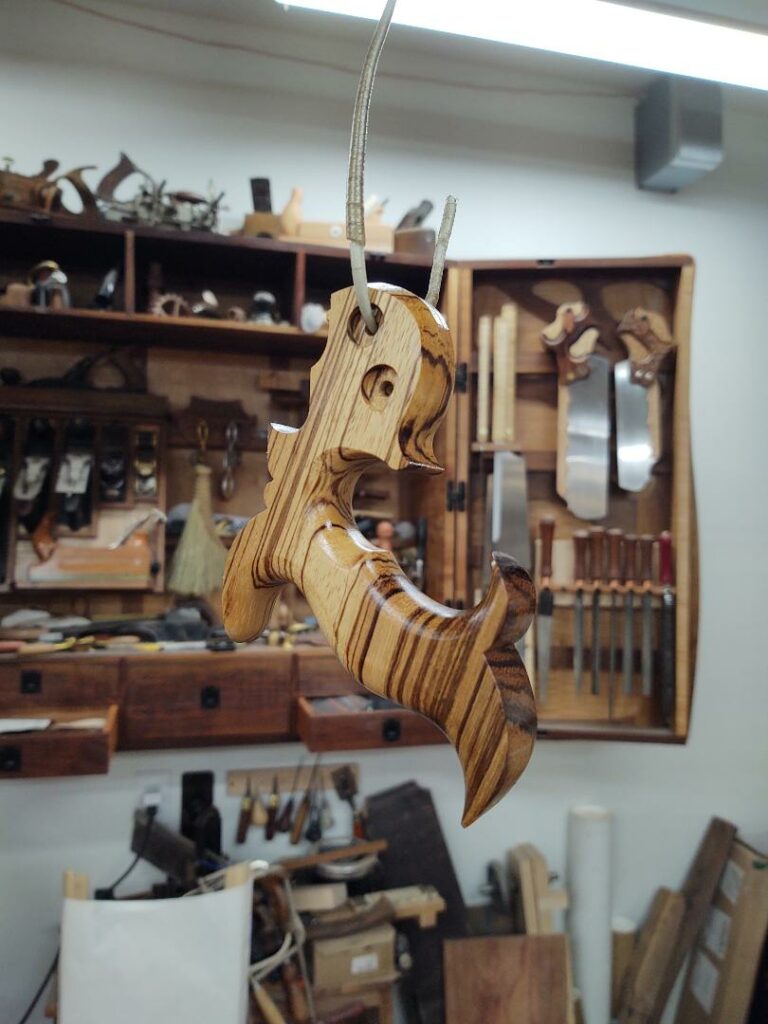 Tobias: What and whom are your sources of inspiration for your woodwork?
Brian: Firstly, nature is my biggest influence, I am intensively inspired by organic and natural forms. To that end, I enjoy the work of artists who have also explored this stylistic influence.
There is always a bit of "form follows function" in every project, but if it can be helped, I like to give life to the parts that make up the finished project. My major influencers are Hector Guimard, Victor DiNovi, Sam Maloof, Wendell Castle and Wharton Esherick.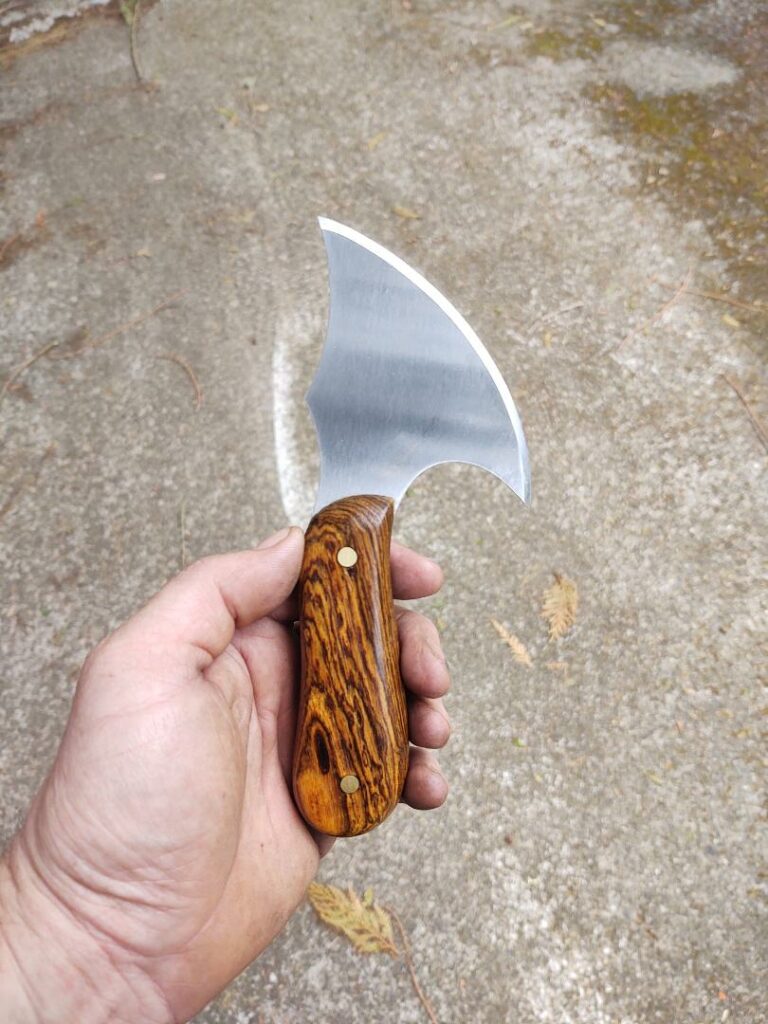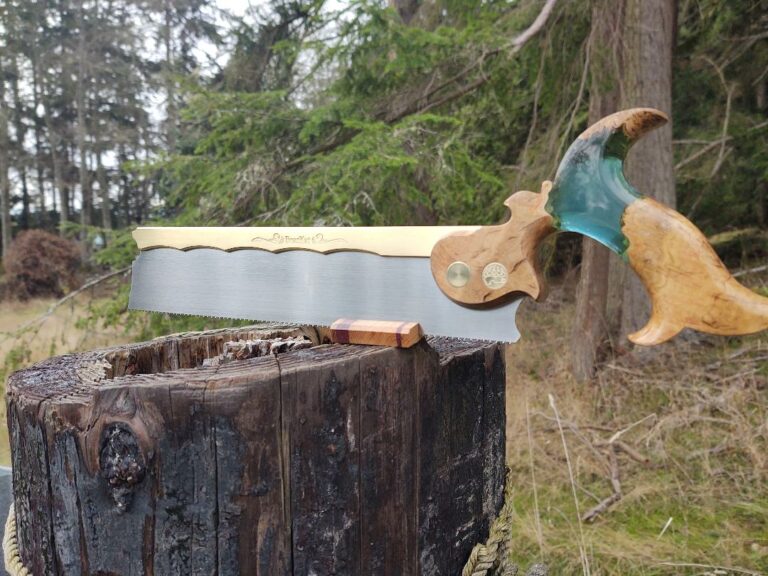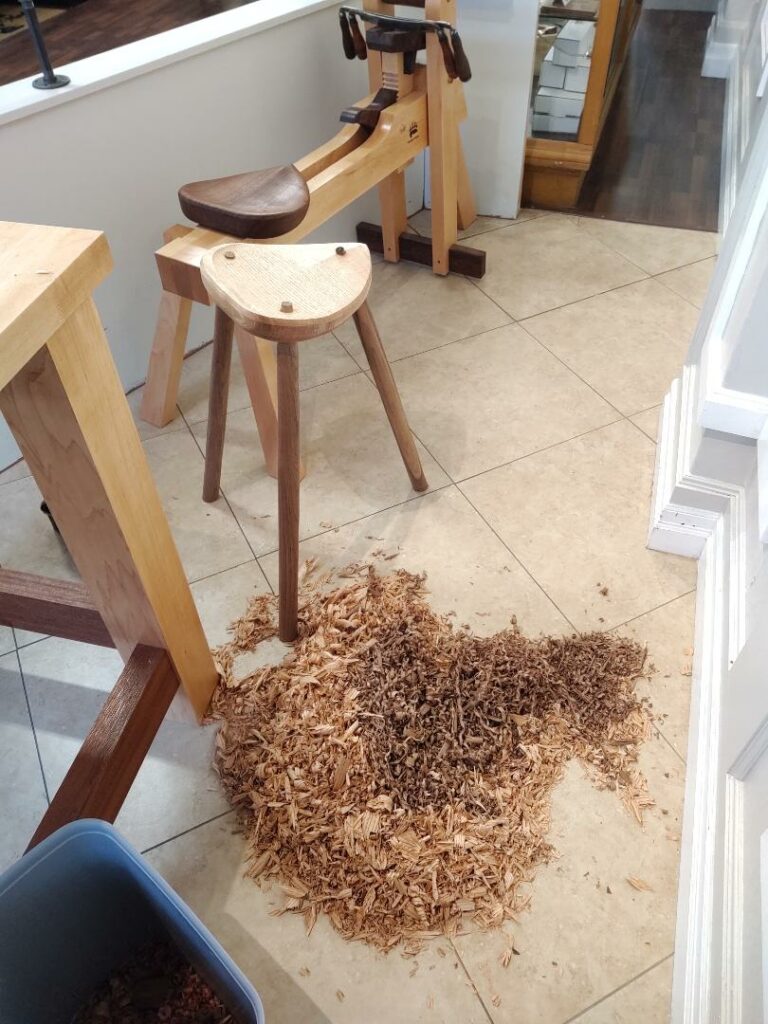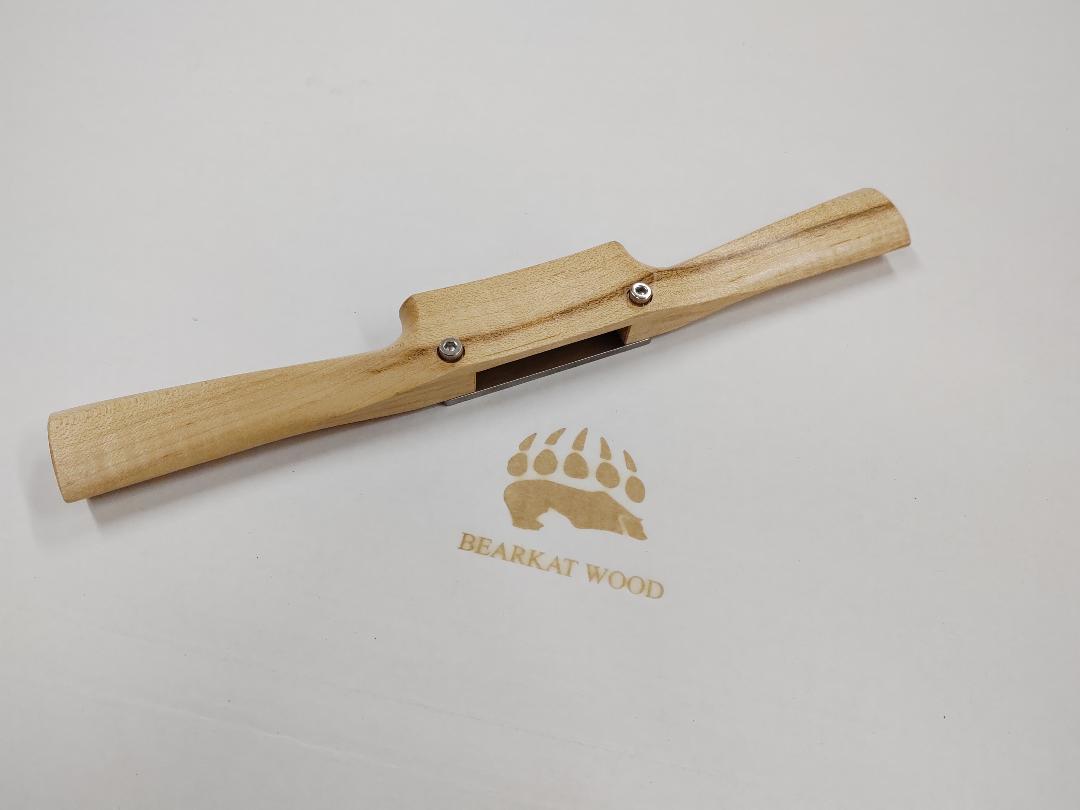 Tobias: How do you design your pieces?
Brian: Most of the time, I employ simple design tools. I use a large roll of 36″ wide paper and lay it on my workbench to design my pieces.  Sometimes I will work in Sketchup and after playing with it for several years, I have become quite proficient with the program, but it lacks soul I suppose, so I much prefer the "paper napkin" approach!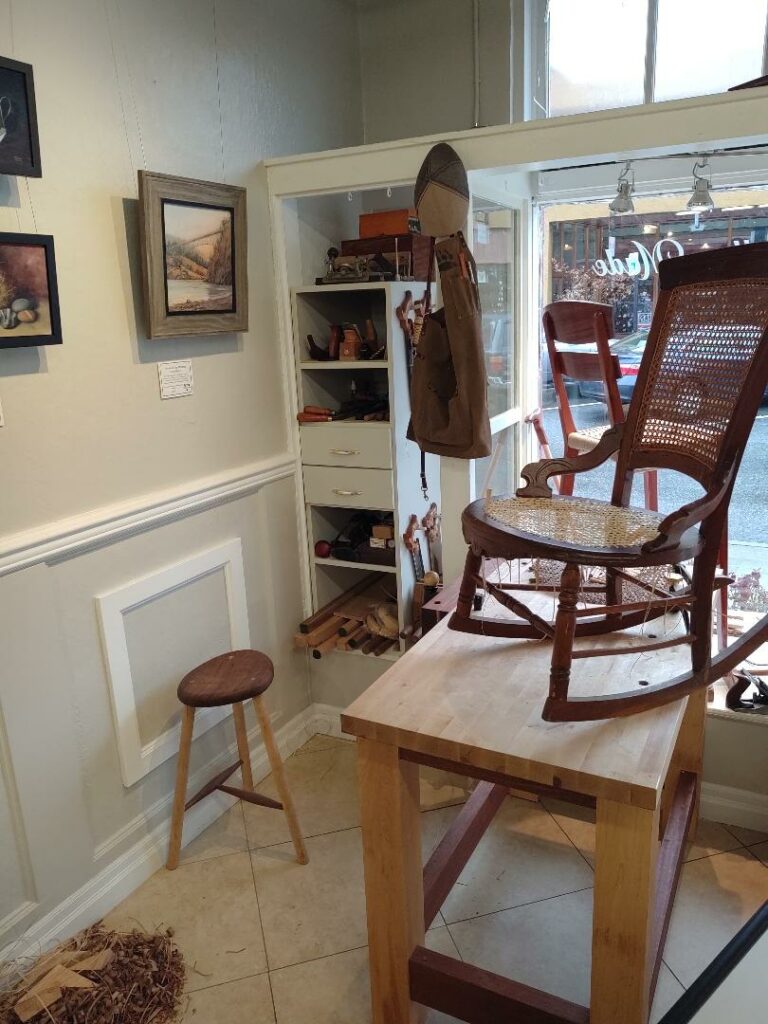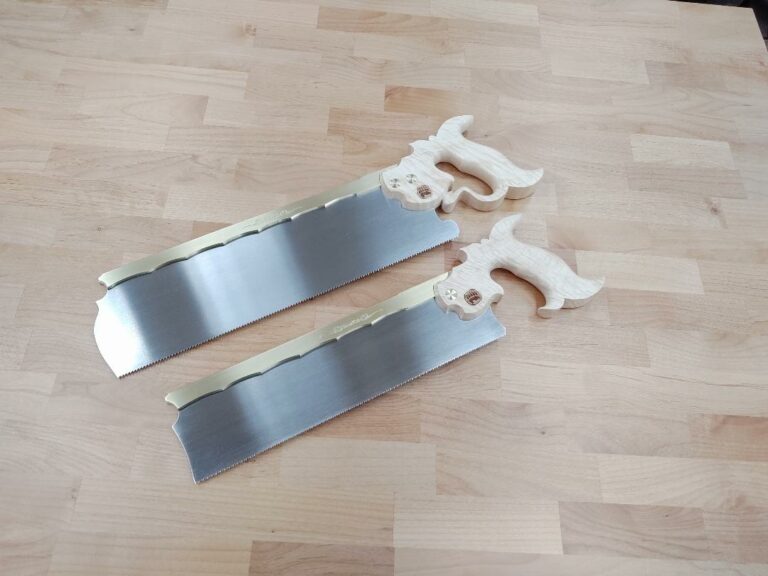 Tobias: What are your finishing regimes, what products do you use and which are your favorite processes?
Brian: I prefer a hand rubbed finish. While a sprayed finish can be much quicker, it produces a very dead finish, whereas a hand rubbed oil, or varnish and wax finish is infinitely more inviting to the touch. I have had good success with both General and Minwax products, but I do not favor any particular brand. When I can, I choose to mix my own finishes.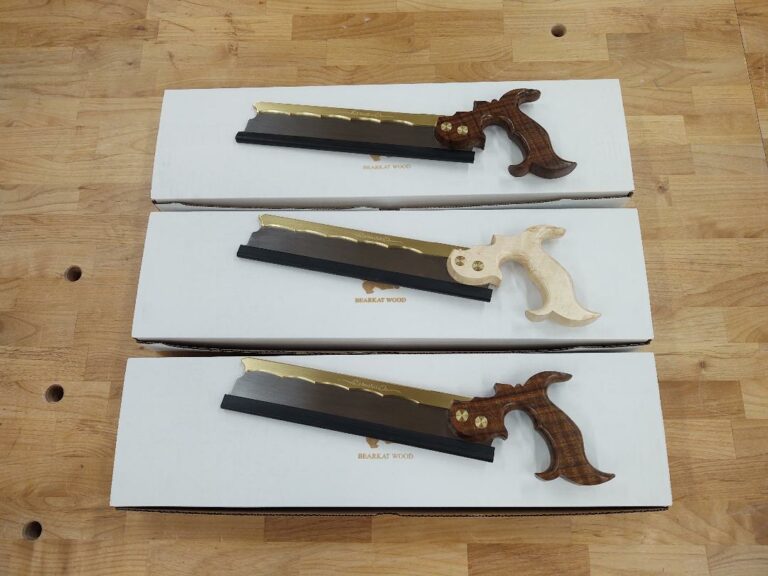 Tobias: Which part of working wood do you dislike the most?
Brian: I prefer to have an intimate and tactile connection to the wood with spokeshaves and drawknives when I am sculpting wood by hand, rather than machining. It has a more natural and artistic feel for me. No matter what method I use to produce a specific part, I always try to involve hand tooling in some way if the piece is to have some soul to it.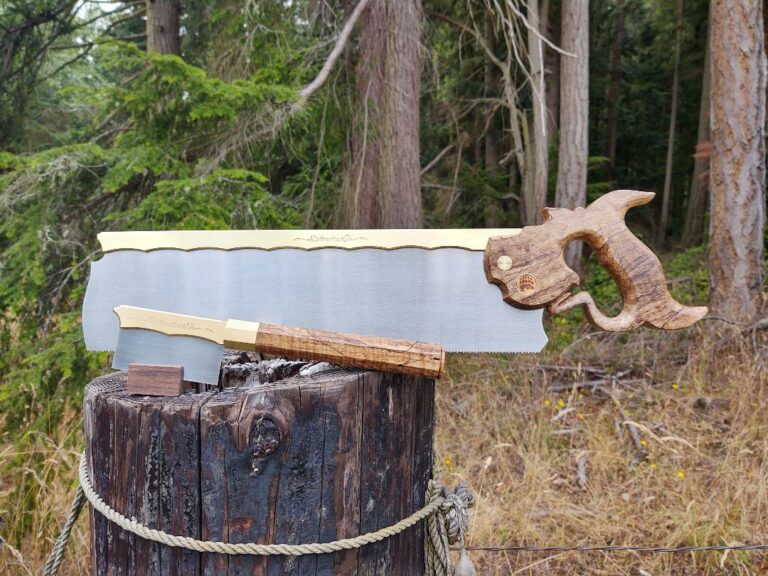 Tobias: What is your favorite music to listen to in the workshop?
Brian: I am a fan of 90s alternative music, however my musical tastes vary quite widely. I enjoy country, folk, classical & gaelic. I am the kind of person who could go from listening to Nirvana, then straight on to bagpipes or Bach!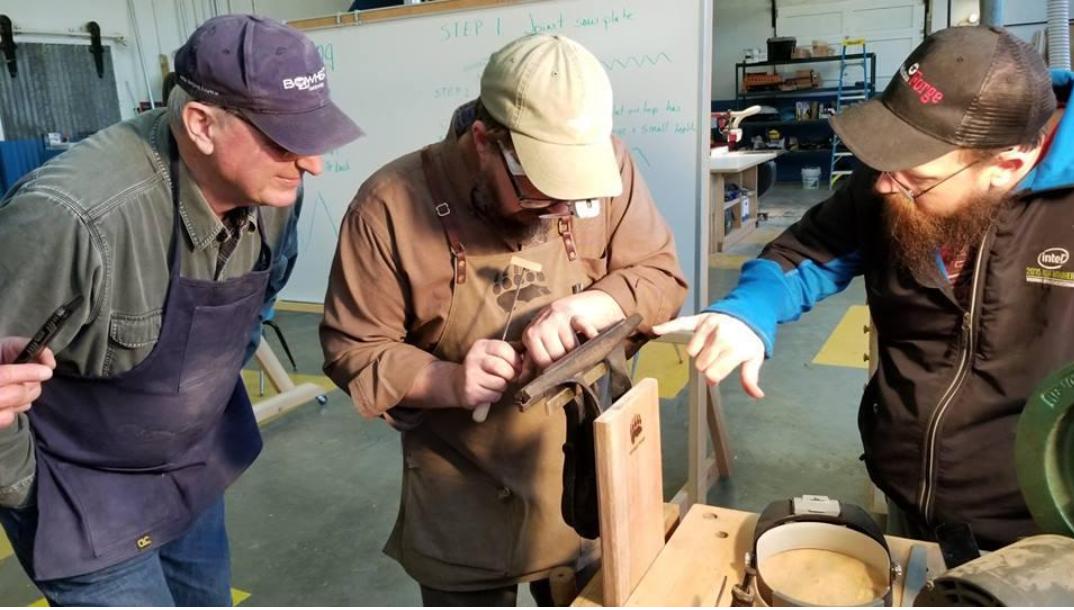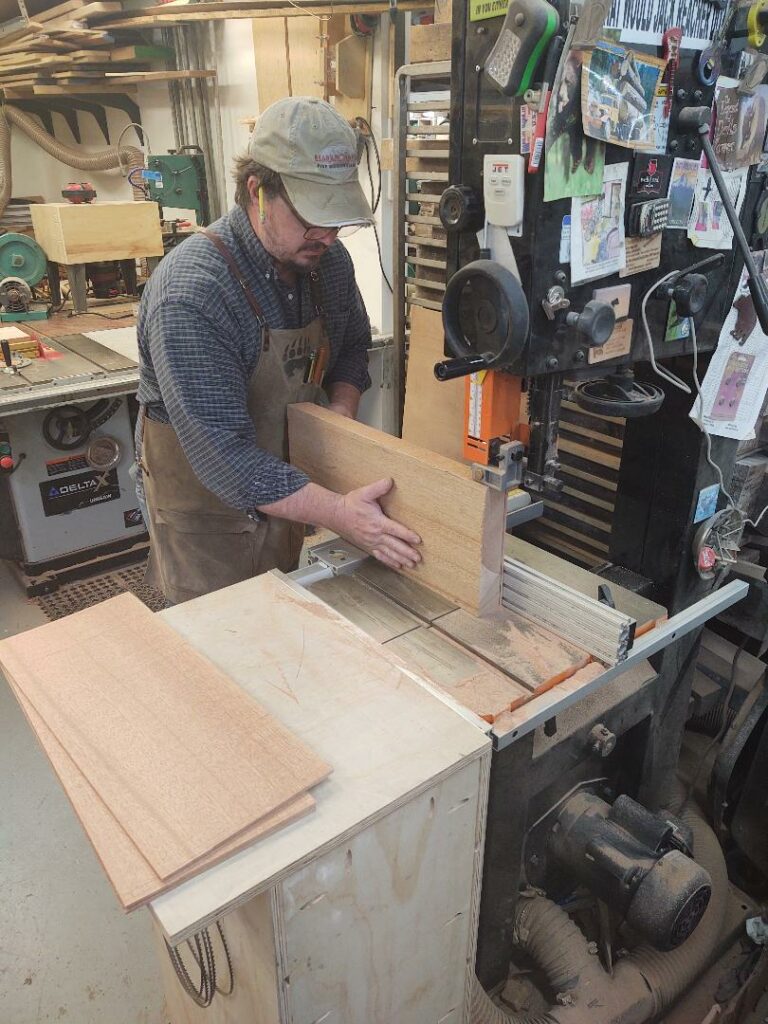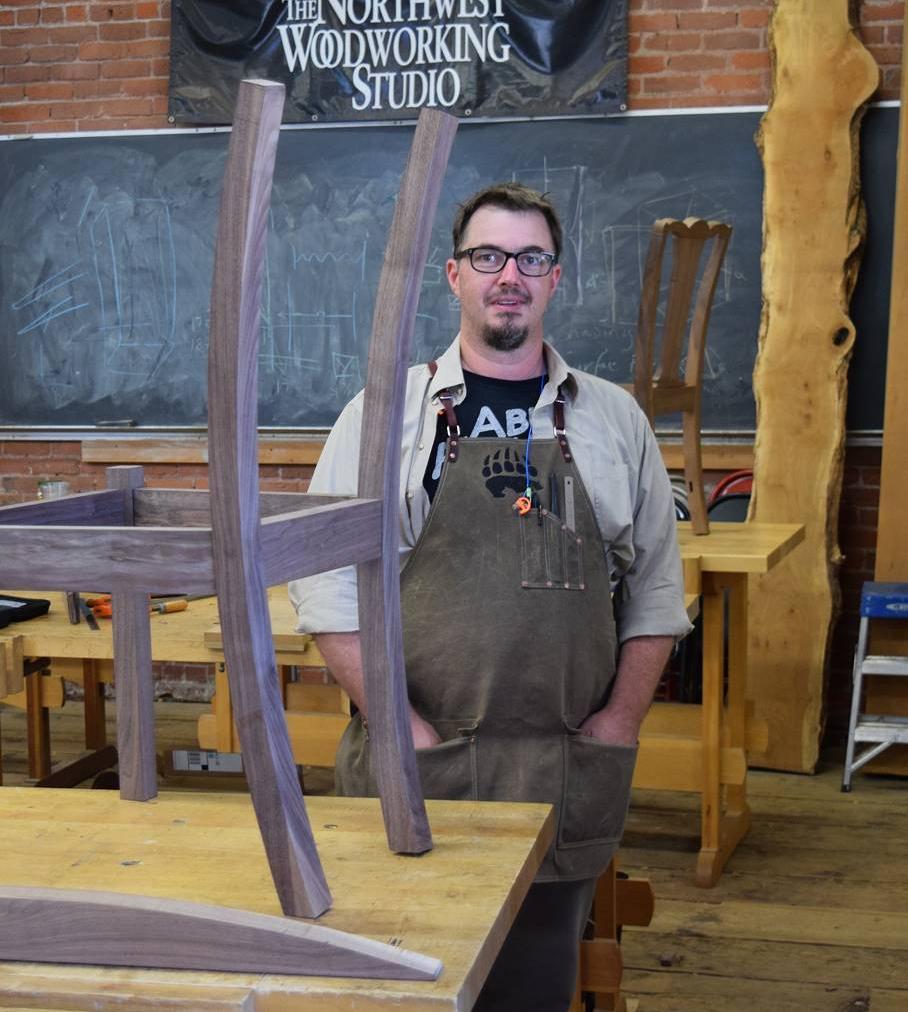 Tobias: What is your tool sharpening regime?
Brian: In my opinion, diamond stones are the best thing to have happened to woodworking since the advent of synthetic adhesives! I have a line-up of diamond stones that can quickly bring my tools to the standard I like. I do use a Shapton 16,000 grit whetstone and a stropping wheel to finish things off, but I cannot stress enough just how fond I am of my diamond stones.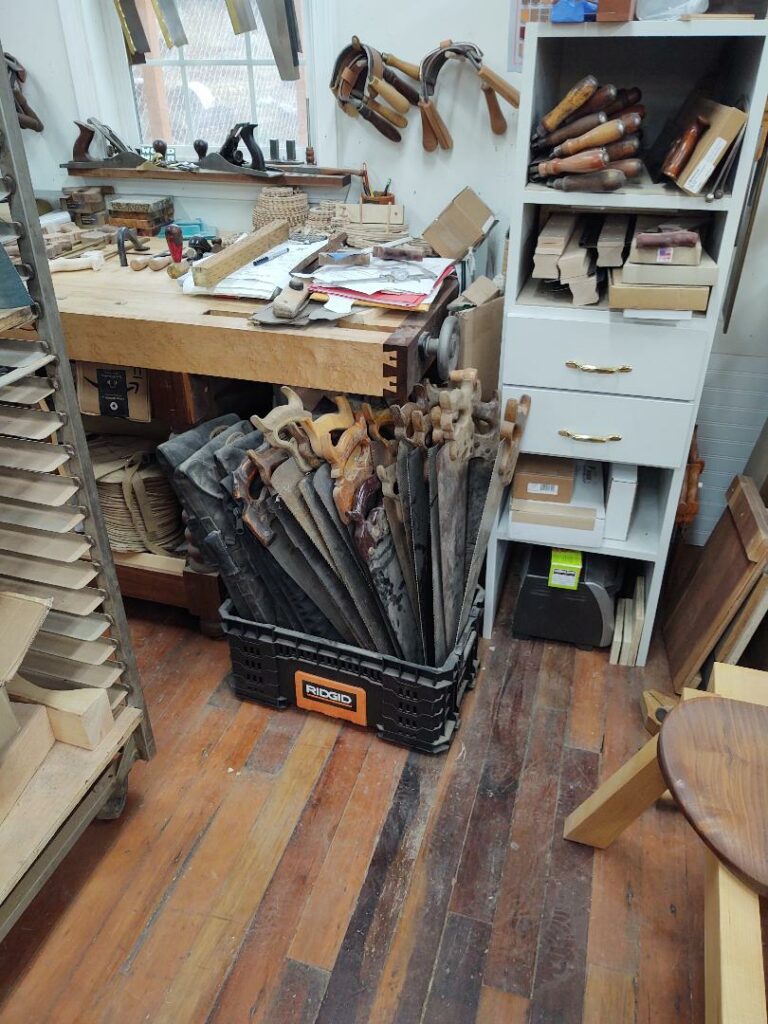 Tobias: What custom jigs or tools have you developed for your woodworking?
Brian: My card scrapers and hand saws have served me well and are also enjoyed by many other woodworkers as well.  Beyond these tools, it depends entirely on the job at hand. I make jigs to suit each project and employ simple methods if possible.
Sometimes, the best jig is just a block of wood, but there have been jigs with extremely complicated actions that I have needed to build. Sadly, most of the time they lay in wait for only a singular purpose.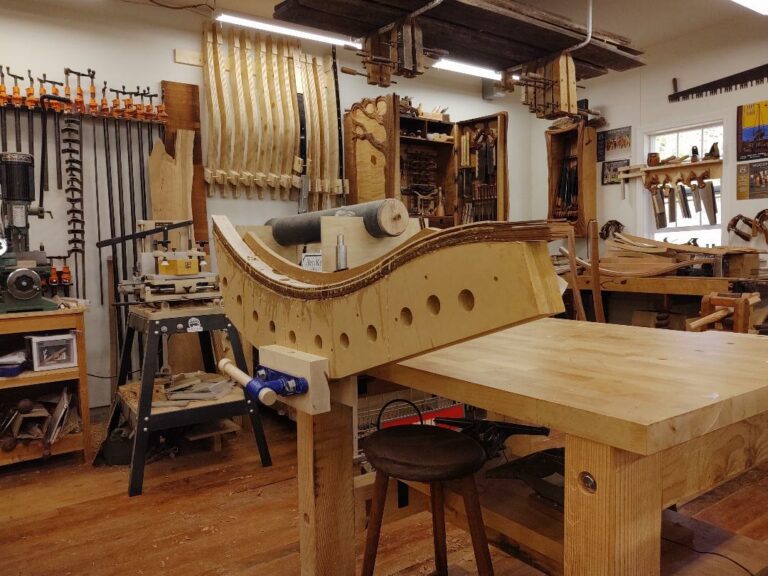 Tobias: What is the next piece that you are planning to build and why?
Brian: I have a chair prototype to build for a prospective client. For my personal use, I have plans to make a tea cabinet. 
However, much like the mechanic who walks to work or the shoe maker's kids who are barefoot, when you work wood for a living, your personal projects tend to always take a back seat!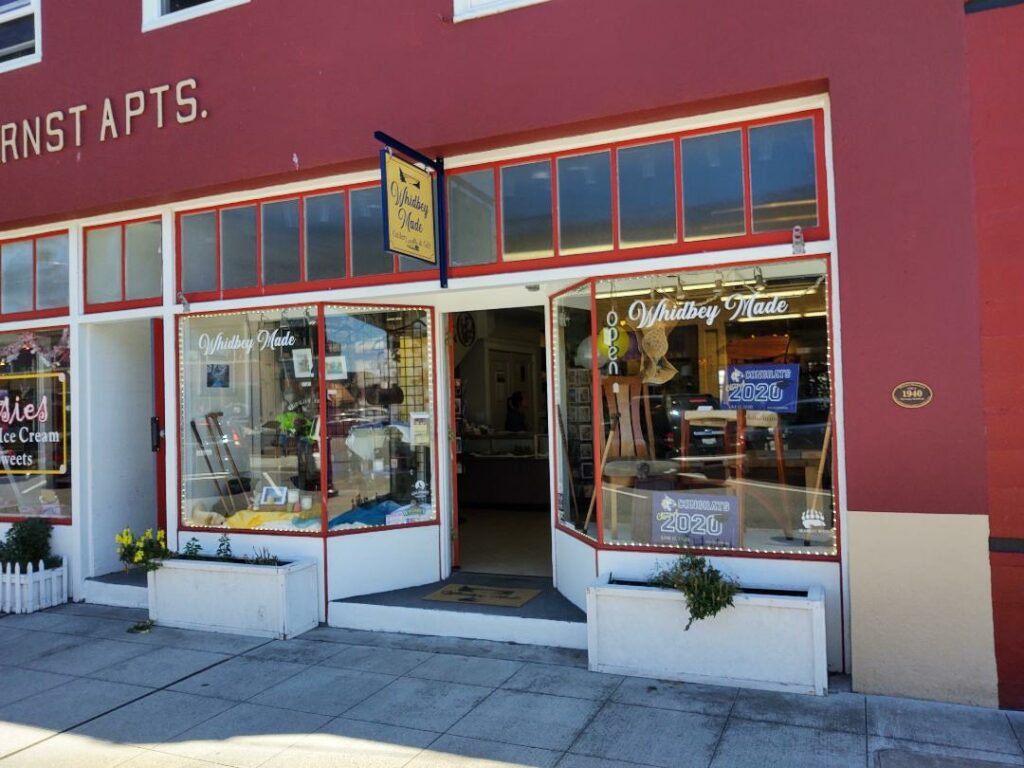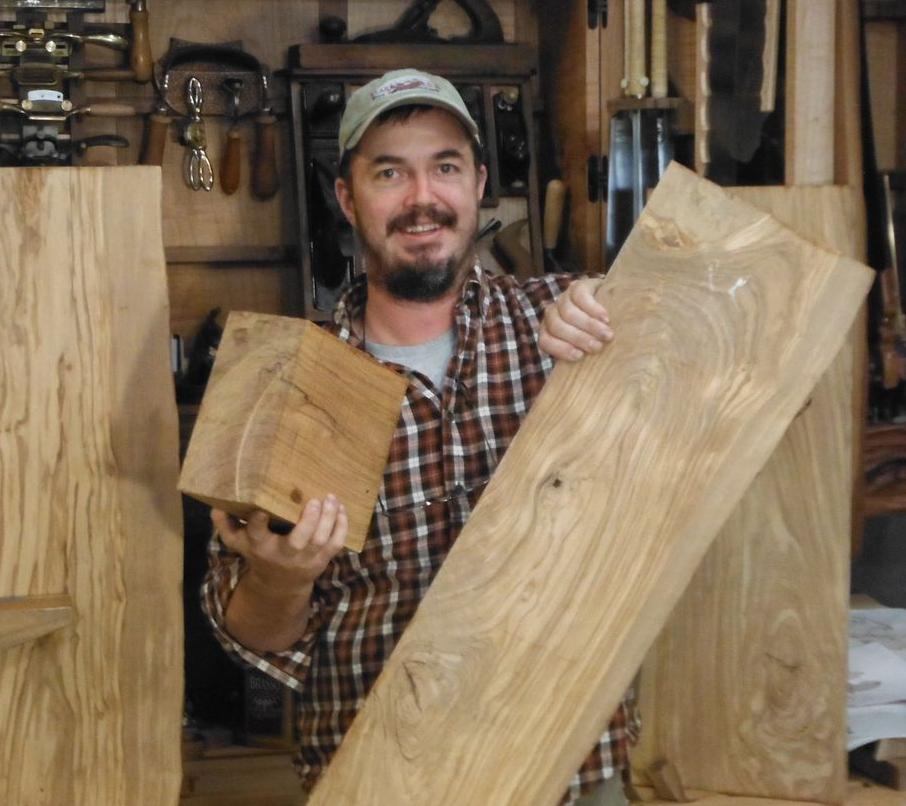 I have been rather fortunate in producing my own tools. Along with a number of other custom tool makers, we derive immense pleasure in the barter system amongst ourselves. 
Milling Machine & Surface Grinder for saw making
 Jointer 12″ or wider. I started with a 6″ & graduated to an 8″ which I have used for about 10 years. 
A Sauer & Steiner hand plane, just because they are amazing!
A really efficient large central dust collection system.
The great thing about learning to make your own tools, is that your wishlist for items diminishes greatly, as you have the ability to make most of what you really need.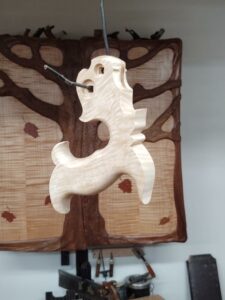 Makers with whom I would love to spend quality time
Unfortunately this is a short list. Being a hermit of sorts, I don't get out much. I do have another saw maker friend that I visited last year and would love to spend more time with him and his family, Slava of Greyhound Tool Works in Edinburgh in Scotland. Beyond that spending time with other makers would be either for teaching or learning, I can't say just from watching Youtube or Instagram etc. that I would get on wonderfully with another maker. With that in mind, I have always wanted to take a class from Greg Pennington in Tennessee, a superb windsor chair maker. Roy Underhill teaches classes and I would be thrilled to take a class from him as well. 
The most fun I have had in my adventures is sharing the love of craft with younger people and that would probably round out my answer. If I was to spend some quality time with another maker, it would be with someone just starting their journey that would like to learn from me. I hope to do more teaching in the future if I am able.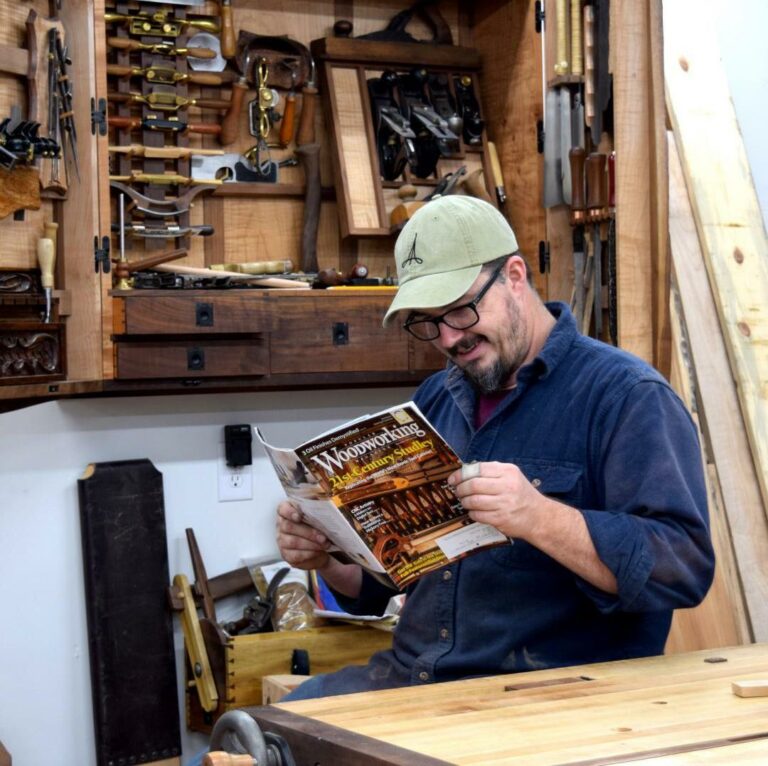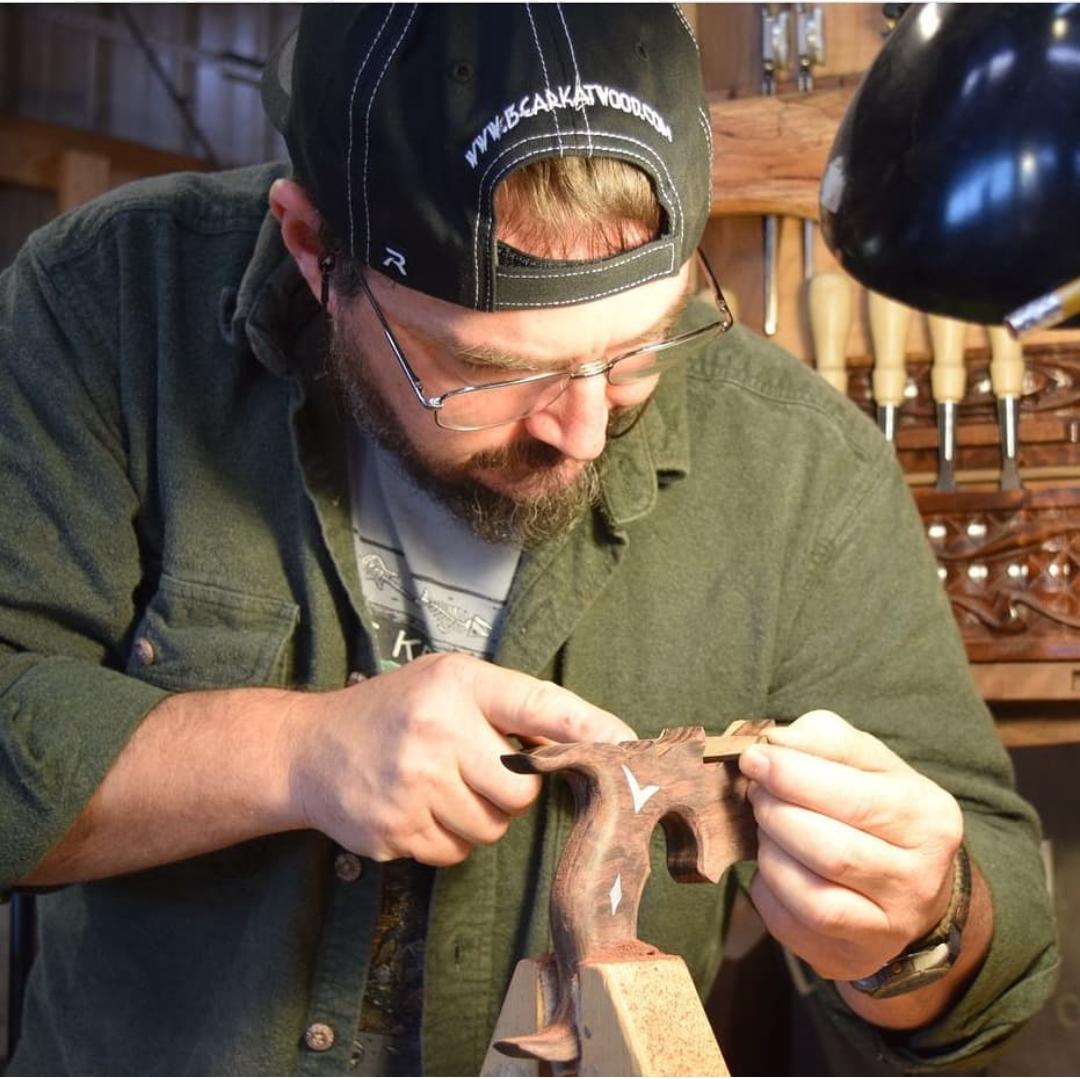 Our sincere thanks go to Brian Noel for opening his workshop doors to woodworkers across the world in the Rare Woods USA Woodworker Sessions. We hope that Bearkat Wood goes from strength to strength in 2021. 
We trust all our readers had a safe, healthy and happy festive season.
P.S. If you know of any interesting and talented woodworkers whom we could feature on the Woodworker Sessions USA, please contact us at info@rarewoodsusa.com