Welcome to the Rare Woods USA Woodworker Sessions interview series. Here, we hope to discover more about what makes our woodworkers tick, how you became involved in the craft, how and why you build your pieces and maybe learn a few secret techniques and tips along the way!
Our interviewer, a woodworker since the age of 8, Tobias Lochner is no stranger to the workshop. Find out more about him here.
Our thanks go to Brian Harvey of Kirkville, New York for his willingness to share his precious time with us in the 3rd issue of the Woodworker Sessions USA.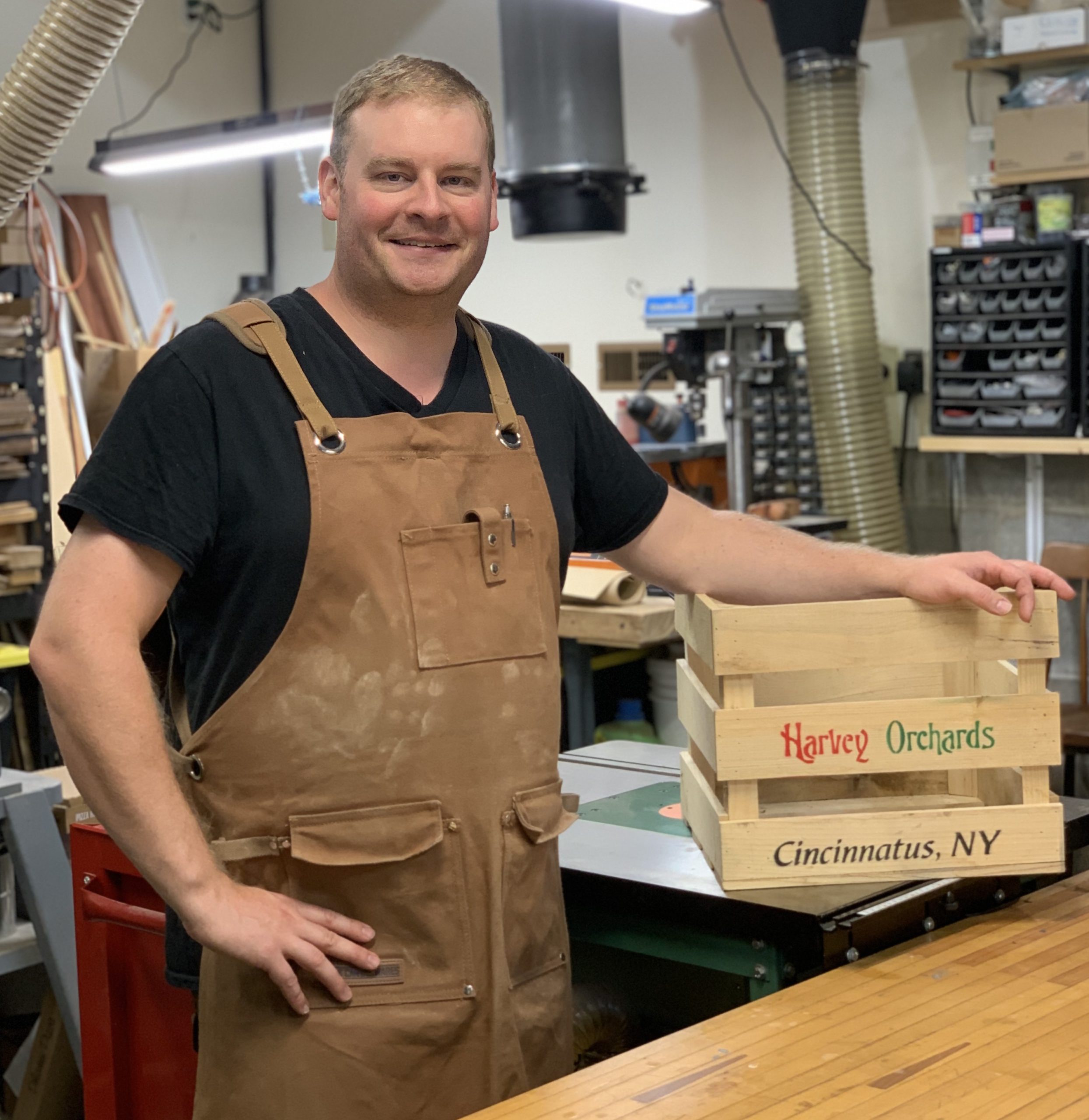 Tobias: Please tell us about yourself, what is / was your career and about your family, etc.
Brian:  I am 33 years old and I live in upstate New York with my wife of 8 years and our three cats. I grew up in this area after having moved away for several years during school & it is really great to be back in my hometown! I have two brothers who are married with children and I spend as much time as possible with them and my parents. 
I am currently a full-time practising cardiovascular perfusionist at the University Hospital here in Syracuse, NY, where most of my time is spent in the operating room.  When I am not on call or working at the hospital, I very much enjoy spending time at our family farm, where I have planted an heirloom apple orchard with around 800 trees across about 125 different varieties.
I enjoy hiking and camping in the Adirondack mountains, as well as fishing and hunting with my dad and brothers. During long days of bow hunting from a tree-stand, I often find myself perusing the online Rare Woods USA catalogue! I have even been know to place a call to Bob Putnam at Rare Woods USA to place orders whilst in my tree-stand, and I am very thankful for his patience as I quietly whisper my orders to him while trying not to spook any whitetail deer that may consider passing by the tree stand. 
Speaking of patience, several years ago while visiting Maine, my wife agreed to let me stop at Rare Woods on our way through the area. She kindly waited in the truck while I did a few minutes browsing and shopping in their huge warehouse and showroom, After I had paid, and Bob was helping me to load my stash into the truck, he was shocked to learn that my wife had been waiting for me the entire several hours that I was in the warehouse! My wonderful wife didn't even get mad, she could see my excitement over what I had just experienced in a true woodworkers' paradise! The current online order system has really made things that much easier for me now…AND MY WIFE!
Tobias: How did you get started in woodworking and how long have you been a woodworker?
Brian: Growing up with a father who is a carpenter, really allowed me to gain a  a tremendous amount of exposure to all aspects of working with wood. I believe that it was my dad's passion and appreciation for the trade that  encouraged me to get started. 
By the age of about 7 or 8, I was accomplishing small projects on the scroll saw. Both of my parents were extremely proud and complimentary regarding my work which fuelled my desire to keep going.  My dad collects antique tools and restores and uses many of them.  My first scroll saw was an antique foot pedal powered lathe / scroll saw combination machine.  For many years, that foot pedal saw sustained my woodworking needs!
Throughout my high school years, I was blessed with parents who encouraged my woodworking hobby. I spent countless hours with my dad  harvesting timber from our farm, sawing it on our portable Woodmizer sawmill and stacking and stickering it in several different barn lofts in our area. From a very young age, I was able to see all of the hard work that goes into securing quality lumber and it was and still is incredibly exciting to open a new log on the mill! It is also wonderfully special to share this with someone who truly loves and appreciates the natural beauty of wood as much as I do.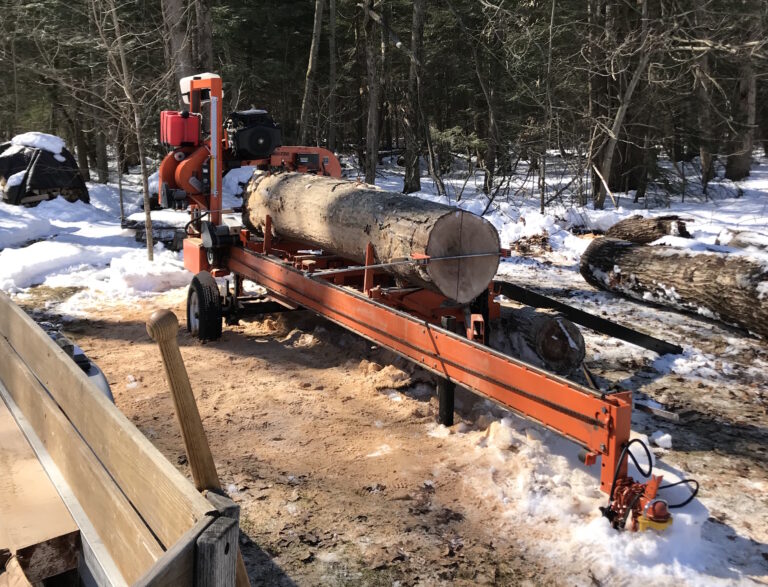 Tobias: Which was the first item that you ever made and which is your favorite?
Brian: The first items I made were some small scrolled birds. They were patterns that were mounted to 1/4″ plywood and I scrolled them out using the antique foot pedal powered scroll saw. I painted them and gifted them to my mom. It reminds me of the challenges that woodworkers of yesteryear overcame in order to craft beautiful pieces without the help of true power tools.
I think that my favorite piece would be my bedroom set, but in particular my king size sleigh bed.  Although I did follow a plan, it presented many challenges and gave me a great opportunity to learn a variety of new techniques.  Another reason that that I really enjoyed building my bedroom set, was that I got to work with some curly cherry and black walnut. Black walnut is my wife's favorite wood, so as you can imagine, it was an easy decision to use it!
I built the entire set in my dad's woodshop and as it turns out, it was incredibly helpful to be able to consult a master craftsman whenever I needed advice, help with a glue-up or the finer points of a technique that was new to me.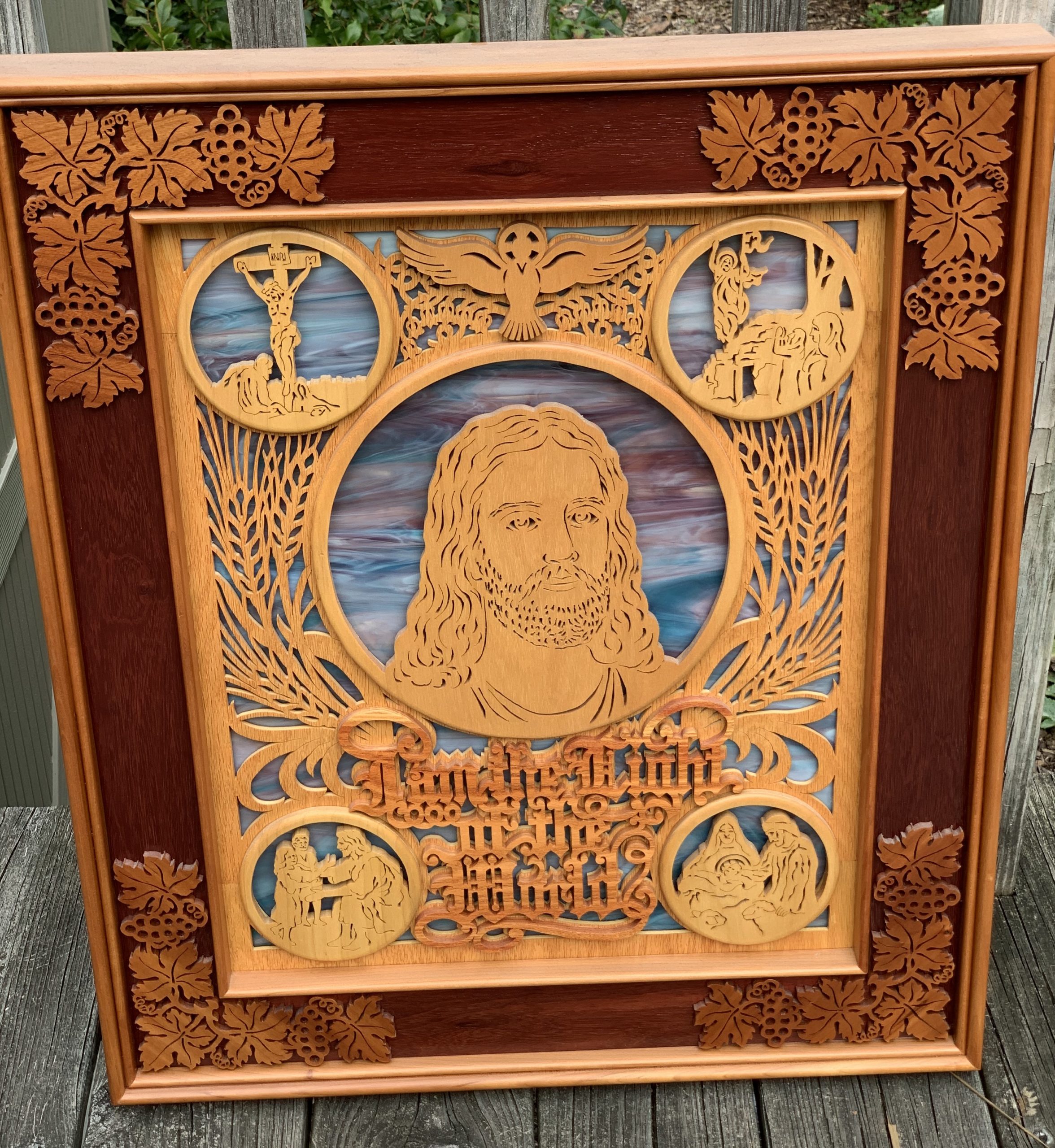 Tobias: Which are your favorite local lumbers species and which are your favorite exotic lumber species to work with?
Brian: My favorite local species to work with, is undoubtedly Cherry! In particular, Curly Cherry is my absolute favorite. I adore Figured Cherry because there is a tremendous amount of variation within a given board. I have never experienced two identical boards, although book-matching does come pretty close.
With Cherry, I do not have to worry that the color will fade or diminish over time like some species. Instead, with some boiled linseed oil prior to finishing, I have noted that it improves beautifully with age and UV exposure. In addition, my dad and I have harvested many Cherry trees and milled them on our sawmill, so there is an extra-special "close to home" aspect of using this wood. Cherry is so pleasant to work with and knowing that as my projects age, they will become a much richer and darker red color, really makes Cherry my go-to local species.
As far as exotic timbers are concerned, I derive great pleasure from working with the various Rosewood species. Cocobolo and Tulipwood and absolutely stunning! From the very first time that I ran a rough sawn board of Cocobolo through my planer, I was hooked. The rainbow of colors, the floral smell and the almost sparkling grain patterns made me feel as if I  was holding something incredibly rich and unique, worthy of displaying in a museum with no further work! I will never forget the time that I took a couple of Cocobolo boards to my dad's woodshop to plane them. The day after planing those two boards, he had a terrible reaction to the wood dust remnants and he was almost unrecognizable. It made me thankful that at least for now, I am one of the fortunate woodworkers who can still work with this rare and very special species.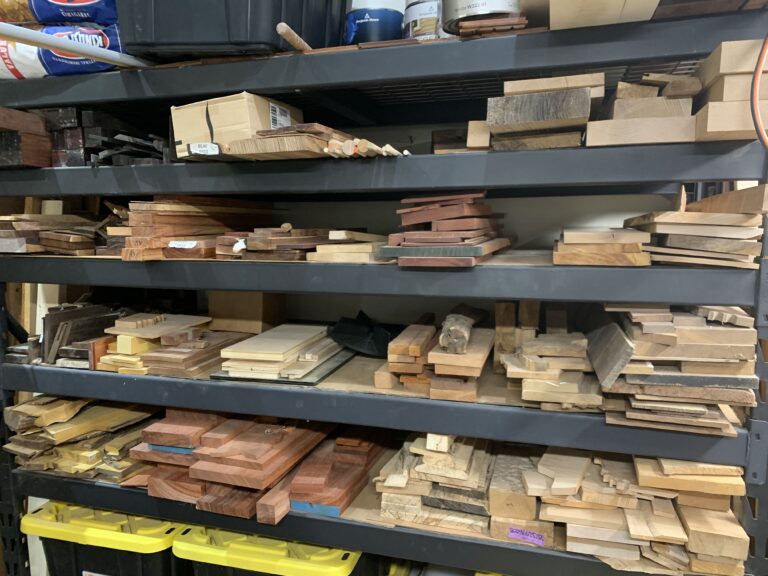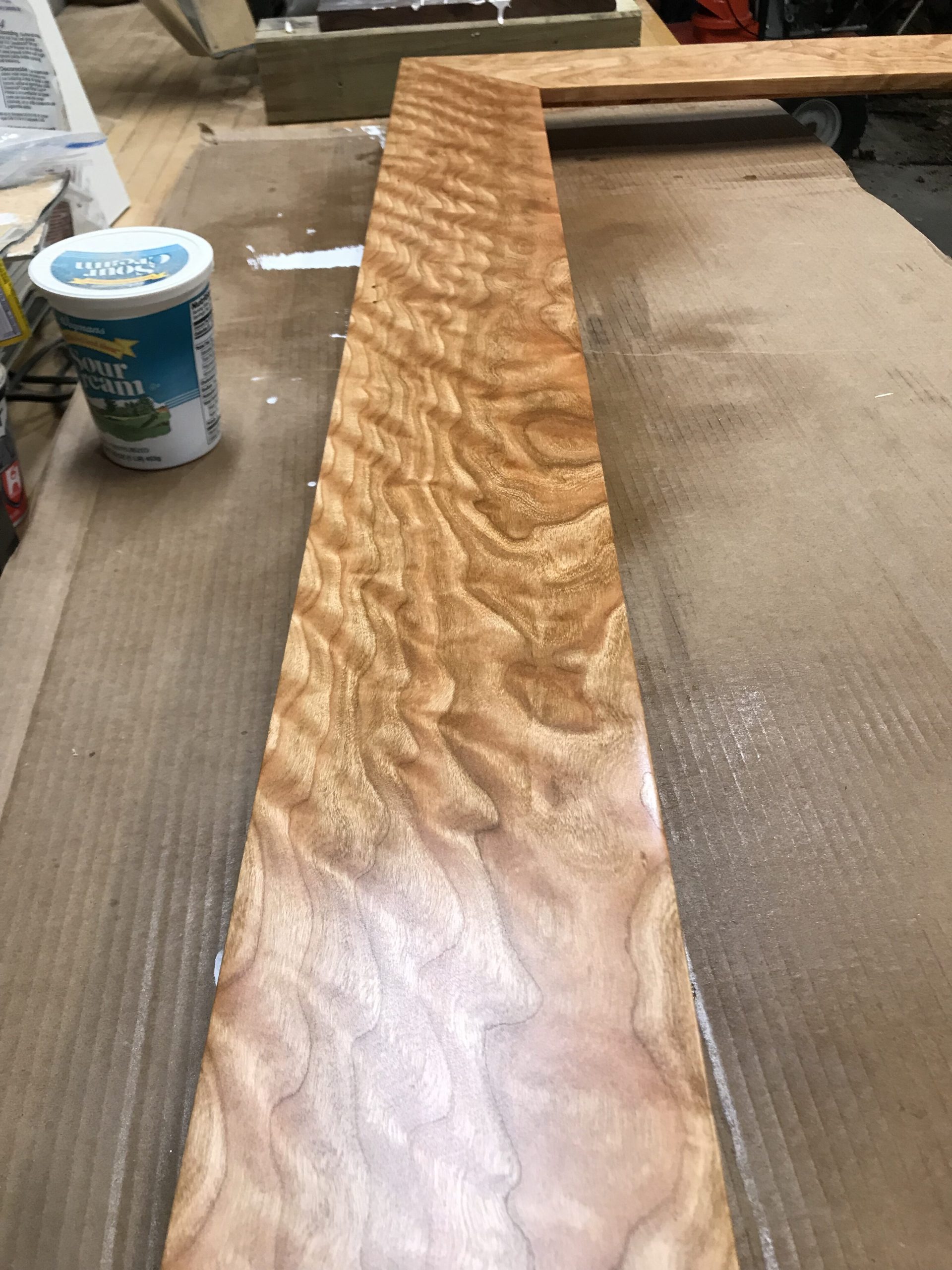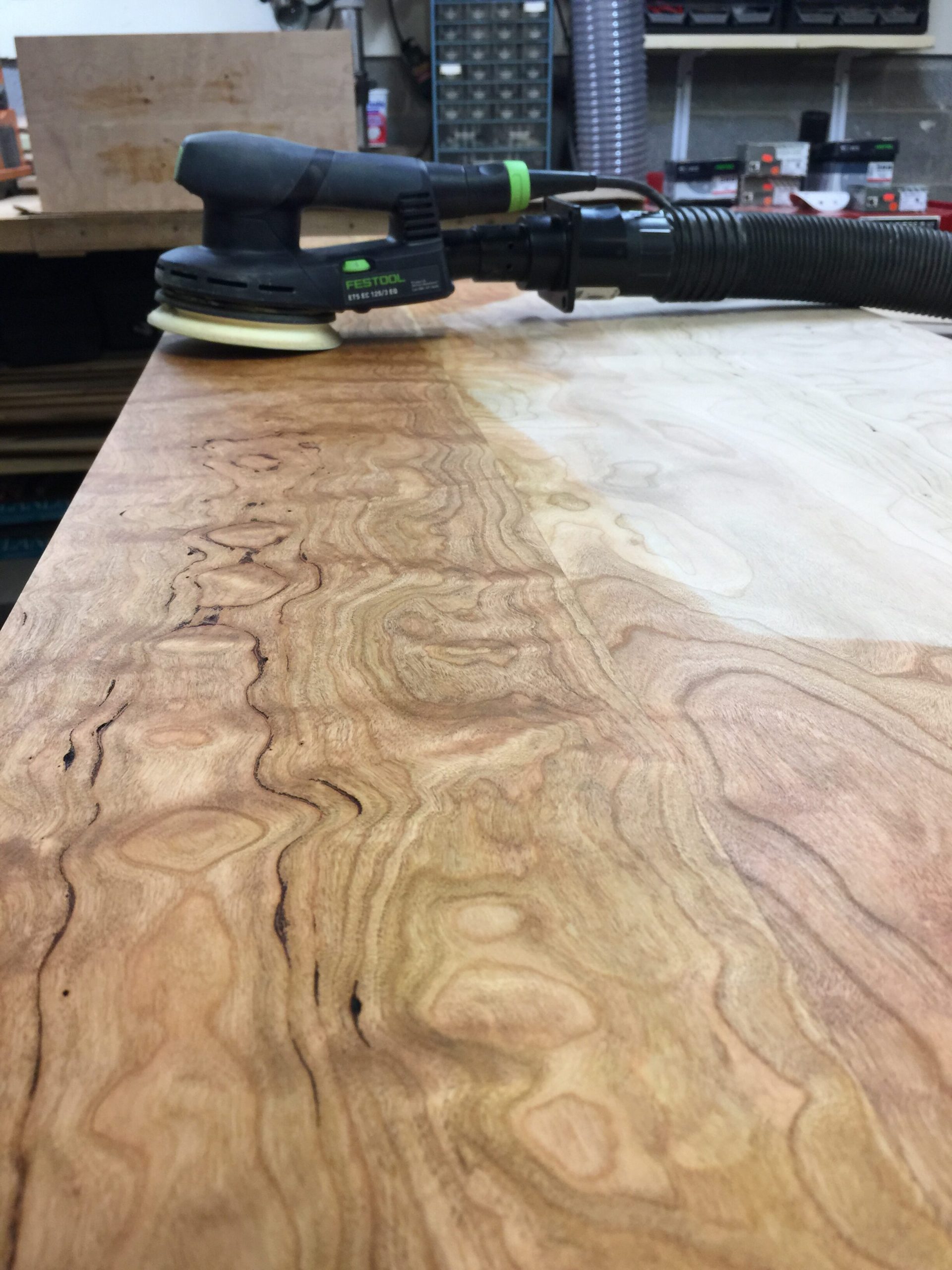 Tobias: Please list your most used hand tools and tell us why they are your "go-to" tools.
Brian: The Incra Precision T-Rule and a good mechanical pencil in conjunction with a reliable tape measure are probably my most widely used hand tools. Being able to draw sharp, crisp and square lines when laying out a mortise joint or when marking a piece for final length means that these tools are always front and centre on my workbench. I like the Incra T-Rule because it makes it easy to ensure that my layouts are square and easily repeatable.
For most of my furniture, I find myself using mortise and tenon joints, so I would say that my mortise chisels and mallet are a couple of my most used hand tools. I have often considered purchasing a power mortising machine or a router based jig, but sometimes it's hard to beat the simplicity of an effective chisel that will work efficiently on even the most cantankerous species.
I think that the good quality sandpaper that I use for hand sanding is a crucial "hand-tool" and deserves mention. Sanding is a necessary part of what consumes a very large amount of time on most of my projects and can really enable the beautiful wood grain to pop and stand out in an almost three-dimensional way.
Lastly, my bench vise! A good quality bench vise with non-marring wooden faces for clamping work pieces is a truly essential hand tool and is heavily used on every single project I build. By using a softer species for the jaws of the vise, it helps me to protect my workpieces from getting damaged, whilst still offering secure and effective workholding.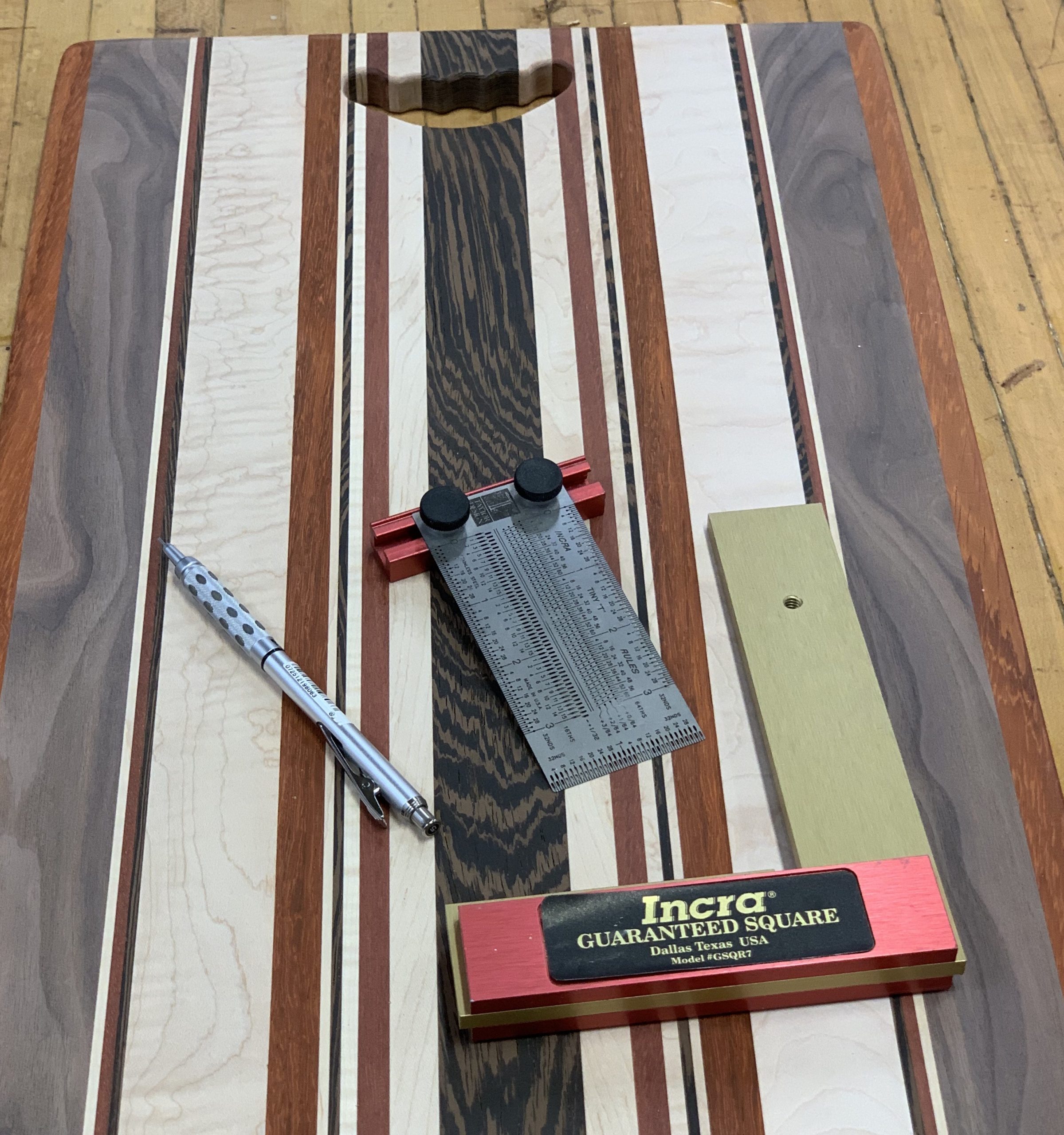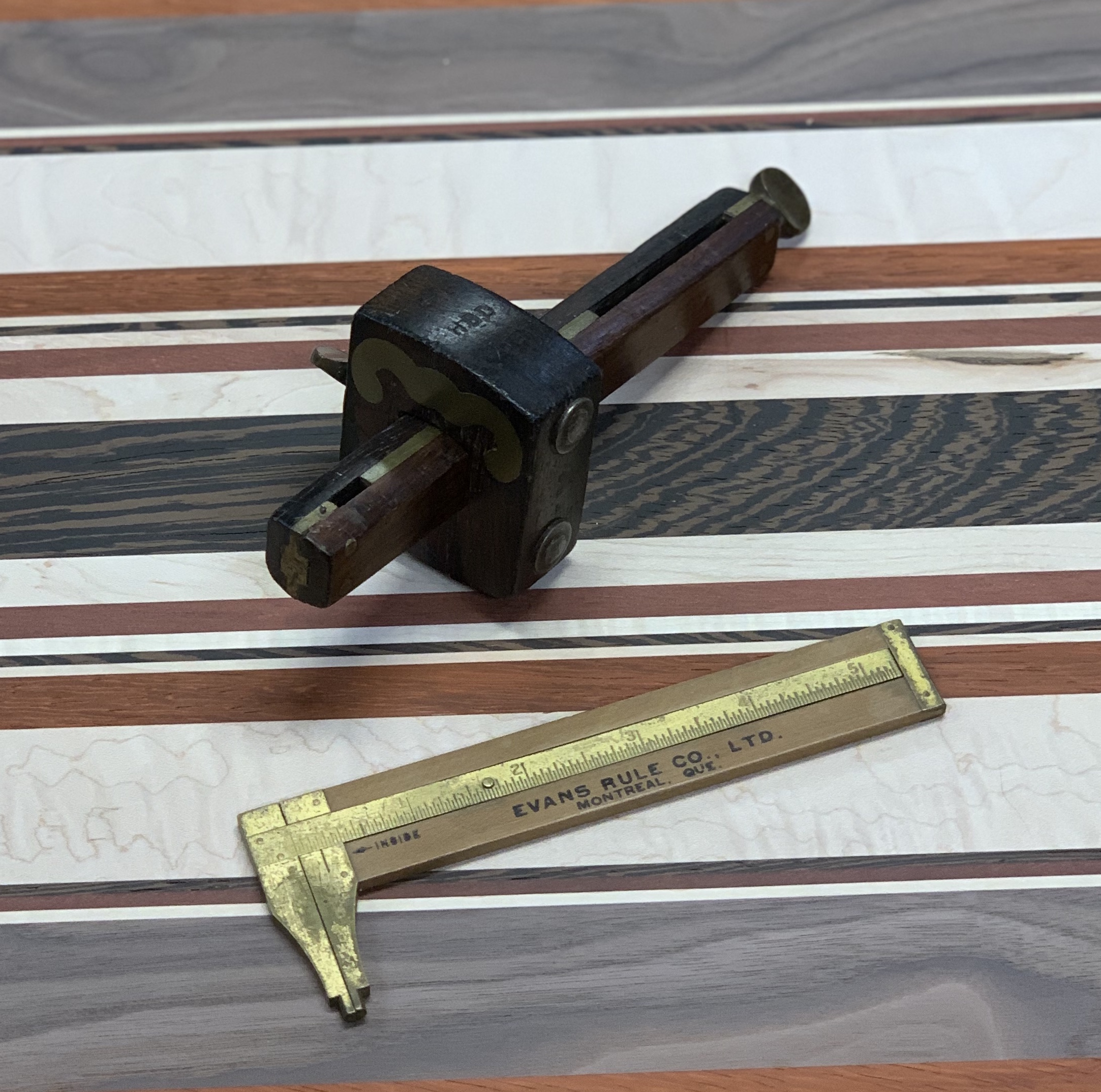 Tobias: Please tell us about your favorite power tools and machines.
Brian: My favorite machine is my General Excalibur scroll saw. My first exposure to woodworking as a child, involved a foot pedal scroll saw / lathe combo, that my dad had restored. There is a certain amount of nostalgia that I feel whenever I use my modern iteration, as I spent many hours in my dad's workshop using various scroll saws growing up.
I have made many different fretwork and intarsia projects over the years. The scroll saw is easy to use, low stress and it is a wonderfully safe power tool to introduce children to woodworking.
I also really appreciate my Ridgid oscillating spindle sander. For projects that require any sort of rounded or curved shape, this machine really does earn its keep. My Foredom power carver and Dremel tool also rank amongst my favorites, especially when it comes to intarsia work. I have used the power carver to make some unique drawer pulls and an added bonus is that it can also handle a variety of sanding attachments. My King Arthur Tools inflatable drum sanding system is probably my most widely used small power tool accessory. It can chuck into the drill press or the flex-shaft of the Foredom and is essential for my intarsia. All of these sanding tools take up a very small footprint in my woodshop and I would be lost without them.
Living near Syracuse, NY has its perks because Oneida Air Systems' primary manufacturing plant is here in town. I was able to outfit my entire woodshop with a locally made cyclone dust collection system that has been really wonderful! The dust collection system is necessary in order for me to use the drum sander, however I have really seen the value elsewhere as well.
By improving the overall air quality in my shop and reducing the harmful dust that makes its way into my dust mask, I feel that this is one of the most important tools in my shop, especially when working with some of the exotic species that are known to be allergens to many people.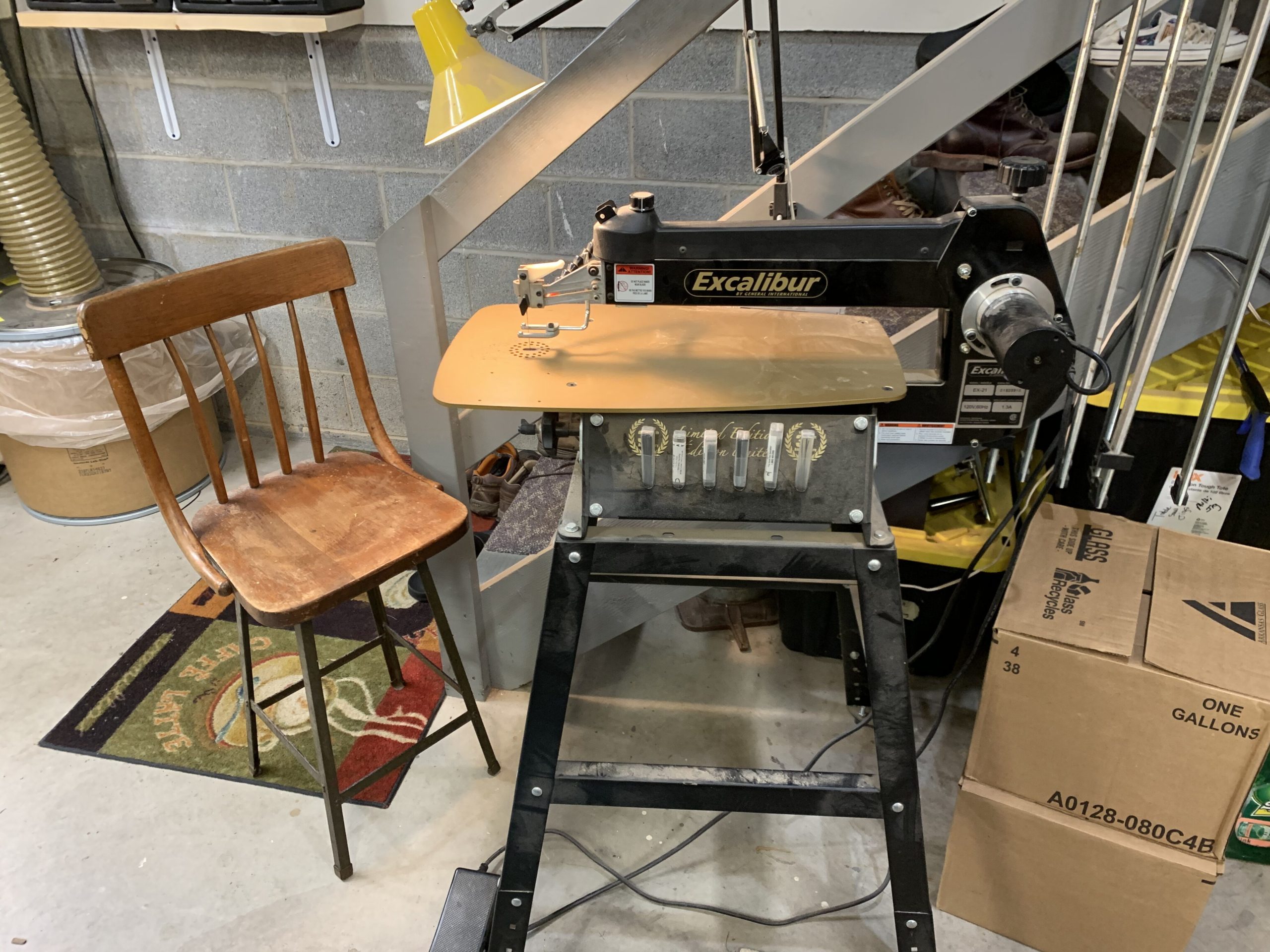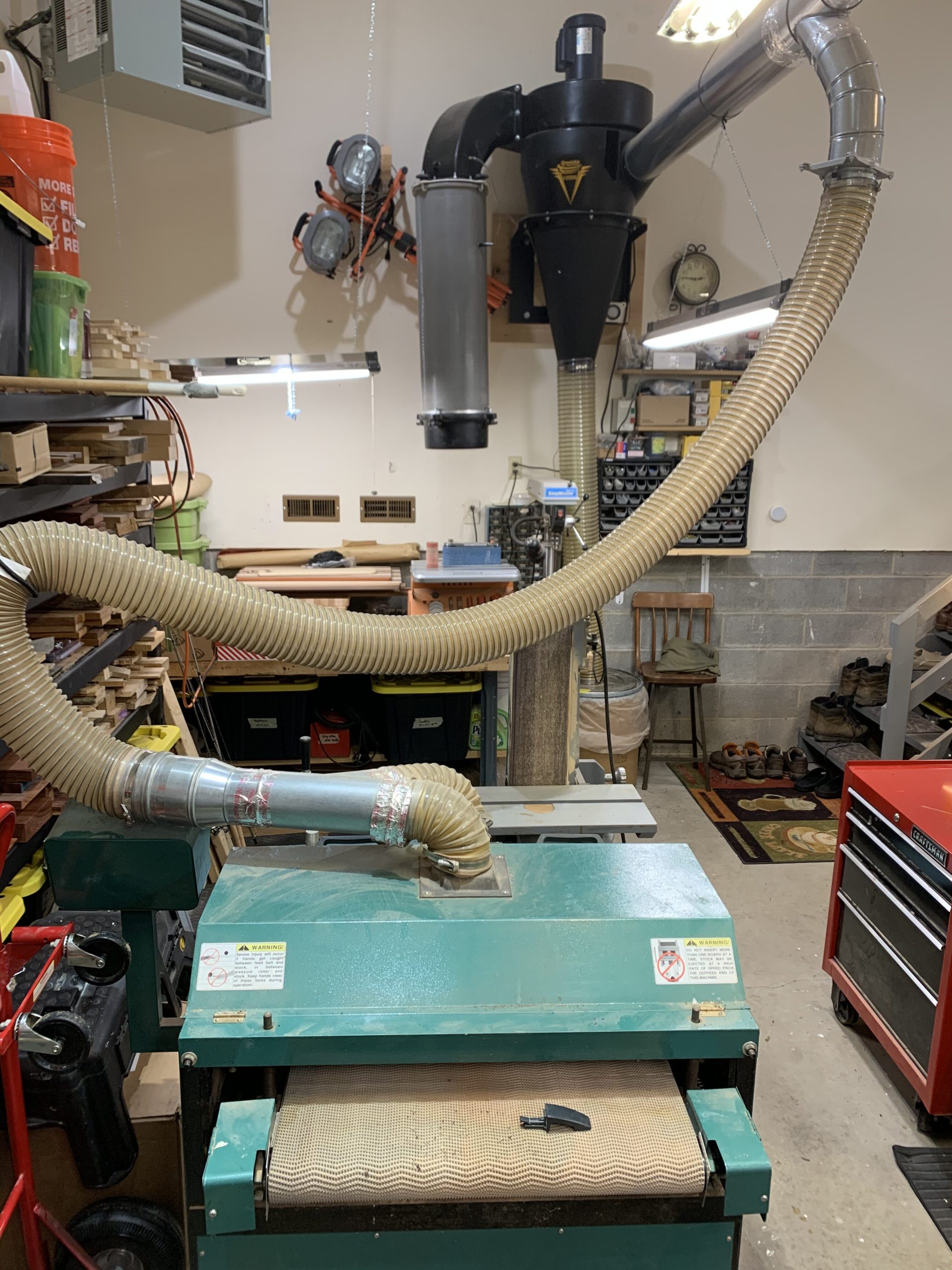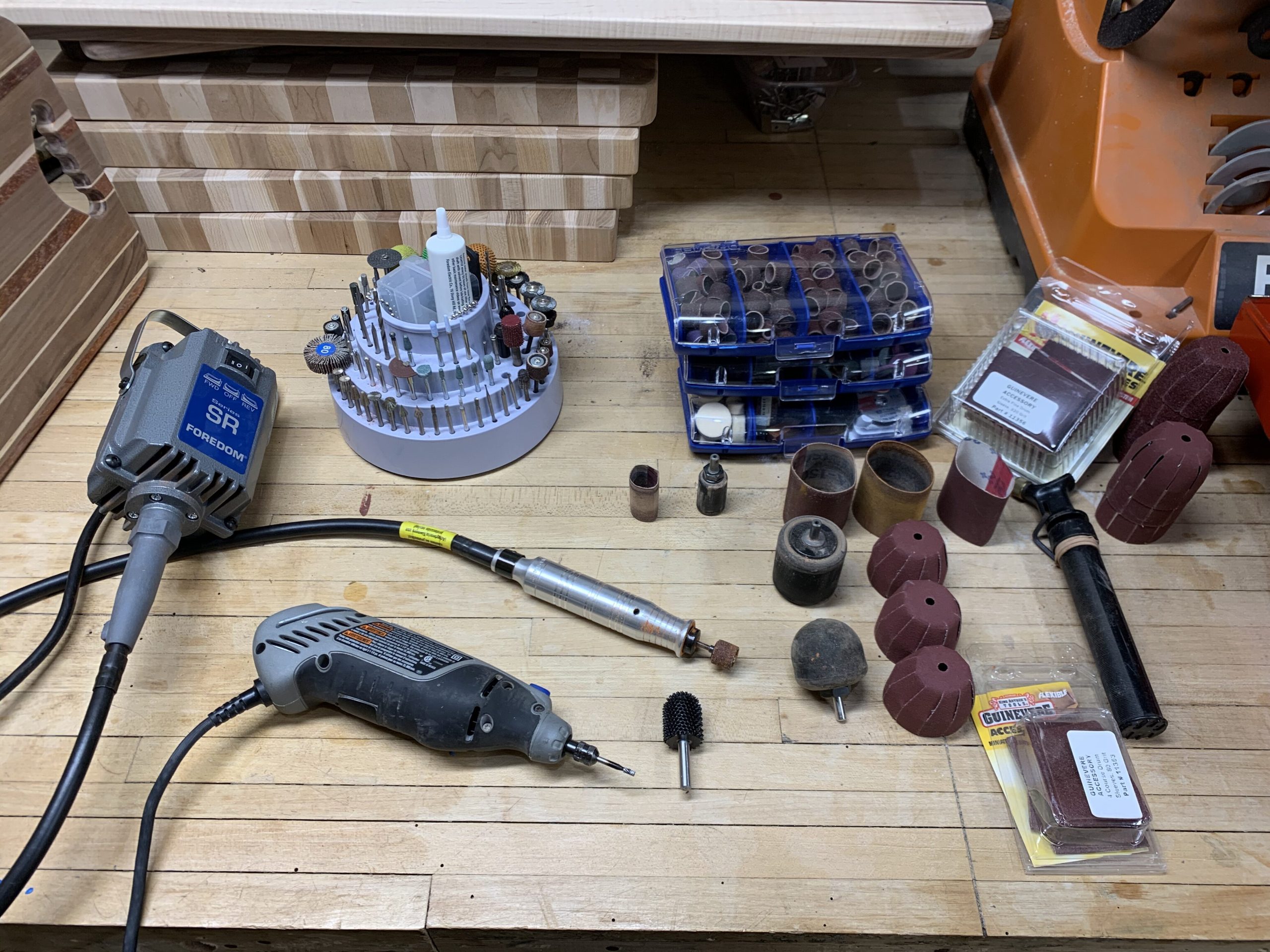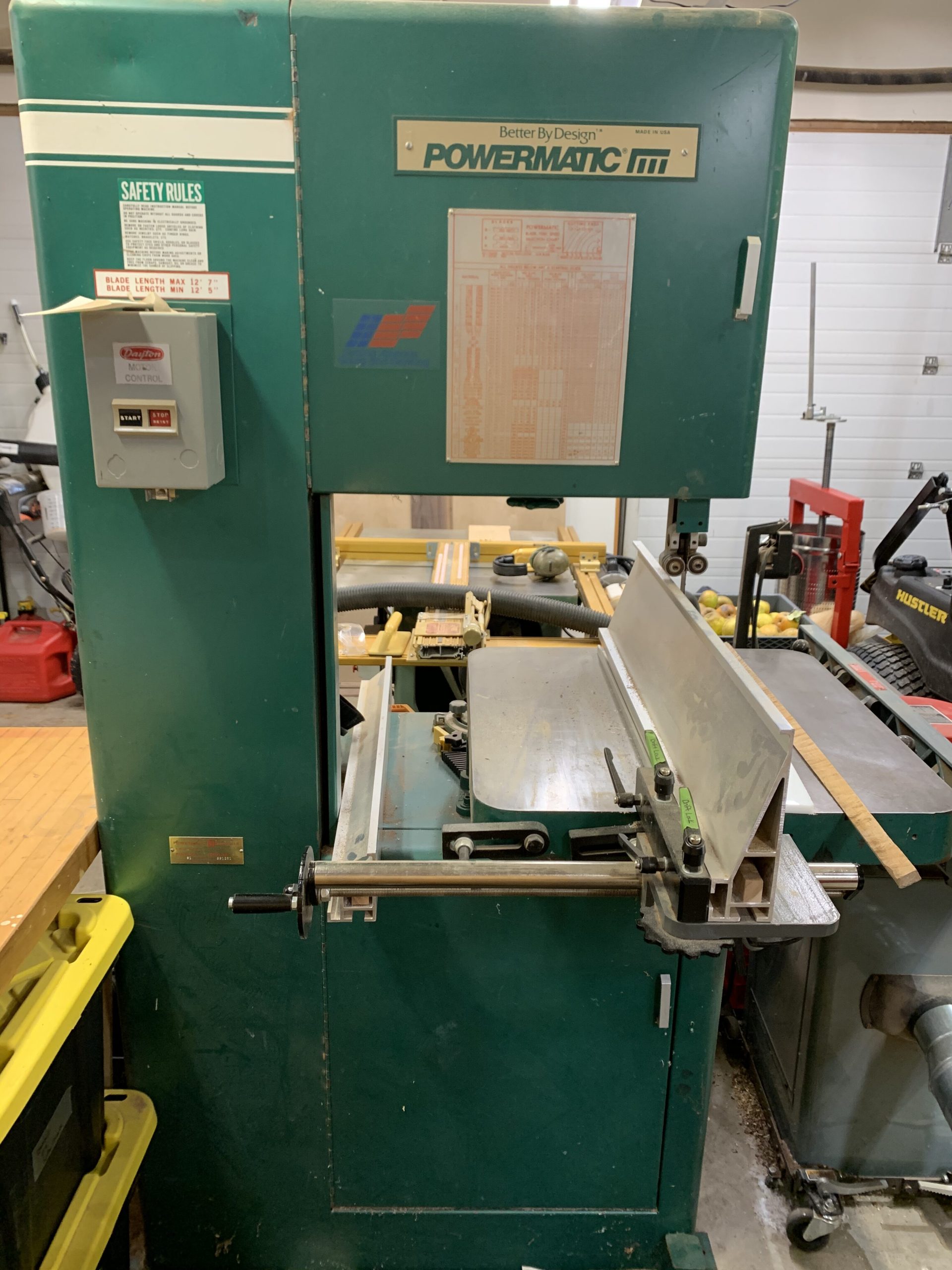 Tobias: What is it about working with wood that you find most enjoyable?
Brian: Woodworking is a tremendously relaxing and stress reducing hobby. Some of the best memories I have are of time spent working in my dad's shop on my own projects, while he worked on his. To me, woodworking can really bring people together,  as we can all admire the remarkable natural beauty of various woods, with no two pieces ever being exactly the same. In particular, I derive a great deal of enjoyment simply admiring beautifully figured "one-of-a-kind" pieces of wood. I can spend hours just browsing through my collection of boards; remembering where each piece came from and dreaming up ways to best incorporate it into something that can be displayed or used in my home.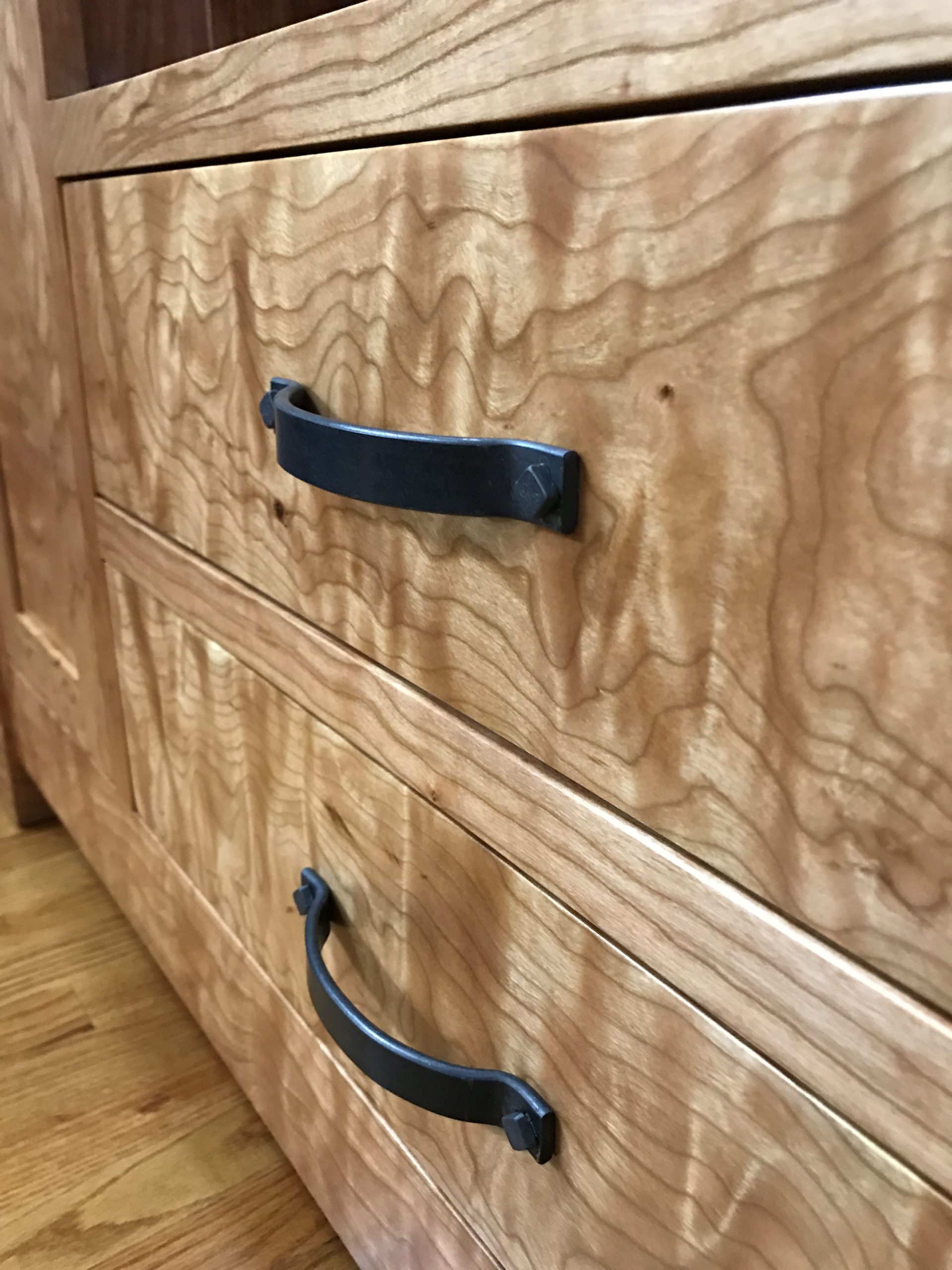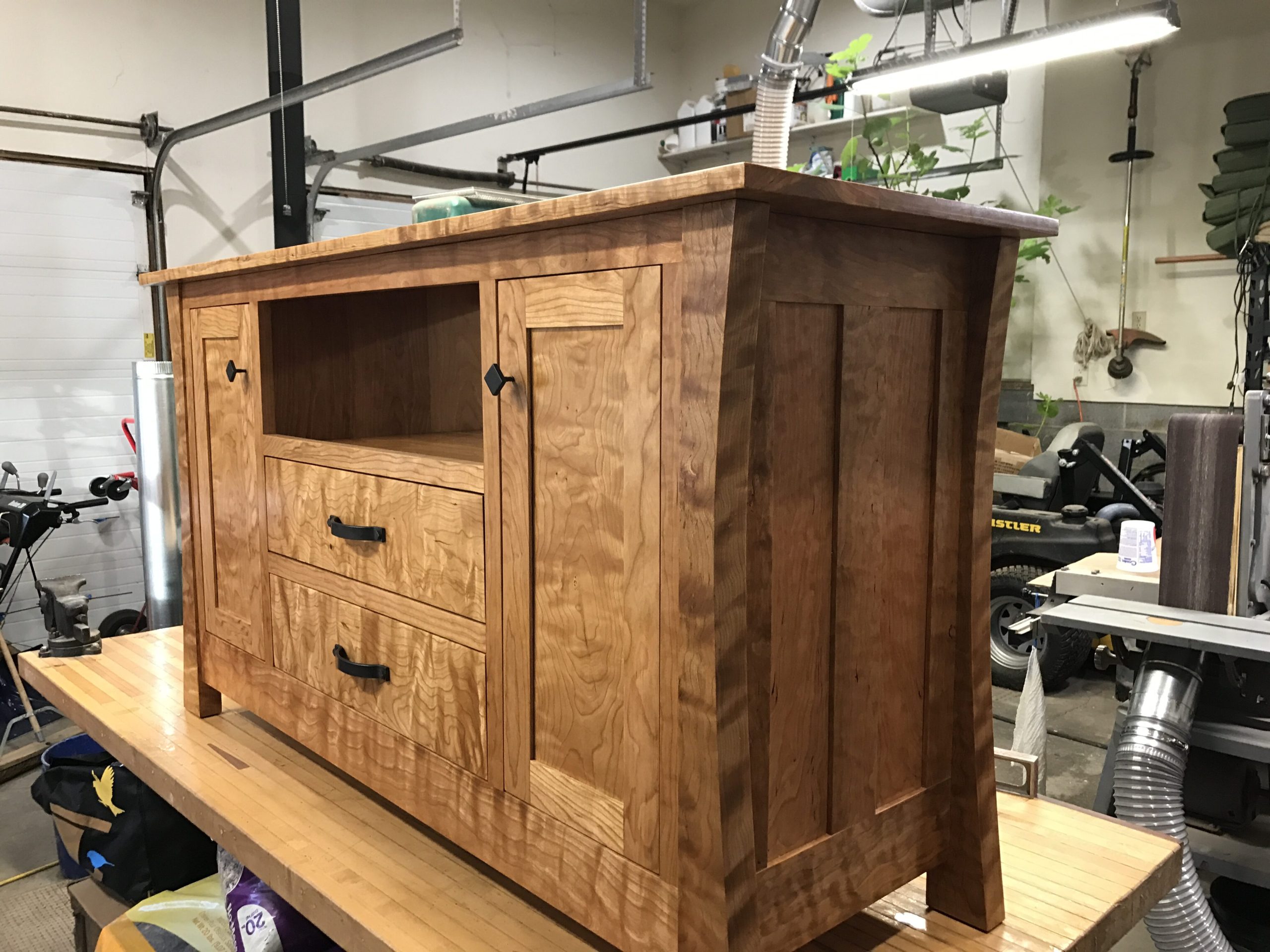 Tobias: What type of workshop do you have: stand alone / garage / basement etc? What the the floor size of your shop? Can you tell us about how your workshop has evolved over time and why? What is the layout / workflow that you have developed (workbenches / assembly benches / lighting / dust collection / timber storage / tool storage)?
Brian: My wife has graciously allowed me to take over our entire attached 2 car garage as my workshop! It did come with a deal though… I had to make sure she has a remote car starter and I also have to remove all of the snow and ice from her vehicle whenever it appears. Living in this area, we average over 19 feet of snow a season, but this is a very small price to pay in my book!
The workshop is 20 feet by 25 feet and has 13 foot high ceilings, which allows me to mount my dust collector ducting high up and out of the way. My dad and I originally installed a soapstone woodstove which served me well for several years of cold weather use. I have since removed it and now I utilize a ceiling mounted forced hot air gas furnace. It is nice to have the extra floor space and priceless to be able to turn a dial and get immediate heat.
I have a walkout basement that exits into the woodshop, so I have built storage racks onto the walls to help in organizing my larger pieces of stock. Running a dehumidifier, I have found that it allows me to maintain a  steady 8% moisture content.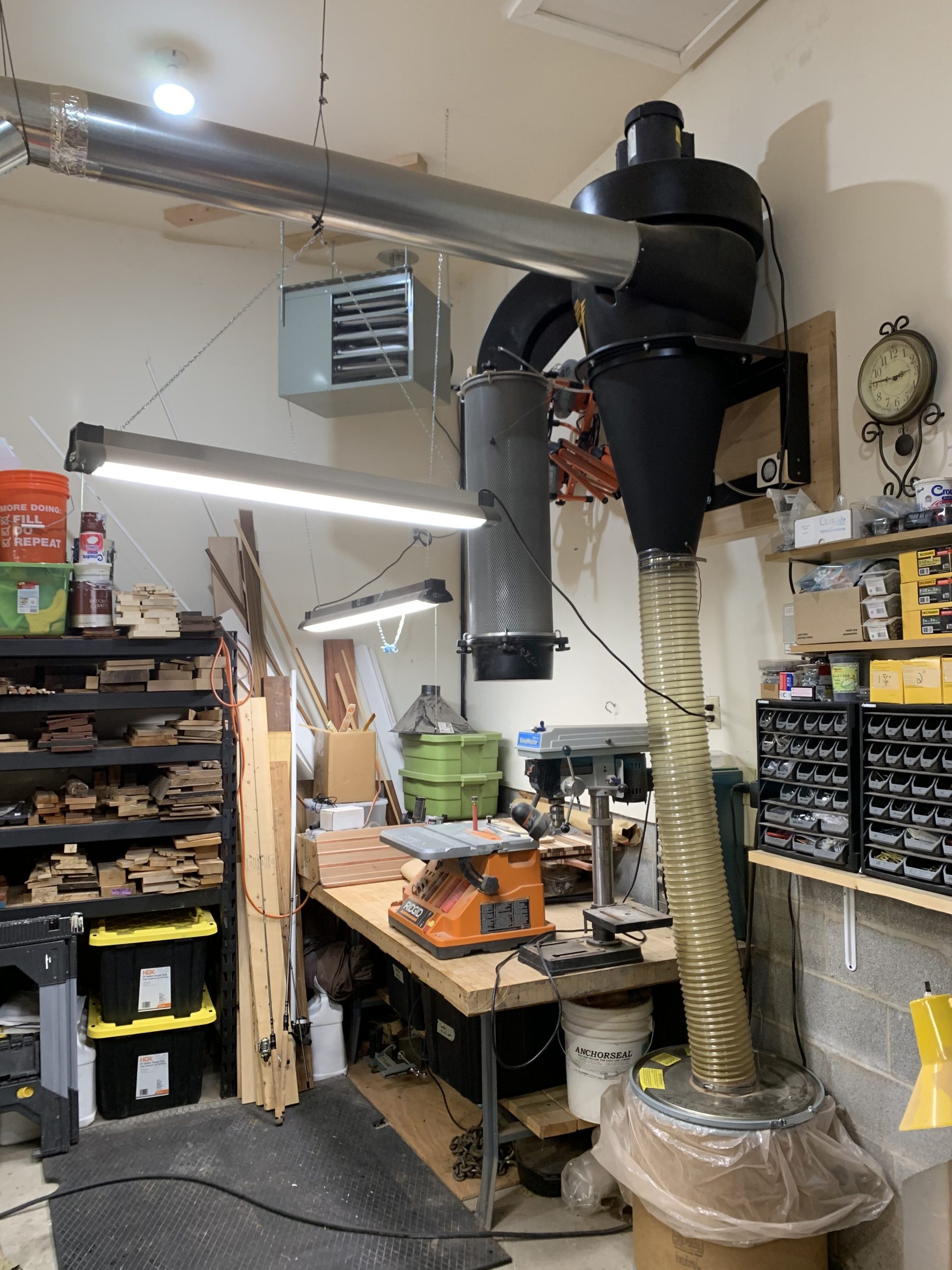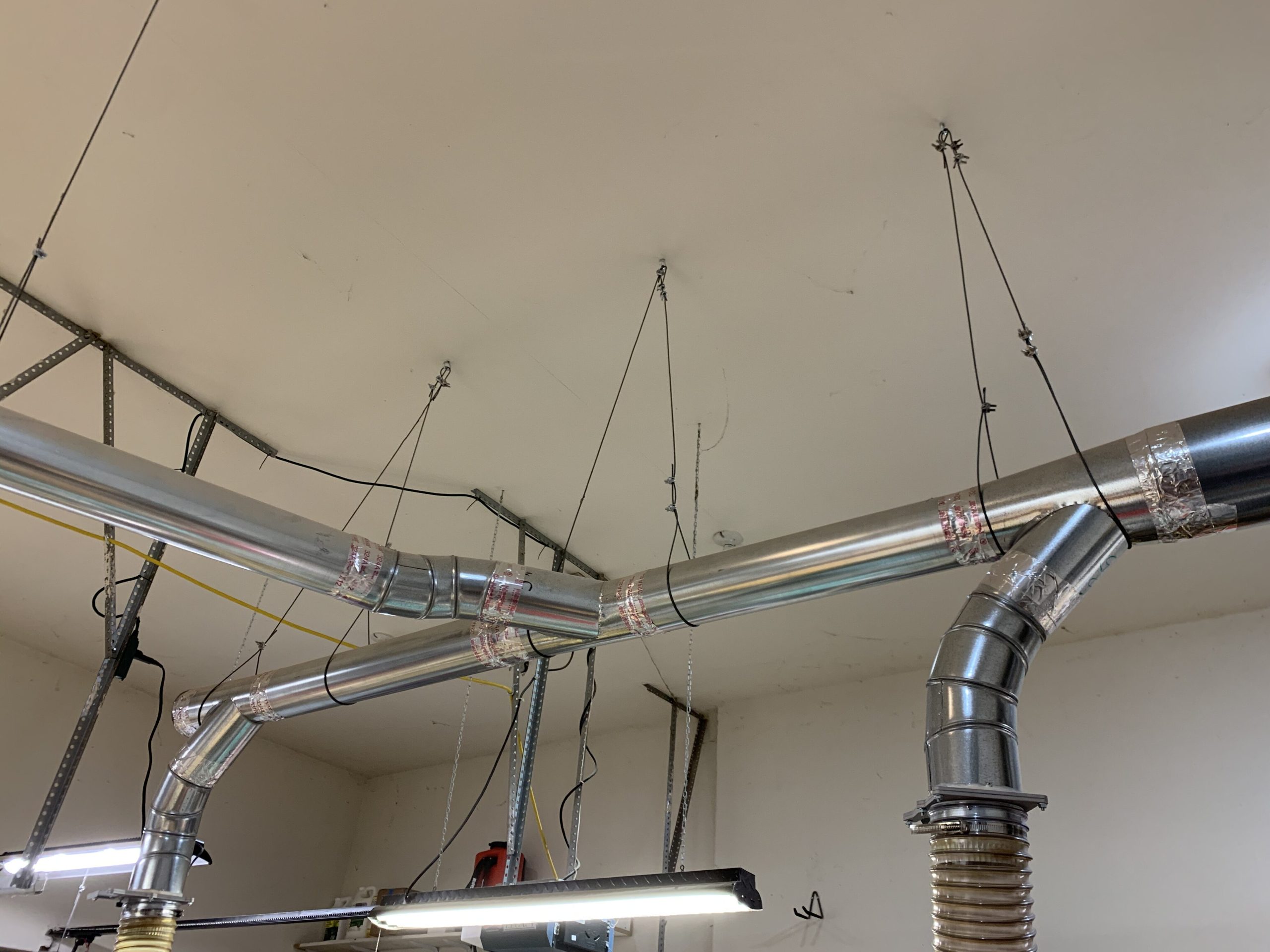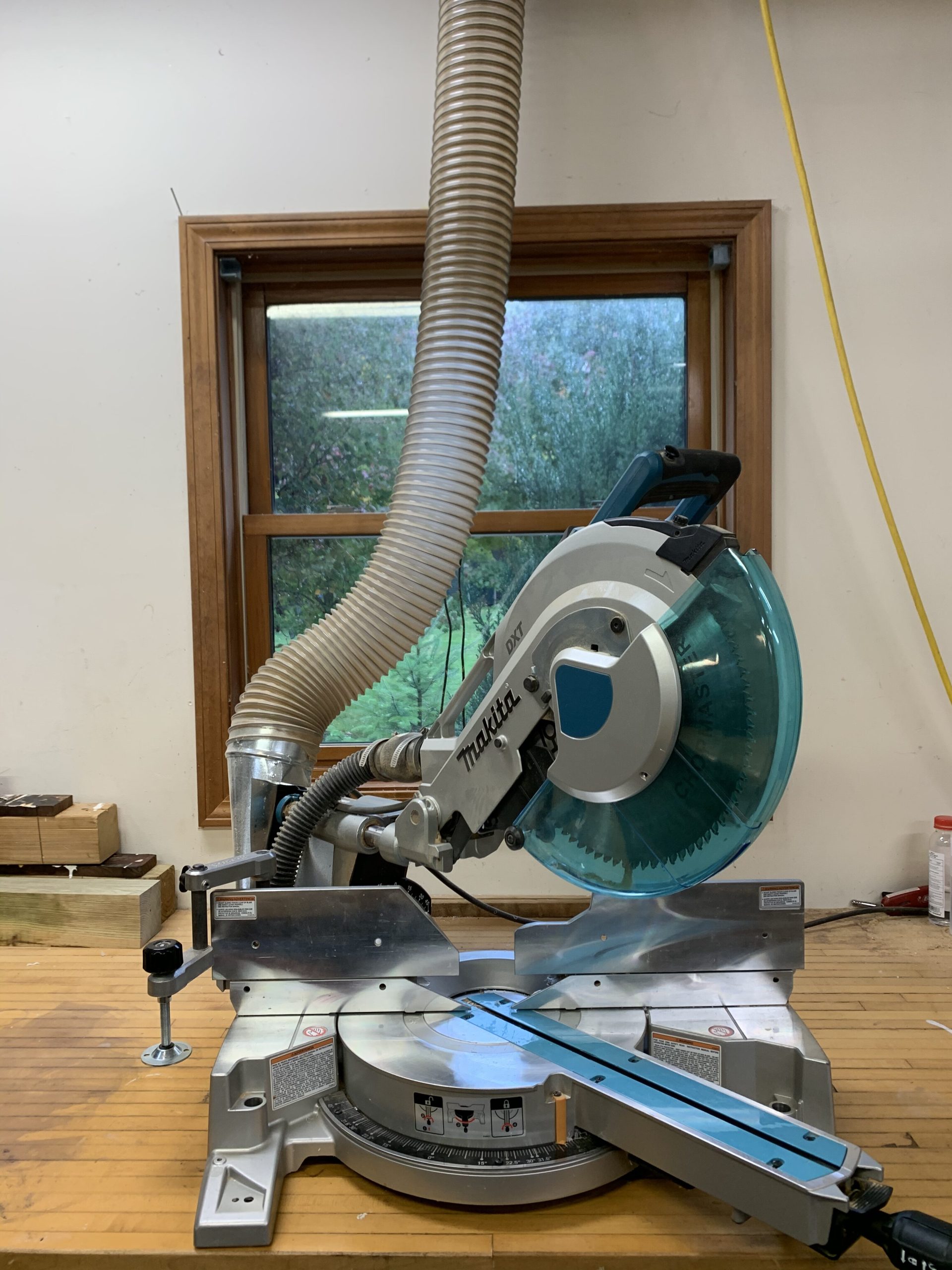 Tobias: What is your clamp line-up and why?
Brian: I have never met a woodworker who feels that they own enough clamps. I primarily use Bessey K-Body style clamps for most of my glue-ups. They enable me to glue things in a square and flat fashion, are extremely versatile as I own several different sizes. I have a very close retired friend who is an avid woodworker and most of my current clamp line-up is thanks to his wonderful gifting generosity. I also really like my quick grip style clamps. I have them in many sizes, some of which can apply several hundred pounds of force and some small that tend to work very well on intarsia or fretwork pieces. I also believe that wooden handscrew clamps are extremely important to have in one's arsenal.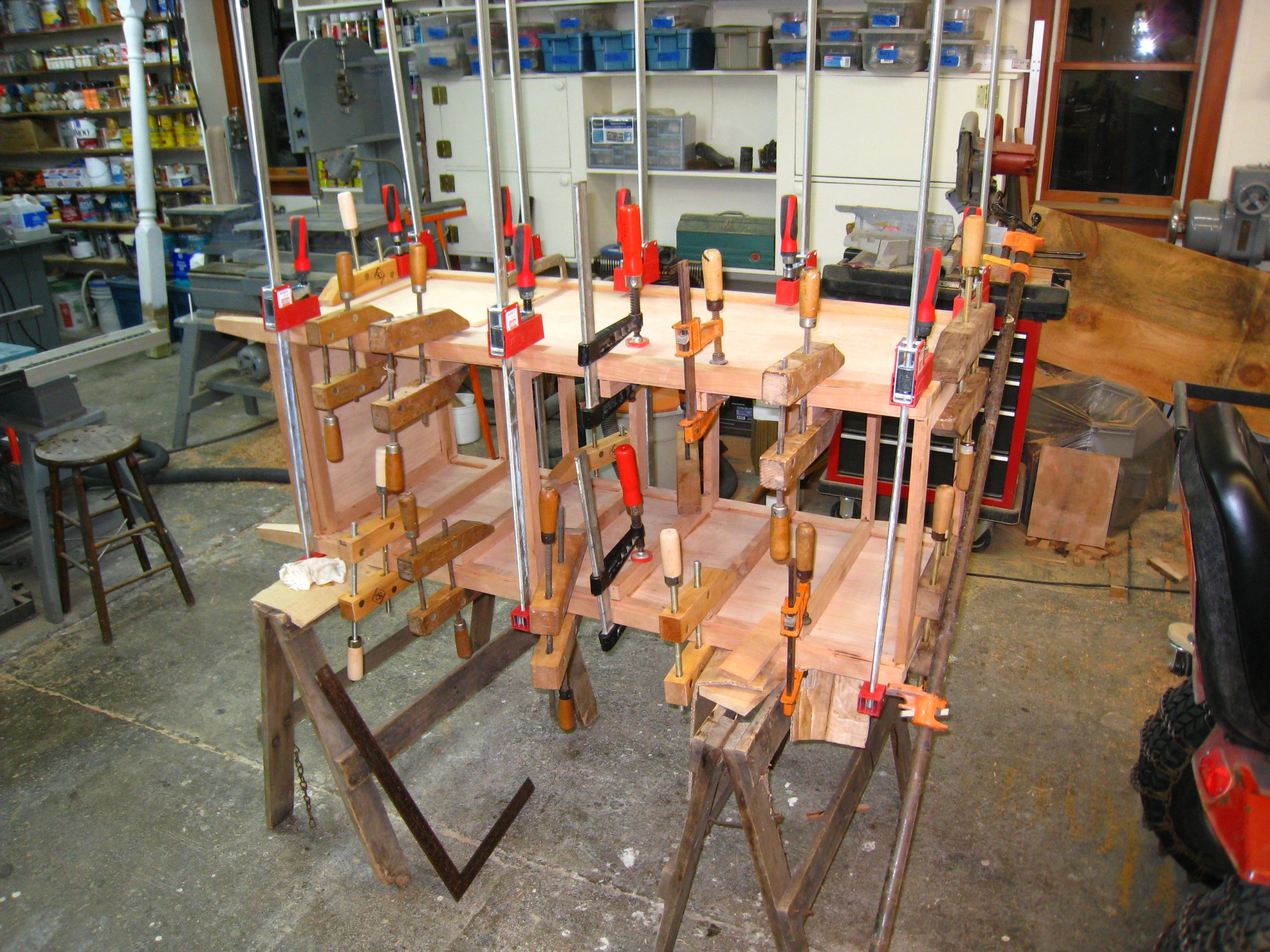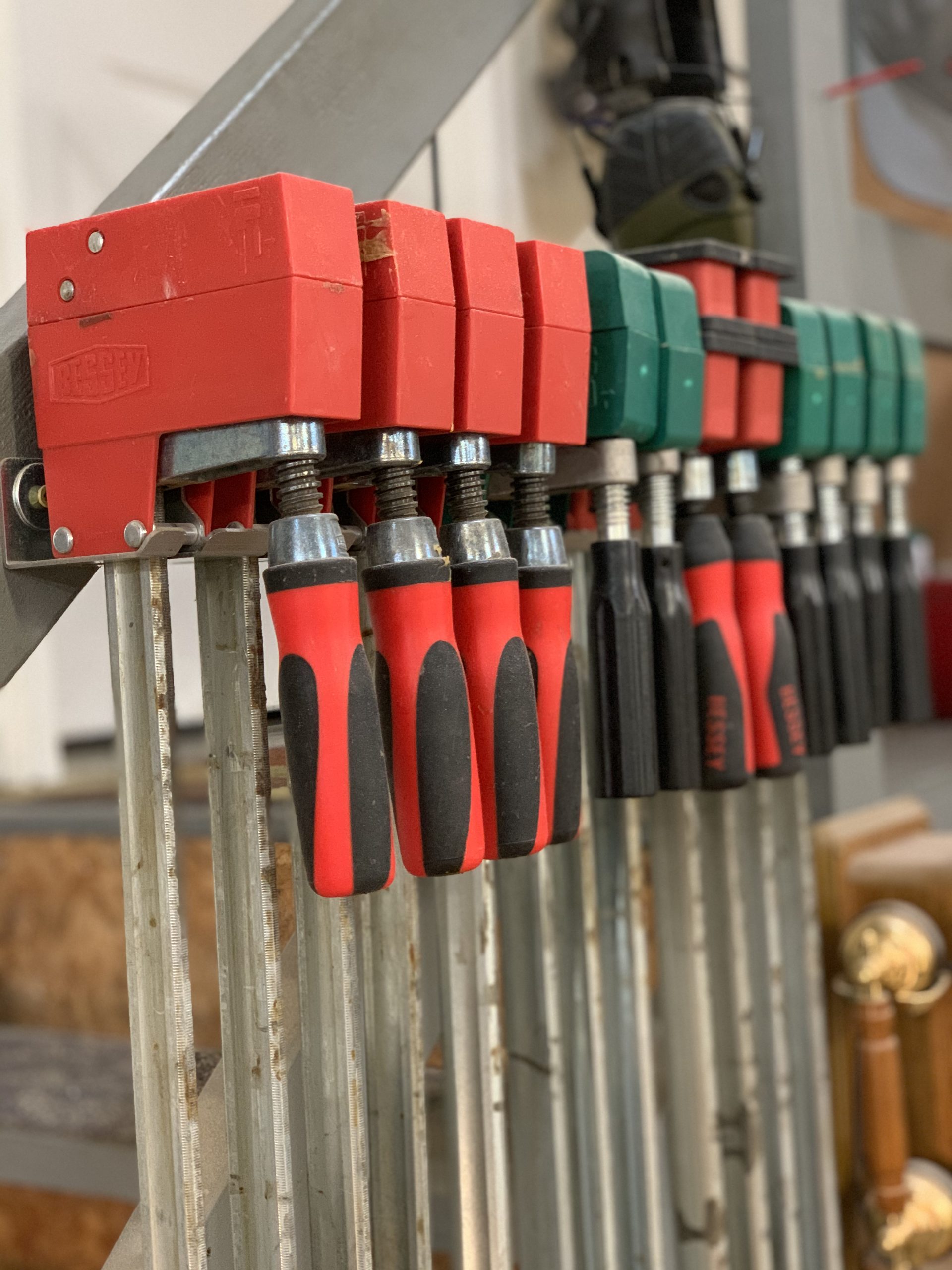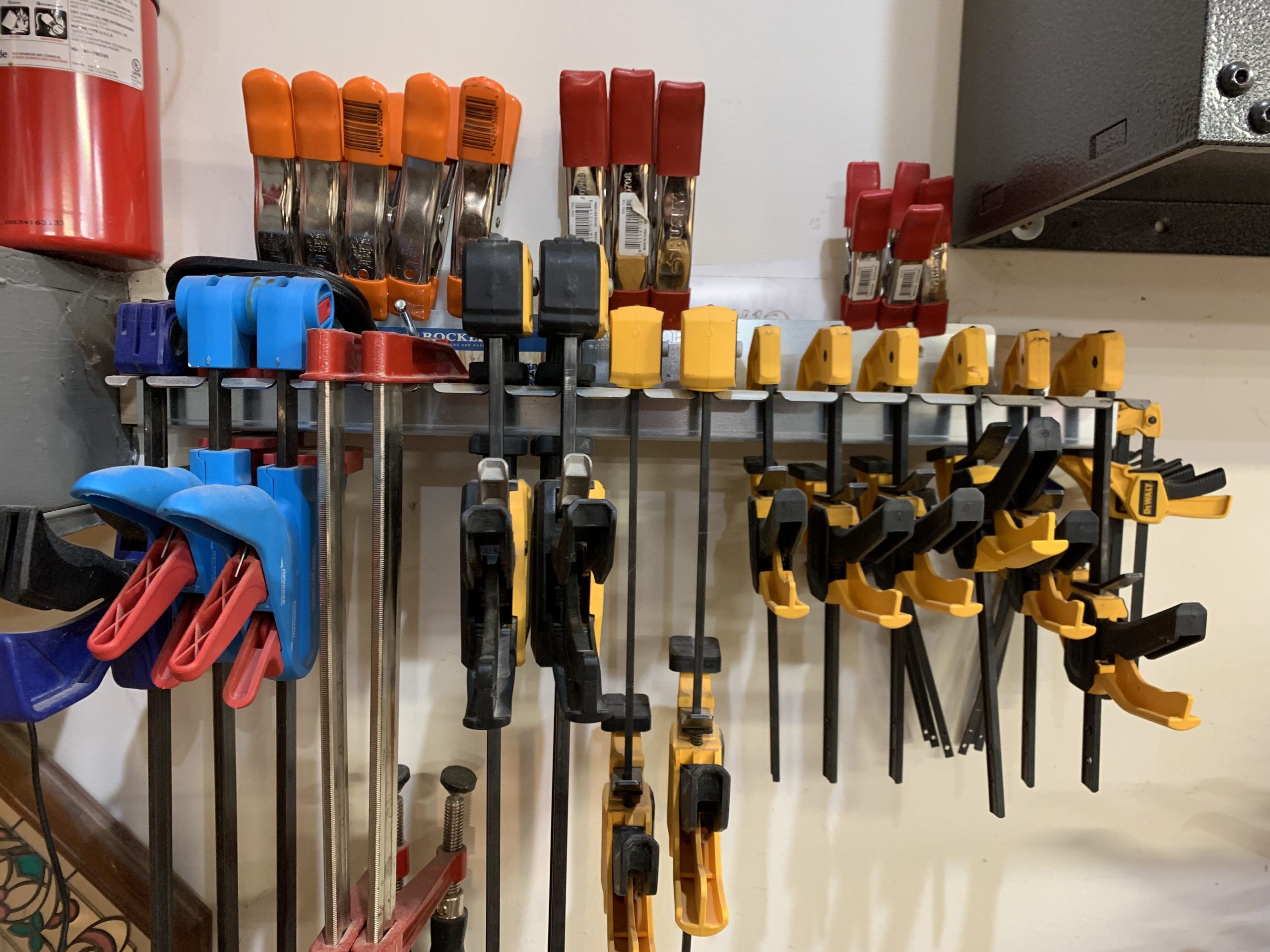 Tobias: Which adhesives and glues do you use and why?
Brian: Typically, I use Titebond III. I recently learned that for some projects where water resistance is not a concern, Titebond Original might present less of a tendency to develop swollen glue joints down the road. I also like to use Titebond dark walnut glue. For my intarsia pieces, I exclusively use a 2 part epoxy. The reason for this, is that due to the oily nature of a lot of the exotic species that I use in the intarsia, the epoxy seems to hold the pieces together really well.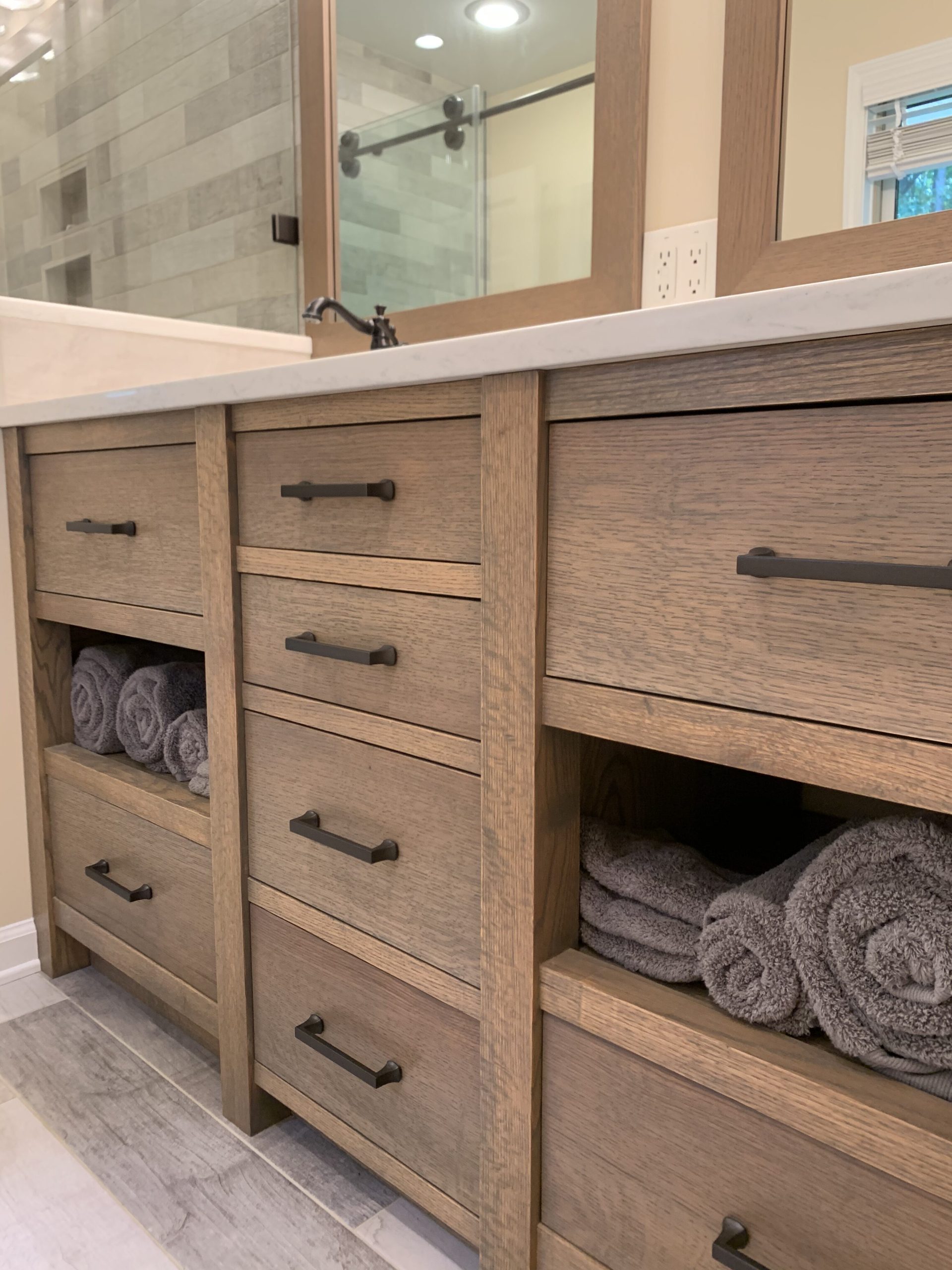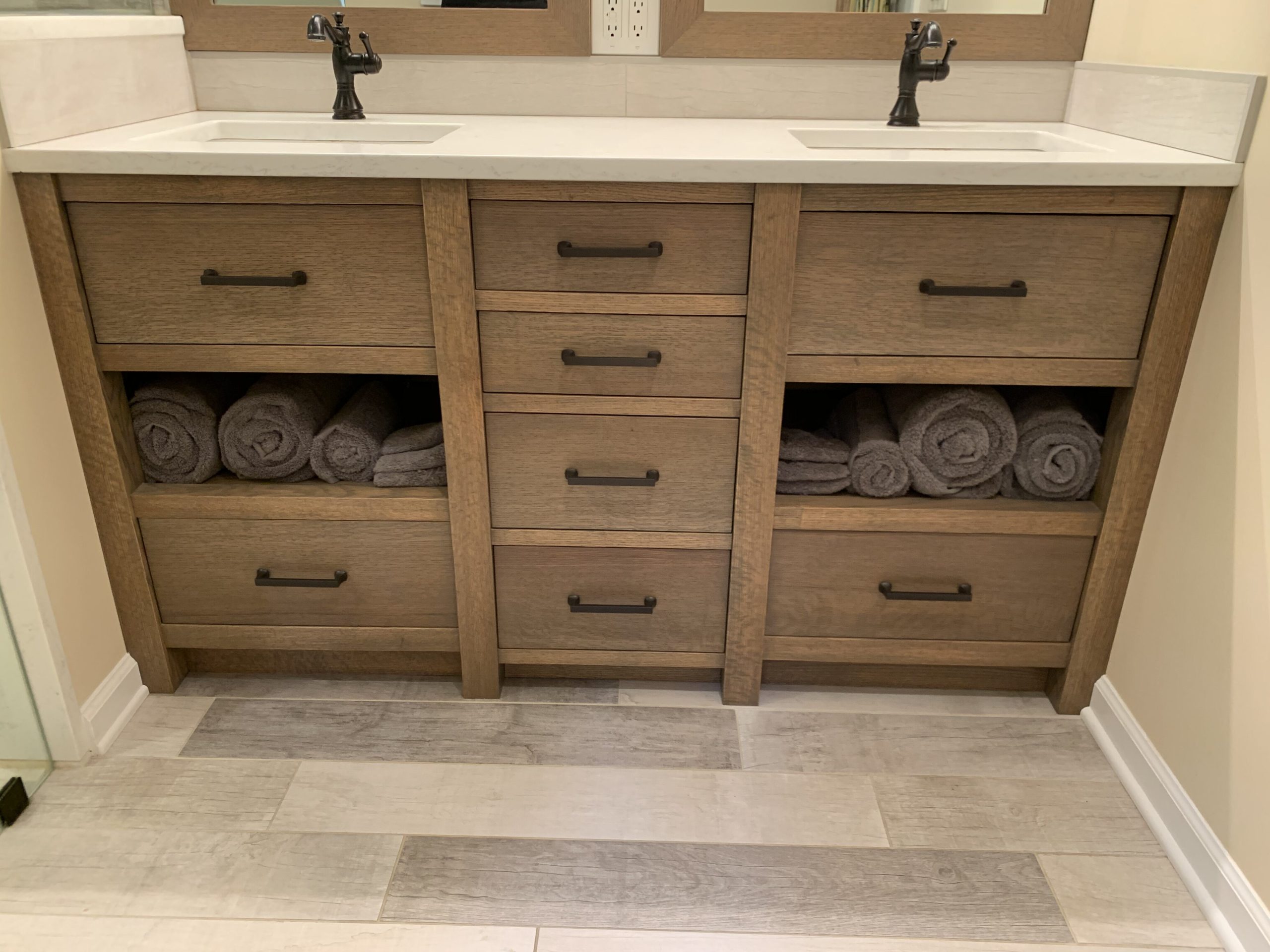 Tobias: Which woods (local & exotic) have you not yet used and why are you interested in building pieces with them?
Brian: A couple of years ago, I purchased some Elm dining chairs from a local craftsman. I was taken aback by the beautiful grain patterns and how nicely they took a stain and a finish. I want to work with Elm at some stage. Most of the Elm trees on our farm have succumbed to the Elm disease, but my dad and I were able to salvage some of them for future use. I would also love to work with Waterfall Bubinga some day.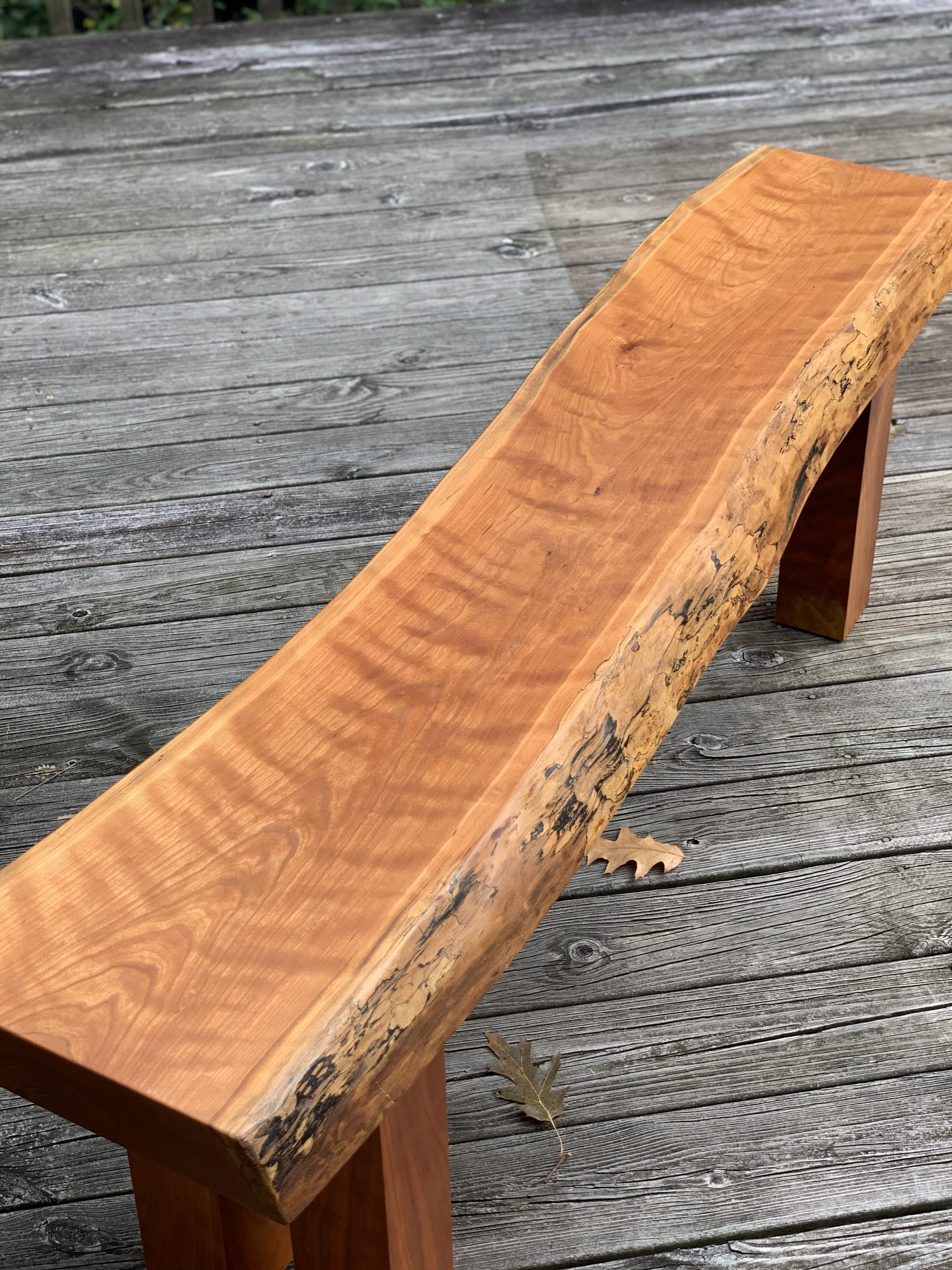 Tobias: What and whom are your sources of woodworking inspiration?
Brian: I really enjoy Wood Magazine, Fine Woodworking and growing up, I watched The New Yankee Workshop on TV. The Arts & Crafts design has inspired several projects, but by far my dad is my biggest source of inspiration. He is a master craftsman and his projects are original, flawless and often extremely complex, something that I hope to be able to achieve someday.
Tobias: How do you design your pieces? Do you use CAD or SketchUp? Do you sketch out or draw plans on paper?
Brian: Many of my earlier projects were created by following a woodworking plan designed by someone other than myself. In recent years, I have started creating my own designs. Typically, I find that I need a specific piece of furniture to fit in a particular space.  I usually start with an overall dimension and style, and then sketch out by hand. This formulates the idea of what I would like to see. Then through trial and error my design slowly takes shape.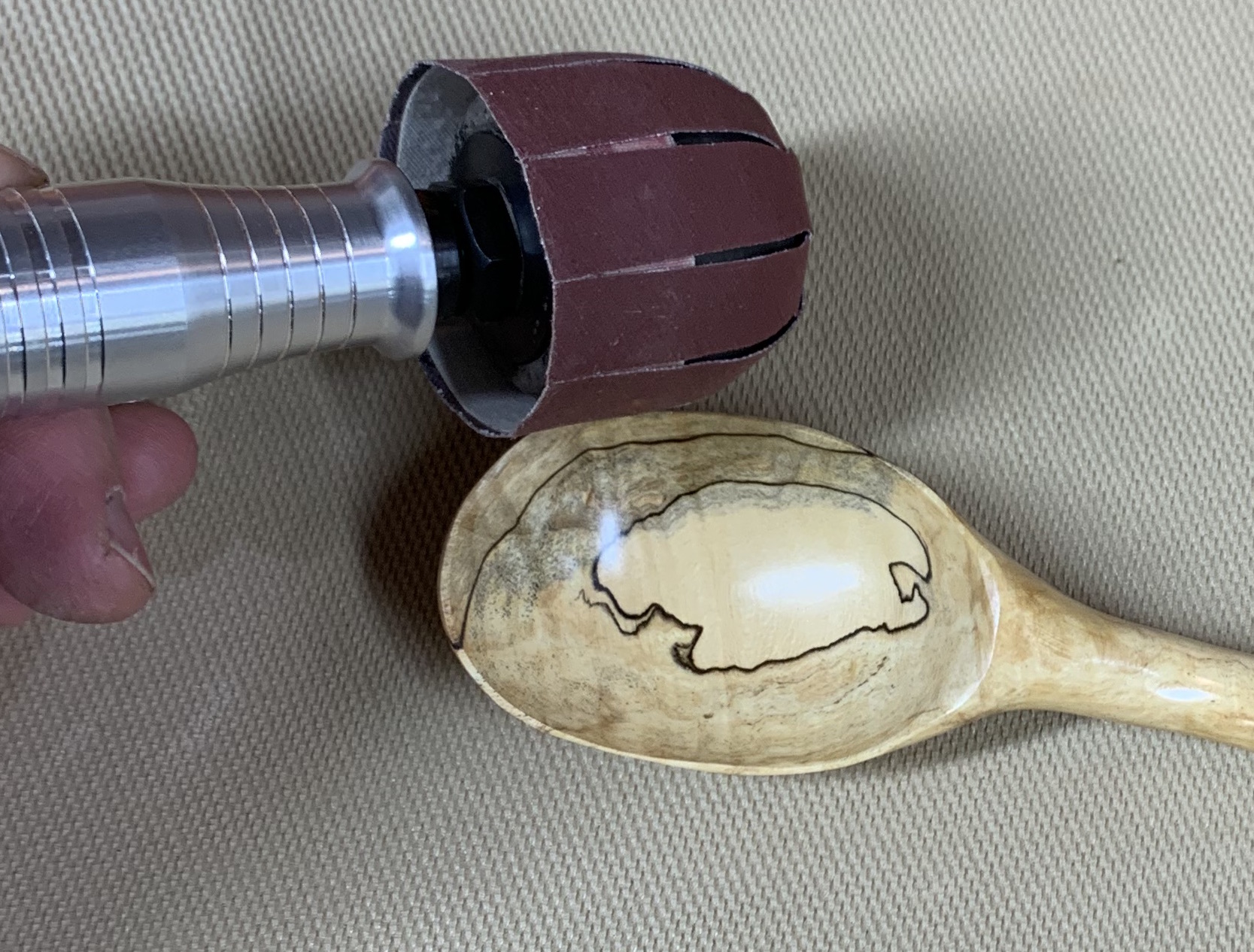 Tobias: What are your favorite finishing regimes, what products do you use and what are your favourite processes?
Brian: I like to use the drum sander to remove all of the planer marks and then I use my Festool random orbital sander to remove the drum sander marks, working my way up to 220 grit. After this, I usually hand sand up to 320 grit.
On Cherry, I always use a 50/50 boiled linseed oil / mineral spirits mix, applying two coats. Then I apply shellac and a top coat of either polyurethane or lacquer. I like Minwax Wipe-On Poly and if possible, I try to spray my top coats.  I use Deft spray-on lacquer for projects that are not intended to get too much handling, especially my intarsia pieces, as the Deft spray-on lacquer seems to adhere nicely to the exotic species and dries quickly. I also like how the lacquer does not seem to "yellow" with age. Usually, I apply paste wax over everything once the finish has cured.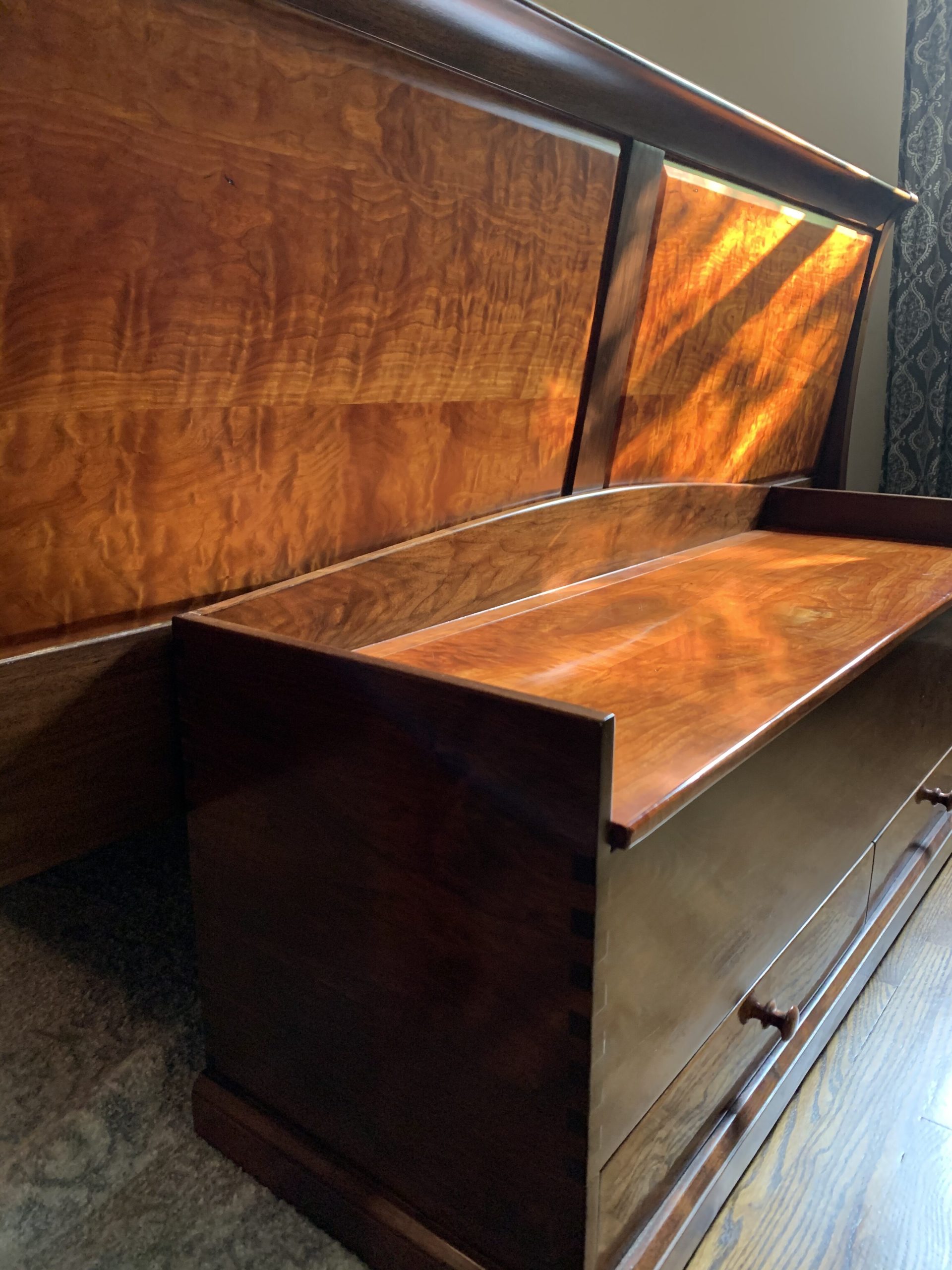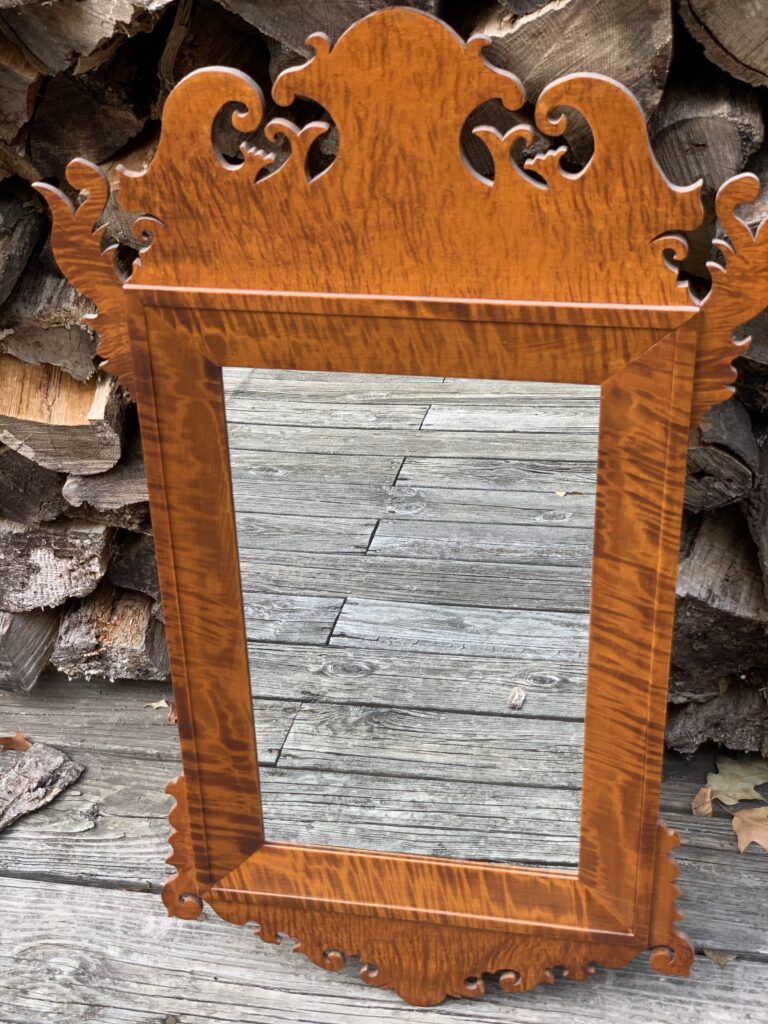 Tobias: Which parts of working wood do you dislike the most?
Brian: I really don't enjoy designing projects. I find designing very time-consuming and at times extremely frustrating, trying to get my ideas down on paper! Coming up with proper proportions and a functional sturdy design that still looks really good and feels like a fine piece of furniture, is something of a true artform that I do not possess. I honestly really admire craftsmen that design their own custom pieces. I always want to get going with the "hands-on" woodworking part of the whole experience!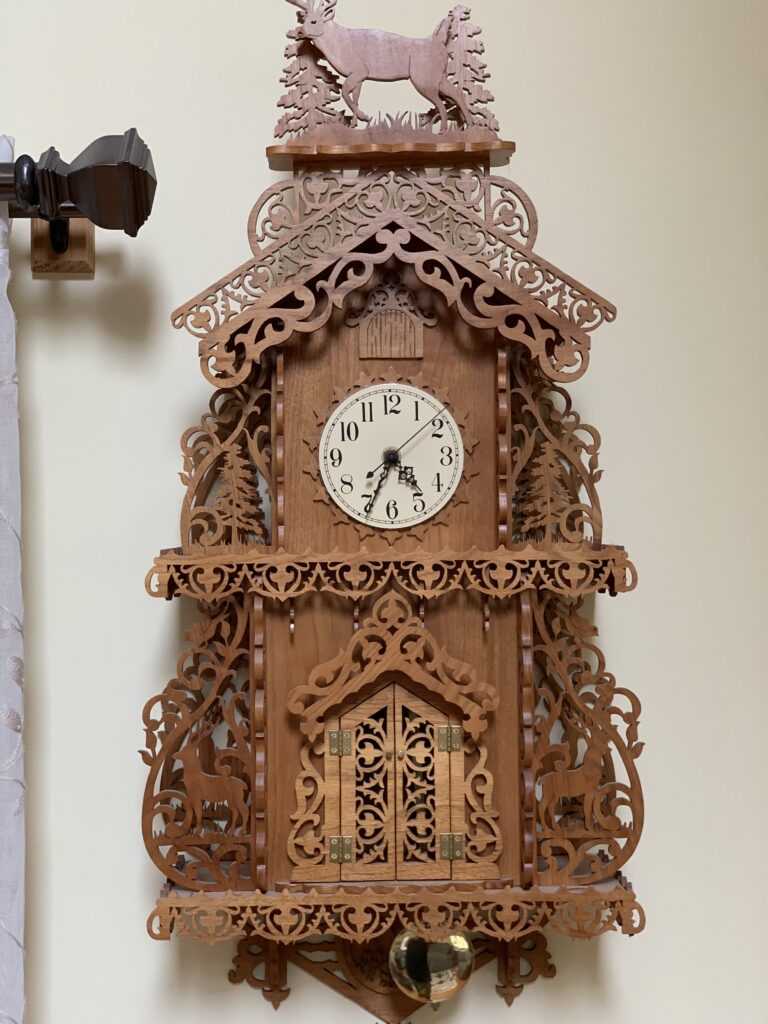 Tobias: What is your favorite music to listen to in your workshop?
Brian: I enjoy Dan Gibson's Solitudes, classical music, the Mars Hill Network and Christmas music during the wintertime, when I am most active in my shop.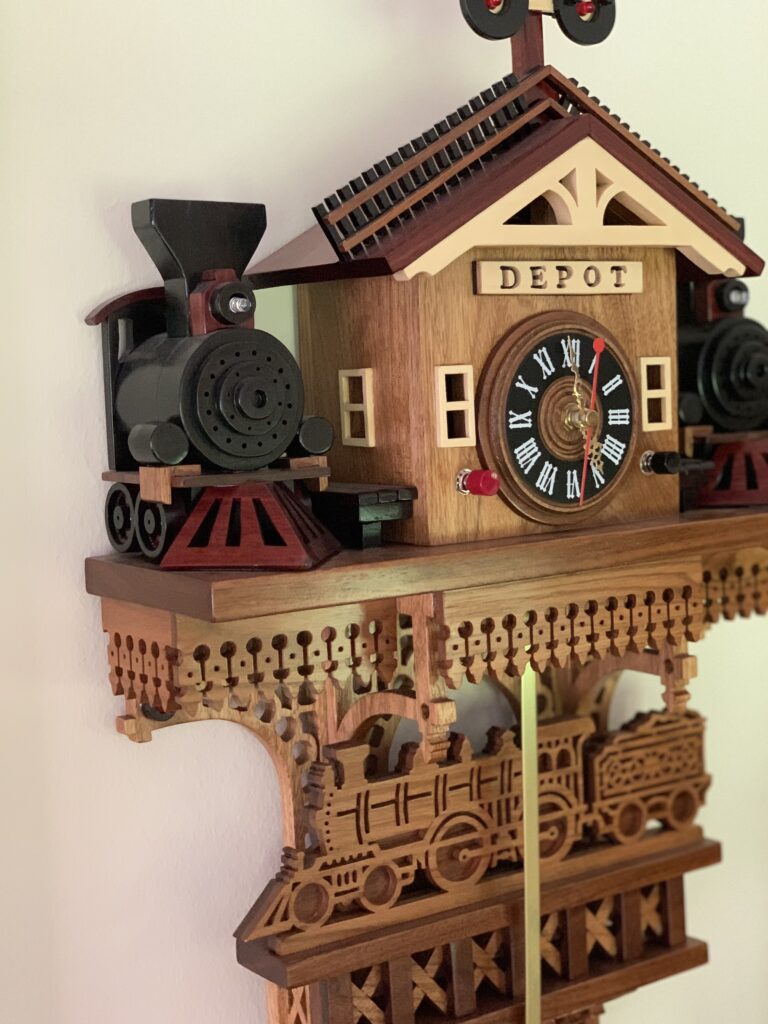 Tobias: What is your tool sharpening regime?
Brian: I have a couple of different grit whetstones for my chisels and block planes. I definitely need to spend some quality time learning how to properly use them to their fullest potential.  I really appreciate carbide and in particular, the helical cutterhead on my planer.
Working with figured woods, a sharp carbide helical cutter almost completely eliminates tear-out!
Tobias: What custom jigs or tools have you developed for your woodworking?
Brian: Most of my jigs have been created to accomplish a singular task on a particular project and consequently they don't get used too much after that project.  I did make a collapsible indoor spray booth out of pvc and plastic, using a box fan and a furnace filter to push the aerosol outside when spraying lacquer and it has really been a lifesaver!
Tobias: What is the next piece you are going to build and why?
Brian: Most of my projects are created out of necessity. One of my future projects will be to build more apple crates for my orchard. My dad and I cut the Ash trees from our farm and milled them into 1/2″ thick stock, specifically to make bushel sized crates. So far, we have about 75 done, but I will be needing a lot more as the trees grow! My wife also wants taller nightstands for our master bed, as well as a dining room table. I have some beautiful, heavily curled Red Oak that we milled from a tree in my backyard that will make a very special dining table someday soon.
Leigh FMT Pro Mortise & Tenon Jig
Festool Track Saw
Wide Belt Sander
Helical Cutterhead for my 8″ Jointer
Drawknife
Spokeshave
Makers with whom I would love to spend time
A big thank you to Brian Harvey for allowing us to share his woodworking passion and journey. We hope to see many more of Brian's projects in our Client Zone very soon!  
If you are, or know of any interesting woodworkers in your area that would enjoy being featured in the Rare Woods USA Woodworker Sessions series, please drop us a mail at info@rarewoodsusa.com.