Welcome to the Rare Woods  USA Woodworker Sessions Interview Series.
Here, we endeavour to discover more about what makes our woodworkers tick, how you became involved in the craft, how and why you build your pieces and maybe glean a few tips and secrets along the way!
Our interviewer, a woodworker since the age of 8, Tobias Lochner is no stranger to the workshop. Find out more about him here.
In the 14th issue of The Woodworker Sessions USA, we chat to very talented young woodworker and prolific high quality Instagrammer, Jason Vollmer from Bucks County, PA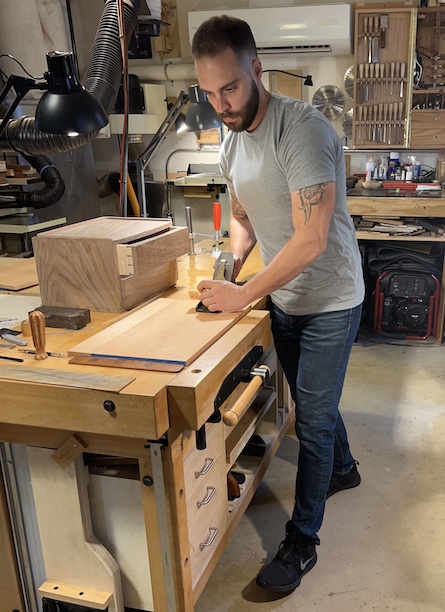 Tobias: Hi Jason, welcome to The Woodworker Sessions. Please tell us about yourself, what is/was your career, about your family and how you became a woodworker.
Jason: Hi Tobias. Thank you for the opportunity. My name is Jason Vollmer, and I am 36 years old.  I live in Bucks County, PA with my wife and two young daughters. I have been an IBEW member for the past 16 years working as an electrical tester/commissioning engineer and a teacher of electrical theory for the IBEW for the last 8 years.
I grew up in Bucks County where I was the youngest of five kids. I started working with wood as a kid alongside my father doing home improvement projects and finish carpentry. It wasn't until my late 20s that I really developed an interest in fine woodworking.
Tobias: How did you get started doing woodwork and how long have you practiced the craft?
Jason: I started woodworking when I bought my home in 2012. I purchased a portable table saw and a small router table in order to install wainscoting in our dining room.
I also started watching other woodworkers on YouTube which inspired me to attempt a furniture project later that year.
Tobias: Which was the first "real" piece of furniture that you ever made and which is your favorite?
Jason: The first furniture projects I ever made was a coffee table and two end tables. The tables were made from poplar and held together with pocket hole screws. The drawers for the tables were joined with finger joints, which was my first attempt at joinery. I still have the tables in my home today and they held up remarkably well.  
My favorite project to date is a Federal style serpentine front sideboard. It was a Fine Woodworking project that was created by Steve Latta. Even though it wasn't my design, I chose this piece to be my favorite because it comprises so many challenging techniques. The sideboard project included bent lamination, stringing, banding, bellflower inlay, and great joinery methods. The project took me about a year to complete.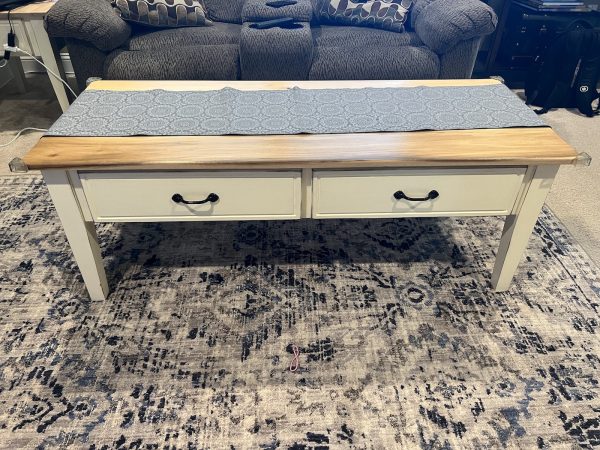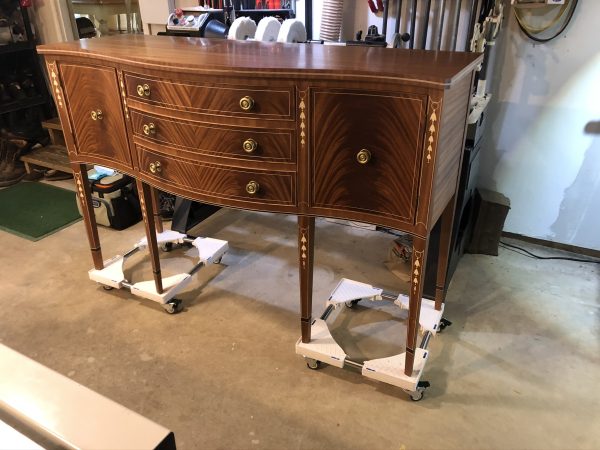 Tobias: Which style of furniture do you most enjoy building?
Jason: In reality, I enjoy building in any style; Shaker, Arts and Crafts, and Queen Ann, but I would have to say my favorite style is the Federal period. I like the process of adding stringing and inlay to a project. More recently, I have been creating my own designs which may not always fall into a certain building style. 
Tobias: Which are your favorite local lumber species and which are your favorite exotics to work with?
Jason: Walnut and Cherry are local to PA and like most woodworkers, I really enjoy working with them. Also, my local lumber yard will normally have a large selection of Sapele at a great price. I have made several projects from Sapele, and it is a really beautiful species.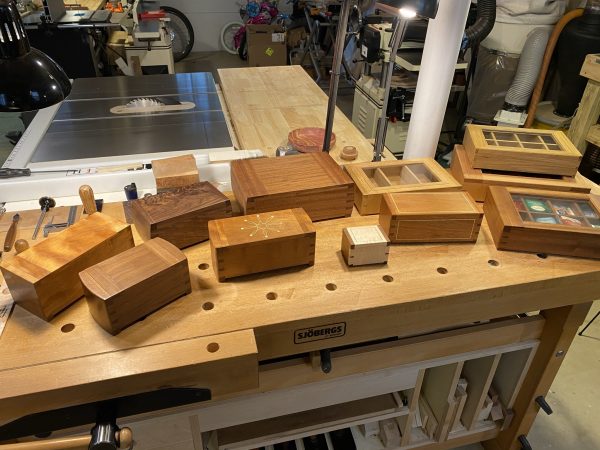 Tobias: Please list your most used hand tools and tell us why they are your "go-to" tools?
Jason: My Lie-Nielsen #5- ½ bench plane. I use my #5 -½ as a shooting plane, a smoothing plane, and a fore plane for stock removal. I feel that the #5 -½ is the perfect size plane to perform most planing tasks.
I really enjoy the extra width of the #5- ½ compared to the #5 because I prefer to slightly camber the plane iron and the extra wide blade still has a large cutting area.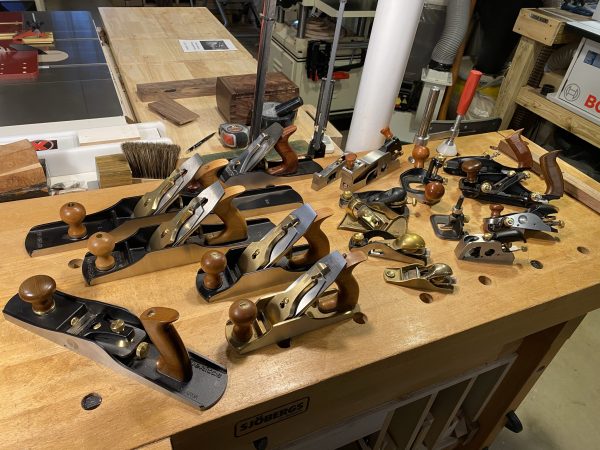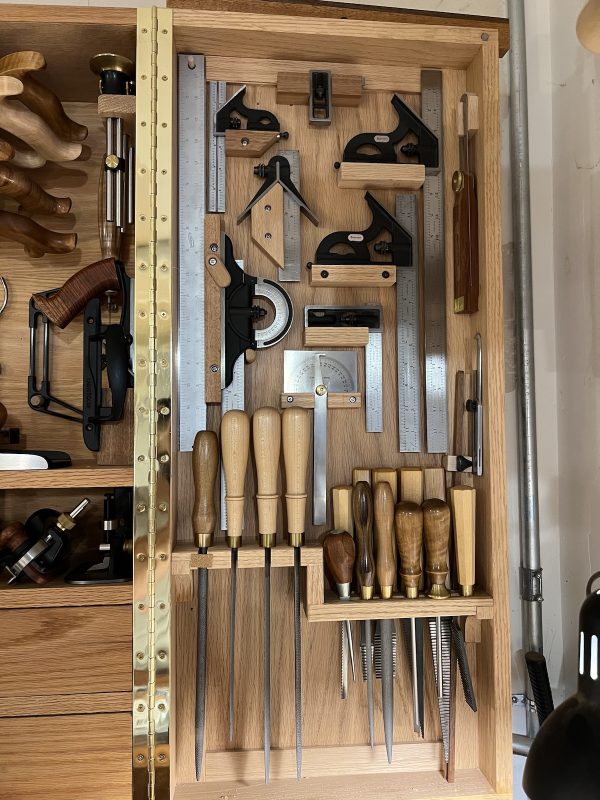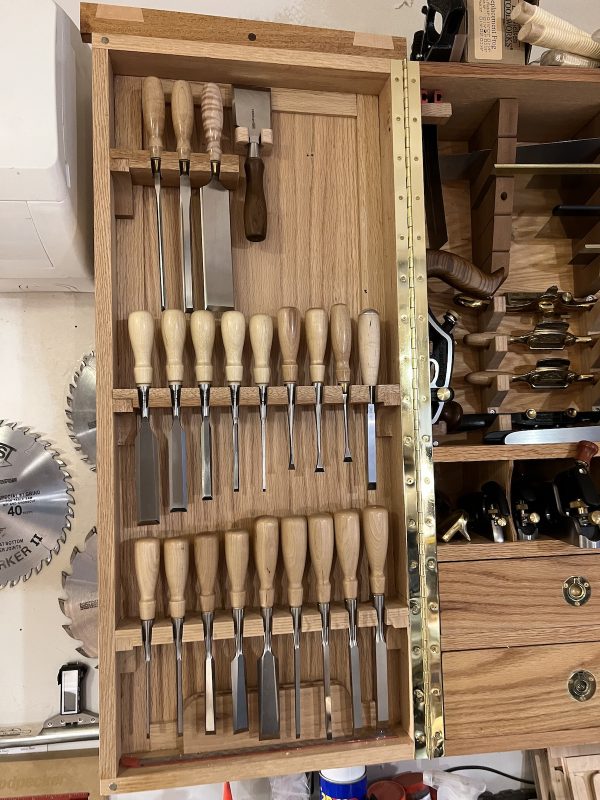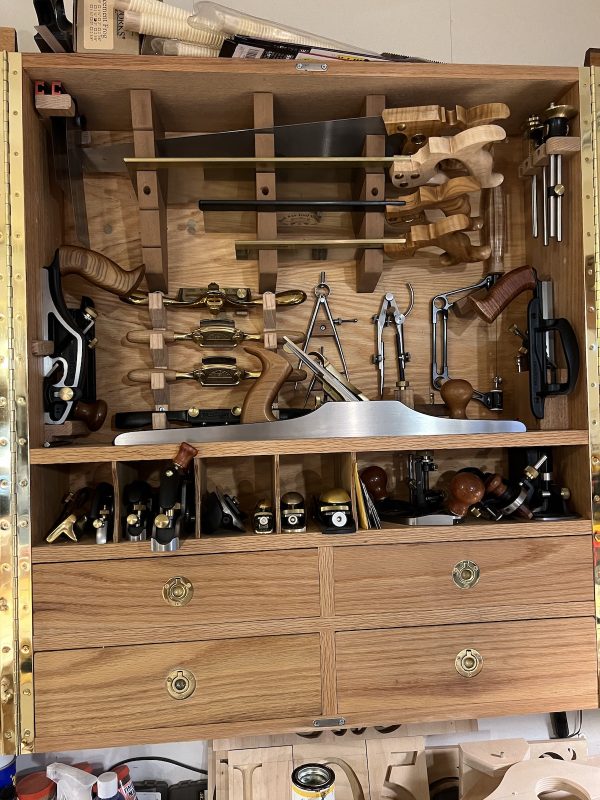 Tobias: Can you list your favorite power tools and machine and tell us why they are your favorites?
Jason: One power tool that I couldn't live without is the bandsaw. The bandsaw, like the "jack plane", is a very versatile tool. I use it for ripping, cross cuts, resawing, and cutting curves. A few years back I purchased a second bandsaw to reduce the amount of time performing blade changes.
I have an 18" bandsaw set up with a 1" carbide blade for resawing and cutting veneer, and a 14" bandsaw set up with a ¼" blade for cutting curves. I feel the bandsaw is an essential tool for any shop.
A table saw is also an essential tool in most shops because it can be used to cut joinery, but for someone who enjoys cutting joinery with hand tools, I feel a bandsaw compliments my type of work perfectly.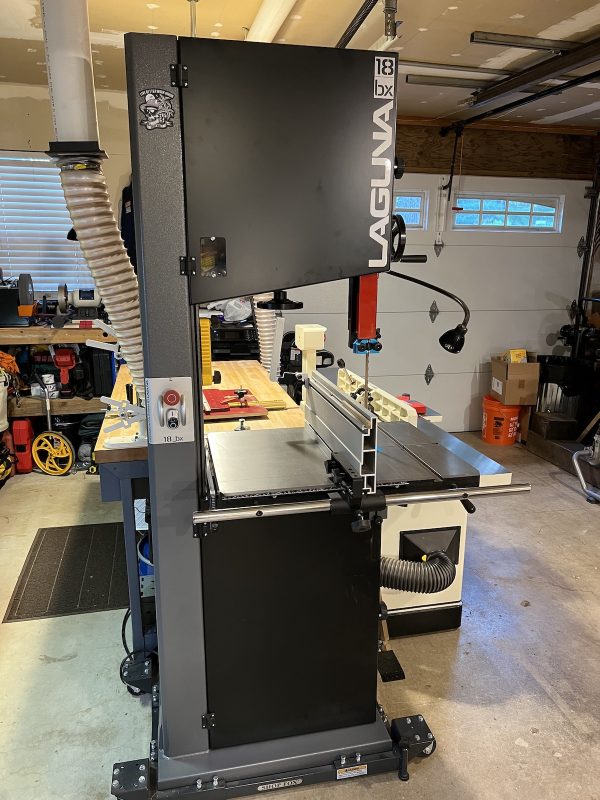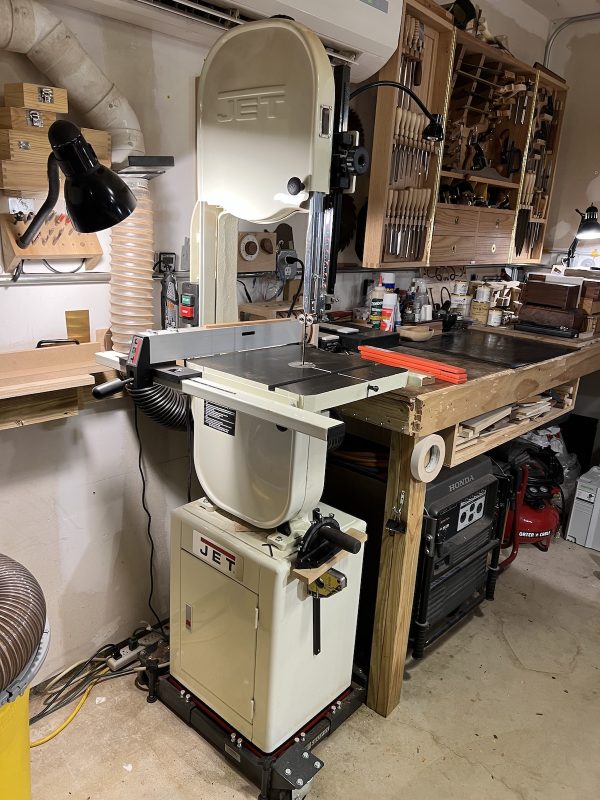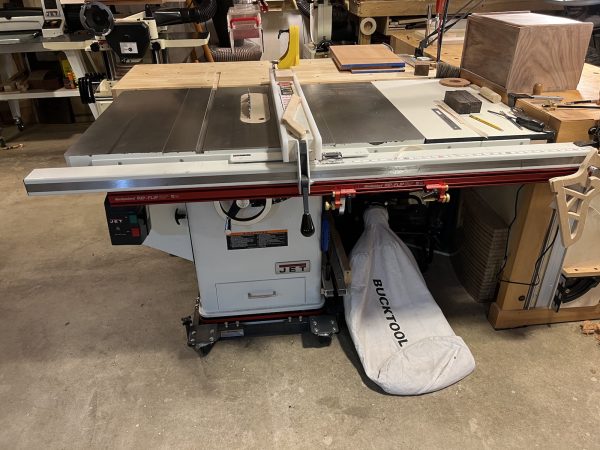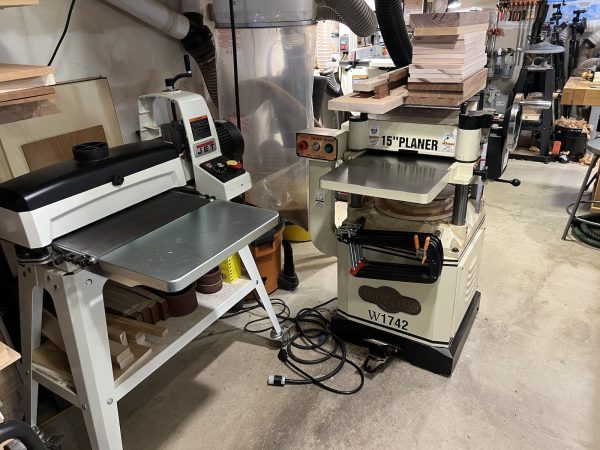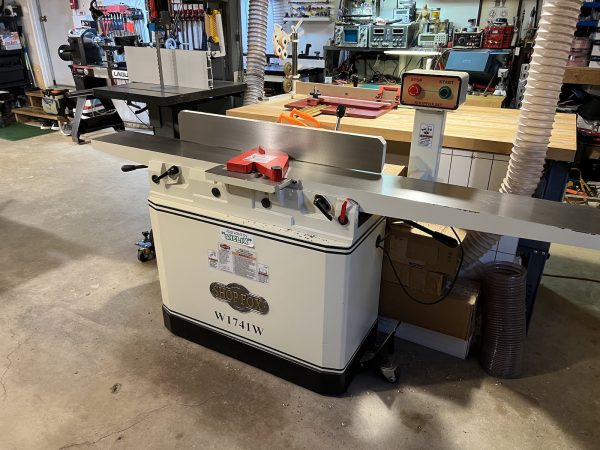 Tobias: What is it about working with wood that you find most enjoyable?
Jason: Although I use power tools in many aspects of my woodworking, I find using hand tools is the most enjoyable and therapeutic part of woodworking.
I try to cut all of my joinery with hand tools and do my finish prep with a smoothing plane instead of a sander.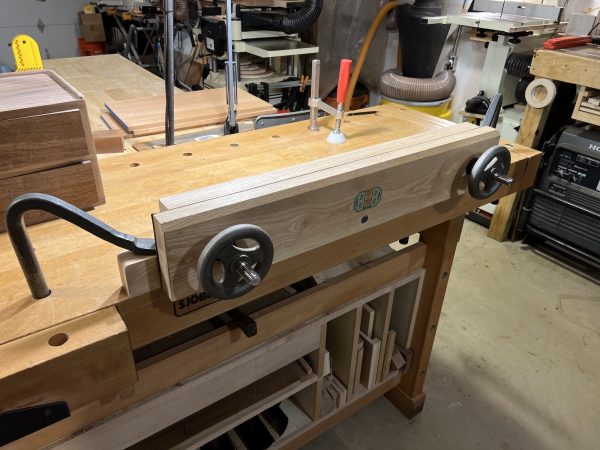 Tobias: What type of workshop do you have and how and why has it evolved over time?
Jason: I have a garage shop. It is a 20'x30' attached garage. My shop is always evolving. It started as a garage with a portable table saw in the middle of the floor and progressed to a shop with large power tools set in fixed location with ducted dust collection.
I am continuously upgrading the equipment in my shop; tool acquisition is almost as enjoyable as the woodworking itself!

Tobias: What is your clamp line-up and why?
Jason: I have an average clamp collection. I own a few sets of parallel clamps for panel glue ups. When I run out of parallel clamps, I use my collection of pipe clamps. In addition to the parallel and pipe clamps, I have several F style clamps, and most of these are 6" which I use for segmented turning glue ups.
Another essential clamp style in my shop is the wooden hand screw, which I use for work holding at the workbench.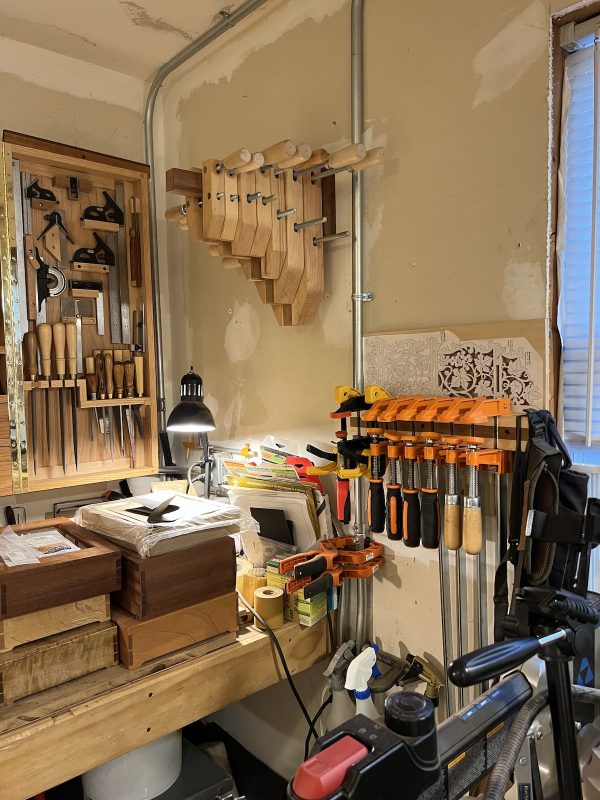 Tobias: Which adhesives and glues do you use and why?
Jason: For most glue ups, I use Titebond 3 wood glue. For hammer veneering, I use a traditional hide glue that I melt in a glue pot. If I am using a vacuum bag to apply veneer or do a bent lamination, I use Titebond veneer glue which has a very long open time. I also always keep around some type of CA glue to fix mistakes like chip out. 
Tobias: Which woods (local & exotic) have you not yet used and why would you be interested in building with them? 
Jason: I have always wanted to build a traditional piece out of genuine mahogany. I use sapele instead because mahogany is so hard to find. I would also love to build something from American chestnut. Chestnut is also rather hard to find because it is another endangered species like genuine mahogany.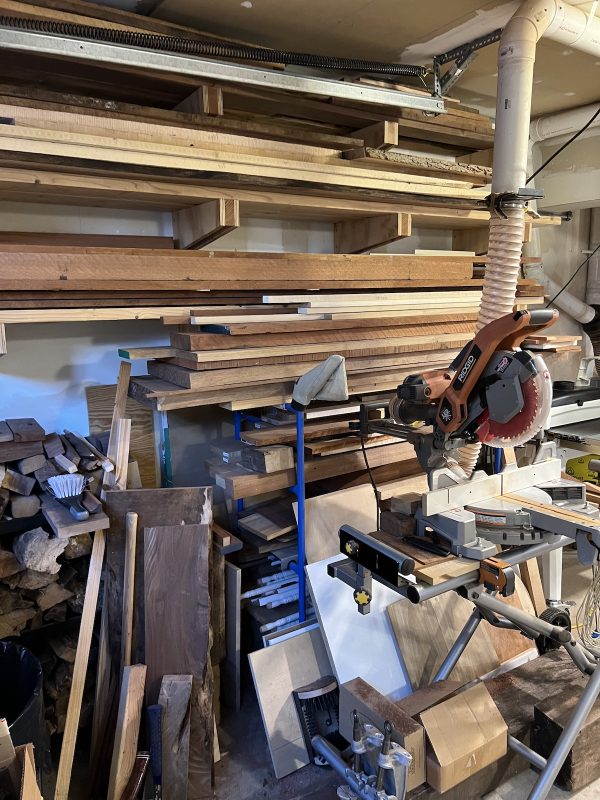 Tobias: What and whom are the sources of inspiration for your craft?
Jason: I was largely inspired by Rob Cosman's work, especially the wood hinge boxes that he makes. I have made dozens of Rob's wood hinge boxes over the years. I feel that I have learned a lot watching his videos. 
Steve Latta is another incredible woodworker who has inspired me. I have built several of Steve's projects that were published in Fine Woodworking Magazine, including the serpentine federal sideboard, federal style end tables, and a Pennsylvania spice box.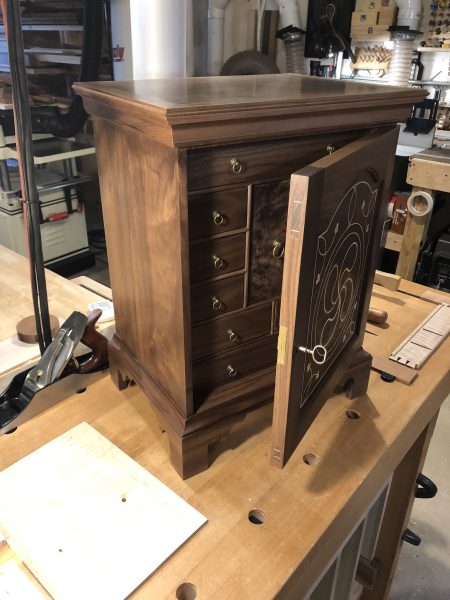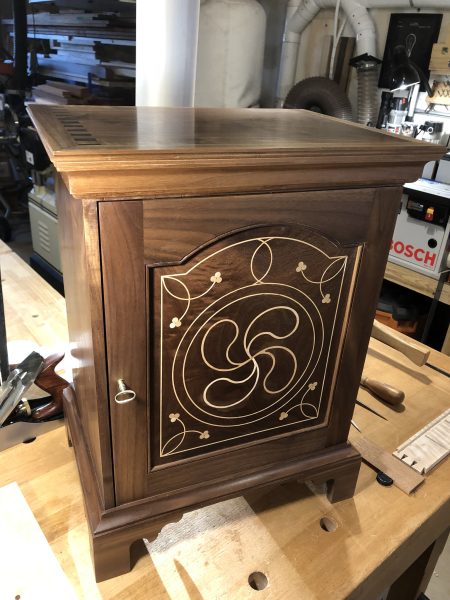 Tobias: How do you design your pieces? Do you use CAD, SketchUp or traditional methods?
Jason: I started designing my own pieces a few years ago.
I have always been an artistic person and I've been drawing since I was a kid. So, when it came to designing my own pieces, I naturally started drawing them by hand. I have a sketchbook that I keep in my shop that I use for my design drawings. I find that the design phase of a project can be immensely enjoyable.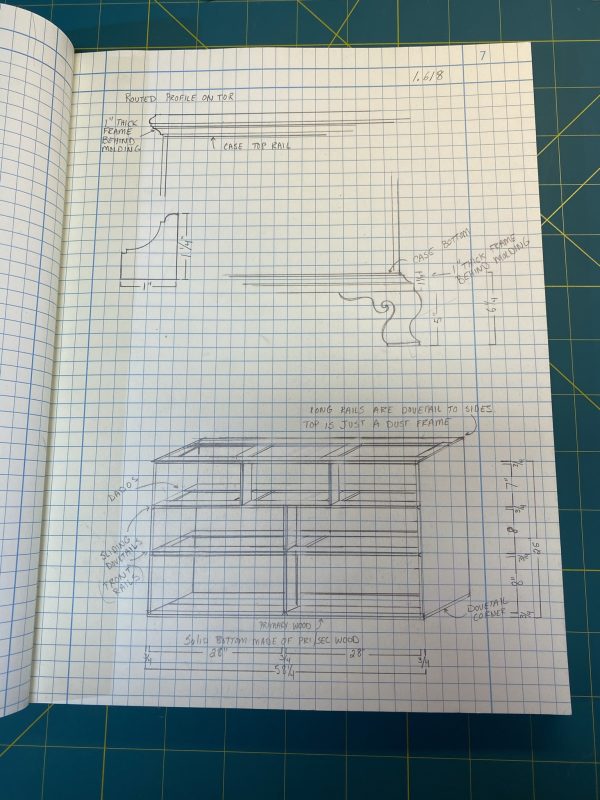 Tobias: What are your finishing regimes, which products do you use and which are your favorite finishes?
Jason: I prefer to buy shellac flakes and mix my own shellac. It is helpful having the option of making different pound-cuts and it is easier to store the dry flakes and mix up a small amount as and when I need it.
Recently I started using Osmo hard wax oil and I really love the results. I still use shellac on period accurate pieces or whenever I need a film finish. For a more natural look I am going to continue using the Osmo hard wax oil.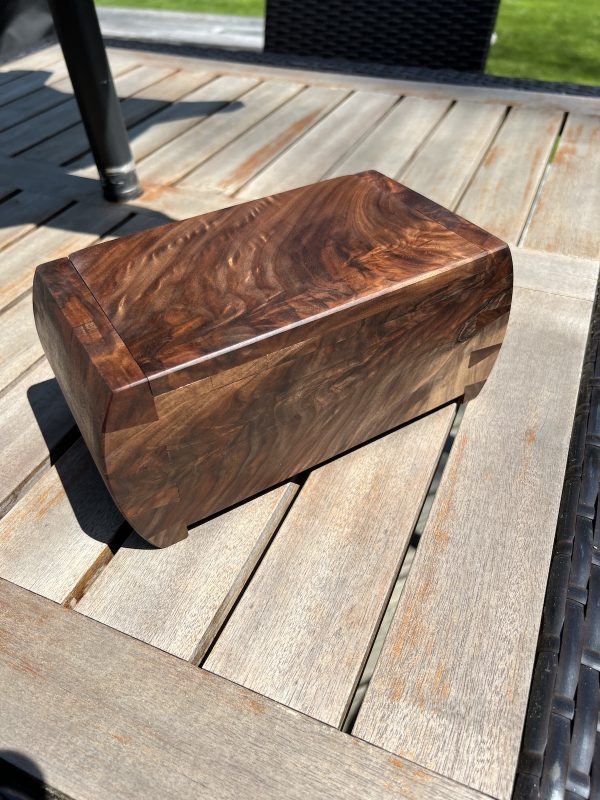 Tobias: Which parts of working with wood do you dislike the most?
Jason: One of my least favorite parts of woodworking is the milling process, especially if it is large project with a lot of parts. Milling is a time-consuming process and can be very repetitive. I find the design, joinery, assembly and finishing process infinitely more enjoyable.
Tobias: What is your favorite music to listen to while working in the shop?
Jason: I listen to all kinds of music. Some of my favorite bands to listen to in the shop are Red Hot Chili Peppers, Incubus, Nirvana, and Hendrix. I do sometimes listen to woodworking or history podcasts as well.
Tobias: What is your tool sharpening regime?
Jason: I use a 1000 grit diamond stone to sharpen, followed by 4000, 8000, and 16000 grit Shapton ceramic stones. I use a secondary bevel on all my chisels and plane irons.
When I first started woodworking, I used a honing guide for almost everything, now I sharpen everything by hand. I can get great results sharpening free hand and it saves a lot of time.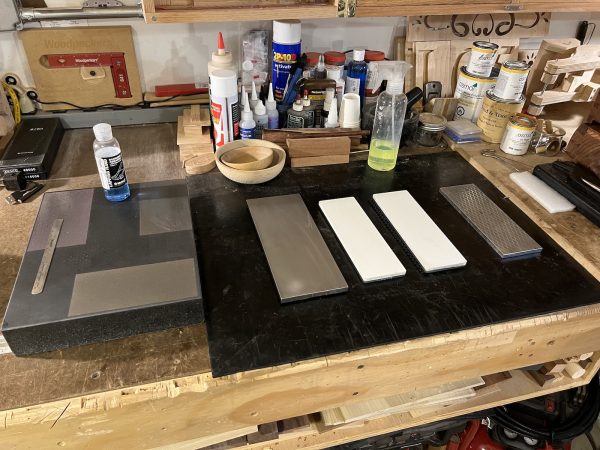 Tobias: What custom jigs or tools have you developed for your woodworking?
Jason: I have made crosscut sleds and taper jigs for the table saw, nothing too extraordinary. As far as tools go, I've made several different scratch stocks for making specific moldings and beads. Some homemade tools that I use on a regular basis are a joiner's mallet and a shooting board that I made years ago.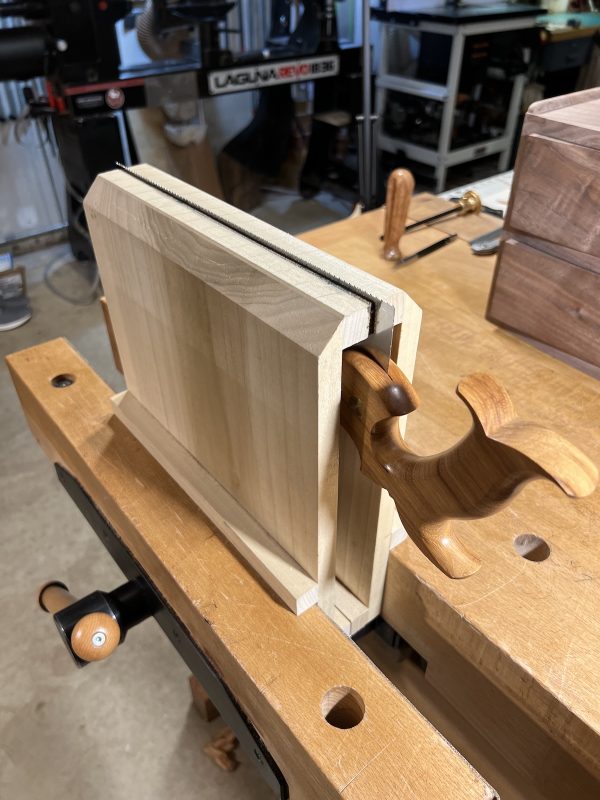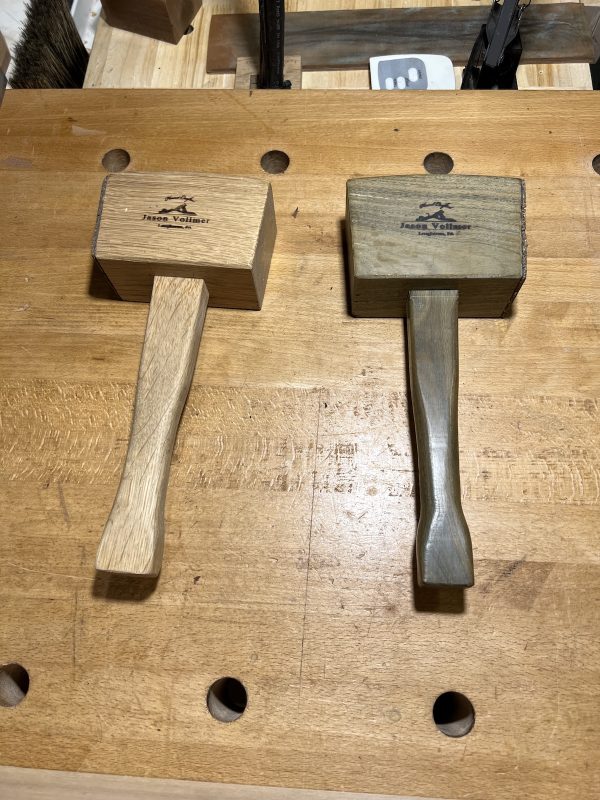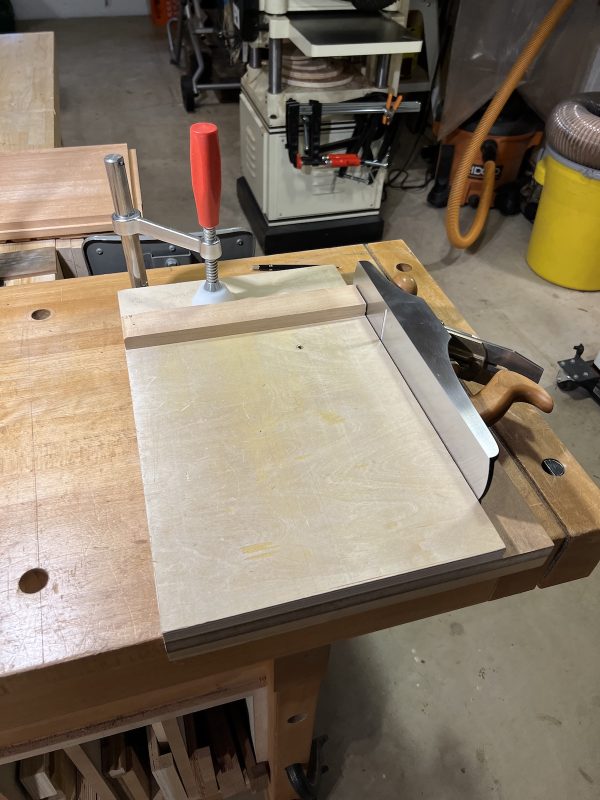 Tobias: What is the next piece you are going to build and why?
Jason: I am just starting a watch box made from some gorgeous air-dried walnut. It is a small case piece with two curved front drawers that will sit on top of a dresser. I derive great pleasure and enjoyment in building small pieces that have plenty of details. 
I would love to upgrade my 8″ jointer to a 12″ or even 16″ version.
I am on the hunt for a Lie-Nielsen #9 Miter Plane!
Curly Cherry
Quarter-sawn White Oak
Flame Birch
Locust
Ash
Bubinga
Cocobolo
Honduras Mahogany
Burmese Teak
Various Rosewoods
Makers with whom I would love to spend quality time
Steve Latta
Rob Cosman
Silas Kopf
Matthew Wolfe
Please don't forget to leave your comments below. Also, if you  know of other woodworkers who are producing great work and are hiding away in their shops that you think should be featured in The Woodworker Sessions USA, please drop us an email at brendan@rarewoodsusa.com