Friday, 01 July 2011 11:12

Good showrooms can give people ideas and the stimulus to begin that project they have been dreaming about.  Unfortunately they can also cost a lot!

Our challenge as a fledgling business was to come up with an appealing yet economical display of all our timbers to show off their full potential and tempt our customers into trying different woods.

Fortunately, the wonderful thing about a small mill town is the amazing attitude and array of skills of most of the workers. Nothing fazes them - heights, plumbing, electrical work, laying carpets, servicing fork trucks. You name it - they can do it.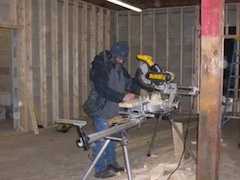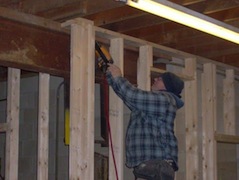 These guys were slaving away in -20F
In this instance, Bill and John did a great job framing and insulating, electrifying and plumbing, but they worked in the middle of winter in horrific minus 20 degrees conditions (see pictures)—thanks guys!  After all that hard work, baseboard heaters now take the chill out of the air in the showroom and bathroom, although winter customers are reminded that we are not heated in our warehouse so remember to bring your winter woolies.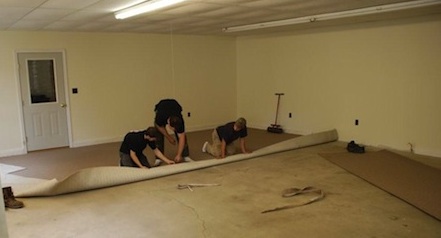 A bit of carpeting makes it all a lot more civilized
Our showroom is now in great shape and we get regularly complimented on how useful the displays are. This is because we display each type of timber we stock with one half finished, making it easy to visualize how the woods will look in a completed project.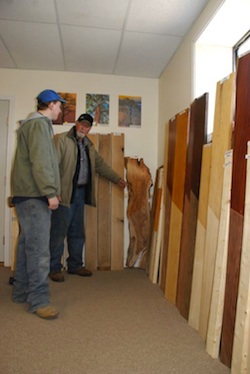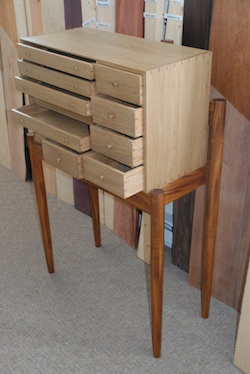 The finished article is a great place for customers to browse
We also have our first piece of studio furniture on display. Flemming Christiansen from Denmark has made a superb cabinet in white oak on a Burmese teak base with (can you believe it?) a finish of soap. He did this while completing his studio fellowship at the Center for Furniture Craftsmanship. With quarter cut oak in the drawer sides, precision hand cut dovetails and 200 hours of patience gone into producing it, one can only admire the fine craftsmanship.

If anyone would like to display topical furniture let us know - maybe we can supply wood for 3 items – one for you, one to sell (and share the proceeds) and one for our showroom?


Friday, 24 June 2011 17:12

Life as a timber merchant has often been a steep learning curve. I'm not ashamed to say that many mistakes have been made, some worse than others!

Below I thought I would run you through some of the screw ups I've made on various shipments over the years.

The worst mistake:

Complex and arduous shipping regulations can easily trip one up. For example, about a year ago I'd been routing our shipments from Africa via Montreal as the overland to our factory was cheaper than shipping via New York.

With two full containers of Wenge, Boxwood and Olivewood on its way, I got a call from Canadian plant and pest control authorities and I was told I had three choices:

Burning the shipment at my cost

Sending the shipment back to Africa

Tough luck! There is no third choice!
All the wood had been fumigated and was insect free, and we believed we had all the correct permits, only to have them point out that the permits were for USA and not for Canada. The wood was destined for the USA but this did not satisfy them, as the containers would be on Canadian soil while in transit.

Damn – what to do now?

Although I did my best to turn on the charm, they were not interested – not the Port Authorities, the Shippers, Pest and Plant Control, Department of Forestry – all my efforts and pleading fell on deaf ears.

I begged for the containers to be loaded back on the vessel and shipped to a USA port. This was also refused as these containers had now been "red flagged". In the end I was left with no choice but to ship the containers all the way back to Cape Town, South Africa!! Needless to say, it was a costly error.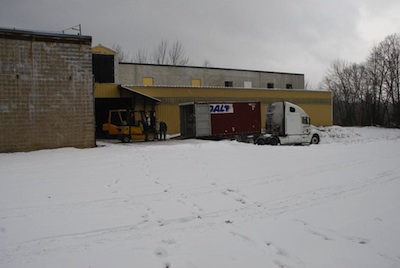 We offload in all types of weather




Getting off (relatively) lightly



That Canadian shipment was not my first run in with the port authorities though…

Our first ever inbound shipment to the US was four 40 ft containers containing apple bins full of turning squares. That one fell foul of the rules, as the bins were not heat stamped (although they had been fumigated!). Quite rightly there are explicit rules on treatment and marking of softwood packing material to minimize insect infestation into Canada and USA, I just hadn't got the fine print quite right.

Luckily I escaped pretty likely though – the authorities allowed us to destuff in bonded warehouse in Montreal and repack goods in correctly heat treated wood. In the end that cost about $15,000, but was a harsh lesson well learnt.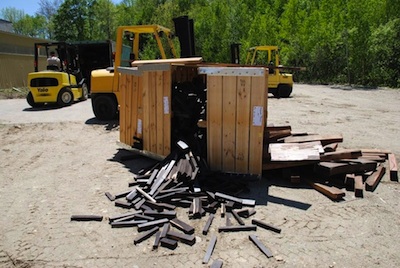 Unfortunately my luck didn't extend to managing to keep them upright




Day-to-day shenanigans



Often it isn't customs that causes the issues at all. Sometimes it's simply the packing of the shipment. Over the years we've had bad tallies, bad strapping, bad stickering and bad packing. Have a look at some of the pictures, and spare a thought for the days we spent cleaning up those messes.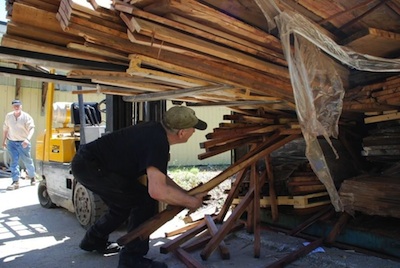 Lots of hard work required to clear up messes like this

Then there is the pain we cause ourselves – broken bundles and forktrucks that break down or get stuck in sand, mud or snow. Not to mention the discomfort of working in super hot containers in the middle of summer when you are just about to collapse with dehydration!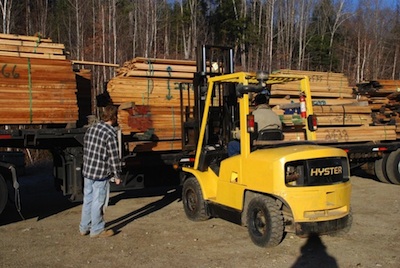 Most of the time they go smoothly!

Saturday, 18 June 2011 15:16

Luthiers are a different breed with very exacting needs – often happy to sort through mountains of wood to select that specific piece with the perfect combination of grain, color and taptone.

With my love for wood and music (and guitars in particular), it is only natural that I dabble in this aspect of the wood trade. I am a life member of the Guild of American Luthiers (www.luth.org) and over the years have formed some fantastic and enduring professional relationships with a number of highly talented luthiers, many of whom are also now long term friends.

America has a number of specialist lutherie wood suppliers and we don't intend to take on any of these stalwarts—so you can breathe easily Luthiers Mercantile, Allied Lutherie and Stewmac ;-)

We do have some great offers for you luthiers out there though, for example:

Over 4000 sets of superb quarter-cut East Indian Rosewood backs and sides

We have lesser quantities of Bubinga and East Indian Satinwood backs and sides

Recently we've got in 1200 tops of superb Engelmann Spruce.
We also have limited stocks of Pernambuco. Pernambuco is on CITES and suppliers are no longer able to obtain new stocks. This means that our remaining stock of violin bow blanks in this incredibly rare wood is a "never to be repeated" and truly rare opportunity.

Brazilian Rosewood (Dalbergia Nigra) is another superb lutherie wood for which new stocks are no longer able to be traded. We however have some left over from the early 1980's in backer board form (obtained from veneer mills once they have taken their high quality veneer).  Although this is often not great quality wood, talented guitar makers such as Marc Mainguard (http://www.guitarsafrica.co.za) have made incredible use of it and are thrilled with the results.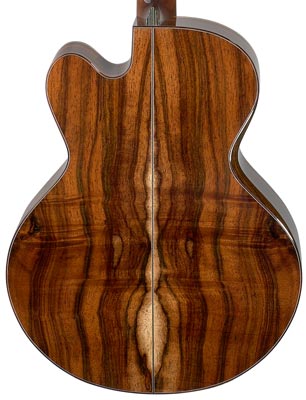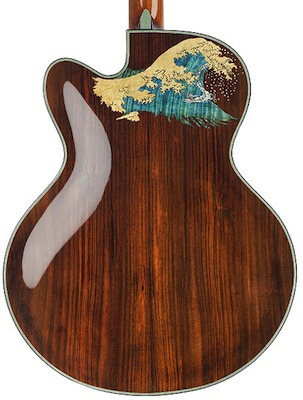 Marc Mainguard guitars - absolute masterpieces in my opinion
He tells the story of how he has managed to work his magic with this wood here.

Finally, don't forget that we stock Spanish cedar for necks, African and Brazilian mahogany and over 120 other species to have fun with. See our price list for further details.


Monday, 30 May 2011 19:31

Many woodworkers are surprised to find a "full house" exotic wood dealer in Mexico, Maine.

500,000 bd ft of exotic hardwoods
180 species displayed in racks and bundles
Extensive showroom
Milling facilities
Wood vendors passionate about their calling
It all started 30 years ago – when with $100 capital borrowed from my mother, I bought a large number of blackwood and cypress logs from thinnings in Tokai Forest, in Cape Town, South Africa.

When I arrived in my small truck to collect the huge logs I suddenly understood the enormity of the task I had undertaken. Transport contractors were appointed, a sawmill found and the first tentative foundations of the Rare Woods SA business were laid.

A 30 year rollercoaster ride of expansion followed – factories, sawmills, dry kilns, furniture manufacturing, dowel manufacturing, retail furniture and the opening of a number of branches across South Africa. Needless to say there were many hurdles big and small to overcome along the way, but I was following my dream so I took them on with vigor.

My dream was evolving though…

I now wanted to supply the new generation of US woodworkers – thousands of whom have been inspired like me by James Krenov and his fantastic books, as well as Fine Woodworking's monthly brilliance, and whose many forms include studio furniture, turning, boatbuilding, cabinet making and luthiery.

With the crime and violence in South Africa becoming intolerable, I finally made the move in 2008.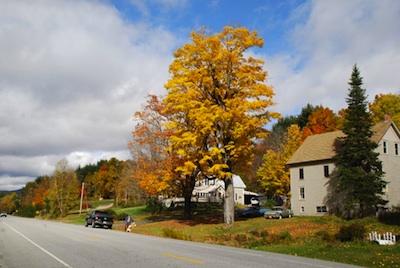 Where else will you find colors like that?
I had crisscrossed the USA and Canada on many business and leisure trips over the years, admiring the excellent facilities of American timber yards and meeting lots of friendly folks along the way.

As I began planning my move to the USA I was somewhat confused though..

It would be ideal to go to a big city like New York or Boston, with plentiful potential customers and great woodworking traditions, but big city rents and logistics were problematic and my South African currency was steadily depreciating. Having decided not to move to a big city, the sheer scale of choice and variation available was hugely daunting: hot or temperate climate? Coastal or mountainous? etc. etc.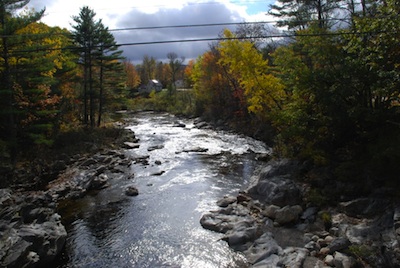 The rivers and lakes are stunning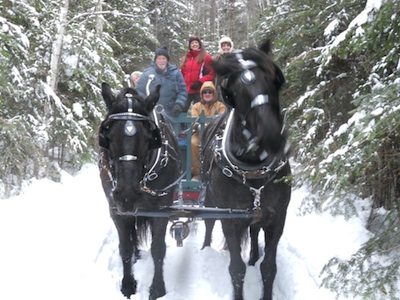 And in winter you can enjoy proper sleigh rides - you don't get that in South Africa!
Well my mind was made up for me when a hugely charismatic and eccentric boat builder came into my timber yard in Cape Town to buy some curly maple for the 60 ft yacht he was outfitting in Table Bay Harbor.

Joey Martin Jnr is an adventurer, an incredible raconteur and bon vivant who has seen most of the world and then some. He listened to my story and without hesitation (and with his own compulsive style) told me that I needed to settle in Rumford, Maine.  He painted an idyllic picture of forests, rivers, lakes – and endless wood supplies with country living and immensely hardworking, down-to-earth "can do" people who enjoyed nothing more than doing an honest day's work.

Well I've been here 3 years now and all I can say is Joey was right!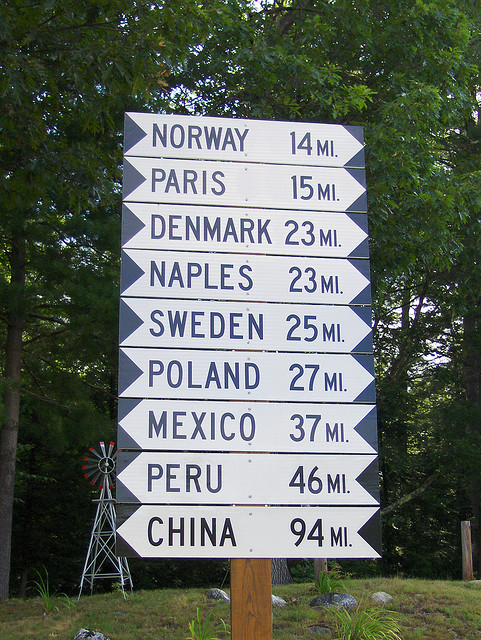 Come to Maine and see the world! This sign sits just outside the town of Bethel

Maine is a state of breathtaking natural beauty, life-enriching forests and wildlife, not to mention great people. American telecoms and transport systems mean that I can run this business from anywhere. All I have to do is put it all together, move my (increasingly) fat ass and build another great business by offering a superb range of wood, quality service and passion for wood for discerning American woodworkers.

There's so much great stuff to be thankful for, that not even the rotten economy can dampen my enthusiasm. Here's to forging ahead with enthusiasm, superior ideas and above all, constantly evolving dreams.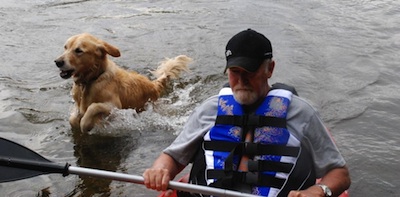 And most importantly of all - my dog loves it too...
Saturday, 16 April 2011 16:24


A couple of weeks ago my wife and I set off on a mini road trip down to Saratoga Springs, New York, to visit the annual Northeastern Woodworkers' Associatiion show (see www.nwawoodworkingshow.org). You may not have heard of it before, so to quote the event organizers:

"This annual event, sponsored by the Northeastern Woodworkers Association, is an opportunity for artisans to display their work in hand made furniture, wood turning, carving, scroll sawing, & many other areas. Participants can learn from their peers, and participate in free seminars presented by nationally known guest woodworkers as well as local artisans."

You can see the promo video for the event below:



We thought it was a perfect opportunity to meet a few people and look at some fantastic furniture, and that's exactly what it turned out to be – making the 8 hour drive each way(!) very worthwhile. Saratoga Springs turned out to be a very pretty, quite upmarket little town and we thoroughly enjoyed our two days there. I was really taken by this magnificent and imposing elm, dominating a downtown sidewalk.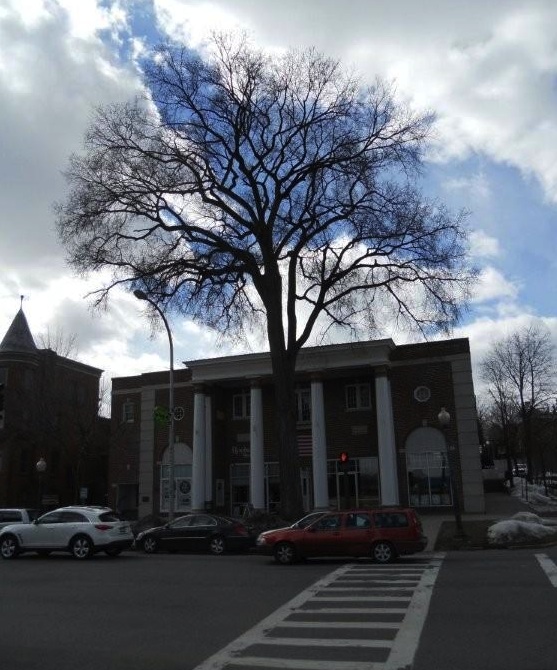 The thing I enjoy most about these events are the live demos, and as always there was some real talent on display. For instance the Totally Turning symposium included top names such as Richard Raffan and Dale Nish. What an incredible selection of woodturning talent in one place at one time!

The exhibits of superb woodturning included use of Pink Ivory, African Blackwood, Padauk and lots of other exotics from intricate almost ornamental turning to really chunky rustic stuff.

In addition to that, the 20th anniversary feature exhibit was of 12 great workbenches (nine by NWA members and others by Lie-Nielsen, Christopher Schwarz and Geoffrey Noden). The respective owners gave short talks, and it was a great opportunity to discuss and consider design and construction options.

And it didn't stop there. Some of the other stuff we got to enjoy was:


Seminars from luminaries like Ernie Conover and Peter Follansbee
Live demos from the Adirondack Woodturners Association, the Scrollers Guild and the Carvers Guild
The Toy Factory – which was set up give kids the chance to make their own toys using simple tools and techniques
And about 500 pieces of furniture to admire, some of which I thought was very good indeed
See below for a selection of some of the pieces on display that I really like. You can see from the selection that I really like classic traditional designs. There was some truly wacky stuff out there too though - some people have incredible imaginations!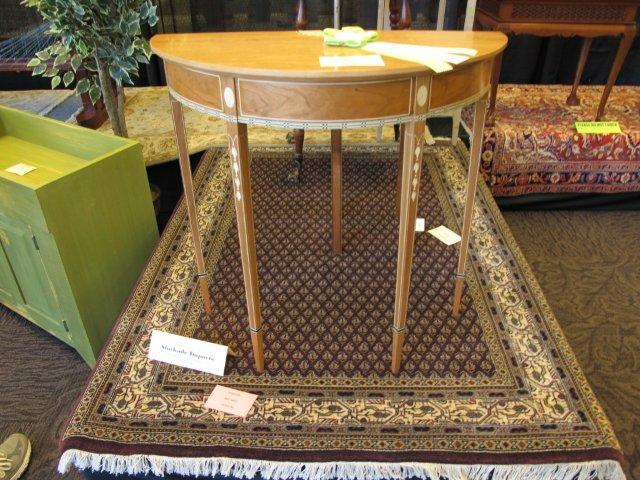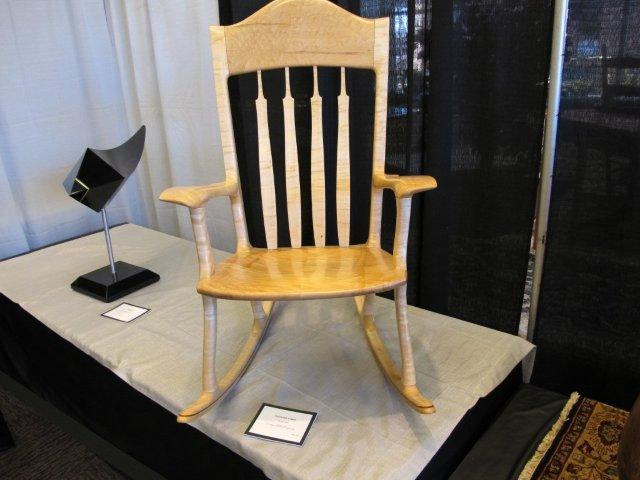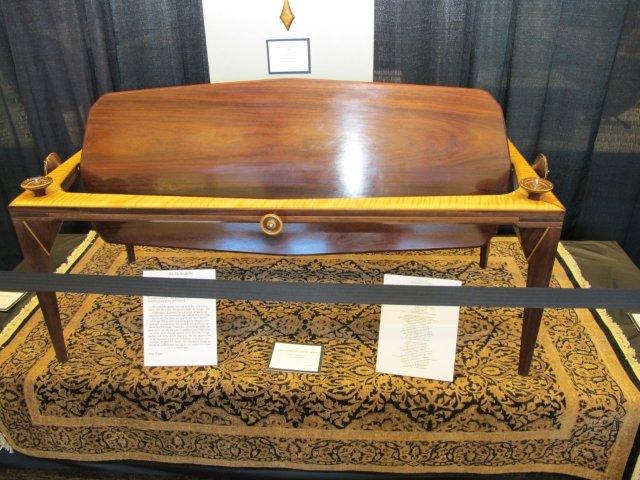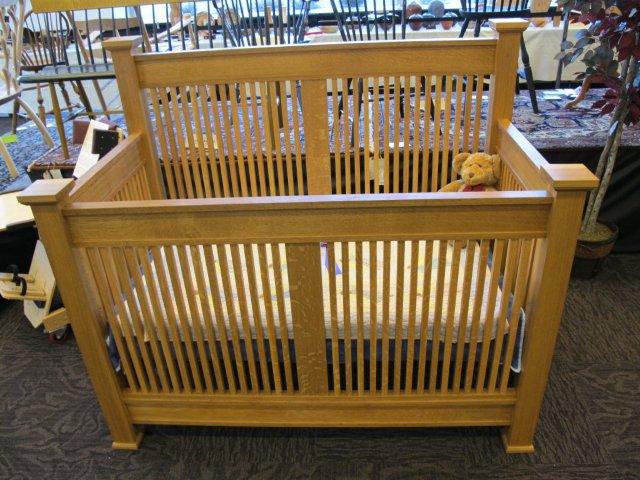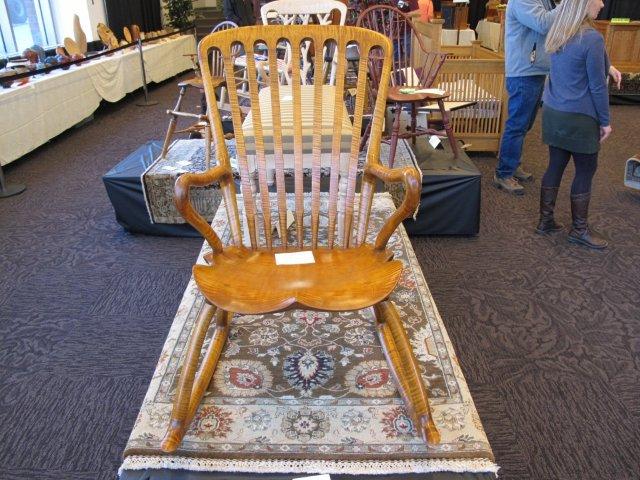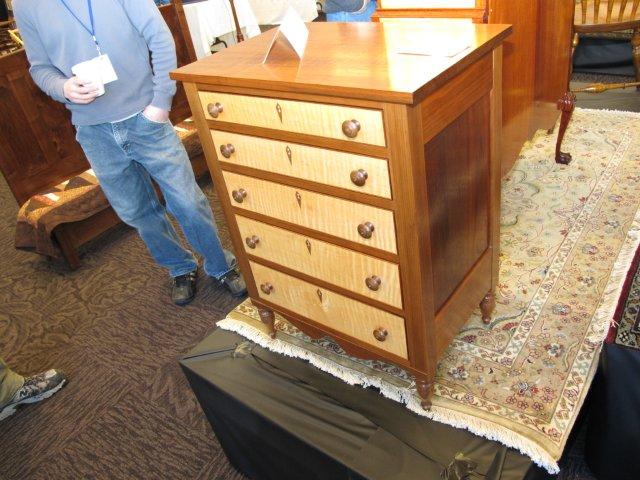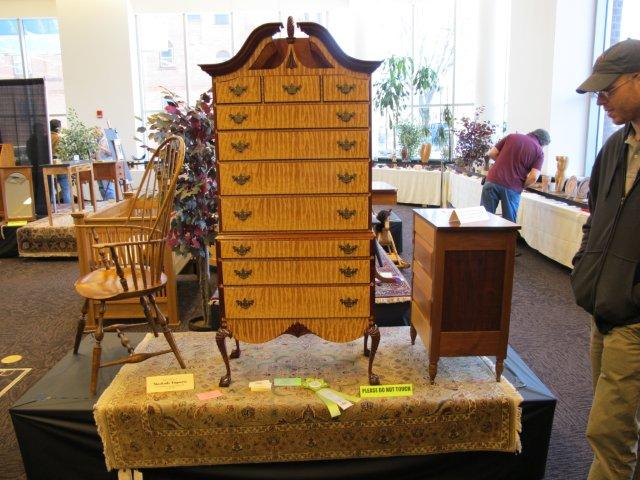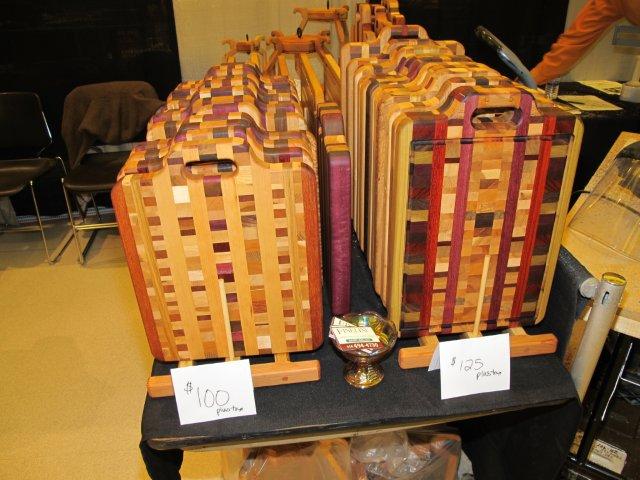 All in all a thoroughly enjoyable little trip!